Getting a facial is one of my favorite splurges. The steam, the mask, the face massage – it's all heavenly. And, of course, they always recommend you come back every month. If only.
If you're committed to healthy, glowing skin, there's no reason why you can't recreate the experience at home. Find a time to relax and give yourself the pampering of a facial at home or with a group of your besties. Here's how:
How to do a facial at home
Cleanse
Start by removing all of your makeup and giving your skin a good cleanse. You don't want dirt or oil blocking the absorption of the awesome products you're about to use.
Not sure what cleanser to use? Read up on the best regimen for your skin type or check out these 3 DIY cleansers. I'm all about washing my face with honey, but this probiotic rose milk cleanser is pretty fabulous, too.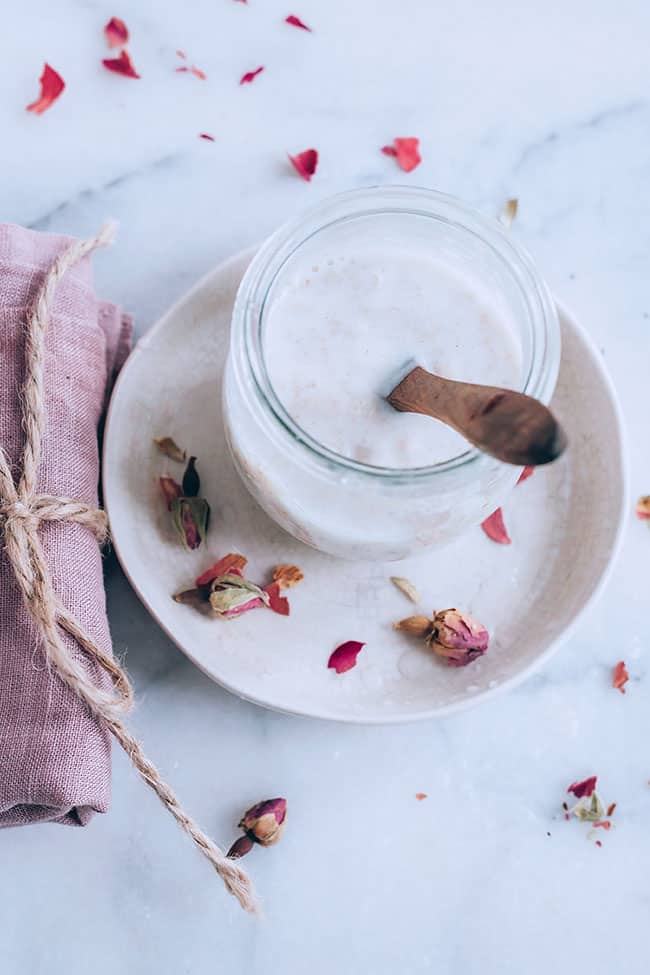 It is essential to breath and take a moment to get yourself in the zen space. Remember a couple of important tips.
Start by wetting your face with warm water. If you're using an oil cleanser, you can start with dry skin and then add a bit of water halfway through.
Start at the chin and work upward in small, circular motions.
Keep it gentle. Use two fingers to massage in the cleanser. Some pressure is fine but avoid tugging and pulling.
Avoid using hot or cold water while washing your face–warm is just right.
Follow the oil with a gentle foaming cleanser for a 2-step facial cleanse.
Invest in an ultrasonic device to effectively clean out pores and remove unnecessary dead skin cells from your face, neck, and chest.
Then pat skin dry.
Exfoliate
I used to hate exfoliating, but now it's my favorite step. Which is good because your skin slows down cellular turnover as we age. Not only does exfoliation remove dead skin and leave your skin feeling super soft, but exfoliation also helps even out your skin tone and allows skincare products to penetrate better.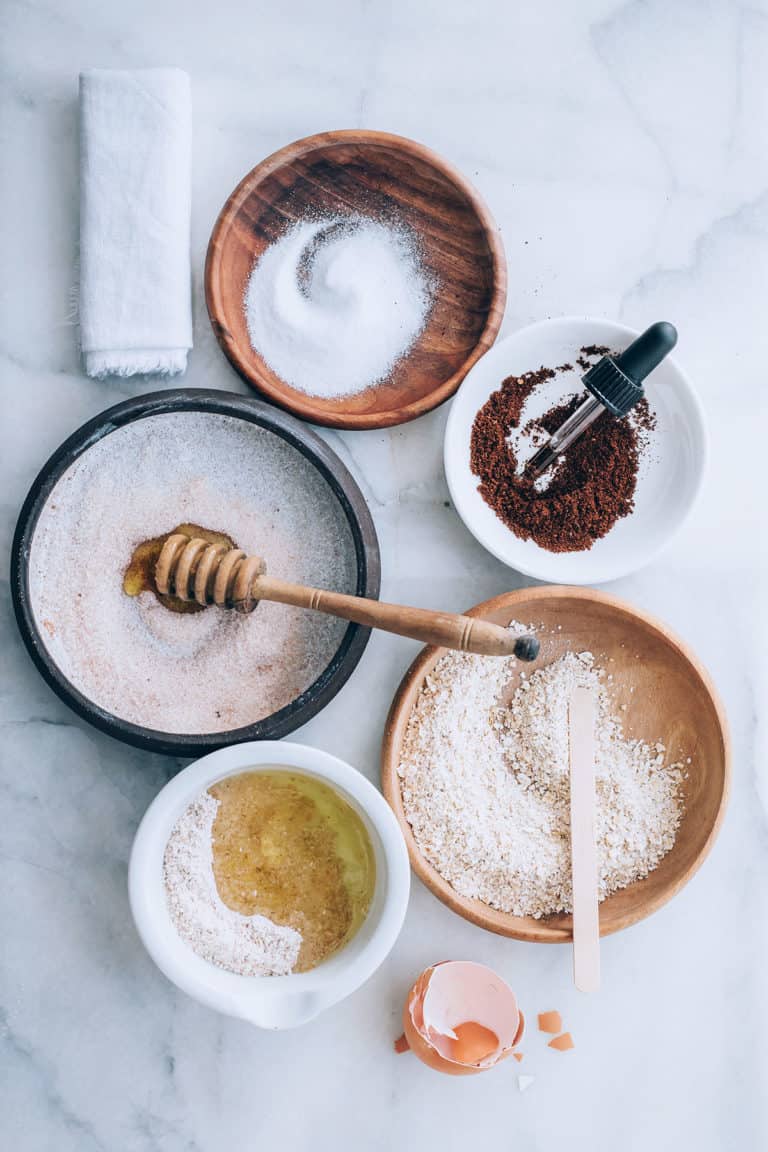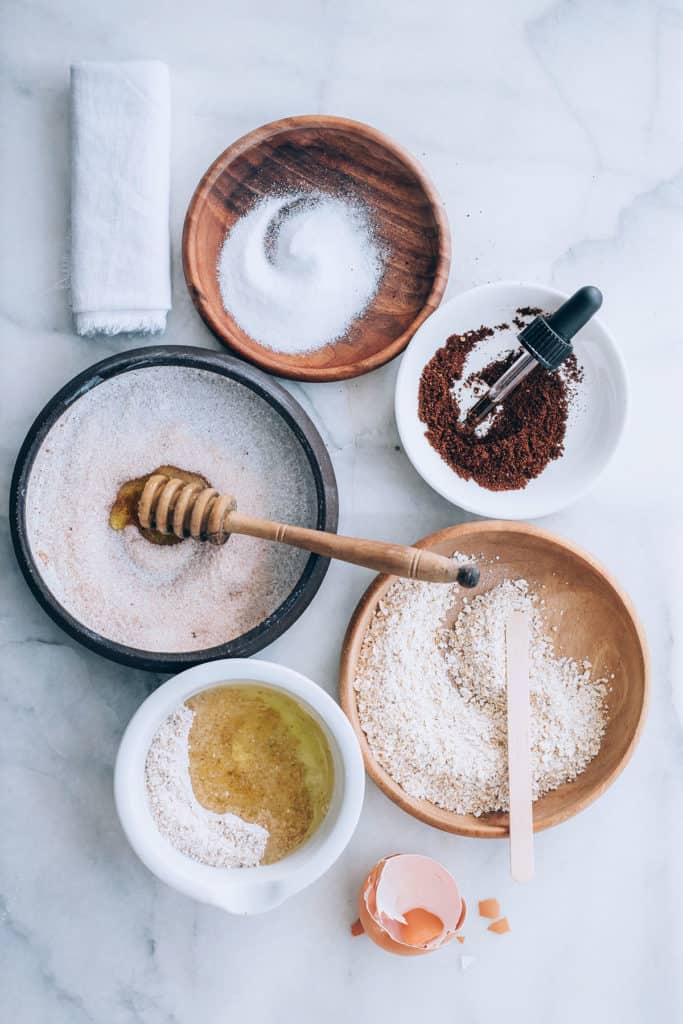 You can make a ton of homemade face scrubs or cleansing grains with a few pantry ingredients. Here's our guide to making face scrubs at home for every skin type.
Take a dime-size amount of scrub (add a bit of water if using dry cleansing grains) and in gentle sweeping circles, rotate your pinky and ring fingers only. Gentle is the key here. Just moving the scrub around your face is plenty of pressure to get the job done. Learn more about the right way to exfoliate here.
Steam
I'll be honest, this part can be a bit of a pain to recreate at home. But it's so worth it. Steam is the key to opening up the pores, softening skin, and increasing circulation.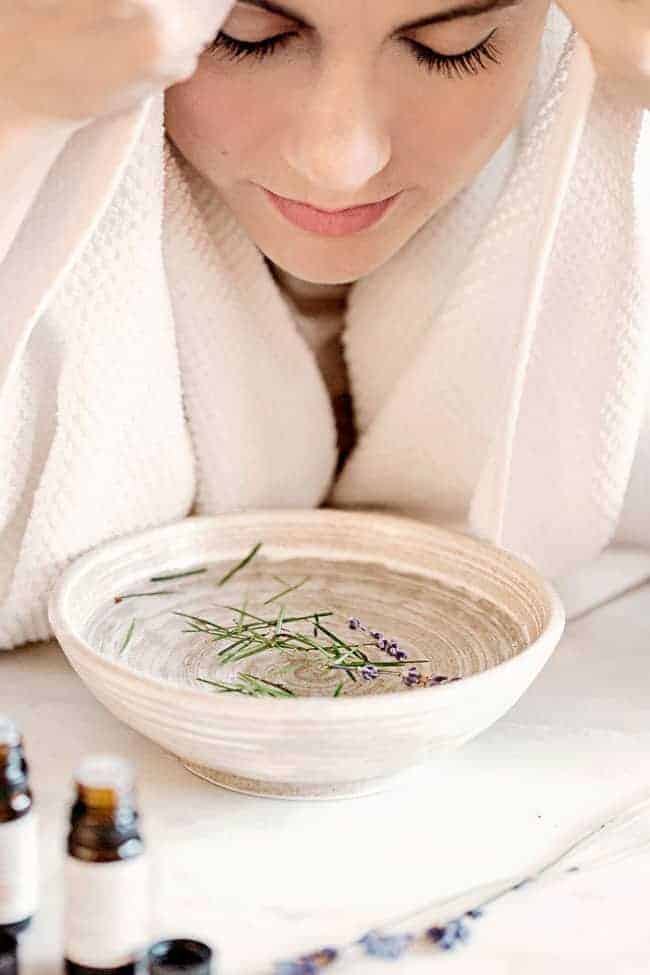 Bring a pot of water to boil and grab a towel that's large enough to cover your shoulders, head and bowl. You can customize the steam to fit your skin type by adding herbs or essential oils.
Drape the towel over your head and lean your face into the steam. Don't get too close (keep your face about 10-18 inches away) and don't steam for longer than 10 minutes.
You should experience no pain or discomfort whatsoever. For those of us who are a bit lazy with steaming, I recommend getting in the shower and closing the door to create a steamy environment after exfoliating and before you apply your personalized mask treatment.
Mask
Now that your skin has been cleansed, exfoliated, and steamed, it's time for a treatment mask. Your pores are open and ready to soak up the nourishing mask ingredients.
There are about a gazillion face masks to choose from so pick one that meets your skin type and its needs at that time. I like to use a honey mask or this simple clay mask because my face is always dry. If you have acne, you might try a mask with tea tree or turmeric. Whatever your skin type, there's a mask for that. Just check out our big list of DIY face masks.
Tone
After you remove the face mask, it's time for toner. Yes, this step is important! Toner helps equalize the skin's pH after cleansing and masking, bringing it back to its natural level.
It's easy to make your own toner so make a batch of one that fits your skin type. I prefer to spritz on toner (who has cotton balls?), and of course we have recipes for making a facial mist too.
Serum
Are you applying your products in the right order? Yes, it matters – and if you don't do it right, your products won't work like they're supposed to. After toning comes a treatment serum. I'm in skin repair mode so I stick with this anti-aging serum with rosehip oil. Aloe vera and chamomile together make a super simple serum for calming redness and acne.
And if you have a lot of products and are not sure which comes first, a general rule is to apply thinnest to thickest and allow each step to completely dry before applying the next step.
If you don't want to DIY, try one of these natural serum picks; at night we like to use ones with glycolic or salicylic acid.
Moisturizer
And finally, we end with moisturizer. Customize a face oil that works for your skin type (just avoid these face oil mistakes). Coconut oil doesn't work for everyone's skin (it may cause breakouts for some), but I love this moisturizer with green tea.
You can also apply an eye specific cream or serum and even a neck and decolletage cream. After all, if you want your neck and chest to match your face as you age, you need to take care of those adjacent areas, also.
Have you noticed in facials how they massage in the moisturizer? It feels heavenly. There's a purpose behind those soothing facial massage motions. Keeping the facial muscles toned and improving circulation and lymphatic flow helps prevent sagging and helps the beneficial oils penetrate the skin. So give your face a 1-2 massage to finish up your at home facial. It will help relieve stress too!
This post was medically reviewed by Dr. Jennifer Haley, a board-certified dermatologist with extensive experience in medical, cosmetic and surgical dermatology. Learn more about Hello Glow's medical review board here. As always, this is not personal medical advice and we recommend that you talk with your doctor.
1,012