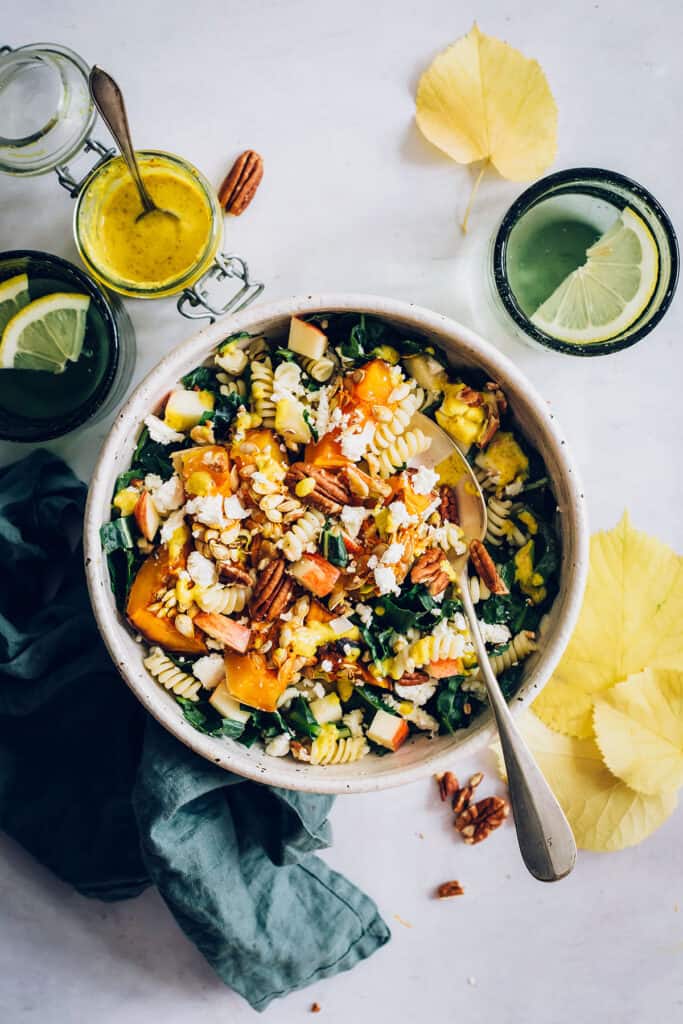 Hello Fall! Hello roasted pumpkins, long walks in yellow painted parks, pumpkin spice lattes and cozy layered clothing. And hearty salads with handpicked ingredients from the abundant farmers' market. This vegetarian pasta salad is a celebration of everything fall, and we just can't get enough of it. It's healthy, it's gluten-free and it's painted in autumn's colors.
How do you make a pasta salad?

We like to call the pasta salads our life savers, because there's nothing easier than putting together a healthy treat that please a crowd using pasta and some simple ingredients. There are so simple rules to make a foolproof pasta salad:
use whole wheat or gluten-free pasta – it will be easier to digest and will improve your meals with healthy, cleansing fibre.
choose your favorite ingredients – you can make Greek pasta salad (with feta cheese, kalamata, tomatoes, red onion, basil) or Italian pasta salad (with artichoke hearts, cherry tomatoes, mozzarella and oregano). They are all delicious, but the important thing is to make sure you add different ingredients that give a crunch, creaminess and juiciness to your pasta salad, to please all your taste buds.
use cooked and fresh ingredients – to create an interesting combo and help your body to better digest the food. Fresh ingredients will enrich the pasta salad with enzymes and vitamins, while the cooked ones will add a richer, more refined taste.
make a killer dressing – this can turn your pasta salad into a go-to recipe that you'll want repeat over and over again and make you forget you're actually eating some humble pasta.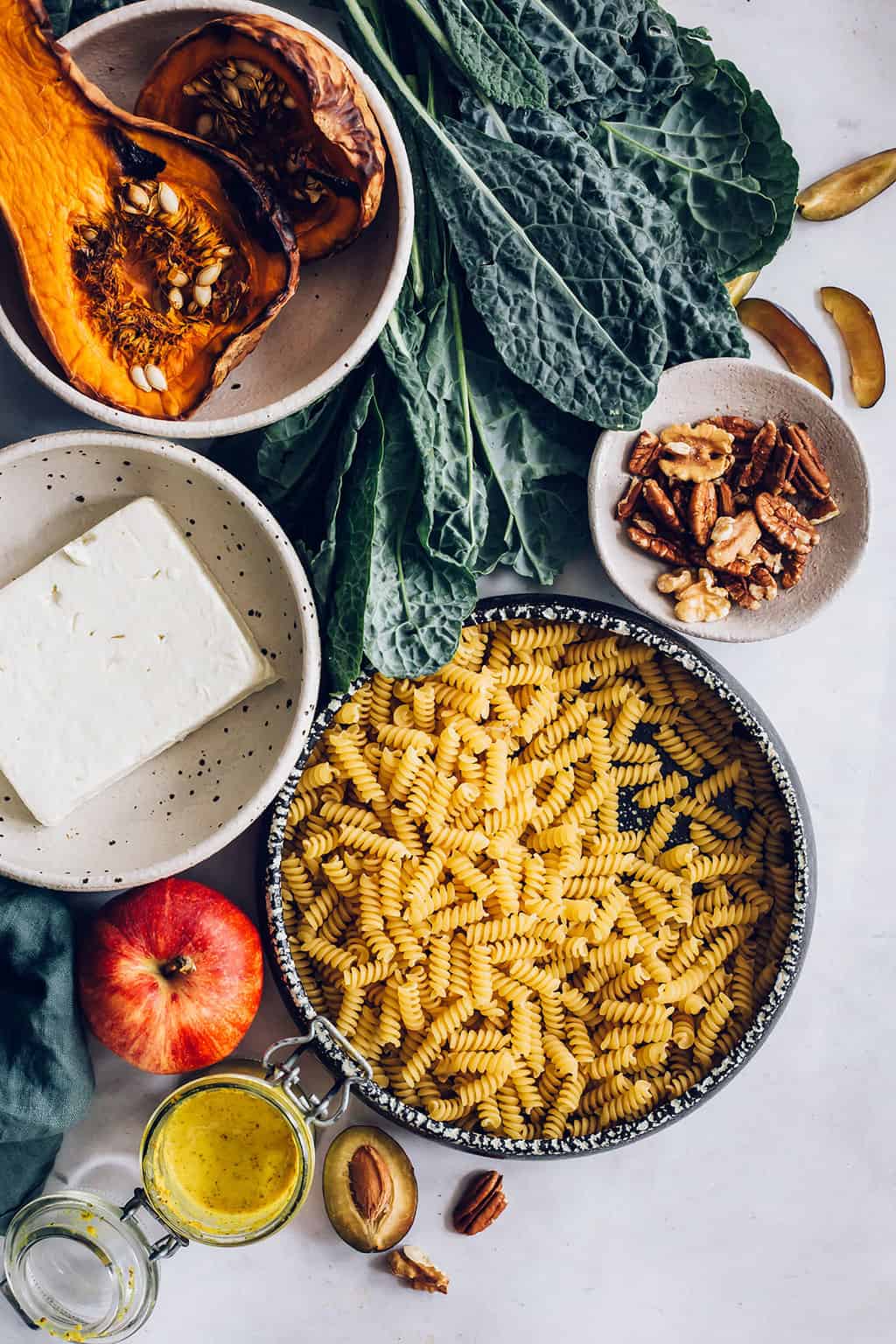 What Goes Well with Pasta Salad
When assembling our pasta salads, we like mix and match ingredients that are very different, but make a great combo together. Here are some awesome ideas you can pick your favourite ingredients from:
Fresh ingredients – greens of all kind (parsley, chard, beet greens, kale, watercress, arugula), veggies in season (tomatoes, cucumbers, zucchini), aromatic herbs (basil, oregano).
Cooked/dried veggies – asparagus, squash, root vegetables (beet, carrot, sweet potato, parsnip), sun-dried tomatoes, grilled corn, .
Crunchy stuff – lightly toasted seeds and nuts, gluten-free croutons.
Healthy protein – hard-boiled eggs from free range chickens, cooked tofu, cooked beans, lentils or chickpeas (their amino-acids will complement the ones in the wholewheat pasta and help your body build the complete protein blocks).
Can You Make Pasta Salad the Day Before?
You pasta salad might actually taste better if made the day before! We like to include pasta salads in our weekly meal prep routine. We cook the pasta, add just a bit of oil and keep in an airtight container to use it throughout the week. We always have fresh and cooked vegetables in our fridge. We prepare our favorite Dijon turmeric dressing.
If you want to make the pasta salad the day before, we recommend preparing the ingredients, but only mix the cooked ones (pasta, veggies) and add the fresh ones when served. This will prevent them from turning wilt (especially the fresh greens and herbs) and will help you get the most out of their nutrients. Also, add the dressing just before serving, so that both the fresh and cooked ingredients can soak in flavour.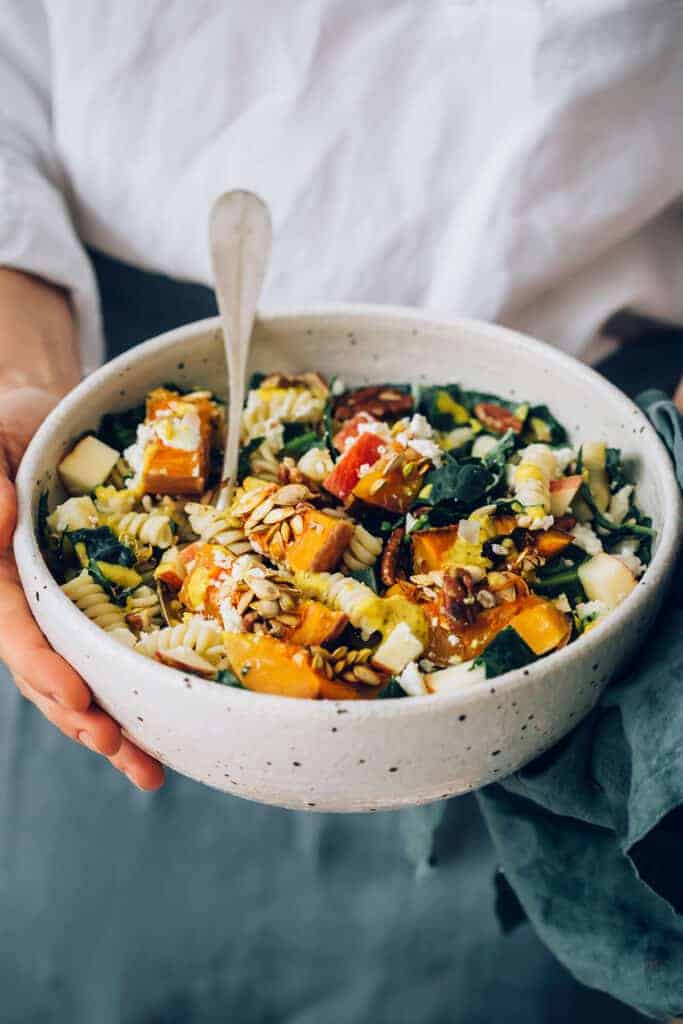 Looking for more interesting ways to cook your favorite pasta? Here are some of our favorites: Sheetpan Ratatouille with Crispy Gnocchi, The 5-Ingredients Pasta Recipe, Vegan Zucchini Lasagna with Tofu Ricotta.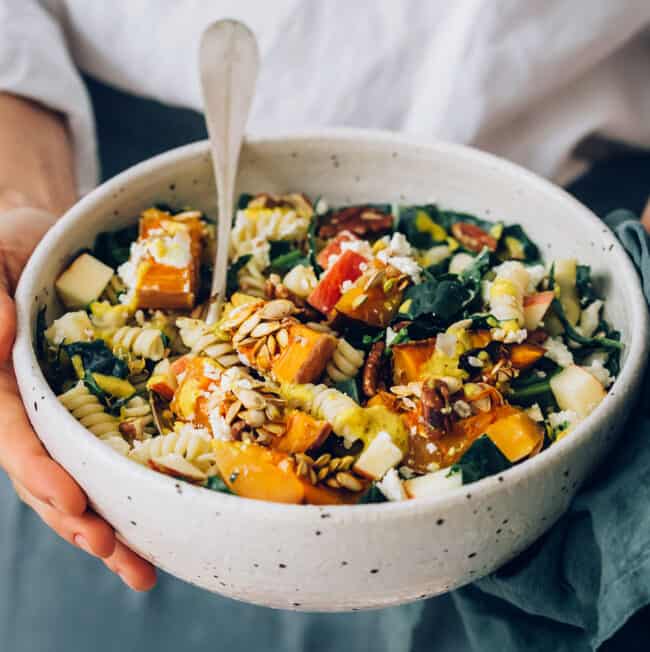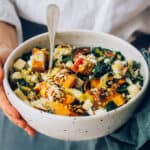 Print Recipe
Autumn Pasta Salad with Roasted Squash, Kale and Feta Cheese
Get the most out of the harvest season by making a rich and nutritious vegetarian pasta salad. Roasted squash, creamy feta cheese and crunchy kale perfectly complement the gluten-free pasta, bathed in Dijon turmeric sauce.
Ingredients
3/4

cups

gluten-free pasta

(rotini and fussili work best)

4

kale leaves

1/2

small butternut squash

1/4

cup

feta cheese, crumbled

5

pecan nuts

1

red apple

cut into cubes

1

tbsp extra virgin olive oil

1

tbsp

Dijon mustard

1 tbsp

fresh lemon juice

1/4

tsp

sea salt

1

tsp

ground turmeric
Instructions
Preheat the oven to 175C/350F.

Add the butternut squash half onto a lined baking sheet and roast in the oven for 20 minutes. Remove and set aside to cool.

While the squash is roasting prepare the rest of the ingredients: cook the pasta according to the package instructions, transfer into a large bowl and set aside to cool; roughly chop the kale and cut the apple into cubes; add the Dijon, olive oil, lemon juice, turmeric, salt into a small jar, add the lid and shake to obtain a dressing.

After the buternut squash cooled, cut into cubes and add into the pasta bowl, together with the rest of the ingredients and the dressing.

Toss to combine, and serve right away.
4