Need some extra energy? We've got you covered! There are some days when coffee just doesn't cut it, and your body craves more than just caffeine. Not only are smoothies delicious, you can put virtually anything in them to taste great and make your body feel revitalized.
3 Spinach Smoothie Recipes for Afternoon Energy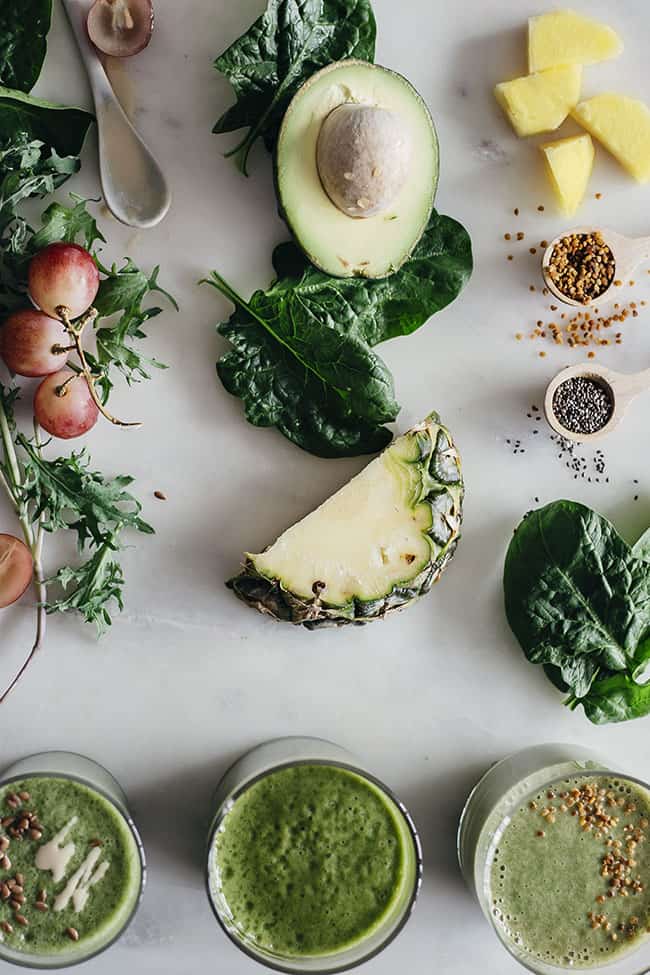 Each of these 3 yummy smoothies start with a base of spinach, the notorious energy booster that Popeye preferred, that also happens to be rich in zinc, protein, fiber, and loads of vitamins. Add a bit of milk, fruit and a few extras like flaxseed, avocado and bee pollen and turn on the blender! How much easier can these be?
1. Green Goddess Smoothie
Full of spinach and dandelion greens, you'll certainly get a healthy dose of vitamins A, C, E and K, along with many other minerals. Tahini also packs a punch here, full of important minerals like phosphorus, lecithin, magnesium, potassium and iron. It's also one of the best sources of calcium! With all these greens, the grapes are perfect to top everything off with the right amount of sweetness.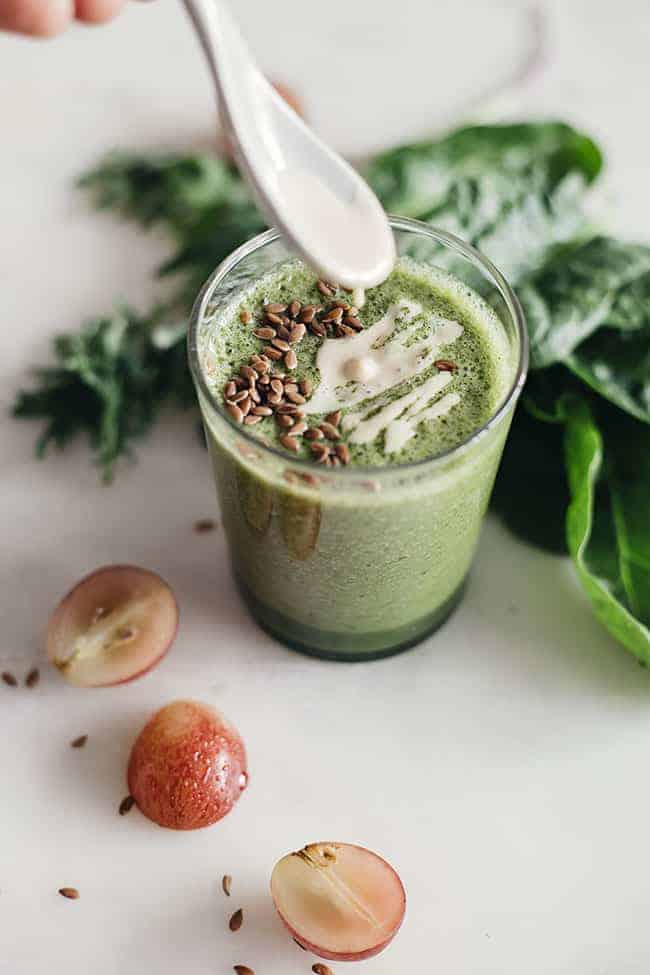 Green Goddess Smoothie
Ingredients
2 cups spinach
handful dandelion greens
1 1/2 cup water or non-dairy milk (coconut, hemp, or almond milk)
2 tablespoons tahini
1/2 cup frozen grapes
1 tablespoon flax meal
Instructions
Blend and drink immediately.
2. Fruit Green Machine Smoothie
Could this smoothie be any simpler to make? These four ingredients not only make this one easy to make, it's also loaded with benefits for our body. And as a bonus, it's also excellent for our skin with ingredients like avocado and coconut water. Spinach makes for a great base for any smoothie, but don't worry, it's called the fruit green machine for a reason. The pineapple makes this drink a tasty, tropical treat.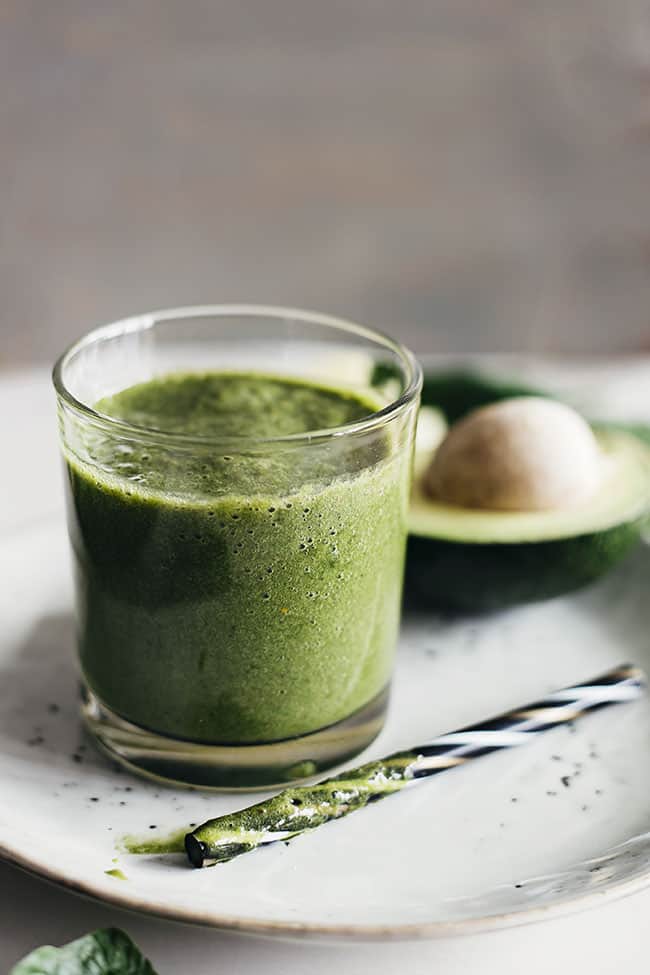 Fruit Green Machine
Ingredients
2 cups spinach
1 1/2 cups coconut water or coconut water kefir
1 cup chopped pineapple
1 avocado
Instructions
Blend all ingredients and enjoy!
3. Superfood Energy Smoothie
Did you know that chia seeds actually contain more omega-3 fatty acids than salmon? It's hard to believe that such a little seed can contain such power, plus fiber, protein, and a bunch of minerals. Our bodies can't produce omega-3 fatty acids on their own, so it's important to eat foods like chia seeds to get our fill of healthy fats. With this drink, you'll be set for the day and be able to take on just about anything!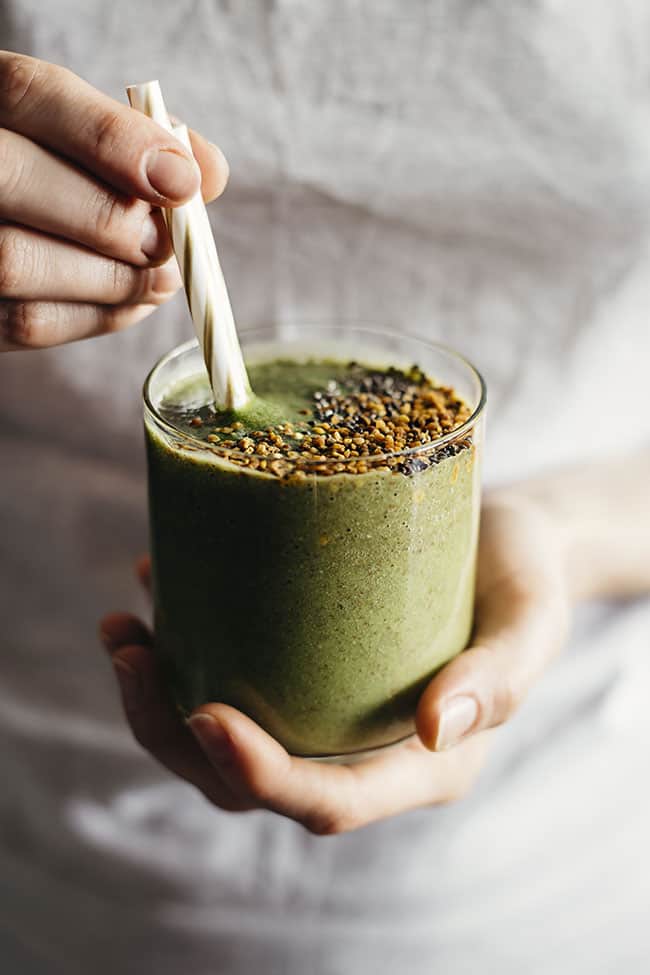 Superfood Energy Smoothie
Ingredients
2 cups spinach
1 1/2 cups water or non-dairy milk (coconut, hemp, or almond milk)
1/2 cup frozen mango
1 tablespoon flax meal
2 tablespoons bee pollen (optional)
1 teaspoon chia seeds (optional)
Instructions
Blend all ingredients together and add optional ingredients.
Drink immediately.
Photos by Ana Stanciu
5