Every autumn when the air turns dry and the wind picks up and stirs the leaves in the gutters I am struck by the beauty of nature in transformation. And then I am struck by sudden feelings of anxiety, groundlessness, sleeplessness and worry. For years I accepted this as "how I get in the fall," and it wasn't until I began to study Ayurveda that I learned there are ways to manage it.
Vata is one of the three doshas (constitutions) in the Ayurvedic wellness system. It is the wind/ether element in the body. People who are predominantly vata are light, dry, mobile and changeable. And when the dry and changeable autumn season moves in, vata types can be pulled into a state of imbalance.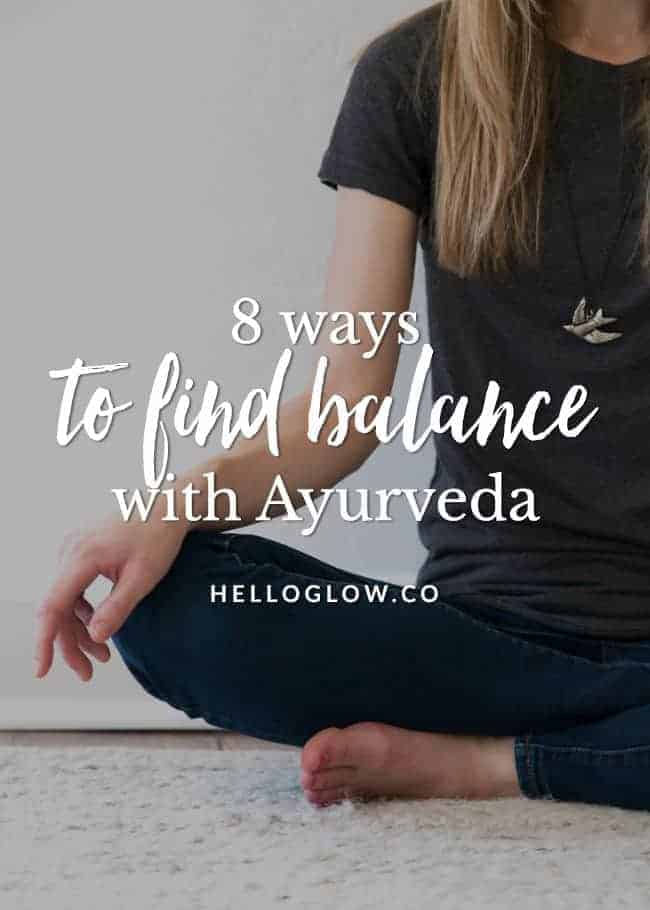 While everyone has some vata dosha in the mix, if you are primarily vata you are likely tall and thin, light eyed and have dry skin. You are energetic and creative but fatigue quickly. You are often cold and have poor circulation and sluggish digestion. You are also prone to anxiety and worry. (You can use this online quiz to help you determine your dominant Ayurvedic dosha.)
8 Ways To Find Balance in the Fall
If you have been suffering from a bout of the "autumn crazies," here are some Ayurvedic suggestions that can help you regulate your vata dosha and bring yourself back into balance:
1. Warm food
Eat foods that are thoroughly cooked (easy to digest) and served warm. Avoid raw smoothies, juices and salads and any dried foods (nuts, fruits, crackers, granola bars, popcorn). Think instinctive fall comfort foods and up your intake of soups, curries and stews, especially those that contain root vegetables. Use many warming spices such as cardamom, cinnamon, ginger, turmeric and fennel.
2. Sleep snack
Warm milk and honey before bed is perfect for vata types. The protein helps settle the body for sleep, and adding in some of the warming spices mentioned above can be especially grounding.
3. Try chai
Find some holy basil tea (tulsi) at your local health food store and drink it throughout the day. If you're a coffee drinker, chai tea (the real tea, not the flavoured powder) with milk and sweetened with honey is a better choice for your morning pick-me-up as coffee is bitter/astringent which aggravates vata. It's best to drink most of your fluids warm or room temperature. Avoid those cold beers and ice water as they only slow digestion further.
4. Moisturize with good fats
Increase your intake of healthy fats. Because vata types are dry, eating foods that add moisture to your body from the inside out: coconut, avocado, flax and ghee are great choices. If you are not vegan, dairy is a good choice. If you are vegan, try coconut milk.
5. Slow down
This is a time to take it easy at the gym. When vata is out of balance, the body needs to move more slowly. Vata bodies are flexible and often suffer from joint issues so be careful with practices that involve long hold static stretches. Practices that build strength and stability around the joints are great choices, such as long walks, bike rides or hatha yoga, but avoid anything too strenuous or depleting.
6. Stay warm
Keep the body warm. Take before-bed baths scented with calming lavender, wear layered clothing, and when you are outdoors, be sure to wrap your neck with a scarf as the throat is particularly vulnerable to the cold.
7. Meditation
Make time for meditation. The vata mind can be a monkey mind at the best of times, but out of balance the mental chatter can become unbearable. Setting even 10-15 minutes aside each morning for meditation before you start your day can really help stave off the sometimes overwhelming waves of anxiety.
8. Massage
Use oils for self-massage after bathing. Sesame oil is a great choice because it has anti-inflammatory properties and permeates the skin better than other moisturizers to help lubricate the creaky vata joints. Better yet, book yourself in for a massage (ask them to use sesame oil) and consider this essential to your autumnal self-care protocol.
If you're feeling as if you have been hovering a few feet off the ground, worrying your way to sleep each night or wondering why your digestive system is such a mess, try incorporating some of these Ayurvedic guidelines and ease your way back to a firmly-planted calm. And enjoy the coziness that comes with caring for your vata self!
4