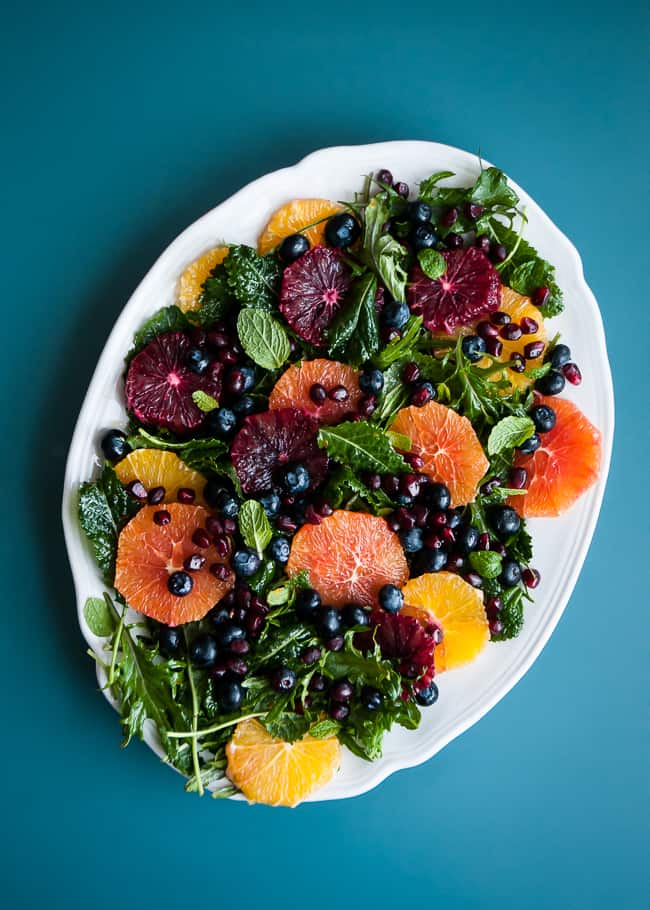 Kale has been on the top of the food trends list for the past few years, and I hope it stays that way. I love me some dark, leafy greens! It took a while to get used it to it but I'm now officially 100% on board. Raw kale might sound kind of intimidating, but trust me on this one: raw kale salads will change your life!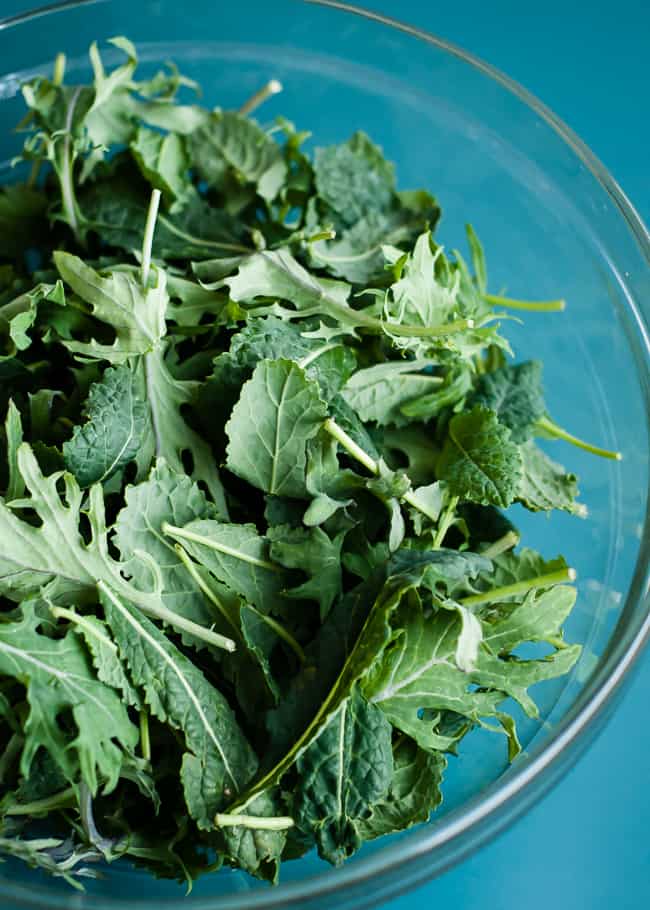 If you're still warming up to the idea, I recommend starting with baby kale, which is a little sweeter and more tender than its grownup counterpart. You can usually find it along with the tubs of pre-washed greens at the grocery store. But if you have trouble, by all means, use whatever you can find. The larger leaves just need to be removed from the tough, woody stem and cut (or torn) into smaller pieces. You can also massage the leaves with a little lime or lemon juice to soften them up a bit, if needed.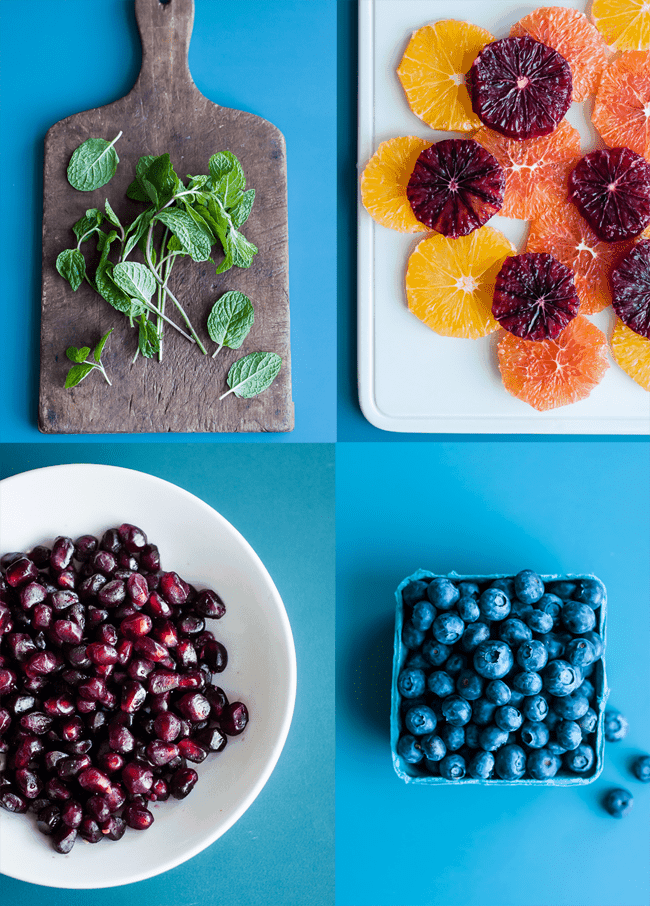 I love adding fresh fruit to salad. It's a great way to add some fun colors and textures – and a little sweetness, of course. Maybe it's just me, but a pretty salad feels like an enjoyable treat instead of boring, healthy food. And the jewel tones of blood oranges, blueberries and pomegranate seeds complement the dark green kale so well. I always say that I love pretty food – and it's true! We eat with our eyes, too. So load up your salad with whatever colorful fruits and veggies pique your interest to get the most health benefits.
The fruits I chose, while not mandatory, fall into the super food category, which means that they're full of nutritious antioxidants, vitamins and minerals to boost our immune systems and keep our bodies running at peak performance. There are lots of other superfoods out there, though, so play around with them and get creative! Honestly, they all taste so good, so why not?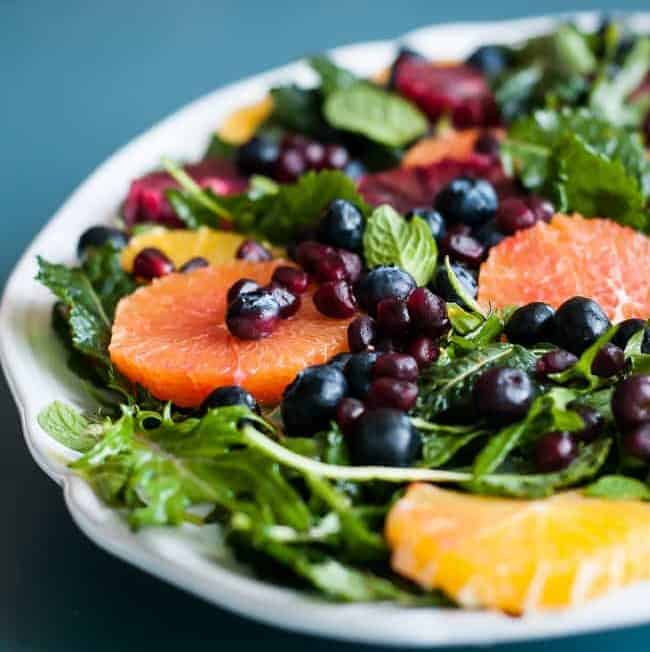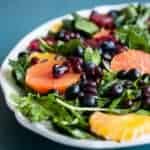 Print Recipe
Baby Kale Salad with Blood Oranges, Blueberries & Pomegranate
A healthy, vibrant salad that makes the most of winter fruits and and kale.
Ingredients
For salad:
4

cup

baby kale or chopped kale leaves

3

oranges

peeled and sliced

1/2

cup

blueberries

1/2

cup

pomegranate seeds

arils

small handful of whole mint leaves
Instructions
Prepare dressing first. Whisk together orange juice and zest, olive oil, apple cider vinegar, honey, and pinch sea salt in a small bowl. Add the fresh mint and stir. Set aside.

Place kale in a large bowl. Pour the dressing over the kale and toss well to coat. Transfer the kale to a serving platter. There will be extra dressing at the bottom of the bowl; reserve it.

Arrange the orange slices over the dressed kale. Top with the blueberries and pomegranate seeds, and extra mint leaves.

Drizzle with the remaining dressing, if desired, and serve immediately.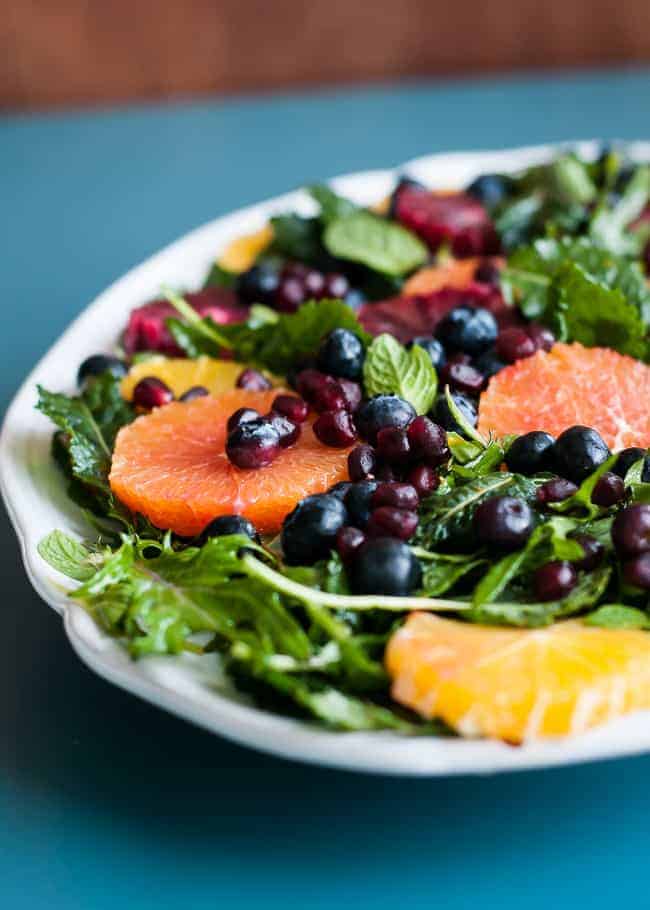 8