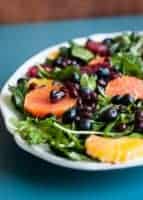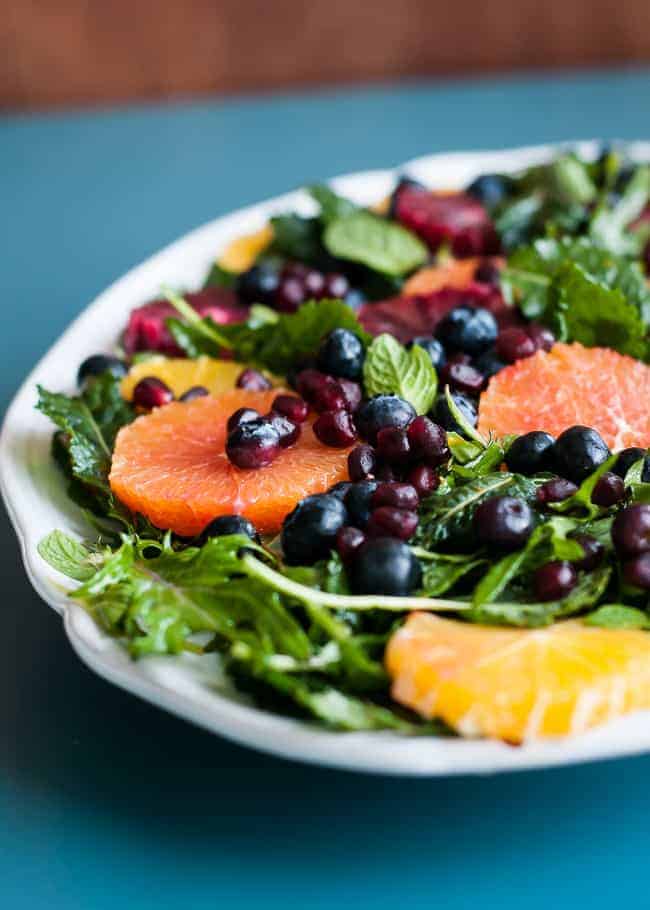 Baby Kale Salad with Blood Oranges, Blueberries & Pomegranate
Yield 4
A healthy, vibrant salad that makes the most of winter fruits and and kale.
Ingredients
For salad:
4 cup baby kale or chopped kale leaves
3 oranges, peeled and sliced
1/2 cup blueberries
1/2 cup pomegranate seeds (arils)
small handful of whole mint leaves
For dressing:
1/4 cup fresh mint, sliced
Juice and zest of 1 orange
1 Tablespoon olive oil
1 teaspoon apple cider vinegar
1/2 teaspoon honey (optional)
pinch sea salt
Instructions
Prepare dressing first. Whisk together orange juice and zest, olive oil, apple cider vinegar, honey, and pinch sea salt in a small bowl. Add the fresh mint and stir. Set aside.
Place kale in a large bowl. Pour the dressing over the kale and toss well to coat. Transfer the kale to a serving platter. There will be extra dressing at the bottom of the bowl; reserve it.
Arrange the orange slices over the dressed kale. Top with the blueberries and pomegranate seeds, and extra mint leaves.
Drizzle with the remaining dressing, if desired, and serve immediately.
Courses salad
Cuisine American
Recipe by Hello Glow at https://helloglow.co/baby-kale-salad-oranges-blueberries-pomegranate-seeds/