I'm in need of outfit options for taking my kids to school. I don't want to be the mom in sweats! What's an easy (but stylish) look for the school run?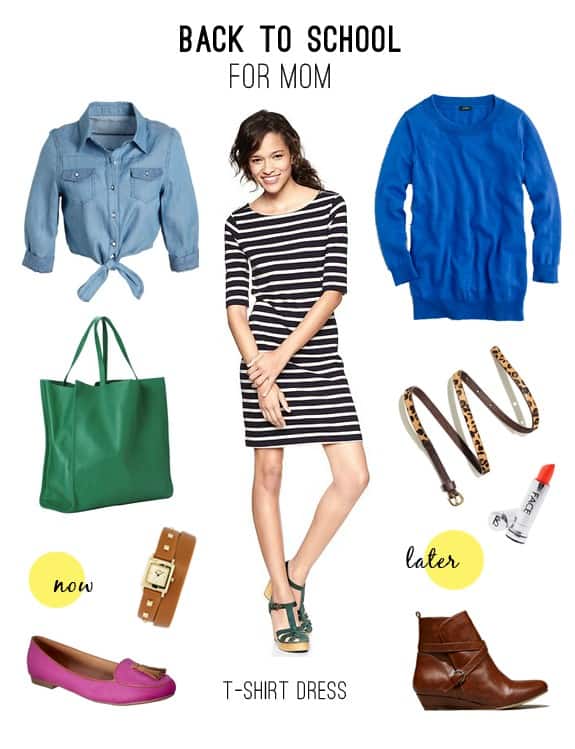 Great question! When it comes time to take the kids to school, I (Ali) want something that's easy, yet still comfortable. That's why I love this $60 striped t-shirt dress. It is such a great foundation piece. It looks adorable by itself but with a few extra items and accessories, you have a whole new look.
Now
While it's still warm outside, I like the idea of pairing the striped dress with some colorful loafers. Plus, loafers are so chic for fall. Take the chambray shirt you have been wearing all summer and tie it over the dress. A leather tote bag makes the look much more sophisticated, and you're still able to carry everything you need. Finish the look with a wrap around watch – the perfect accessory to make sure you get those kiddos to school on time.
dress / chambray shirt / tote bag / wrap around watch / loafers
Later
When it starts to cool off a bit, wear a pullover sweater in a bright cobalt blue color over the dress. To give your body some shape, add a skinny leopard belt. Complete the look with some ankle boots with a low wedge and one of the easiest accessories every mom should have: a bright red lip color.
dress / sweater / leopard belt / lip color / ankle boots
Send your #AskAli style questions via email ([email protected]) or tweet us!
0