Many of us are starting to prepare (or thinking about starting to prepare) for the holidays, in all the good and bad ways this implies. The following recipe fits in well with this preparation since it combines so many flavors associated with this time of year, especially apples and cinnamon. The other advantage of this snack is that these chips are BAKED. Here's to saving our calories for apple pie!
How to make your own Baked Apple Chips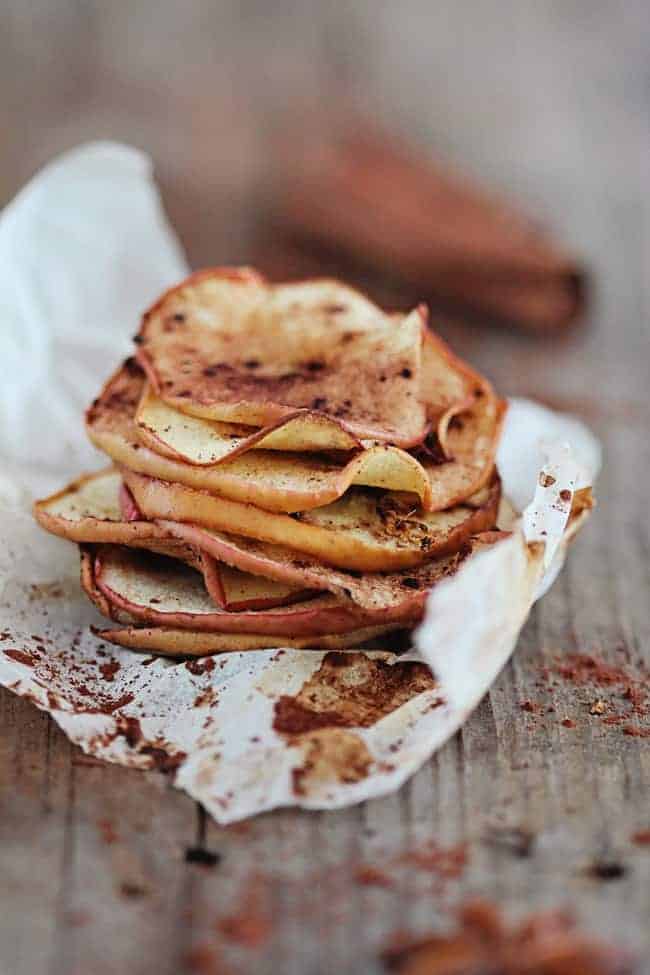 Ingredients needed
Makes 4 to 5 servings
4 apples
1 lemon, juiced
2 cups cold water
sprinkle of cinnamon
sprinkle of ground ginger
Set your oven to 200 degrees Fahrenheit while preparing your apples. Line a baking sheet with parchment paper. Add lemon juice to a bowl of cold water and set to the side. Wash and slice your apples as thin as you can, core and all. Add apple slices in the cold water and lemon juice mixture for a few seconds as this will prevent browning. Remove apple slices from the water, and place in a single layer on your lined baking sheet. Sprinkle the chips with cinnamon and ginger powder.
Bake the apple slices for 1 hour, then flip to the other side. Bake for another hour. If the slices are not dry enough, you can bake for another 10 to 15 minutes. Once the apple slices are done to your liking, remove from heat and set to the side to cool. Once the apple slices are cool, place them in a air-tight container for storage.
Baked Radish Chips with Sea Salt
Here's a snack to make up for eating out of your kids' Halloween basket. The hardest part of this recipe is getting all the dirt off the radishes then waiting for them to bake to crispy savoriness.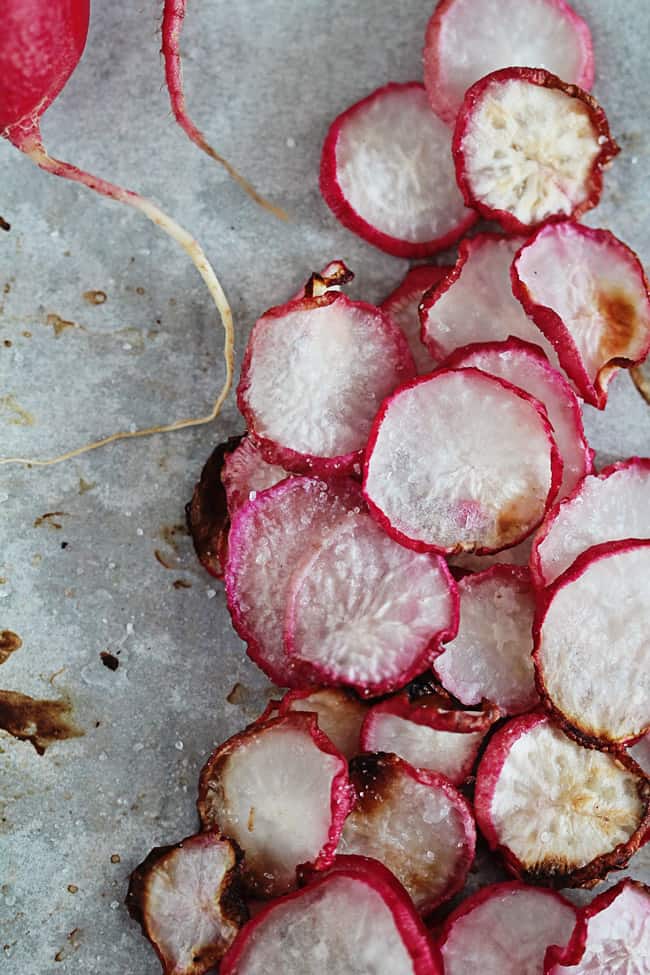 Ingredient needed
Makes 5 to 6 servings
1 bunch radishes
1 tablespoon coconut oil
sea salt to taste
Preheat your oven to 300 degrees Fahrenheit. Line your baking sheet with parchment paper. Remove the greens and tails of the radishes. Wash thoroughly (you may need to scrub them to remove the dirt completely). Thinly slice your radishes then place in a mixing bowl. Drizzle coconut oil on top, then mix well to coat. Place each chip on the lined baking sheet in a single layer. Bake the radish chips for 1 hour. If the chips are not as dry as you would like them to be, bake for another 10 to 15 minutes. Once the radish chips are done, sprinkle with sea salt.
85