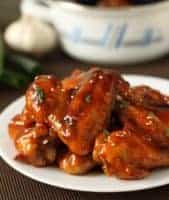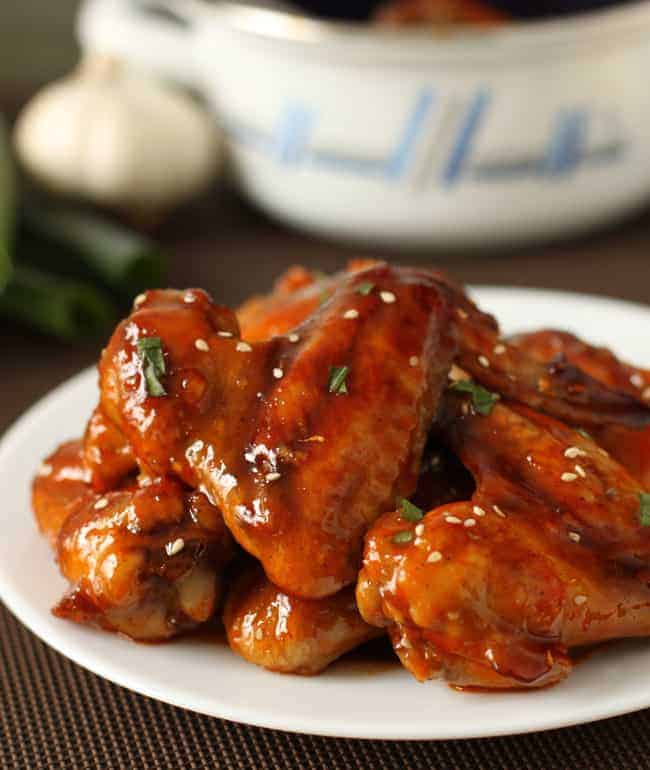 Baked Sriracha Chicken Wings
Yield 3 -4
These baked Sriracha chicken wings are spicy, easy to put together and sure to be a crowd pleaser!
Ingredients
Marinade:
2 1/2 pounds chicken wings
1/2 cup soy sauce
2 tablespoons sesame oil
4 cloves garlic, minced
1/2 teaspoon salt
1/2 teaspoon pepper
Sauce:
2 tablespoons butter
2 cloves garlic, minced
1/4 cup Sriracha sauce
1/4 cup honey
1 tablespoon soy sauce
1 1/2 teaspoons ginger, minced
1 tablespoon rice wine vinegar
Garnish:
toasted sesame seeds
green onions
Instructions
Mix together the marinade ingredients in a sealable plastic bag and add the chicken wings.
Seal and place in the refrigerator to marinate overnight.
When ready to prepare, preheat the oven to 425 degrees F.
Place the wings on a rack in a shallow roasting pan.
Place the roasting pan on the oven rack and pour enough water into the roasting pan to reach 1/2 inch up the side of the pan.
Bake the wings for 25-30 minutes or until crispy.
With about 10 minutes left on the alarm for the chicken wings, prepare the sauce by combining all of the sauce ingredients in a large saucepan.
Boil for 5-7 minutes, stirring occasionally, or until the sauce has thickened.
Remove the sauce from the heat.
Once the wings are cooked, place the wings in the sauce and toss to coat.
If desired, sprinkle on some sesame seeds and green onions.
Serve immediately.
Courses Main Dishes
Cuisine Asian
Recipe by Hello Glow at https://helloglow.co/baked-sriracha-chicken-wings/