Baking soda makes a wonderful cleanser because it melts grime and gently exfoliates without leaving your skin feeling dry and tight. It's also incredibly cheap, and you probably have some already on hand, so you don't have to buy any special ingredients. When you're ready to take it for a test run, read on for 5 easy baking soda face scrub recipes you can whip up in minutes.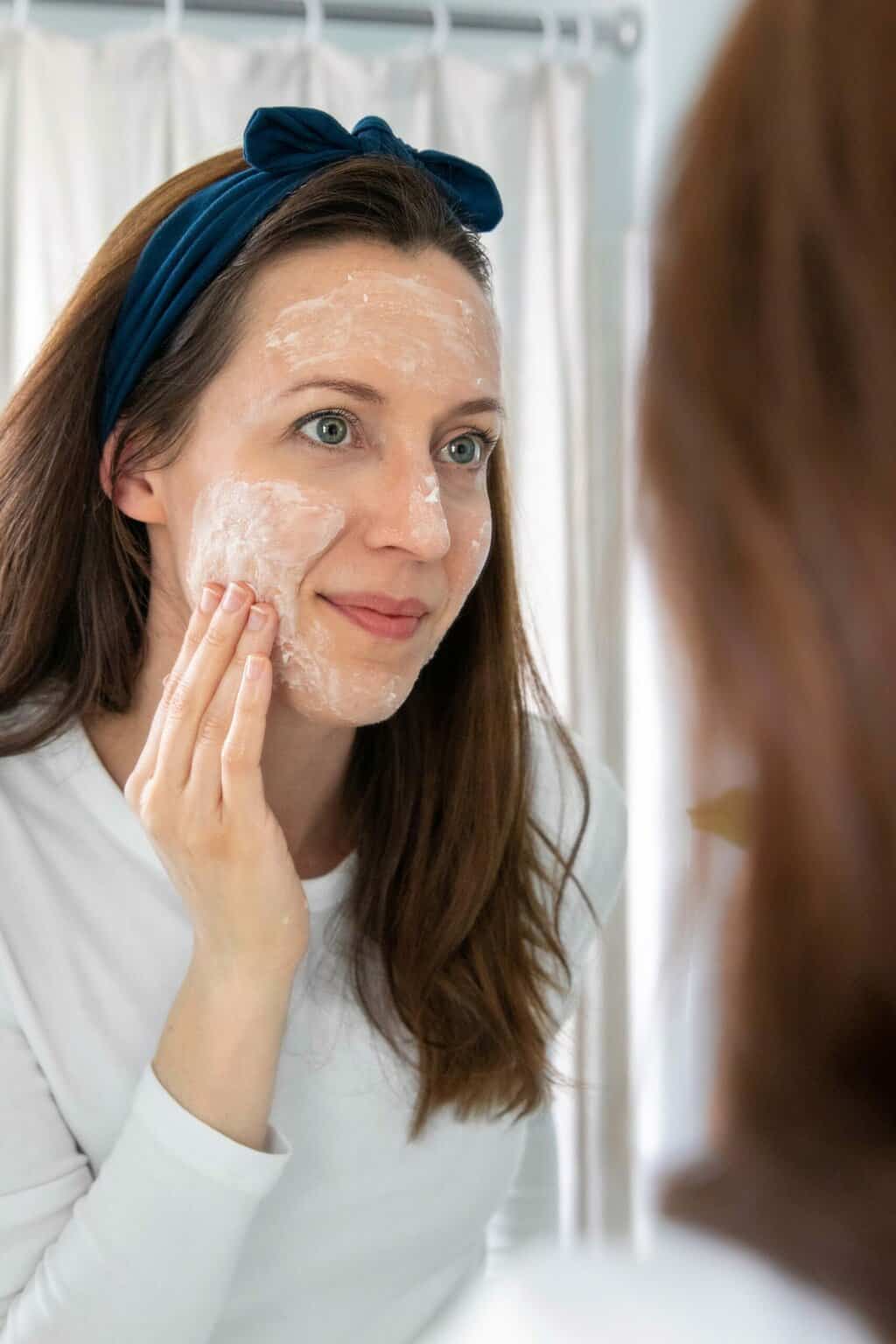 Baking Soda Face Scrub Benefits
I have used practically every facial cleanser under the sun over the years. And you know what I've learned? Simpler is always better. Skip the moisture-stripping soap, crazy expensive face wash, and harsh acne cleansers. Instead, go with natural products that clean the skin without drying it out. Why add baking soda to your skincare routine?
Well, for starters, using baking soda on your face can help remove excess oil, dirt, and impurities from the skin. When used as a gentle exfoliant, baking soda may decrease the appearance of blackheads, scars, and wrinkles. Not to mention, it's slightly astringent, which means it helps tone and tighten skin. But those aren't the only baking soda face scrub benefits.
Gently exfoliates dry skin
Compared to sugar or coffee grounds, baking soda is a milder abrasive with a finer texture, which makes it a great exfoliator for delicate facial skin. Gently massaging a baking soda paste into the skin smoothes away flakes and lessens the appearance of wrinkles without causing damage.
Makes pores appear less noticeable
Much like a microdermabrasion treatment, baking soda helps clear debris that tends to settle in pores and fine lines, giving your skin a smoother, more polished look.
Gets rid of oily buildup
It's not uncommon for serums, toners, and other skincare products to build up over time (especially if you don't wash your face as often or as well as you should). Baking soda makes for a great clarifier, helping to break down greasy buildup and wash it away.
Treats breakouts
If you suffer from the occasional breakout, baking soda makes an excellent spot treatment! Simply add some water to make a paste, and apply it to pimples for 15 minutes. As it dries, it will draw out impurities and soothe inflammation.
Soothes itch and irritation
While baking soda is not a cure, the National Eczema Association recommends adding baking soda to the bath as one remedy to soothe itching for those with eczema [source].
How to Use Baking Soda on Your Face
It's time to skip the drying face wash and use a baking soda cleanser with all of its benefits instead. By adding baking soda to your weekly skincare routine, you can keep your skin looking healthy without drying it out or damaging it. Plus, it's simple and inexpensive to boot.
Here's how to make a simple baking soda exfoliator for face and use it as a soap-free cleanser.
1
.
Rinse your face
If you're wearing eye makeup, use eye makeup remover, coconut oil, or micellar water to remove it. Then splash some water over your face.
2
.
Place baking soda in a bowl
Spoon 2–3 tablespoons of baking soda into a small bowl (you can also use the palm of your hand).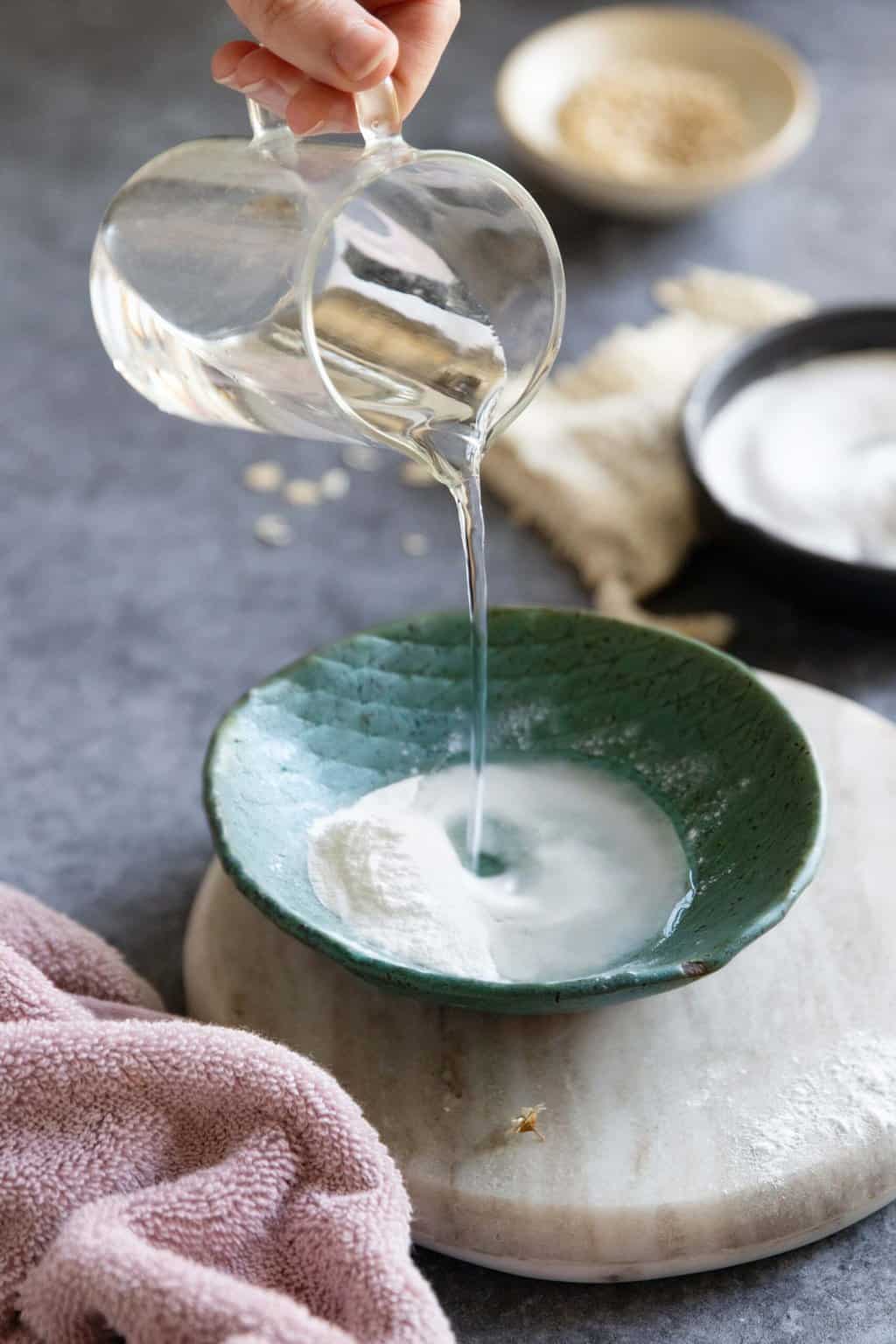 3
.
Add water to make a paste
Add just enough water into the bowl (or your palm) to mix with the baking soda and make a paste. I find that a dryer paste works well as an exfoliator, while a slightly more watery paste makes a great face wash. Really, the texture is up to you.
4
.
Spread the mixture over your skin
With your fingertips, spread the mixture all over your face. Avoid the delicate area around the eyes. If you need to, add more water or baking soda until your paste reaches the right consistency.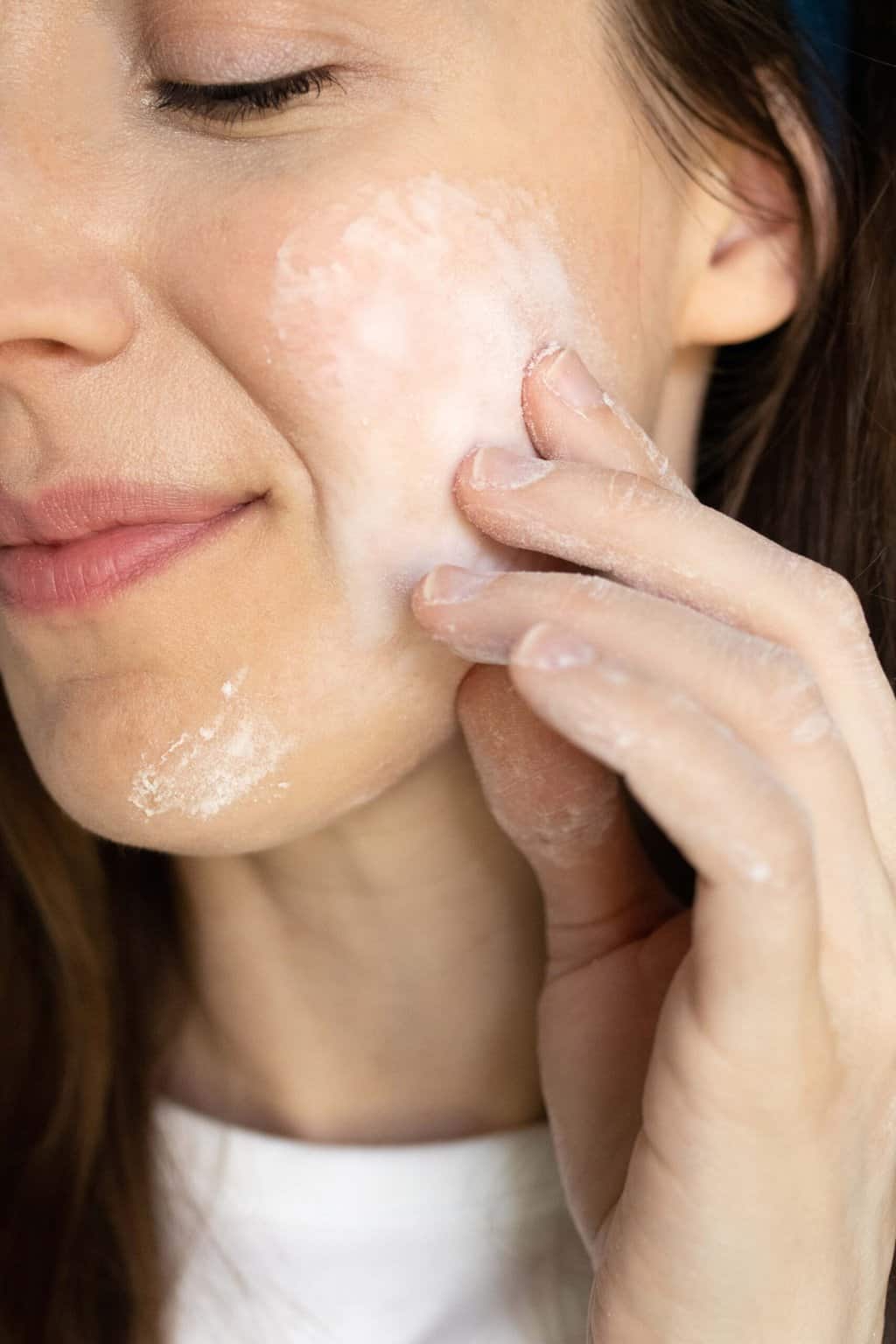 5
.
Gently massage the skin using soft
,
circular motions
Then use light, circular strokes to massage the mixture into the skin. Make sure to focus on any rough patches, pimples, or other areas of concern—just don't overdo it! Too much exfoliation can make irritation worse.
6
.
Rinse your face with warm water
To remove the baking soda, splash your face with plenty of warm water. I like to use a soft washcloth to help keep the baking soda away from my eyes, get it out of my hair, and remove it from anywhere else it tends to linger.
7
.
Pat your skin dry
Without tugging or pulling, pat your skin dry. At this point, you'll be able to tell if there's still baking soda on your face. If there is, rinse again.
8
.
Follow up with toner
,
serum
,
and moisturizer
While the skin is still slightly damp, apply your usual serum and moisturizer. Since baking soda is slightly drying, trust me, you really won't want to skip this step! Slather it on.
9
.
Use 2 to 3 times a week
If you have sensitive or normal skin, feel free to use baking soda 2 to 3 times a week. For oily skin, you may wish to use it more often. Just keep a close eye on things to keep from drying out your skin or making irritation worse.
5 Baking Soda Face Scrub Recipes for Different Skin Types
Baking soda is an incredibly versatile ingredient that can be used to make a variety of DIY masks, cleansers, and scrubs. Simply mix up the ingredients according to your skin type and address those pesky skin issues like acne, oily skin, fine lines, and other problems.
If you'd like to make up your own recipe, go ahead and add any of the following to your baking soda paste the next time you wash your face. Or scroll down for 5 effective DIY baking soda scrubs and masks that can help you achieve smooth and healthy skin.
—Coconut oil
—Honey
—Yogurt
—Lemon
—Aloe vera
—Green tea
—Oatmeal
—Cocoa powder
—Powdered rice
—Essential oils
—Dried flowers and herbs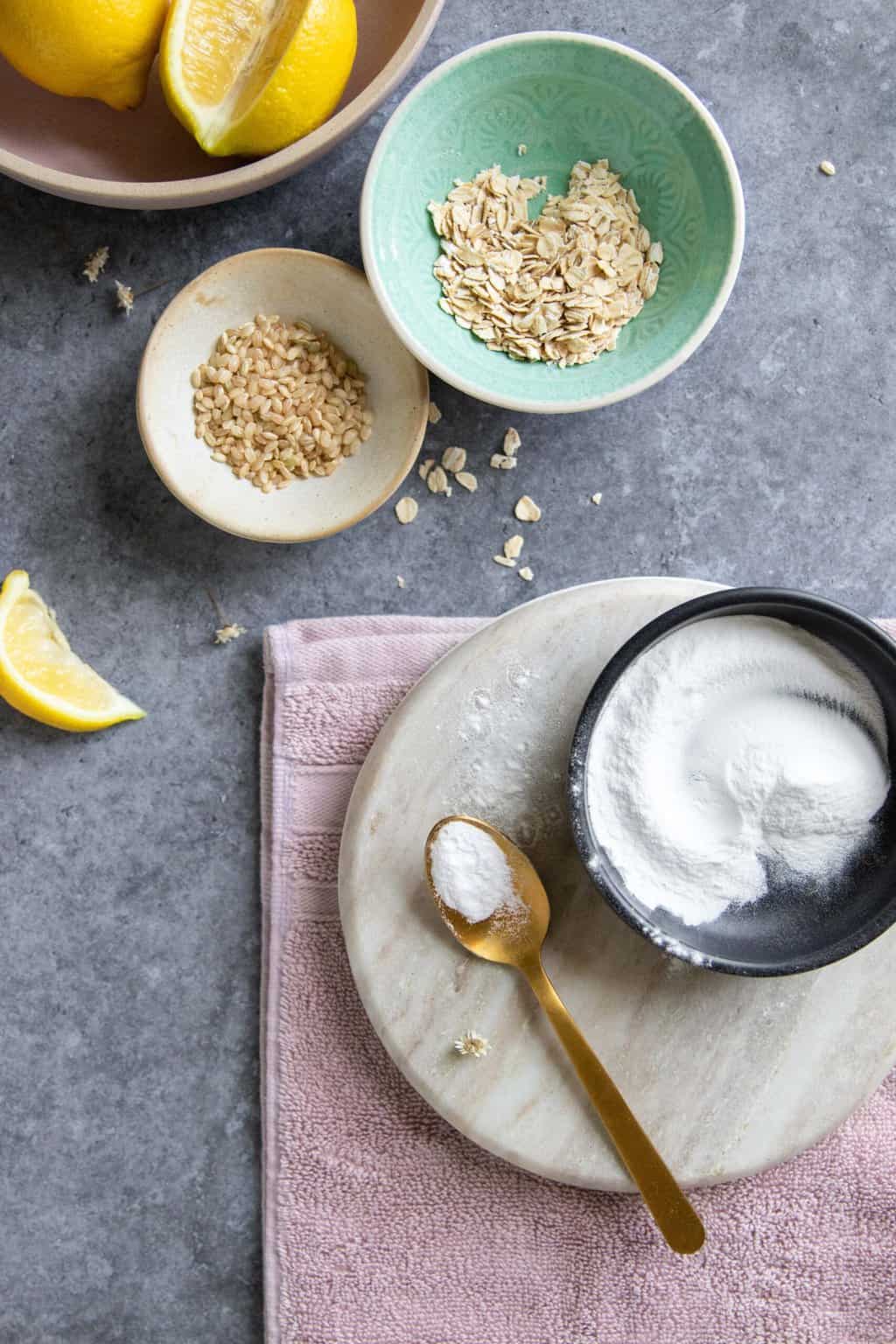 1. Soothing baking soda face scrub for dry
,
irritated skin
All you need are essential oils, aloe vera, and baking soda, and you've got the perfect baking soda exfoliator for the face.
—1 tablespoon baking soda
—2 tablespoons aloe vera gel
—4 drops tea tree essential oil
—2 drops Roman chamomile essential oil
Combine the baking soda and aloe vera gel in a small bowl and stir well. Add the essential oils and stir again. If needed, add more aloe vera gel or baking soda until you reach the preferred consistency.
Gently massage the paste into your skin. Then let sit for 2–3 minutes before rinsing off. Pat your skin dry and follow up with moisturizer. Use weekly for best results.
2. Baking soda face scrub for acne
A combination of baking soda, rice flour, and lemon juice helps absorb excess oil and tones the skin. Meanwhile, rose water soothes and hydrates without leaving a greasy finish.
—2 tablespoons baking soda
—3 tablespoons rose water
—2 teaspoon rice flour
—1 teaspoon lemon juice
Combine all ingredients in a small bowl. Smooth the mixture over clean skin, and let it sit for 15 minutes.
Rinse well and follow up with your normal skincare routine. Use 1–2 times a week.
Note: Lemon juice can make your skin more sensitive to the sun. Use this mask at night, and make sure to wear a good sunscreen the next day.
3. Simple baking soda face wash for sensitive skin
If you've got sensitive skin, go ahead and replace that ol' face wash with this gentle baking soda cleanser. Lavender essential oil soothes inflammation while honey calms irritation, and jojoba oil boosts moisture.
—2 tablespoons jojoba oil
—2 teaspoons baking soda
—1 teaspoon raw Manuka honey
—3 drops lavender essential oil
Combine the ingredients in a small lidded container and mix well. First, splash your face with warm water, then pour approximately 2 teaspoons of the oil mixture into your hands (you may need to shake it first).
Gently massage the skin for 1–2 minutes before rinsing off. Pat your skin dry and follow up with your usual moisturizer or serum. Use 2–3 times a week.
4. Baking soda face scrub for blackheads
I love this baking soda face scrub recipe because it does the near-impossible: it buffs away stubborn blackheads and clears pore-clogging gunk. You can use it as a weekly scrub to keep your skin looking clear or as a spot treatment to tackle more acne-prone areas.
—1 tablespoon baking soda
—1 aspirin tablet, finely ground
—1 teaspoon green clay powder
—2–3 tablespoons water
Combine the dry ingredients in a bowl and stir well. Then add just enough water to form a loose paste. Apply the scrub to clean skin, and let it sit for 2–3 minutes (if you notice a stinging sensation from the aspirin, rinse it off sooner).
Using your fingertips, massage the scrub into the forehead, nose, chin, or anywhere else you get blackheads. Rinse well. Use 1–2 times a week.
5. Coconut oil and baking soda face wash for redness and irritation
This coconut oil and baking soda face wash is a godsend for those of us with red, irritated skin. Yogurt contains healthy probiotics, which help balance the skin's microbiome and reduce redness. And coconut oil contains a plethora of fatty acids and antioxidants, helping to soothe and heal skin.
—1 tablespoon plain, unsweetened yogurt
—1 tablespoon coconut oil, melted
—2 teaspoons baking soda
—1 teaspoon ground oatmeal
Combine the ingredients in a small bowl and mix quickly to prevent the coconut oil from solidifying. Splash warm water on your face, then gently massage the face wash mixture into the skin (feel free to add a little water to make it a more spreadable consistency).
When you're done, rinse with warm water and use a washcloth to remove any excess oil. Follow up with serum and moisturizer if you desire. Repeat 1–2 times a week.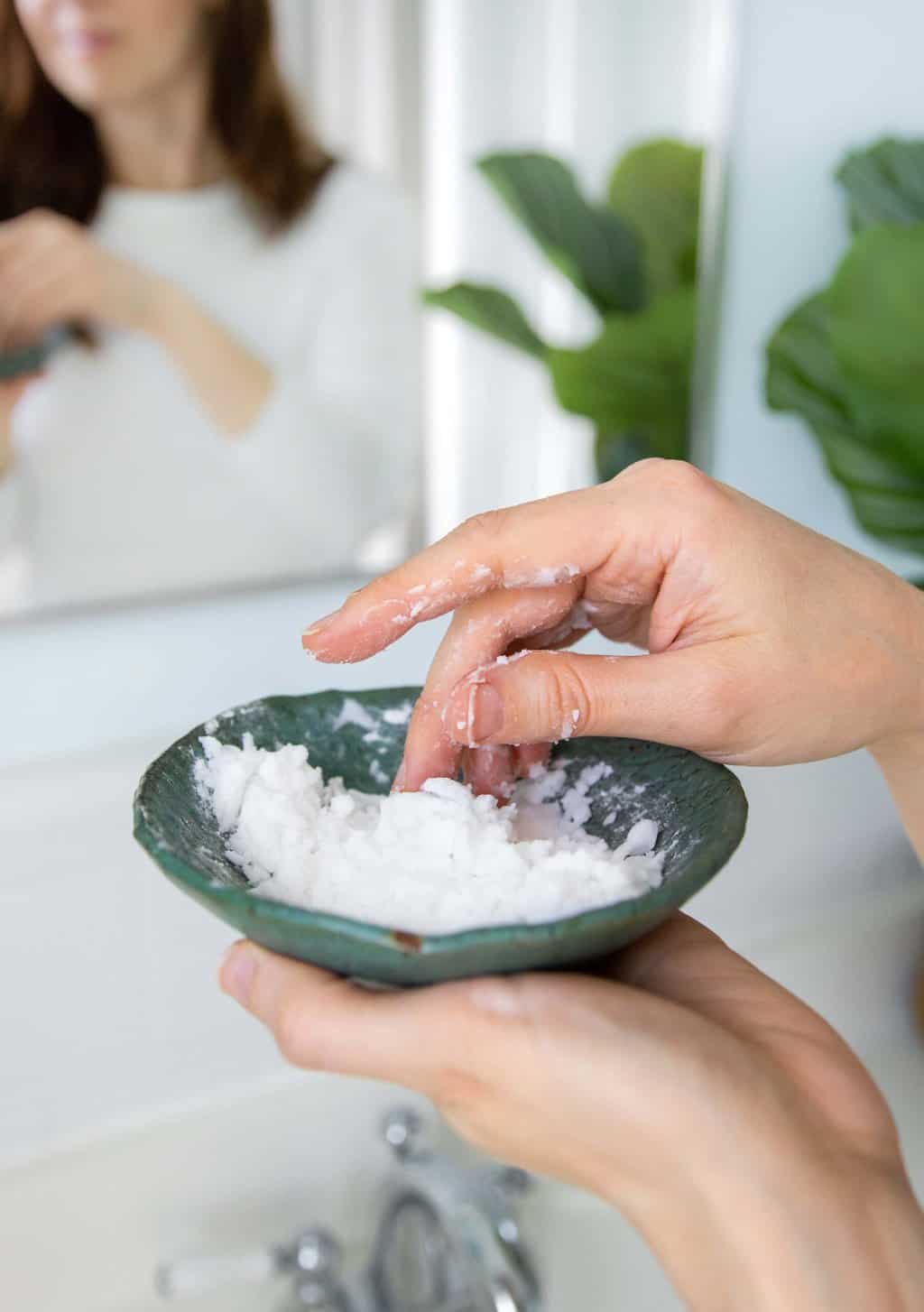 Baking Soda Face Scrub FAQs
Can I use baking soda on my face every day?
Baking soda is an effective and affordable way to keep your skin looking healthy. However, it's important not to overdo it; otherwise, you can make irritation and dryness worse. To be safe, stick with 2 to 3 times a week, max.
How long do you leave baking soda on your face?
For best results, leave baking soda on your skin for 10 to 15 minutes before rinsing with warm water and/or a mild cleanser.
What can I mix with baking soda to clean my face?
The list is endless! Some of our favorite mix-ins include raw honey, plain yogurt, aloe vera, oatmeal, and a few drops of essential oils. Check out the recipes above to get some ideas for baking soda masks for every skin type.
Does baking soda clear dark spots?
Baking soda has exfoliating properties, which may help remove dead skin cells and improve the appearance of dark spots. That being said, it's not really a bleaching agent, so it won't lighten spots the way lemon juice will.
Reference:
Eczema and bathing. National Eczema Association website.
25