Have you ever wondered how your body controls your appetite and weight? How it knows when to eat and when to stop eating? Well, it's quite an intricate process which involves a complex set of chemical interactions between your brain, nervous system, endocrine system, hormones and fat cells.
The key to having a healthy appetite and balanced weight is harmony and proper communication between these systems. Conversely, when these chemical interactions go haywire, you can experience constant hunger and cravings (particularly carbs and sugar!) and feel like your weight is completely out of your control.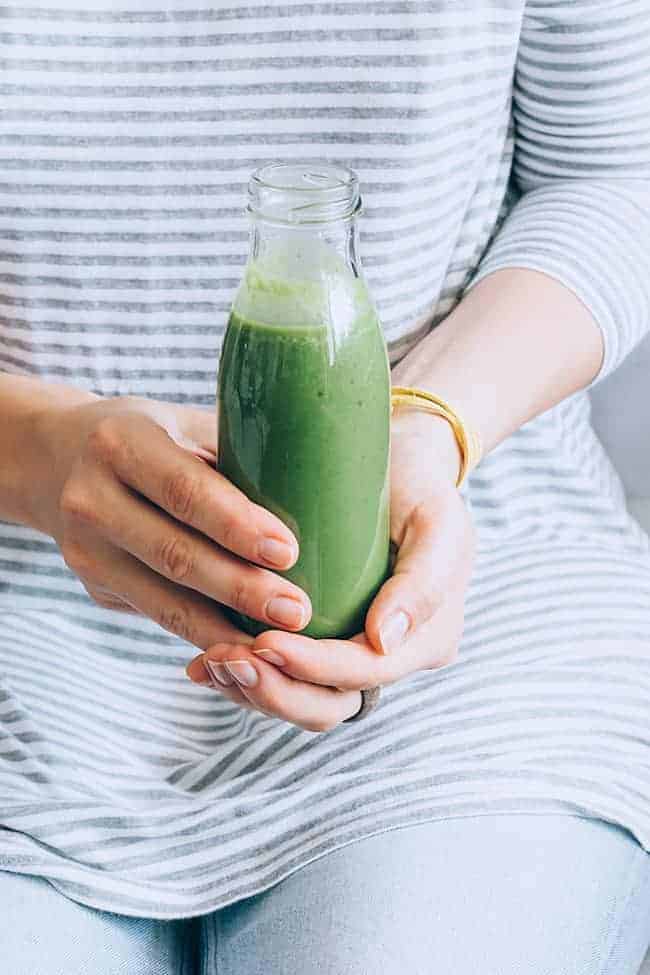 In this post, I'm going to hone in on hormones, which are the messenger molecules in your body that send specific instructions to every organ system. Below are seven of the key hormonal players that have a big role in regulating your appetite and managing your weight.
I include a description of each hormone, clues that something may be amiss as well as simple steps to reset each one. I've also specified which lab tests can be useful to determine hormone imbalance or dysfunction. Lucky for us, even though there are a lot of hormones that impact weight, diet and lifestyle, there are super powerful ways to support your body's hormonal communication system and get these hormones in balance!
1. Cortisol – The Stress Hormone
The body's main stress hormone, cortisol, is secreted by the adrenal glands in response to stress. When you're stressed and cortisol is released into the bloodstream, your hunger increases (cue cravings for fat, sugar and salt), metabolism slows down and you gain weight. Chronically elevated cortisol levels can, over time, lead to insulin resistance, loss of muscle mass, increased belly fat, elevated cholesterol, triglycerides and high blood pressure–to name a few!
Signs of imbalance: frequent salt or sugar cravings, food addiction, slow to start in the mornings, difficulty staying asleep, anxiety, afternoon headaches and/or fatigue, low libido, dizziness upon standing, moodiness, difficulty losing weight
Labs to ask your doctor about: 24-hour Adrenal Stress Index, 24-hour Urinary Cortisol Test, IGF-1 Test
What to do to reduce cortisol:
Wean off caffeine – go from coffee to green tea then to white tea, then off and stick with naturally caffeine-free herbal teas
Manage stress through meditation, yoga, movement, deep breathing and good sleep
Eat balanced meals that include protein, healthy fat and fiber from low-starch veggies
Use adaptogenic herbs, such as rhodiola, ashwagandha and ginseng, to reduce stress
2. Insulin – The Fat-Storage Hormone
Insulin is a hormone produced by the pancreas that helps your cells take in sugar (glucose) for energy or storage. When you eat a meal that has carbs or sugar, glucose triggers the release of insulin into the bloodstream.
If you over-consume simple starches and sugar, excessive amounts of insulin are secreted and eventually your cells become numb to this hormone (aka insulin resistance). Insulin drives glucose into the cells and causes fat accumulation. As a result, you experience blood sugar highs and lows and you store fat around your belly.
Signs of imbalance: sugar cravings, eating sweets doesn't relieve sugar cravings, feeling "hangry," light-headed or jittery if you miss a meal, fatigue after meals, irritability, poor memory or brain fog, increased thirst or appetite, difficulty losing weight
Labs to ask your doctor about: Fasting Glucose, Fasting Insulin, HgbA1c and C-peptide.
What to do to improve insulin sensitivity:
Give up sugar, refined carbs and artificial sweeteners
Reduce lectins, found in gluten, legumes, dairy, corn, peanuts and nightshade vegetables
Include plenty of healthy fats in your diet, such as avocado and omega-3s
Drink 2 tablespoons of raw apple cider vinegar diluted in a few ounces of water before high-carb meals
Supplement with magnesium, an important mineral which helps stabilize blood sugar (less cravings!)
Exercise regularly
3. Leptin – The Appetite-Suppressing Hormone
Leptin is a hormone produced by your fat cells that regulates feelings of fullness. Its job is to tell your brain to use the body's fat stores for energy. The more leptin in circulation, the less hungry you should be. Studies show that people who are overweight usually have very high levels of leptin in their blood. This is likely due to leptin resistance, which occurs when leptin is not recognized by the brain so the message that you are full and should stop eating doesn't get through. The body then thinks it is in starvation mode which makes you eat more and store more fat.
Signs of imbalance: being overweight, constant hunger and cravings, feeling like you need to snack or graze throughout the day, not feeling satisfied after eating ("just need something more"), difficulty losing weight
Labs to ask your doctor about: Serum Leptin
What to do to improve leptin sensitivity:
avoid inflammatory foods, such as sugar, gluten, dairy, trans fats
reduce lectins, found in gluten, legumes, dairy, corn, peanuts and nightshade vegetables
eat an anti-inflammatory diet, including lots of veggies, fatty fish, etc.
gradually ease off grazing and move towards eating three meals a day
exercise regularly
fast overnight for at least 12 hours
get a good night's sleep
4. Ghrelin – The Hunger Hormone
Ghrelin is a hormone that is released when the stomach is empty, sending the message to your brain that you need to eat. Normally, when the stomach empties, the release of ghrelin increases, and when the stomach fills, it decreases. For some overweight and obese people, their ghrelin levels decrease only slightly after a meal and therefore lead them to overeat.
Labs to ask your doctor about: Total Ghrelin
What to do to reset ghrelin:
Eliminate sugar, especially fructose (which is found in high fructose corn syrup, agave, honey, maple syrup, fruit juice and high-fructose fruits like banana and mango)
Eat balanced meals with protein, healthy fat and fiber from lots of veggies
Prioritize sleep (ghrelin can stay high when you're sleep deprived causing you to crave food, especially carbs and sugar, even after a satisfying meal)
5. Adiponectin – The Fat Burning Hormone
Adiponectin, a hormone that is secreted by your fat cells, regulates glucose levels and fatty acid breakdown. It plays a crucial role in fat burning. The more adiponectin you have, the more fat you burn. Studies show that individuals with low adiponectin levels have a 3x greater risk of developing metabolic syndrome and a 9x greater risk of developing type 2 diabetes.
Labs to ask your doctor about: Adiponectin
What to do to raise adiponectin:
eat foods rich in magnesium, such as dark leafy greens, pistachios, avocados, fish and dark chocolate
fast for at least 12 hours every night
exercise regularly
6. Estrogen
Estrogen is the main female sex hormone involved in regulating the female reproductive system. Estrogen dominance, which means too much estrogen in relation to progesterone, can make it very difficult for women to lose weight. Usually obesity and conditions like polycystic ovarian syndrome make a woman prone to estrogen dominance. Estrogen can make a person feel hungrier or nauseated which triggers eating.
Signs of excess estrogen: feeling puffy and bloated, breast tenderness, heavy periods, mood swings, migraines, insomnia, brain fog, anxiety and difficulty losing weight
Labs to ask your doctor about: blood and salivary female hormone panel
What to do to lower estrogen levels:
Eat plenty of fiber from vegetables (fiber helps bind up metabolized estrogen and escorts it out of the body)
Eat cruciferous veggies, such as broccoli, cabbage, cauliflower, Brussels sprouts and kale, which are high in DIM (diindolylmethane), a compound that supports the body in eliminating excess estrogen
Exercise regularly
7. Thyroid
Considered the queen of all hormones, your thyroid determines the function of every single cell of your body. Your mood, energy levels, digestion, metabolism, sex drive, hair and skin all depend on the balance of your thyroid hormones. People with an under-active thyroid tend to have a very low basal metabolic rate which can lead to weight gain and/or difficulty losing extra weight.
Signs of low thyroid function: feeling tired, cold hands and feet, weight gain, constipation, thinning outer third of eyebrows, hair loss or thinning hair, dry skin, brain fog, depression, anxiety, morning headaches, difficulty losing weight
Labs to ask your doctor about: Comprehensive thyroid panel including TSH, Free and Total T4, Free and Total T3, Reverse T3 and thyroid antibodies, TPO Ab and Thyroglobulin Ab (to rule out autoimmune thyroid problems).
What to do for thyroid:
Take a high-quality multivitamin with zinc, selenium, iron, B vitamins, vitamin D and A
Eat sea veggies, like kelp, dulse and nori, which are rich in natural iodine
Go gluten-free, especially if your low thyroid has an autoimmune component
Deal with your stress and support your adrenals with adaptogens
Get enough sleep
Consider working with a functional medicine doctor to find your root cause of thyroid imbalance
This post was medically reviewed by Dr. Kimberly Langdon, M.D., a university-trained obstetrician/gynecologist with 19 years of clinical experience. Learn more about Hello Glow's medical review board here. As always, this is not personal medical advice and we recommend that you talk with your doctor.
Photo by Ana Stanciu
9