There is something special about the yearly holiday rituals of taking out the Christmas lights, choosing the perfect tree, packing and opening presents, especially if the memories are accompanied by dear ones and a glass of egg nog. Nothing changes the traditions if your cup is filled with a healthier version of egg nog, even if it contains a touch of brandy or rum to keep you warm. This vegan nog recipe is loaded with creamy coconut milk, banana and dates for a sweet and creamy decadence.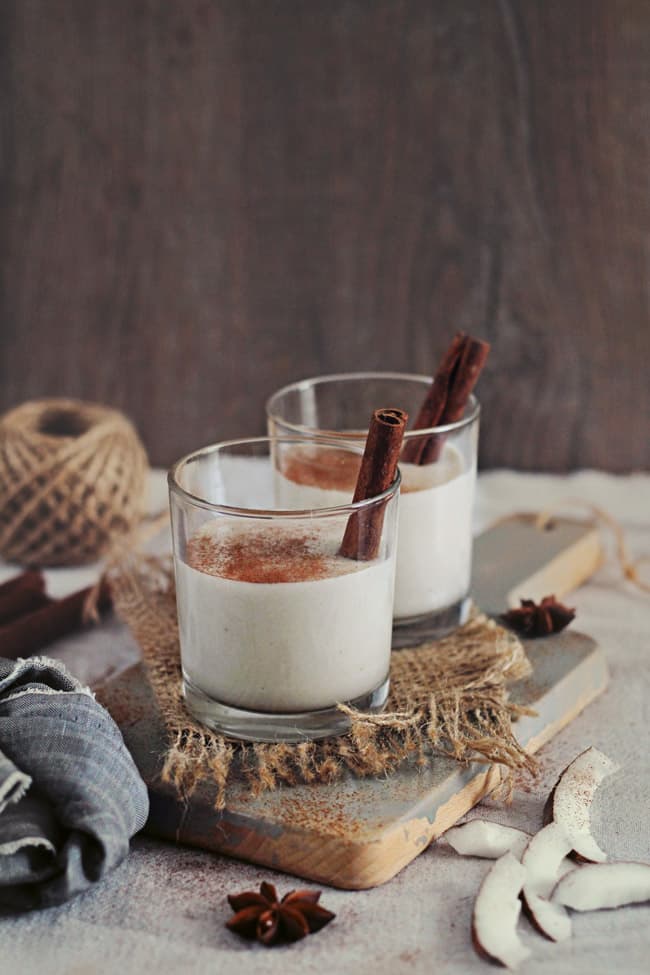 Perhaps you are asking yourself why you need to change your favorite holiday drink? After all, we're talking about eggs, which are very healthy and packed with excellent nutrients. This is true, but when you consume them raw, as in the classic egg nog recipe, you put yourself at risk of Salmonella infection, especially if you consume conventional eggs. Classic egg nog with yolks, cream and sugar combine to put an extra burden on your body, already overwhelmed by the heavy holiday dishes.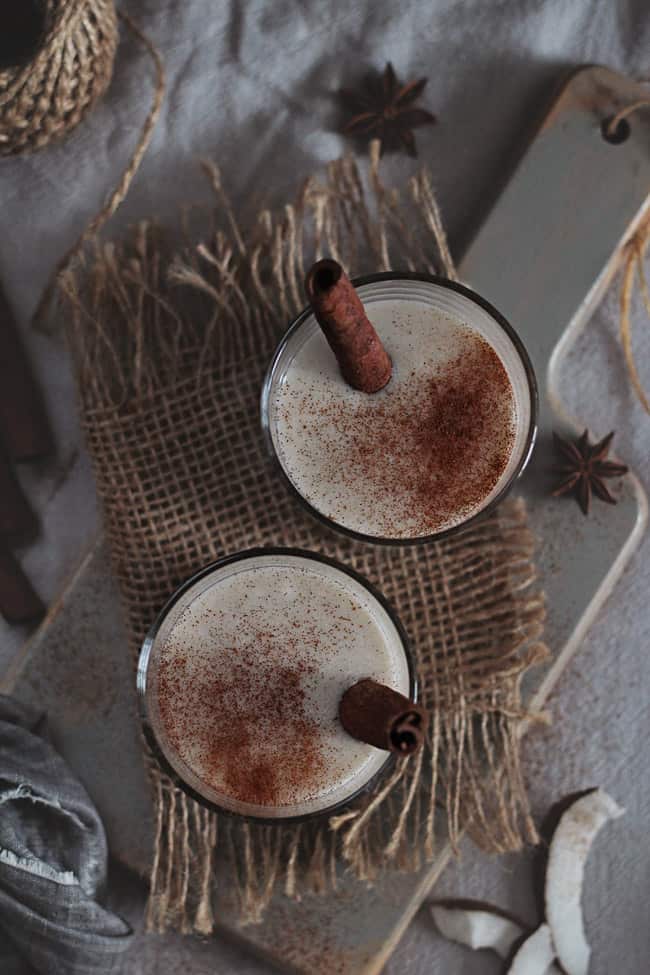 If you want to stay on the healthy way this holiday, this vegan nog is the perfect choice. I combined banana for rich texture, coconut milk for a velvety taste, dates for sweetness and cinnamon for a dash of winter flavor. I opted to keep my egg nog on the non-alcoholic side, but feel free to add brandy, bourbon or rum.
Banana Coconut Vegan Nog
This Christmas favorite get a vegan makeover but doesn't lose its creamy, rich taste.
Ingredients
2

cups

coconut milk

2

medjool dates

pitted

1

ripe banana

fresh or frozen

1

tsp

cinnamon powder

1/4

tsp

sea salt

2

cinnamon sticks

to serve
Instructions
Place the coconut milk, cinnamon, salt and dates in the blender and process to incorporate.

Add the banana and pulse to obtain a rich, creamy texture.

Refrigerate for two hours.

Pour in serving glasses and serve garnished with the cinnamon sticks.
Notes
I opted to keep my eggnog on the non-alcoholic side, but feel free to add brandy, bourbon or rum.
31