Going to the beach is one of the best things about summer. Whether it's the ocean or a lake, it's fun to swim and soak in the rays (with copious amounts of sunscreen, of course). But emergencies can arise anywhere, especially if you've got a crew of active kids with you, so it's nice to be prepared for anything ... just in case!
I tend to lean on the side of bringing everything except the kitchen sink in my bag. But that changes depending on how far away I am from home or a medical clinic. If you're camping at the lake, you need a more complete kit than if you live just around the corner from the ocean.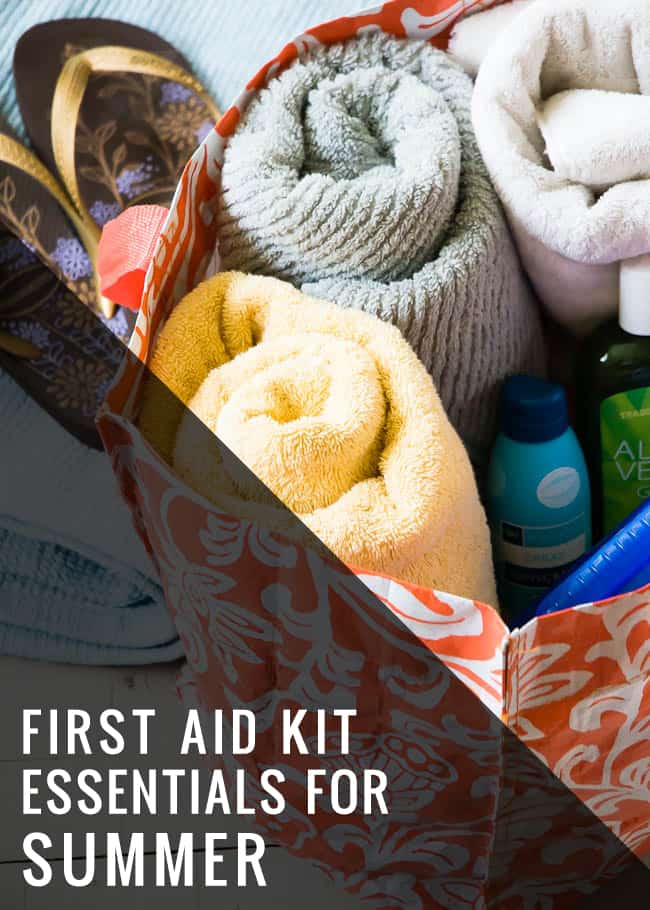 Let's start with a well-stocked first aid kit. Here's what you need to cover the most basic of emergencies.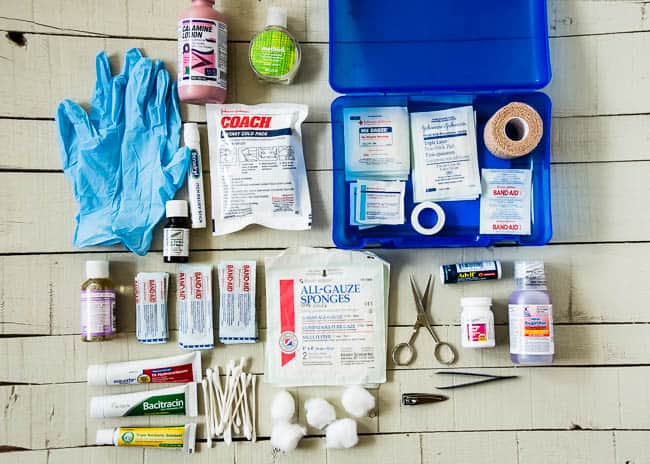 Essentials for a Well-Stocked First Aid Kit
Here is what I keep in my first aid kit:
Sturdy case: a waterproof one is even better, but you can store your gear in a resealable bag to keep sand and water out of it
Gloves: you never know if you might need them!
Calamine lotion for bug bites or itchy rashes (or homemade version)
Hand sanitizer: store-bought or homemade
Instant Ice Pack for bumps and bruises, sprains or anything that needs to be iced
Tea tree oil: antiseptic, germ-fighting properties (be careful using it on children, dilute first to avoid irritation, and never use internally)
Adhesive bandages in assorted sizes
Gauze pads in assorted sizes
Travel-size bottle of Castile soap
Ointments and creams: hydrocortisone, bacitracin and triple-antibiotic cream
Cotton balls and swabs
Scissors, tweezers and nail clippers
Pain medicine: pills for adults, liquid for kids (make sure to have a way to measure it)
Tape and non-adhesive bandages
Butterfly closures for cuts
Alcohol wipes
I know, it seems like a lot! But put the kit together once and then all you have to do is keep it handy.
A few years ago I went to the beach in Hawaii totally unprepared, and my husband got a serious coral cut requiring numerous stitches. From then on, I have always been prepared.
It's like Ben Franklin said, "An ounce of prevention is worth a pound of cure." And especially if I have my kids with me, I'm going to be as prepared as I can.
10 Beach Bag Essentials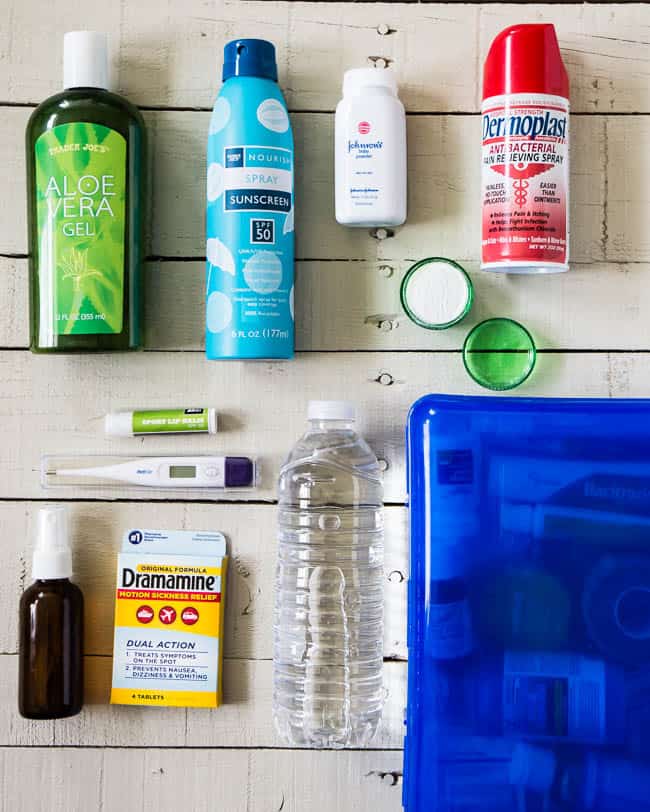 In addition to my first aid kit, I add a few other essentials when we're heading out for a day in the sun. Here's what I keep in my beach bag:
1. Aloe vera gel: for sunburns, it's nice to apply it as soon as possible (on the car ride home even)
2. Extra sunscreen: the spray kind is super easy to apply to wiggly children who hate getting out of the water for very long
3. Baby powder: really good for dusting on the skin to make it easier to brush away sand
5. Baking soda: good to apply to bee or wasp stings
6. Lip balm with sunscreen: your lips can get severely sunburned too!
7. Thermometer: just in case, heat stroke and exhaustion are nothing to mess around with
8. Insect repellant: I prefer an all-natural homemade kind
9. Medicine for motion sickness: great for car and boat rides
10. A bottle of clean water: in addition to plenty of drinking water, this is for rinsing when fresh water isn't available
More Handy Items
Other things that might come in handy depending on your situation and location:
-Ear drops for swimmer's ear
-Saline for sand in the eyes, especially if you have contacts (the plain water above will also work)
-Pepto Bismol, antacids, or other medicine for tummy troubles
-Epi-Pen for severe allergic reactions, if needed
-First Aid Manual
-Hygiene products
-Pack of baby wipes and extra diapers
-Small bottle of hydrogen peroxide for cuts and scrapes to prevent infection
Well, that about covers it. Anything I've forgotten?
What's a must-have in your bag for emergencies?
85