Few pleasures match a day at the beach: blue skies, the wind and the waves, and warm sand between your toes. A day at the beach doesn't just sound good for you, but science shows that it is good for you. With health benefits on both the inside and out, the world's oceans are truly a miracle worker for the mind and body.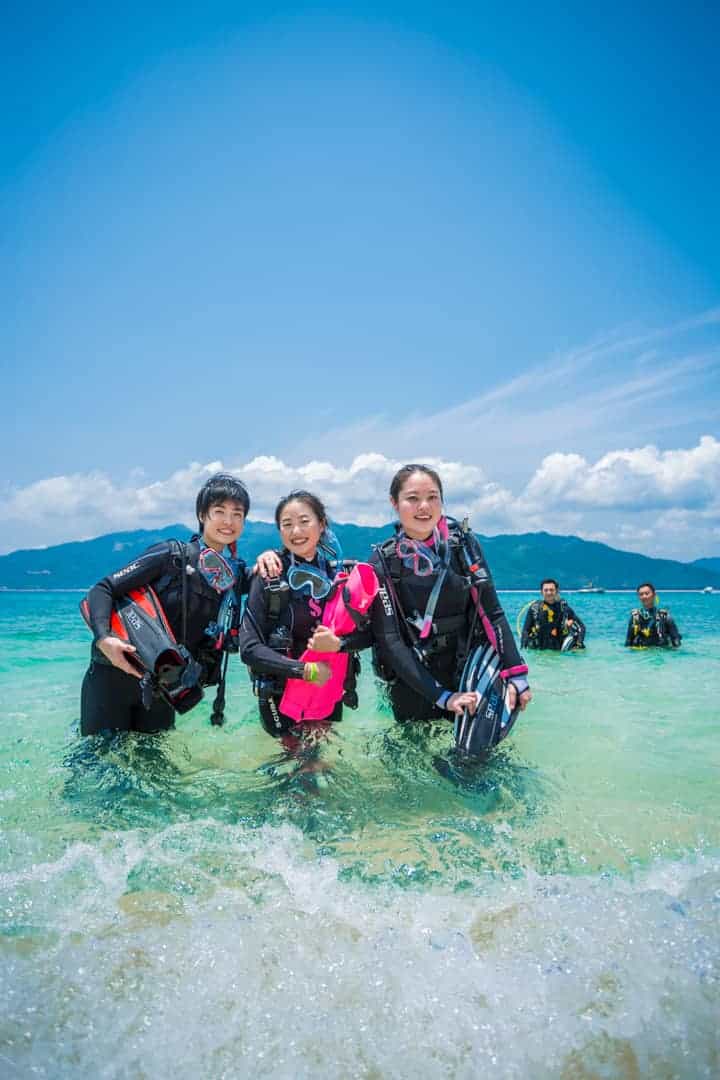 9 Health Benefits of the Beach
Too often, we spend our days at the beach parked in a chair with a margarita and a good book. That may be the ultimate guilty pleasure, but you'll get even more beach day benefits if you get moving. Take a dip in the ocean or a long walk on the beach.
Better yet, try snorkeling or diving. My diving course introduced me to lots of interesting people, helped me face a few fears (taking my mask off underwater!), and showed me amazing sights that I'd never get by just sitting on the beach.

Benefit
#
1
:
Relaxation
There's scientific evidence behind that feeling of relaxation that washes over you at the ocean. The rhythmic sound of ocean waves calms brain activity, and the color blue brings on feelings of serenity and peace. Watching the ocean actually changes the frequency of our brain waves, putting us into a mild meditative state [source]. Sunlight likely increases the brain's production of serotonin, which is the hormone that has a positive effect on mood, sleep, and stress [source].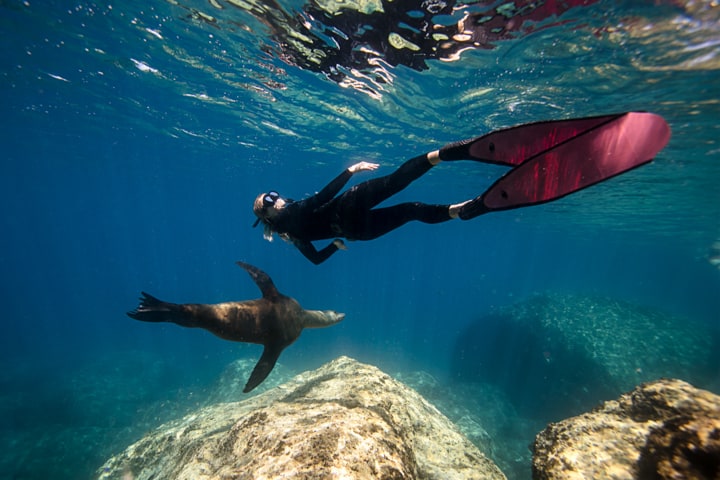 Another good reason to get in the water? Swimming has been shown to improve mood [source] and decrease anxiety and depression [source].
Benefit
#
2
:
Dose of vitamin D
Sunlight is one of the best sources of vitamin D, as exposure to UVB rays causes cholesterol in our skin to synthesize vitamin D3. Why do we need vitamin D? It's essential for bone health, metabolism, the immune system, and our mental health.
However, UVB also causes sunburn. Fortunately, it turns out that using sunscreen still allows the skin to produce vitamin D on very sunny days [source]. Just make sure you're applying your sunscreen as frequently as instructed on the package and after a dip in the water.
Benefit
#
3
:
Ease inflammation and infections
Seawater contains minerals like magnesium, potassium, and iodine that help the body fight infection and can ease inflammation symptoms like morning stiffness. Salt water acts as a natural disinfectant that repels bacteria [source] and speeds healing. Magnesium helps treat skin inflammation, redness, and rosacea [source], while iodine can help an underactive thyroid and thus boost your metabolism.
Benefit
#
4
:
Clearer skin
Think of a day at the beach as an alternative to fancy spa treatments. Swimming in salt water opens up the pores and draws out impurities and excess oil. The antibacterial action of salt and iodine in the ocean kills acne-causing bacteria, which reduces breakouts and helps blemishes heal more quickly.
Sand is perfect for exfoliation, and since the teeny tiny grains get everywhere, you might as well benefit from it. Gently rub loose, wet sand into your feet and legs to lift off old, dead skin cells, and then rinse in the ocean. Burying yourself is not required. :)
Benefit
#
5
:
Awesome hair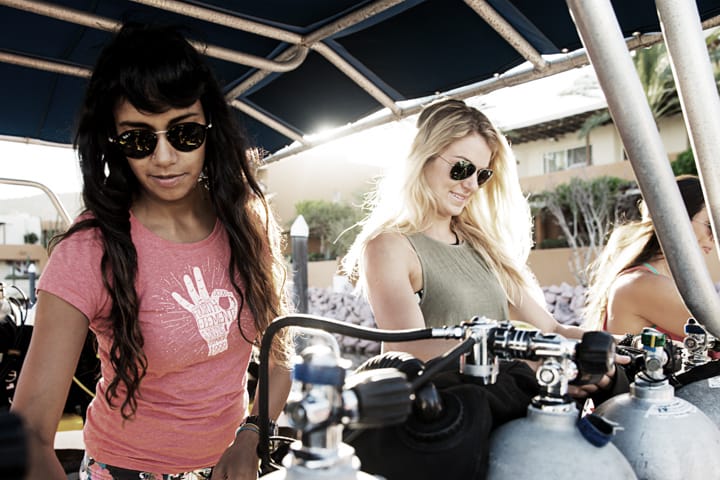 A good hair day qualifies as a health benefit, right? The natural salt in seawater acts as a cleanser to remove oils from your hair and scalp. Yes, salt will dry out your hair, but it also does wonders to get rid of dandruff and remove product build-up.
Salt is notorious for the beachy waves and volume that folks try to recreate at home with a homemade sea spray. Plus, a day in the sun can save you serious money on highlights!
Benefit
#
6
:
Burn calories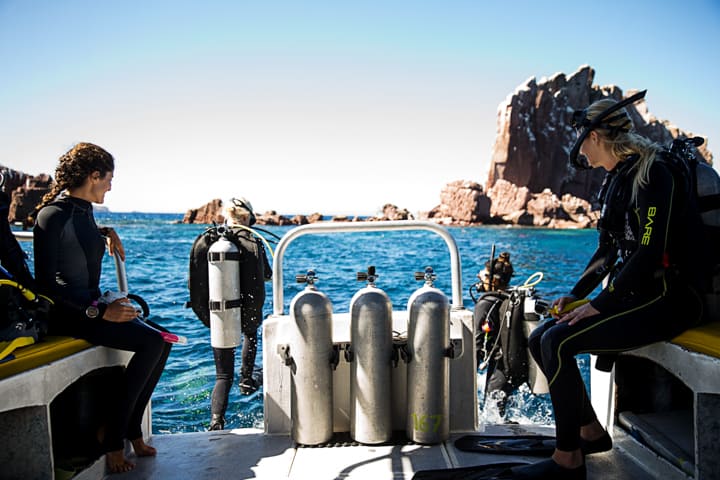 Floating in the ocean sounds easy, but PADI estimates that a dive can burn as many as 600 calories per hour [source]. That's the equivalent of going for a jog—but a lot less painful. Swimming has a much lower impact as the water's gentle resistance makes it easy for people with arthritis or injuries to enjoy [source].
And even a walk on the beach will torch those pina colada calories because sand requires 2.1 to 2.7 times more energy expenditure than walking on a hard surface [source].
Benefit
#
7
:
Breathe easier
Your sinuses often feel so much better after a trip to the ocean. You're probably not trying to get salt water up your nose, but it's inevitable, and the salt water flushes the sinuses and helps clear out congestion. And here's a cool thing: the air near the water and in the sunlight is charged with more negative ions that increase oxygen absorption in the lungs, so breathing deeper is less difficult and helps to balance serotonin levels [source].
Benefit
#
8
:
Grounding
A day at the beach stimulates almost all our senses, but especially touch. Contact with sand is especially powerful because you're walking barefoot, which stimulates somewhere between 3,000 and 7,000 nerve endings in each foot. The physical sensation of putting your feet in warm sand is relaxing, and you'll get the grounding, mood-boosting benefits of earthing [source].
Benefit
#
9
:
Better sleep
I always sleep like a baby at the end of a long day at the beach. Along with all of the other health benefits mentioned, exercise and relaxation combine to make the perfect natural remedy for insomnia.
This article was medically reviewed by Dr. Gina Jansheski, a licensed, board-certified physician who has been practicing for more than 20 years. Learn more about Hello Glow's medical reviewers here. As always, this is not personal medical advice and we recommend that you talk with your doctor.
37