This post has been sponsored by Nespresso. All thoughts and opinions are my own.
I haven't always been a raving coffee fan. I spent about 5 years post-college trying to cut back and another 2 years dabbling in decaf. But something changed recently and I've found myself savoring a cup (in all its caffeinated glory) most days. Whereas I used to see coffee as an extra task on my to-do list, now I look forward to those cool, quiet mornings paired with a piping hot cup of coffee. But I think the real turning point was when I started treating my coffee as a beauty elixir, not just a cuppa joe. Things like cinnamon, collagen powder and goji berries transform my cup into a beauty-boosting latte that's good for everything from skin to hair.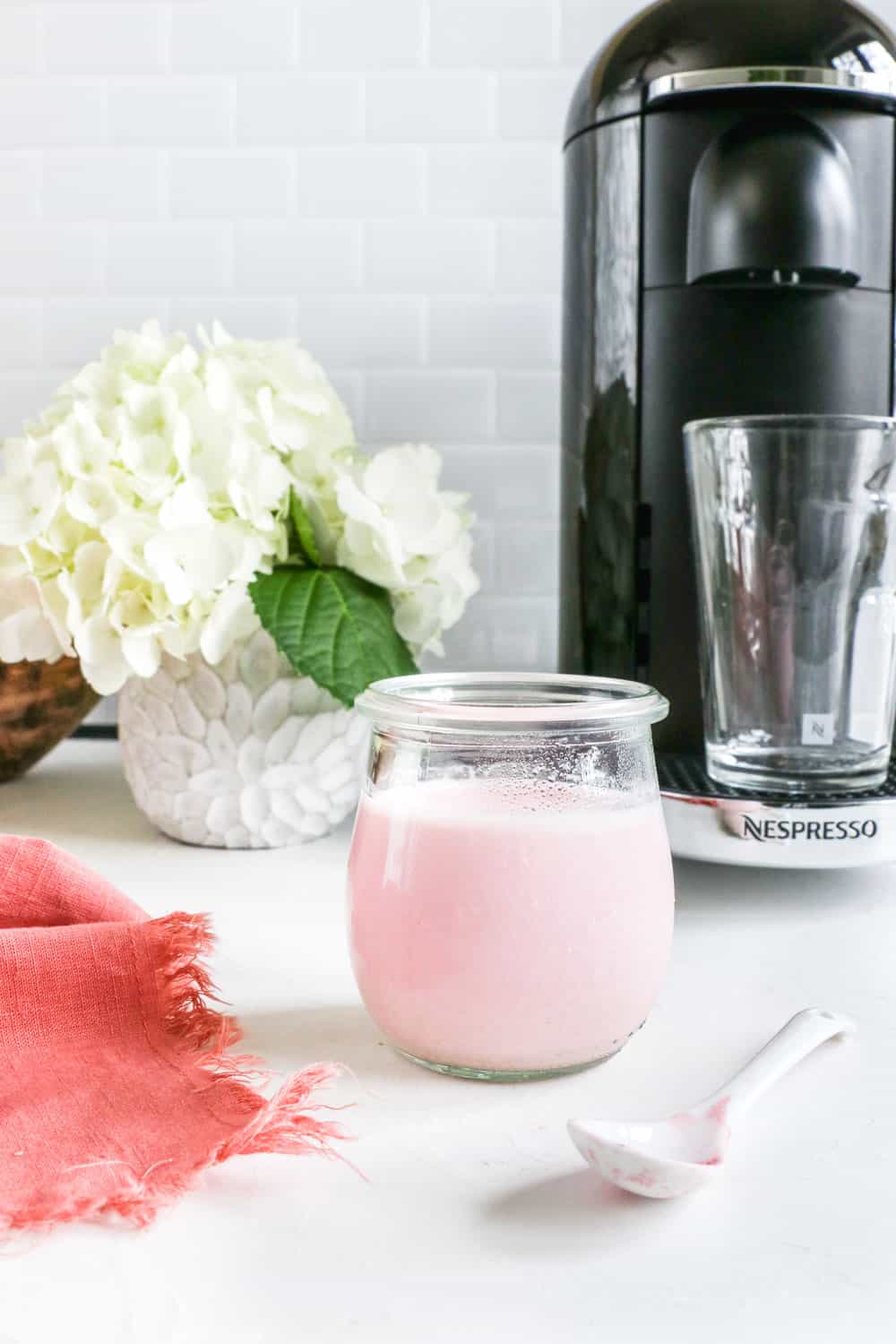 Pink Beauty Collagen Milk
Since I feel like I'm always in a hurry, prepping my coffee supplies ahead of time helps me slow down and actually enjoy my morning latte. To save time, I combine all the ingredients into a beauty milk: a frothy creamer made from macadamia nuts and beautifying superfoods. Then, I just add it to my coffee before starting my day. But it's really our Nespresso Vertuo Plus Machine that's made coffee more of an everyday luxury instead of just one more thing I have to do.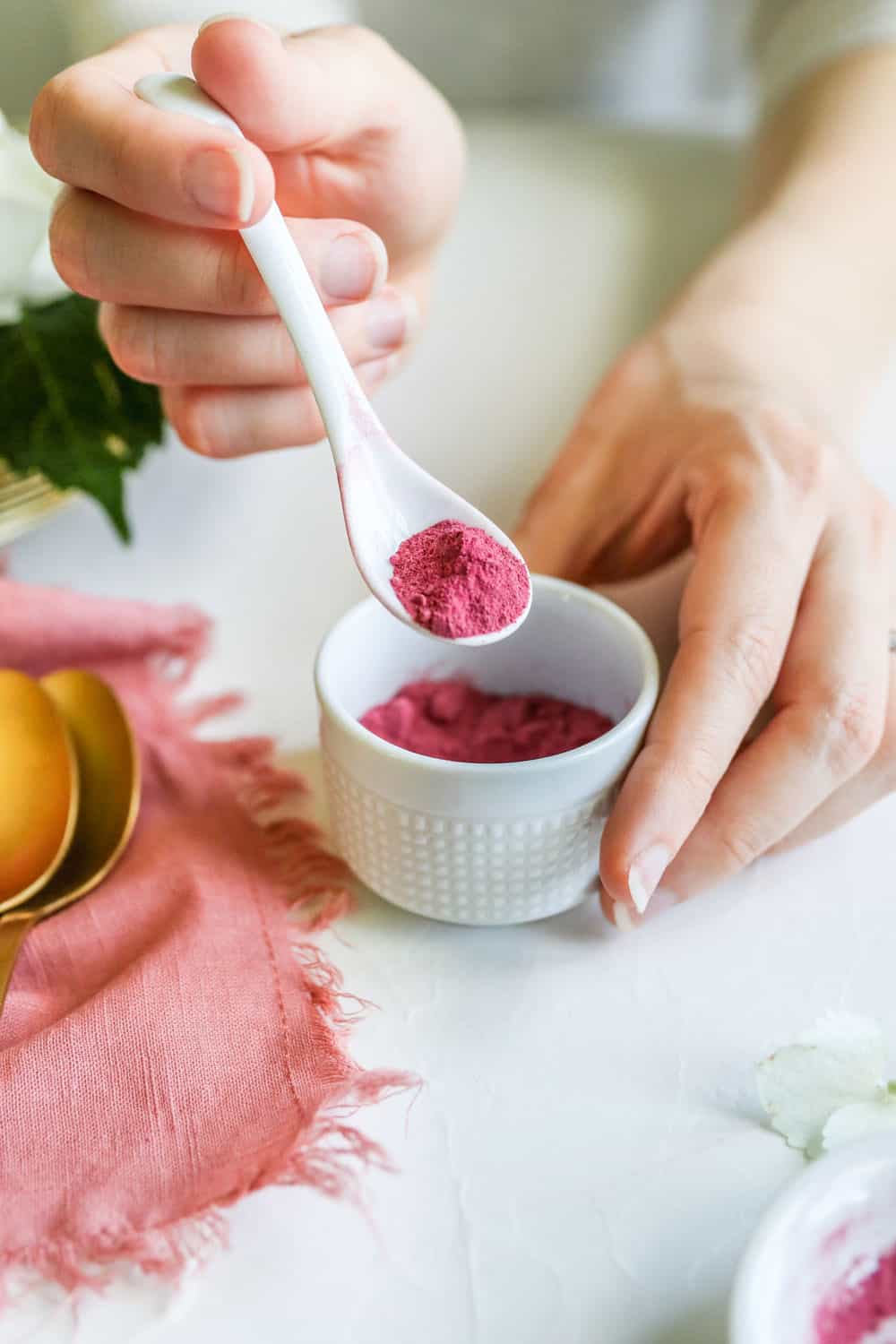 Truth be told, I wasn't expecting my husband and I to love our Nespresso Vertuo Plus as much as we do. But with busy mornings and heavy work schedules, it's seriously changed our daily routines and given us room for much-needed down time. I love that the Nespresso Vertuo Plus uses pre-portioned pods to make the perfect amount of coffee in a ton of different flavors (even decaf!). Just pop in a pod, push the button and walk away while it brews.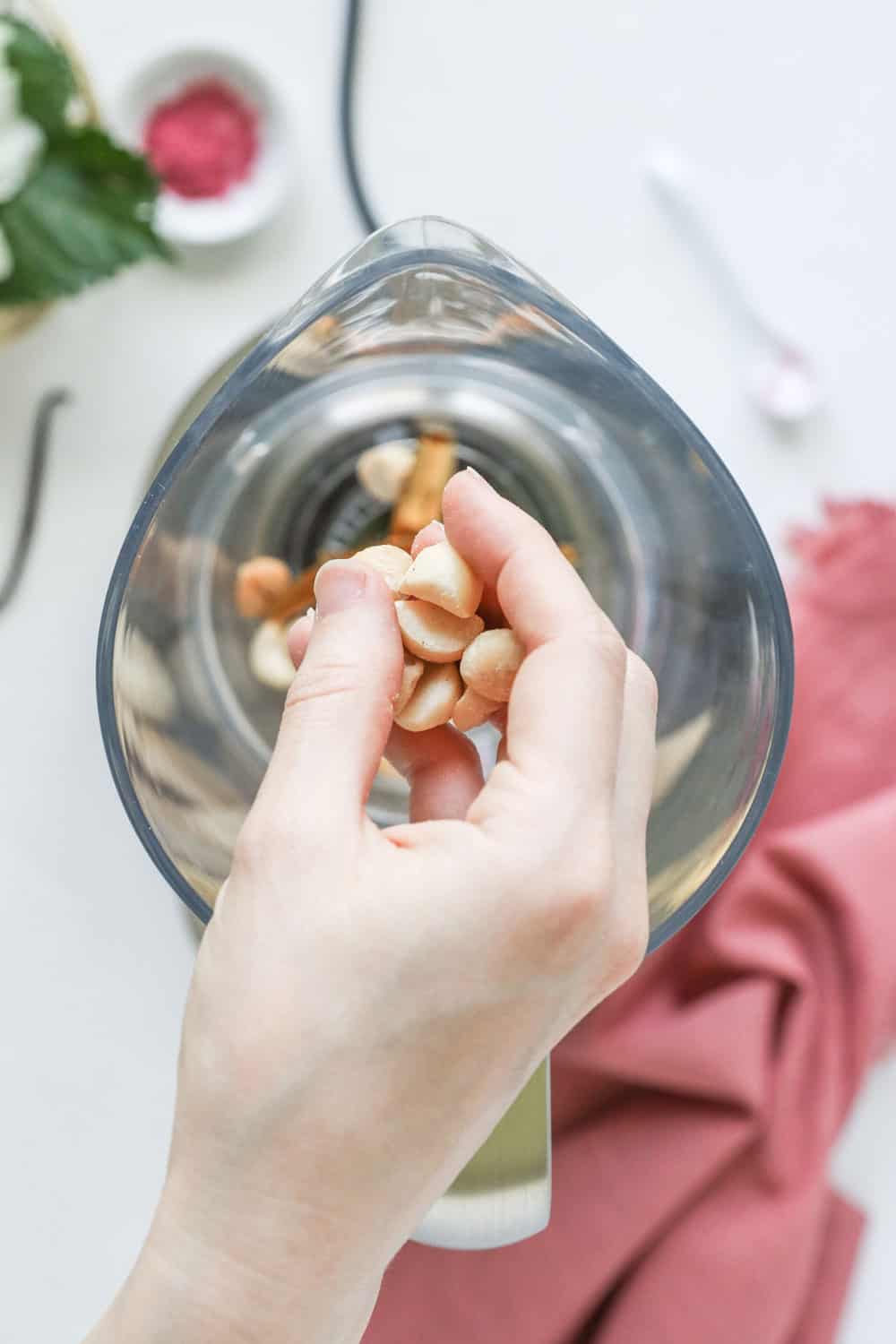 For me at least, not having to throw away coffee grounds or clean a pot is a game changer. And if you're worried about the pods and how they might affect the environment (like I was at first), you can actually recycle your Nespresso pods when you're done. Head to the Nespresso website for a list of recycling partners near you. Then, stop by to pick up a recycling bag, fill it up, and drop it off when you're done. They'll make sure your used pods don't end up in the landfill or the ocean.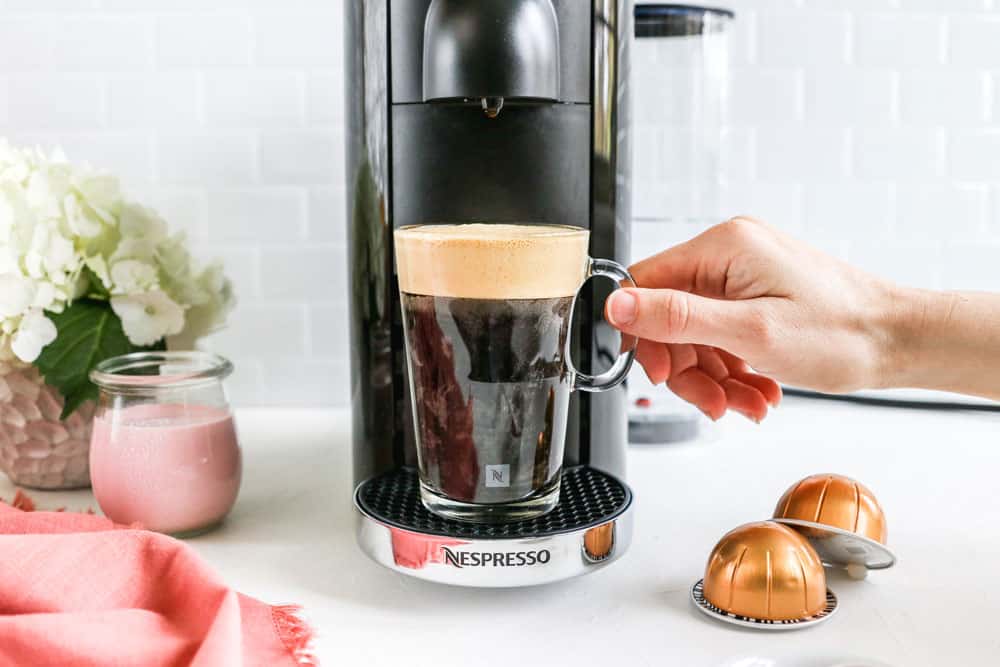 And unlike other machines on the market, the Nespresso Vertuo Plus Machine can brew coffee and espresso, making it perfect for both coffee drinkers (like me) and connoisseurs (like my husband). To top it all off, each cup is finished with a layer of frothy crema—which makes you feel like you're hanging out at your favorite coffee shop.
Once it's finished brewing, just add your beauty milk and gently stir so you don't disturb the crema.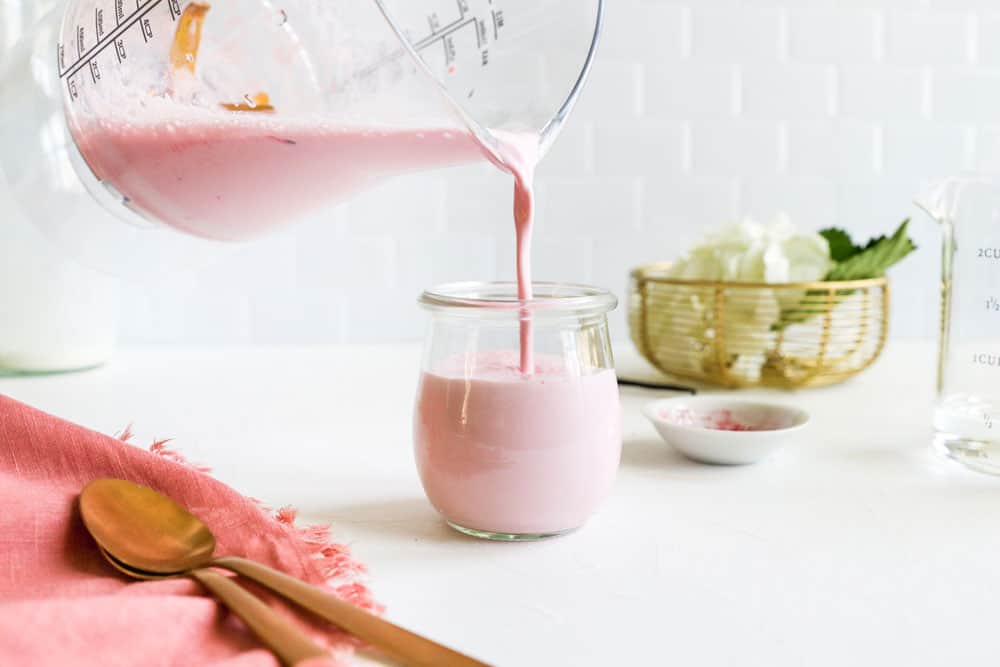 When it comes to beauty milk, I like to think of this recipe as a starting point that you can tailor with ingredients you already have on hand. Lately, I've been using things like collagen powder for skin and hair as well as beet root and goji berry powder for antioxidants. Fresh vanilla bean and stevia add a little flavor. And soaked macadamia nuts are chock full of healthy fats and give you that smooth, creamy consistency you expect in a creamer. Every now and then, if the mood strikes, I'll even add a dash of cinnamon to keep blood sugar spikes at bay.
Feel free to start with this recipe as a base and add whatever ingredients you'd like to nourish your body from the inside out.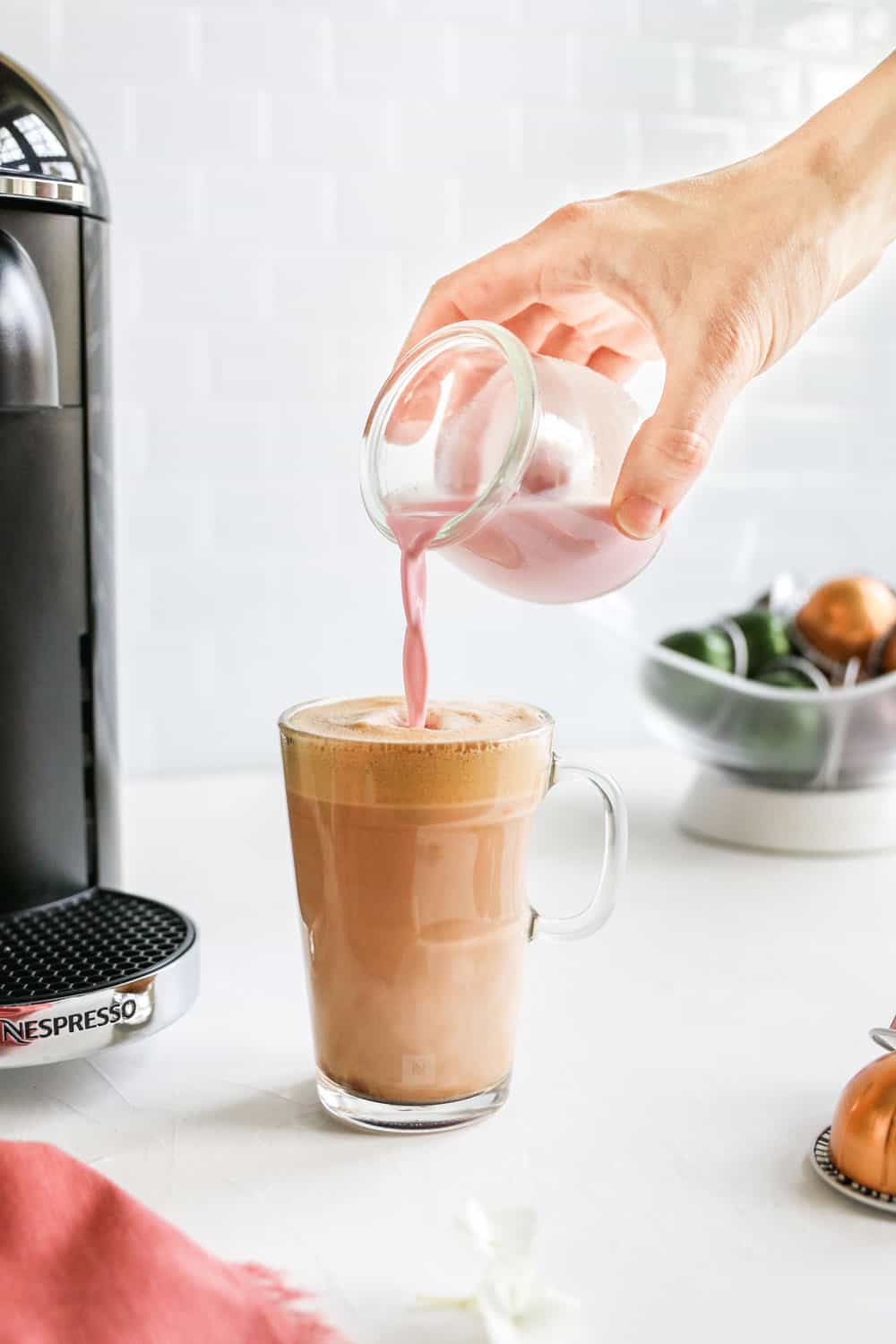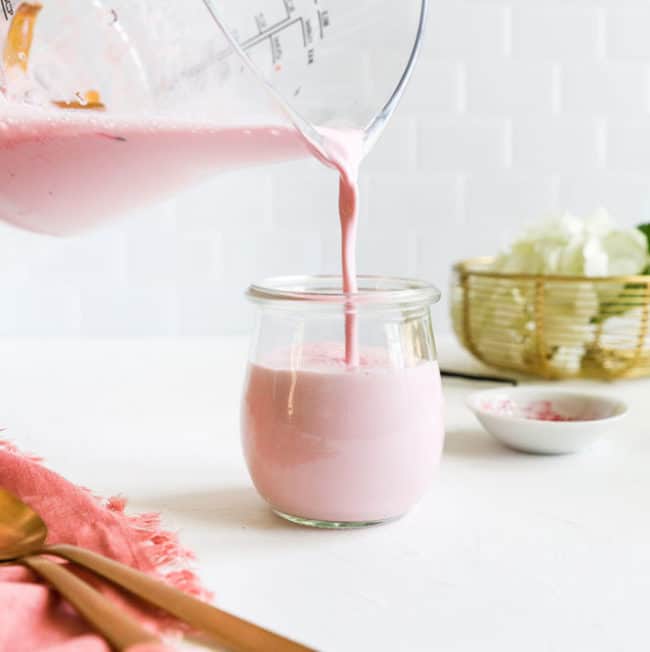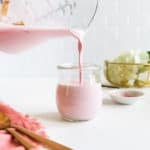 Print Recipe
Pink Beauty Collagen Milk
This Pink Beauty Collagen Milk helps give your skin a natural glow from the inside out. Bonus: It even tastes amazing too!
Ingredients
1

cup

unsalted macadamia nuts

soaked overnight

1 ½ - 2

cups

water

2

tablespoons

collagen powder

1

tablespoon

beet root powder

1

tablespoon

goji berry powder

1

vanilla bean

1

teaspoon

stevia
Instructions
Drain and rinse the macadamia nuts.

Combine all ingredients in a blender and puree on high until smooth. If needed, add more water until you get the consistency that you like.

Without straining, transfer macadamia creamer to a glass jar and store in the refrigerator for up to 4 days.

To use, pour ¼ cup creamer in freshly brewed coffee and gently stir.
Nutrition
Serving:
1
/4 cup
|
Calories:
128
kcal
|
Carbohydrates:
3.9
g
|
Protein:
1.7
g
|
Fat:
12.9
g
|
Saturated Fat:
2.1
g
|
Sodium:
7.3
mg
|
Sugar:
1.6
g
Head to the Nespresso website to view the Nespresso Vertuo Plus as well as Nespresso's full line of machines. And if you're looking for more ways to transform your morning cup of coffee, check out Nespresso on Pinterest to discover more recipes and content.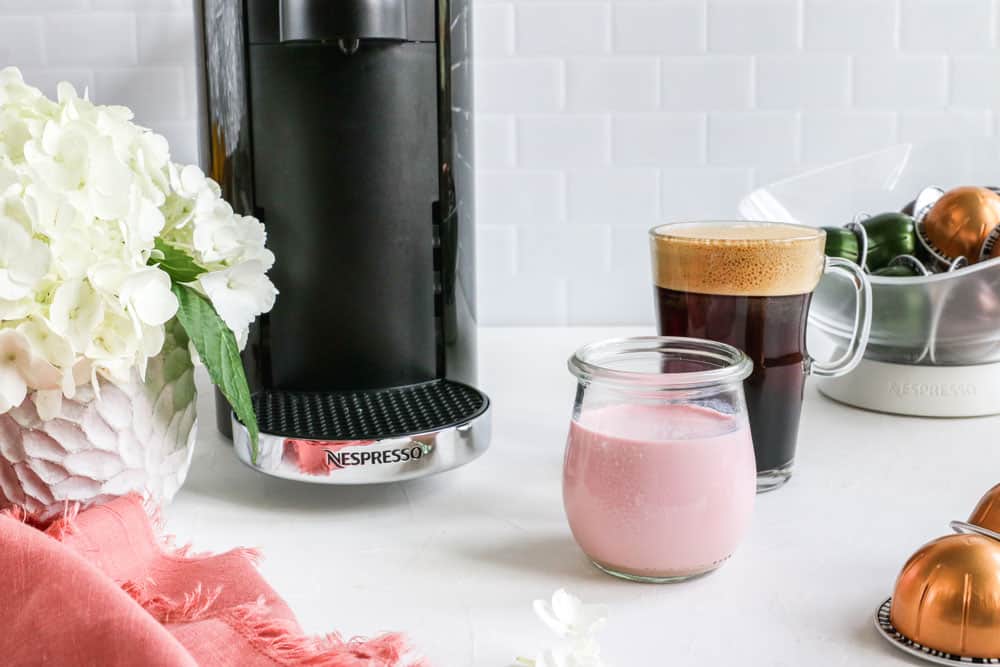 46