Spirulina, the superfood of all superfoods, is actually an algae powder high in protein and iron – not to mention 18 different amino acids! A true superfood indeed. The rich dark green color comes from chlorophyll, which helps eliminate toxins from our body and boost our immune system at the same time.
This nutrient-rich plant is often added to juices and smoothies, but the spirulina powder benefits go on and on, including several anti-aging and anti-inflammatory benefits for our skin and hair.
Spirulina Skincare Benefits
Whether you're fighting dandruff or looking for a formidable opponent to fight free radicals and fine lines, spirulina just might be your dream come true. The antioxidants found in spirulina are four times the amount found in most berries! It can help boost skin tone and complexion and leave you with that sought after dewy glow.
Spiralina can also:
encourage cell turnover
lead to healthier nails due to spirulina's high protein content
promote hair growth
fight acne with antibacterial properties
Brightening Honey + Spirulina Face Mask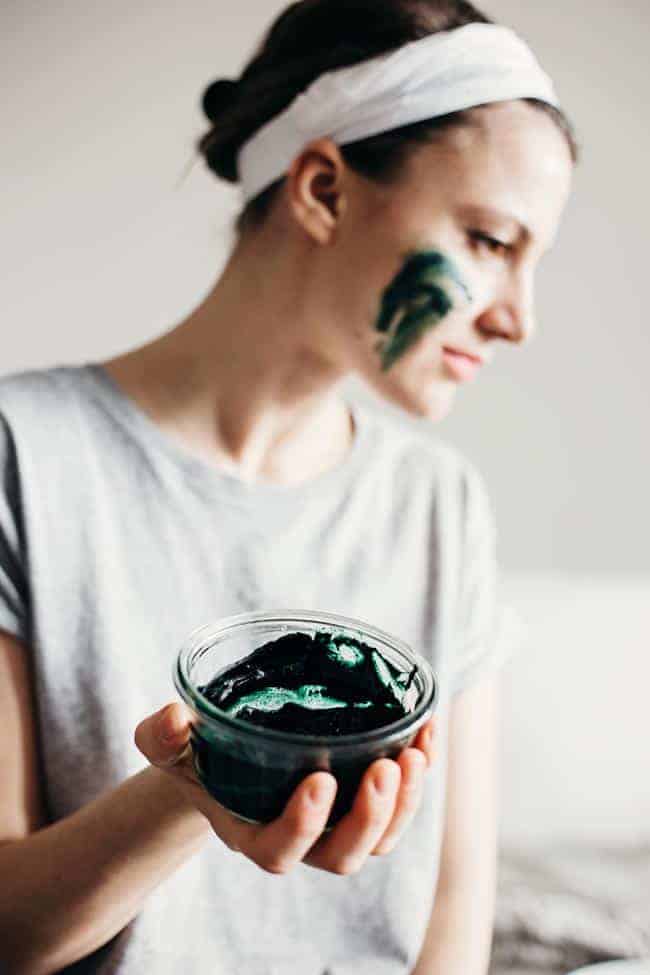 This simple and easy face mask is an excellent choice for all skin types. It will leave your skin feeling moisturized and bright, along with evening out skin tone and fighting bacteria.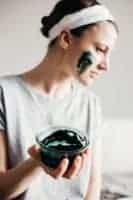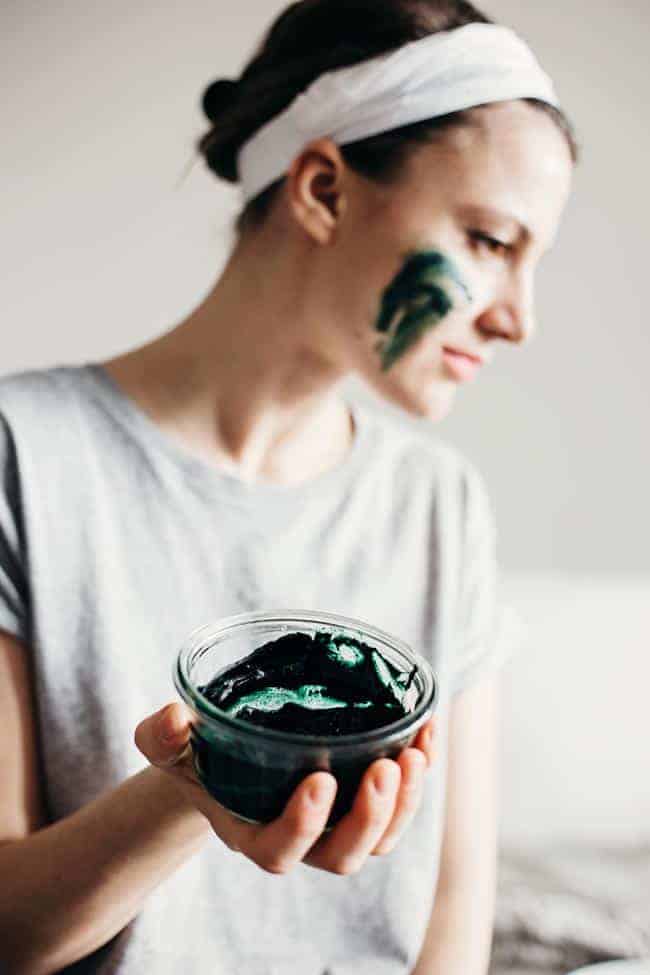 Print
Brightening Honey + Spirulina Face Mask
Yield 1 mask
Instructions
Make sure you cleanse your skin well first, then mix the two ingredients together to form a paste.
Apply with fingertips or a facial brush to your face and neck.
Leave the mask on for 20 minutes and then rinse off with warm water and a wash cloth.
Once the entire mask is removed, follow with a moisturizer or serum for added hydration.
Spirulina Health and Body Benefits
If you're looking for the most nutrient dense food or trying to address a specific health concern, you might want to start adding spirulina into your diet. This plant is high in vitamins A, B, C, D, and E, and packed with over 60% protein, meaning a little goes a long way when it comes to curbing appetite and helping you power your way through a workout. Other benefits include:
high calcium content
anti-inflammatory properties
digestive system support
antioxidants
allergy relief
Layered Coconut Spirulina Chia Pudding
Loaded with antioxidants and soluble fiber, this gorgeous-colored breakfast stimulates your body's natural detox process.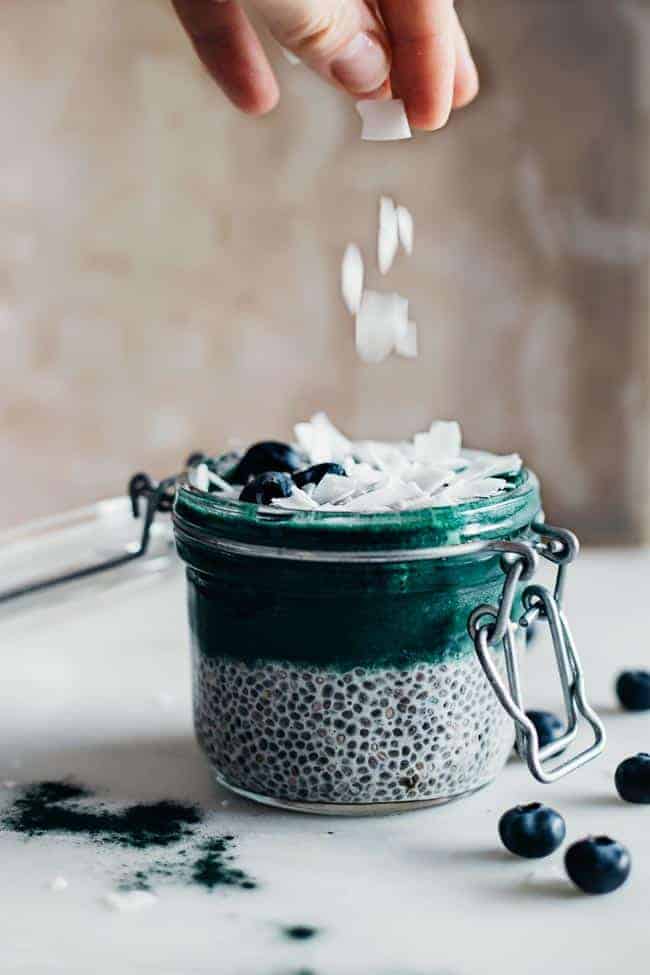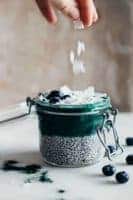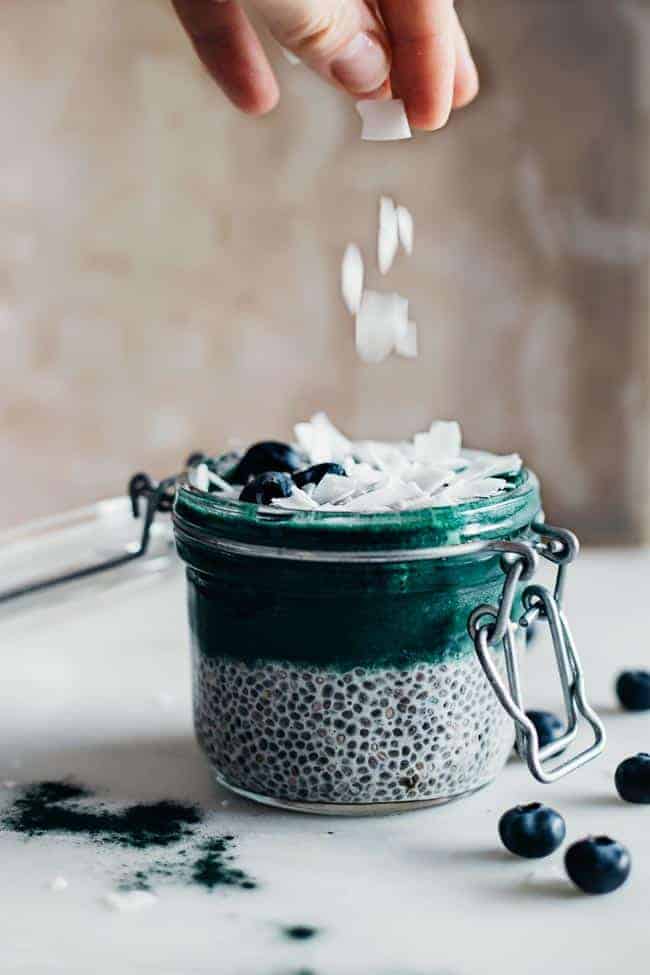 Print
Layered Coconut Spirulina Chia Pudding
Yield 4
Loaded with antioxidants and soluble fiber, this gorgeous-colored breakfast stimulates your body's natural detox process.
Ingredients
5 tbsp chia seeds
1 cup almond milk
1/2 cup coconut milk
2 tsp organic raw honey
1 avocado, peeled and cut into chunks
1 tsp organic spirulina powder
1 ripe banana, peeled
To garnish: fresh blueberries, coconut flakes
Instructions
In a medium bowl mix the chia seeds with milk and honey, then set aside for 30 minutes until the seeds absorbs all the liquid.
Meanwhile, add the avocado, banana and spirulina into the food processor and pulse to obtain a fine puree.
Distribute evenly the soaked chia into the serving bowls/jars, top with a green layer of spirulina puree, garnish with coconut flakes and chia seeds and serve.
Notes
Be sure to check with your doctor if you're currently taking any prescriptions, as spirulina can occasionally interfere with medications.
Courses Breakfast
Cuisine Vegetarian
Photos by Ana Stanciu
152