Spirulina, the superfood of all superfoods, is a powder derived from algae that is high in protein, iron, vitamins, and 18 different amino acids—true superfood indeed! Its rich, dark-green color comes from chlorophyll, which helps eliminate toxins from our body, supports vibrant skin (especially when used as a soothing spirulina face mask), and boosts our immune system—all at the same time [source].
This nutrient-rich sea plant is often added to juices and smoothies, but the spirulina powder benefits go on and on, including several anti-aging and anti-inflammatory benefits for our skin and hair.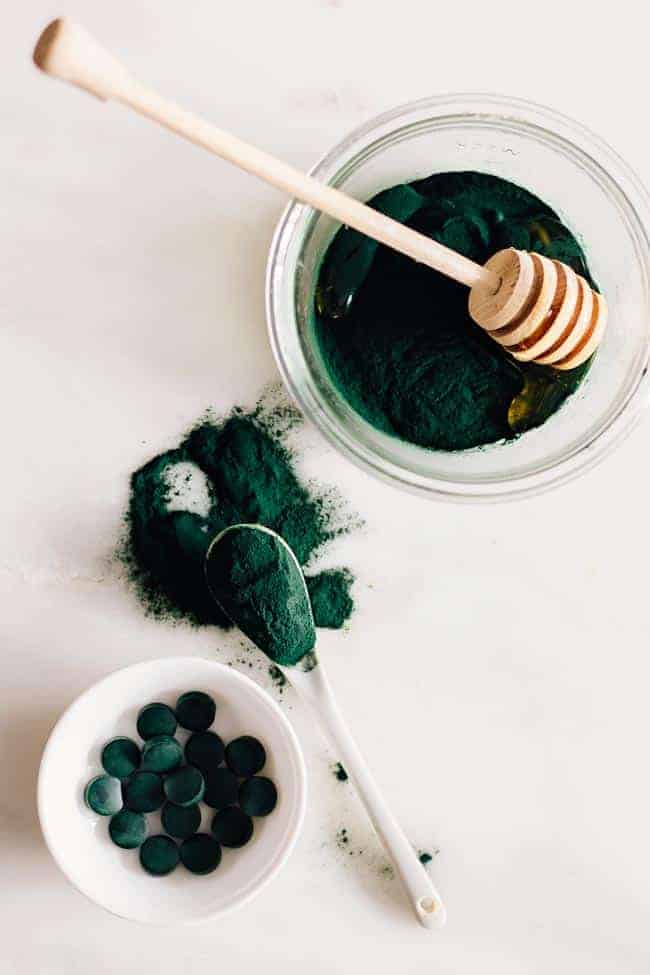 Spirulina Skin Care Benefits
Whether you're fighting dandruff or looking for a formidable opponent to fight free radicals, inflammation, and aging, spirulina just might be your dream come true [source]. The antioxidants found in spirulina are four times the amount in most berries!
It can help boost skin tone and complexion and leave you with that sought-after dewy glow. Spirulina can also:
encourage cell turnover

lead to healthier nails

promote hair growth

fight acne with its antibacterial properties
Brightening Honey + Spirulina Face Mask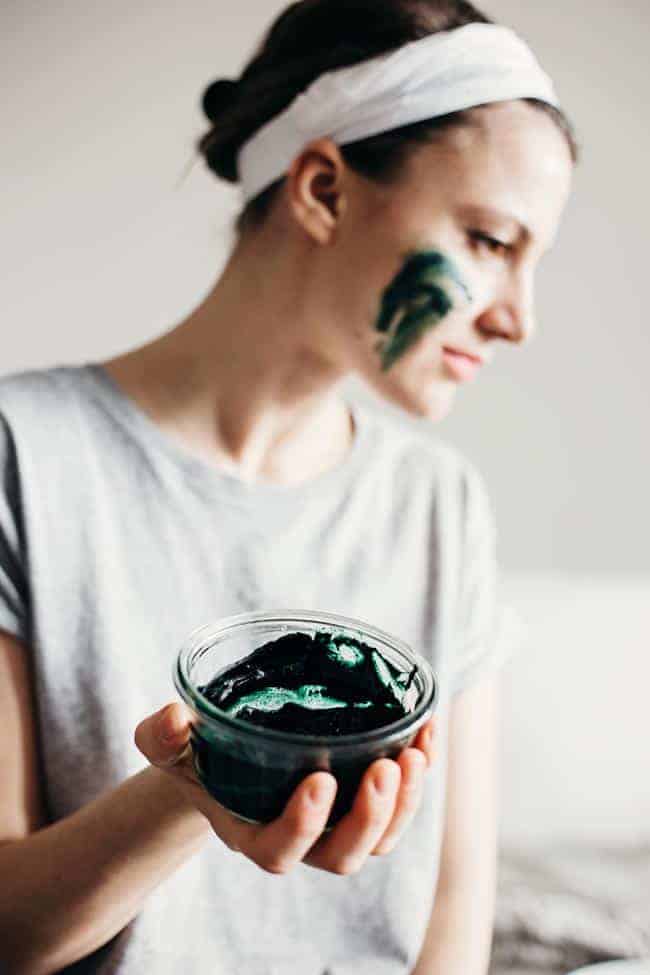 This simple and easy face mask is an excellent choice for all skin types. It will leave your skin feeling moisturized and bright, along with evening out skin tone and fighting bacteria.
Ingredients
Instructions
1. Make sure you cleanse your skin well first, then mix the two ingredients together to form a paste.
2. Apply with fingertips or a facial brush to your face and neck. Leave the mask on for 20 minutes and then rinse off with warm water and a washcloth.
3. Once the entire mask is removed, follow with a moisturizer, facial oil, or serum for added hydration.
Spirulina Health and Body Benefits
If you're looking for the most nutrient-dense food or trying to address a specific health concern, you might want to start adding spirulina into your diet. This plant is high in vitamins A, B, C, D, and E, and packed with over 60% protein, meaning a little goes a long way when it comes to curbing appetite and helping you power your way through a workout.
It is one of the most beneficial dietary supplements for detox [source]. Other benefits include:
high calcium content

anti-inflammatory properties

digestive system support

antioxidants

allergy relief
[To see what the science has to say about spirulina, click here.]
Layered Coconut Spirulina Chia Pudding
The perfect complement to your spirulina face mask, this chia pudding is loaded with antioxidants and soluble fiber [source] to help stimulate your body's natural detox process.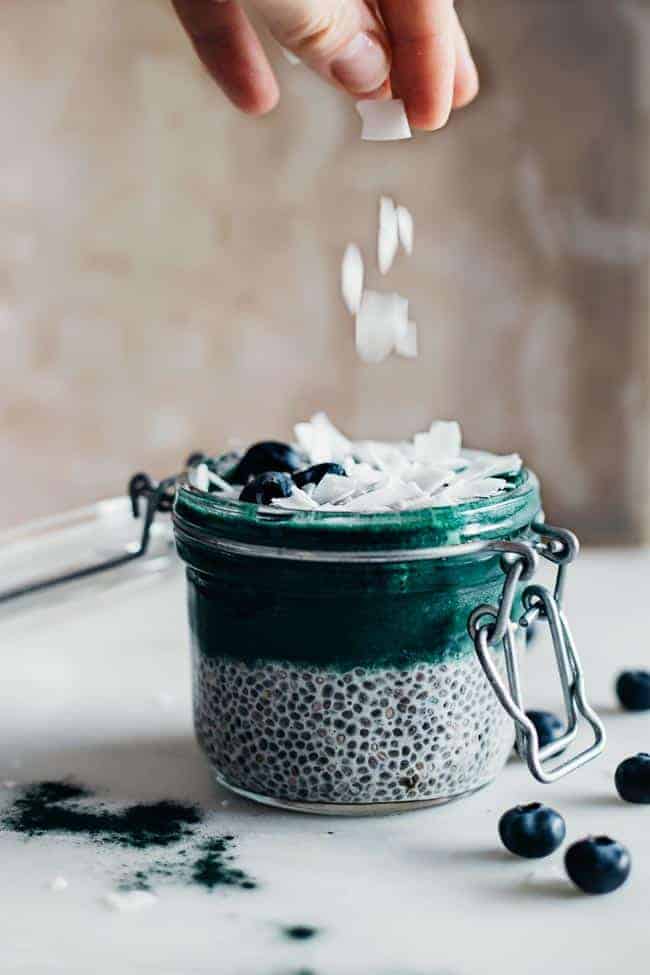 Ingredients
Instructions
1. In a medium bowl, mix the chia seeds with plant milks and honey (or its replacement), then set aside for 30 minutes, until the seeds absorb all the liquid.
2. Meanwhile, add the avocado, banana, and spirulina into the food processor and pulse to obtain a fine puree.
3. Distribute the soaked chia evenly into the serving bowls/jars, top with a green layer of spirulina puree, garnish with coconut flakes and chia seeds, and serve.
Spirulina FAQ
Can I use this spirulina face mask on my hair?
Yes, definitely. The nutrients that make spirulina so great for skin can also do wonders for your hair. Just whip up a larger batch, and apply evenly throughout your hair. Cover with a hair cap and let sit for about 15 minutes before rinsing out. Follow up with shampoo and conditioner per your usual routine.
Can I use chlorella in place of spirulina?
If you already have chlorella on hand, feel free to use it in place of spirulina in both of these recipes. While spirulina is made from a cyanobacterium in the blue-green algae family and chlorella comes from green algae, they're both extremely nutrient-dense and provide a range of beneficial vitamins, minerals, and antioxidants.
Is it safe to take spirulina every day?
To be safe, follow the instructions on the back of your spirulina bottle. For prolonged use, it's best not to exceed the recommended dosage specified by the manufacturer.
Are spirulina tablets as good as the powder?
Powders may break down more easily and provide slightly more nutritional benefit since they're more bioavailable [source]. But if you only have the tablets, either crush them with a mortar and pestle or use a coffee grinder to create a powder before mixing them with other ingredients.
How can I buy spirulina that doesn't contain heavy metals?
Since spirulina is grown either in the sea or in man-made water tanks, heavy metals will always be something to look out for. To keep metals to a minimum, choose high-quality brands that value purity and do strenuous third-party testing on their products.
Personally, I use Pure Hawaiian Spirulina because it's grown in Hawaii—meaning it undergoes strict FDA oversight—and they do third-party testing to ensure heavy metals and other toxins are low. But it's a personal decision, so do your own research and look for a brand you trust.
This post was medically reviewed by Dr. Jennifer Haley, a board-certified dermatologist with extensive experience in medical, cosmetic, and surgical dermatology. Learn more about Hello Glow's medical review board here. As always, this is not personal medical advice, and we recommend that you talk with your doctor.
Photos by Ana Stanciu
280