This post is sponsored by Applegate® and SheKnows Media.
I've spent countless minutes (or maybe hours!) staring into the refrigerator, hoping for lunchbox inspiration because by mid-week, everyone is tired of the same ol' sandwich day after day. However, with a little creativity, I discovered how to make lunch box staples become fun again.
Here are four ways to upgrade the basic turkey sandwich: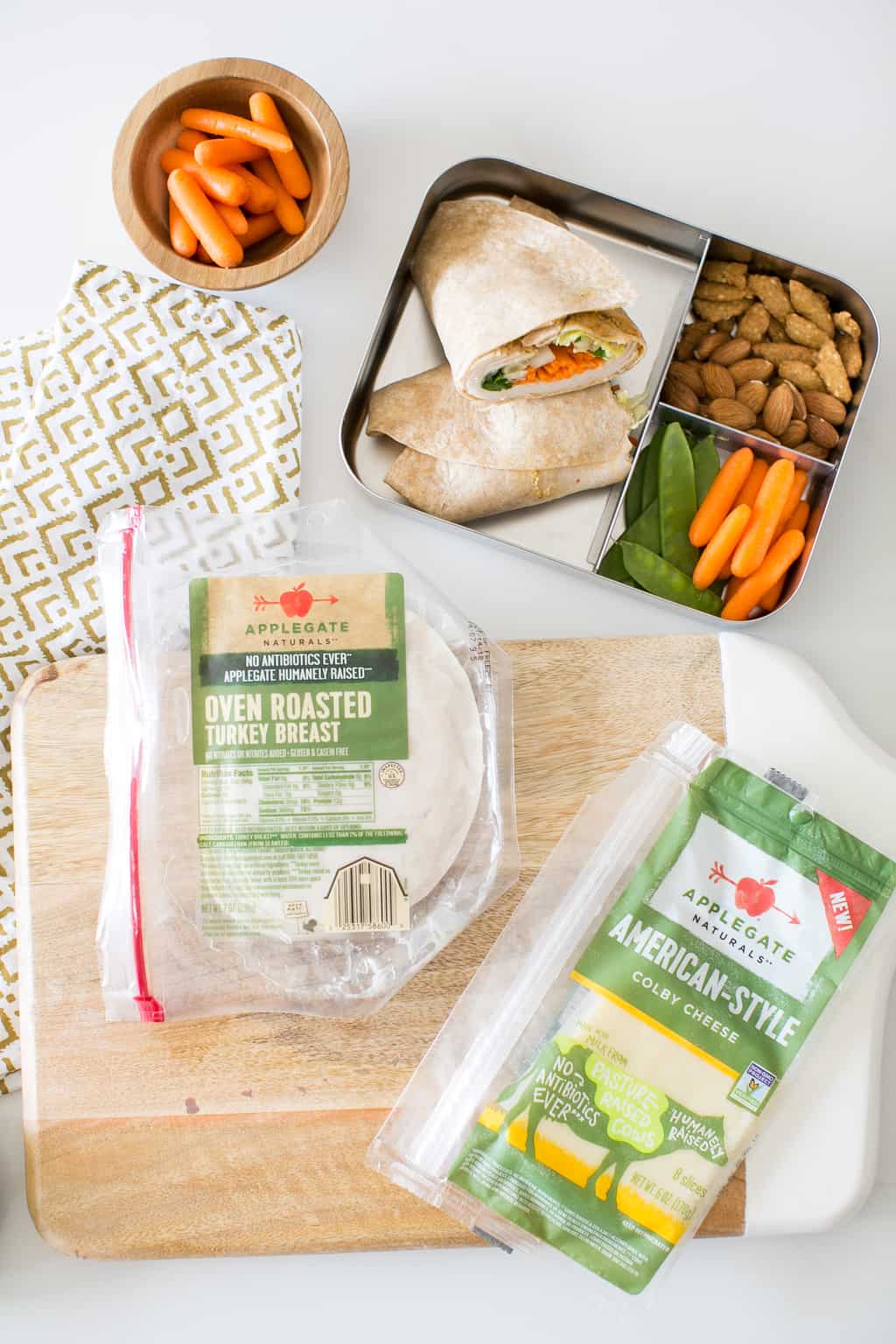 Turkey and cheese are classic lunchbox ingredients. Kids love them, and they make back-to-school lunches super convenient. I keep my fridge stocked with deli meat and cheeses from Applegate® because it's a brand I trust for simple, clean ingredients. They never use weird fillers or artificial flavors.
Applegate has a commitment to higher animal welfare standards and raising animals humanely is core to their mission. Their deli meats come from animals raised with no antibiotics ever, and their natural cheeses come from happy cows raised on pasture and are Non-GMO Project Verified. Before you hit the grocery store, get your $1 off coupon here.
We've turned these lunchbox staples into four easy lunches to give your bento boxes some much needed variety. Bento boxes are our lunchbox of choice, but sometimes filling those two side spaces stumps us so we're giving you lots of ideas there, too. Yes, you can eat turkey all week and never get bored!
1. Turkey Pita Bites
Round out the box with:
peppers and cucumbers with tzatziki sauce
orange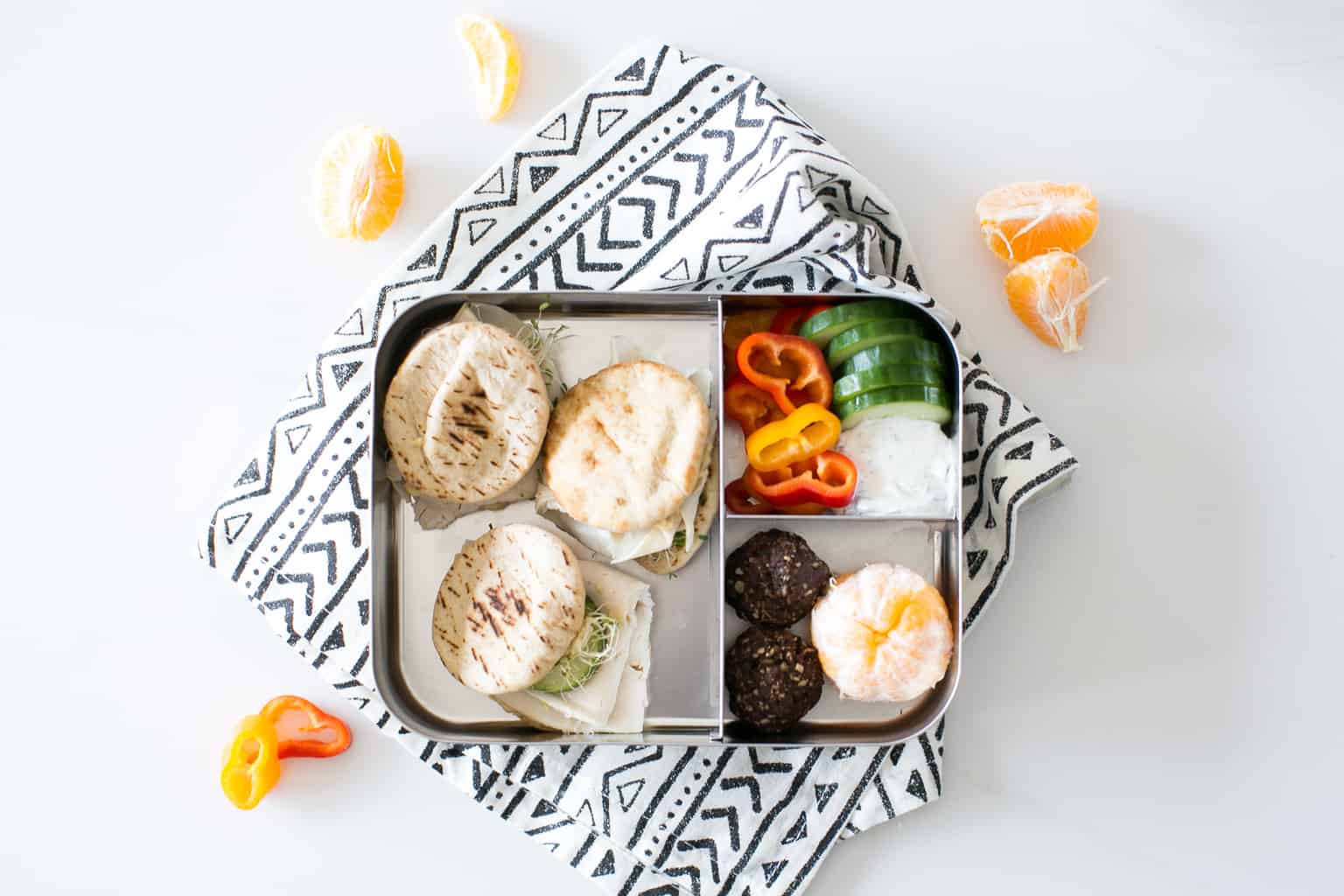 Turkey pita bites
Assemble by spreading hummus on both pita rounds. Add the turkey, cheese and sprouts.
2. Cherry & Spinach Turkey Pinwheels
Round out the box with:
berries
pistachios & dark chocolate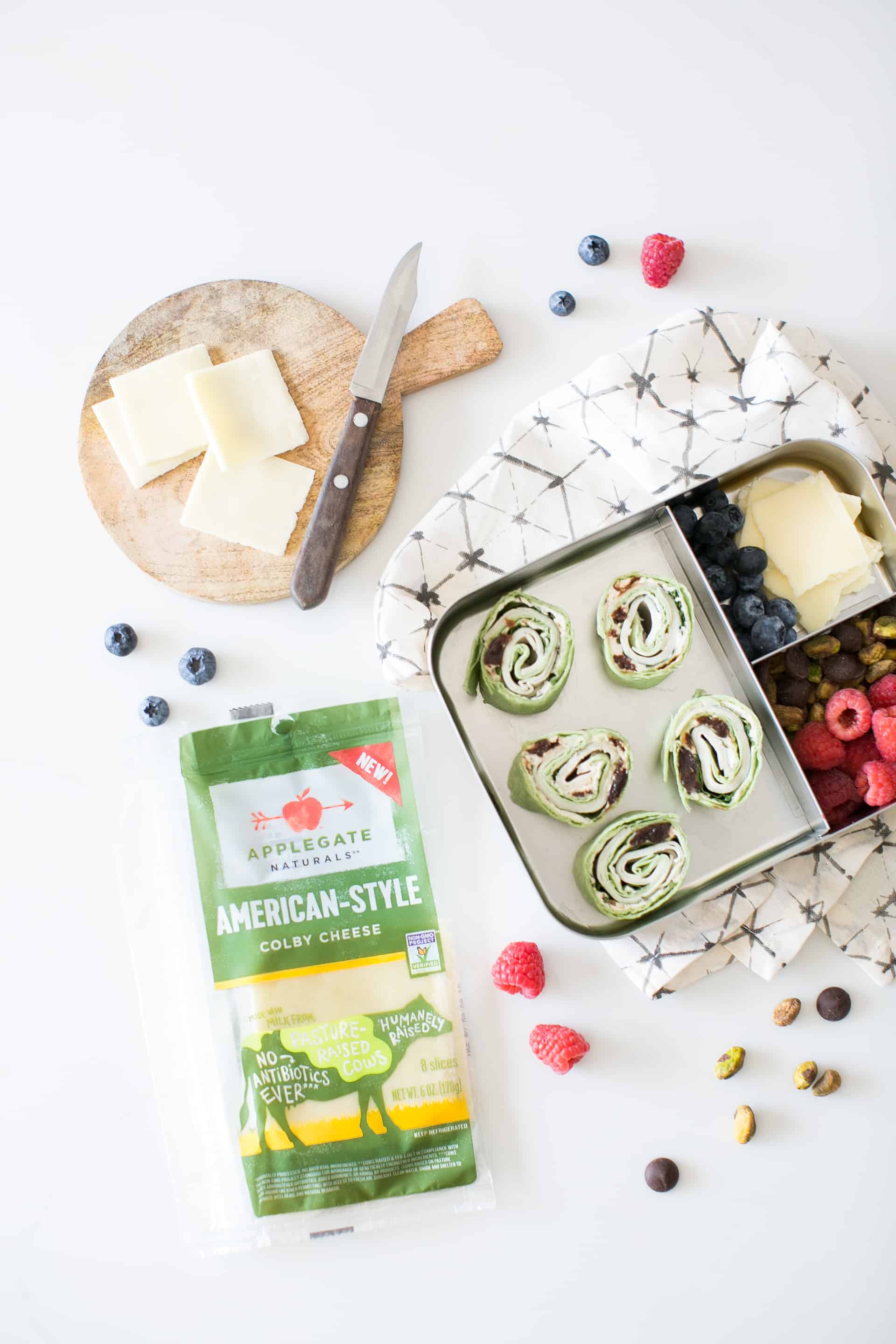 Cherry & Spinach Turkey Pinwheels
1 spinach wrap
1/2 cup of dried cherries
6 ounces of cream cheese, softened
1 tablespoon rosemary
salt and pepper to taste
1 cup fresh spinach
In a small bowl combine the cherries, cream cheese, rosemary, and salt & pepper. Spread cream cheese mixture onto the wrap. Layer the turkey and spinach onto the wrap. Roll tightly and place in the refrigerator for 15 minutes. Slice pinwheels about ½-inch thick.
3. Thai Turkey Wrap
Round out the box with:
almonds
sesame sticks
snap peas and carrots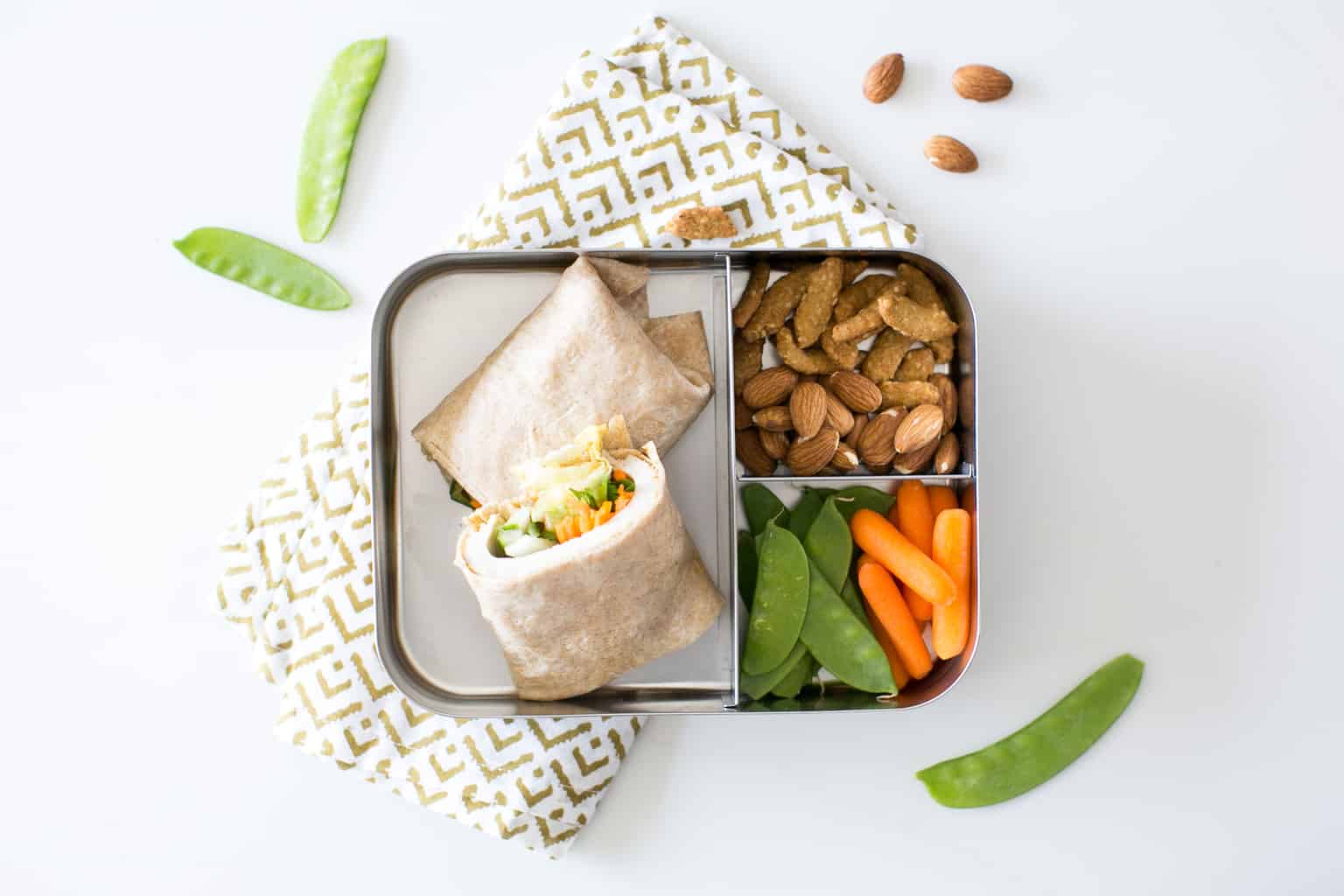 Thai Turkey Wrap
2 tablespoons Thai almond butter spread (recipe below)
1/8 cup shredded carrots
1/8 cup chopped cucumber
1/4 cup lettuce
1 whole wheat wrap
Begin assembly by spreading the almond butter sauce evenly onto the wrap. Next, place the turkey, carrots, cucumbers, & lettuce. Fold both ends over about 1 inched and roll the wrap tightly.
Thai Almond Butter Sauce
3/4 cup almond butter
1 tablespoon water
2 tablespoons lime juice
1/4 cup cilantro
1 tablespoon chili paste
2 tablespoons soy sauce
1/2 cup sliced almonds
Combine all ingredients into a blender or food processor. Pulse until smooth. Add additional water if needed. Mixture should spread easily.
4. Turkey Club Kabobs
Round out the box with:
pretzels
pickle
cherry tomatoes
hard boiled egg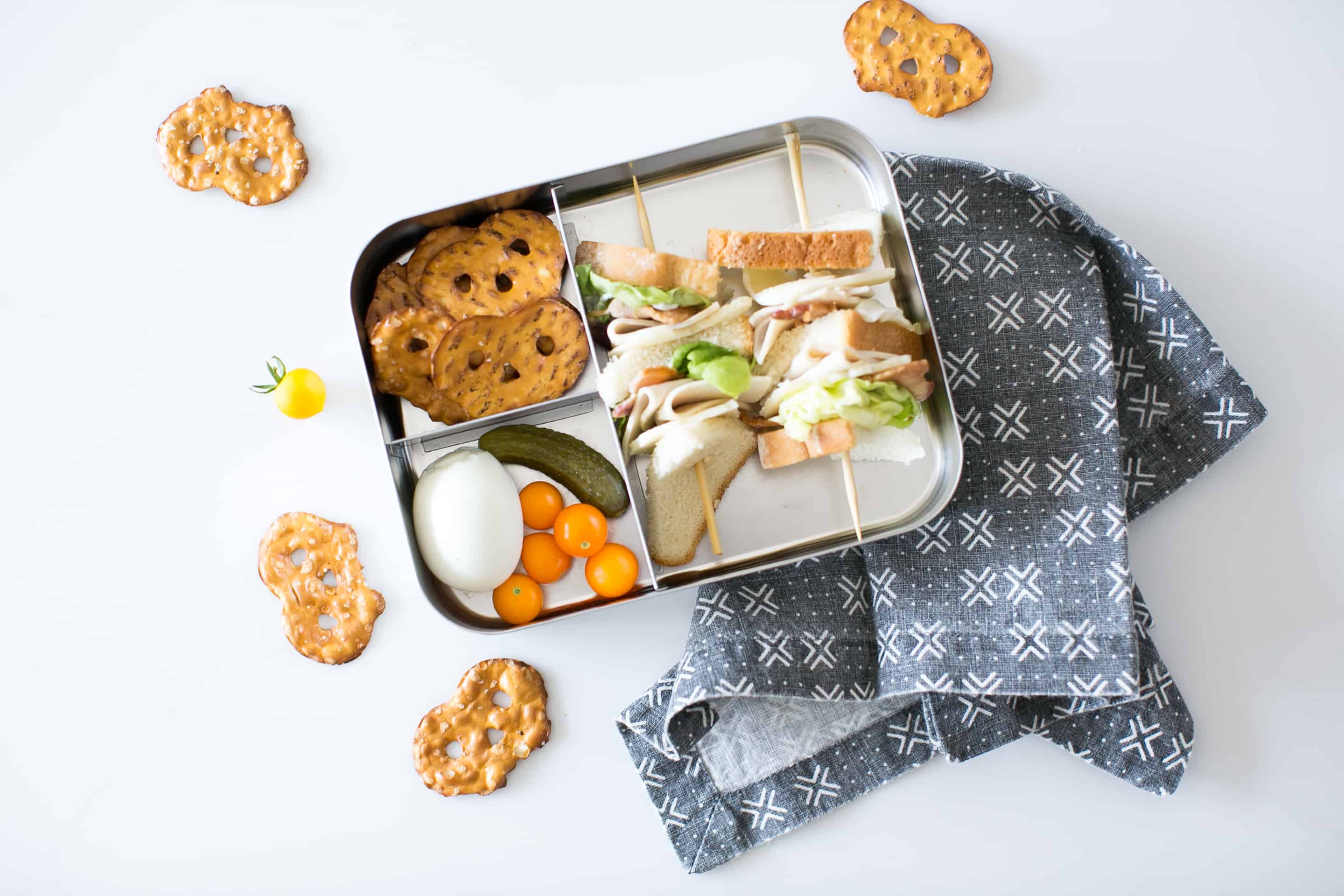 Turkey Club Kabobs
Layer the club bread, mayo, turkey, cheese, bacon, & lettuce ending with bread on the top layer.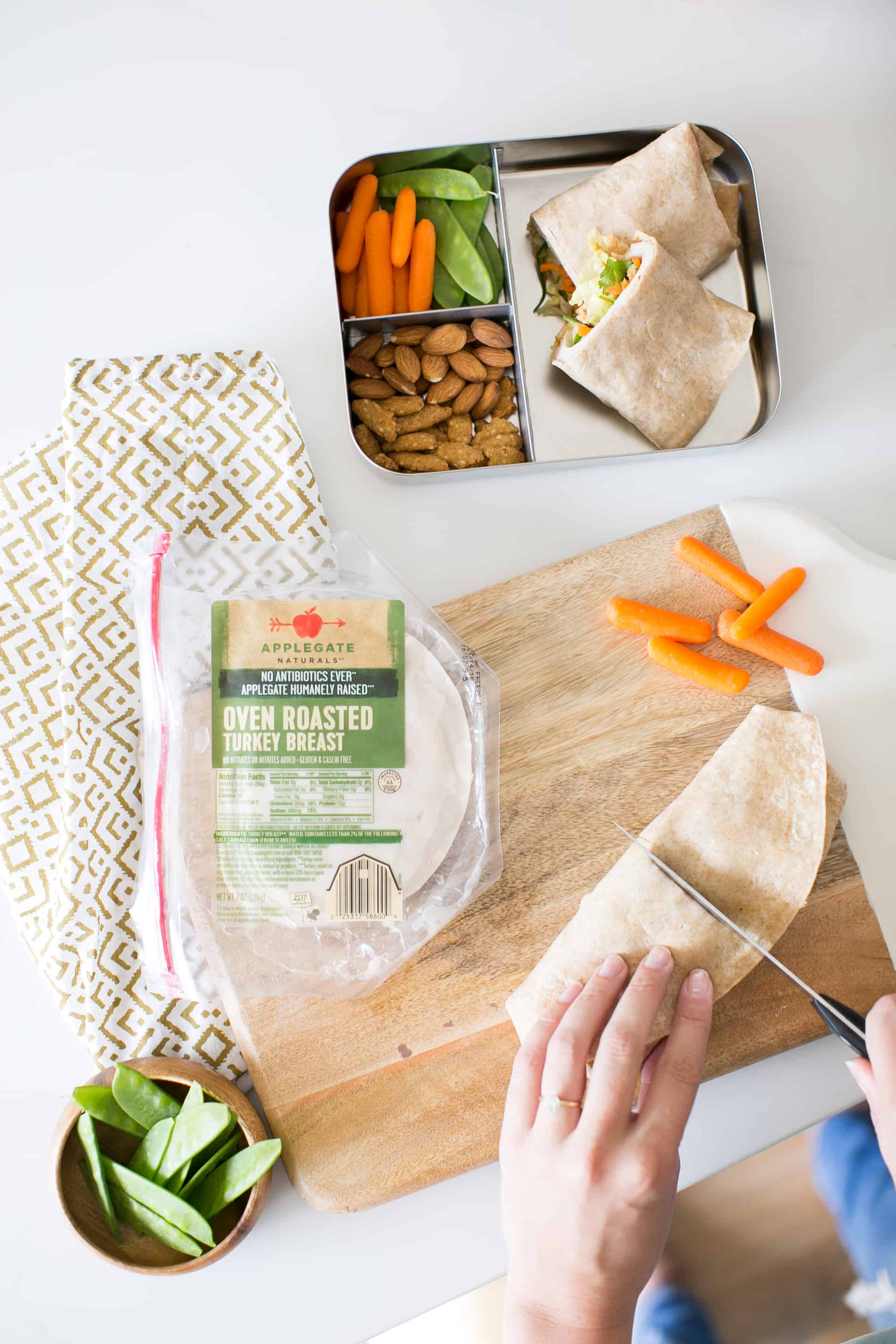 All of these options meet the mom lunch criteria trifecta: nutritious, enjoyable and practical. No more lunches coming home full of uneaten food!
To try Applegate get your $1 off coupon here.
14