January, despite its many pitfalls, is one of my favorite months of the year. With New Year's resolutions in full force and inspiration at an all-time high, it just feels fresh and full of possibility. Especially in these first few months following Christmas when there's still hope that this might be the year I finally get that bikini body prior to beach season. But as they say, with age comes wisdom, and this time around I'm not only inspired to get in shape but I'm also more conscious of the foods I put into my body. This protein-packed berry smoothie is the perfect post-workout snack to not only help you slim down but also to nourish your body, encourage healing and keep you energized all day long.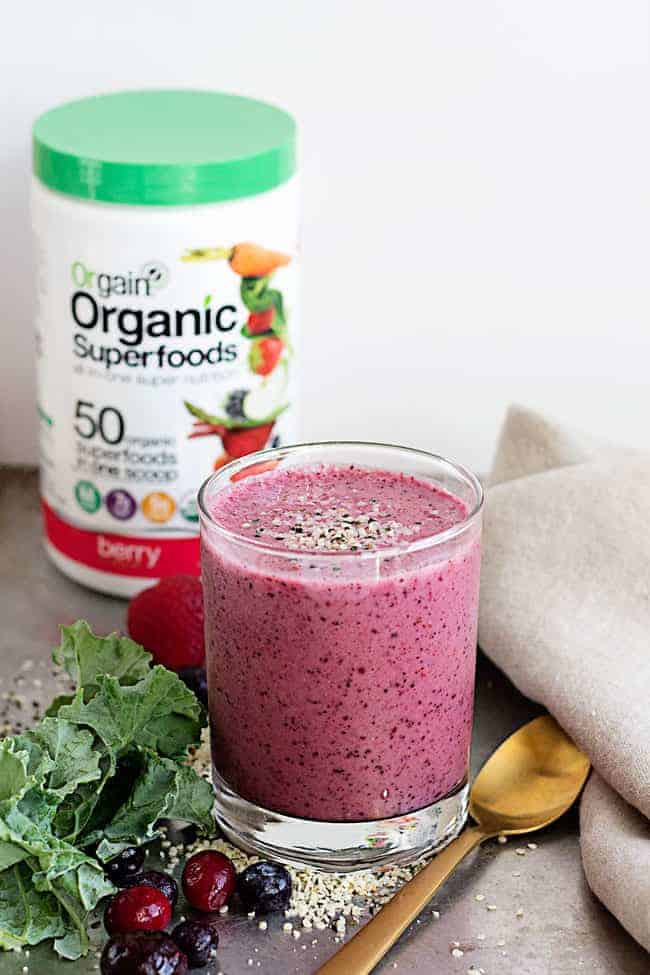 It might surprise you to learn that, according to a national study, Americans spend more time deciding what to watch on Netflix than considering the foods they eat. As a matter fact, almost 3 out of 4 people spend less than 3 minutes reading food labels while grocery shopping, and only four percent say they carefully plan or think about what they're eating. Yikes.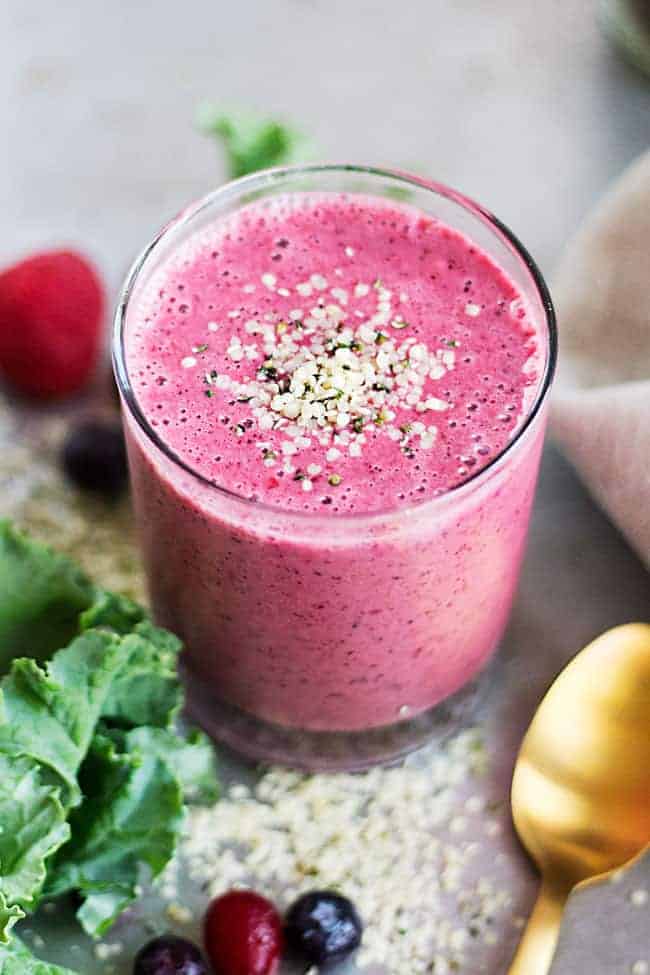 But as any health nut will tell you, strong, healthy bodies aren't made in the gym at all—they're made in the kitchen. What we put into our bodies is just as important, if not more so, than the amount of time we spend exercising each day. And a healthy smoothie loaded with lots of low-glycemic berries, superfoods, healthy fats, leafy greens and clean protein encourages better muscle recovery, replenishes nutrient stores and will keep you feeling full longer.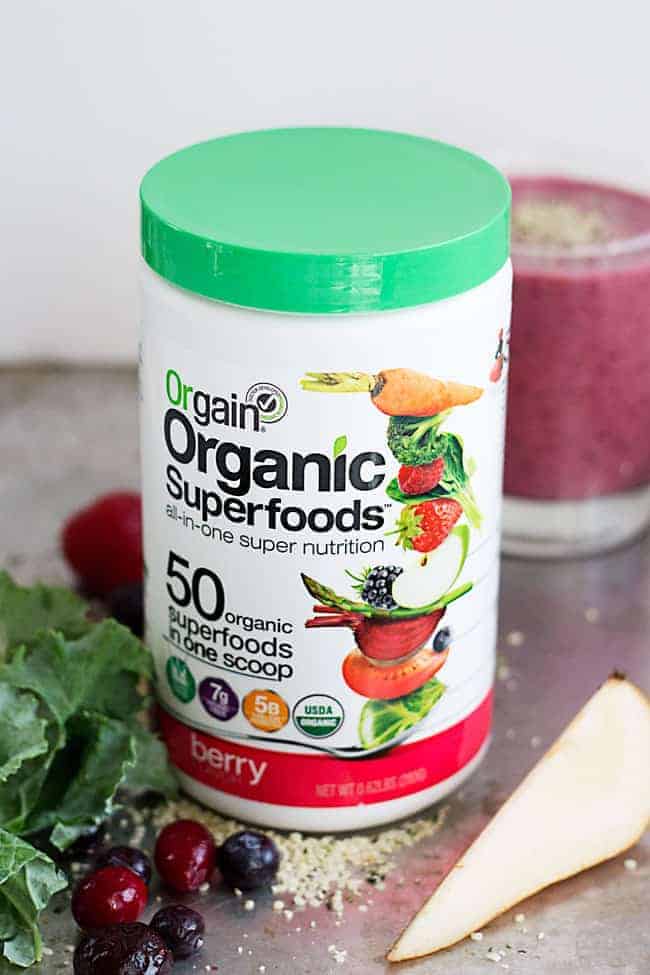 But let's not underestimate the importance of choosing clean, whole-foods ingredients. Most commercial protein powders and superfood supplements are loaded with sugar, artificial colors, chemicals and heavy metals–none of which are good for your body, especially after a grueling workout or following an illness. That's why it's so important to read ingredients labels and get picky with your food choices.
Orgain's line of organic powders, bars, and shakes are different. Orgain was developed by a doctor looking for clean nutritional products to fuel his body during his battle with cancer. It became his mission to create healthy nutritional products based on real food and using only clean, organic ingredients. Orgain's products use only high quality sources of protein like organic grass-fed whey, brown rice, hemp, chia and pea proteins, and they are certified USDA organic, gluten-free, soy-free and non-GMO.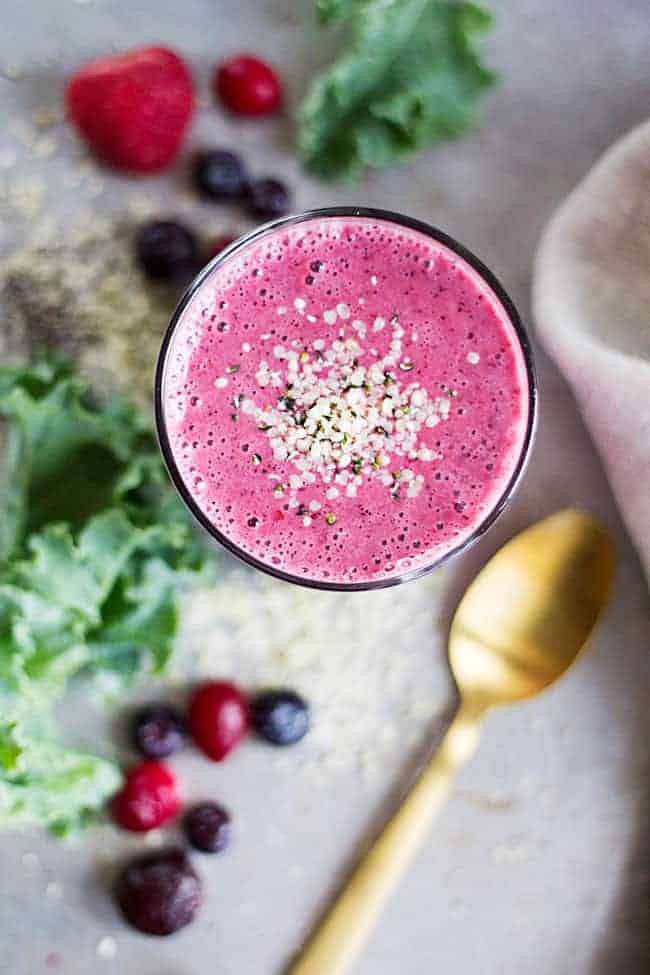 In order to refuel my body when it needs it the most, I like to blend my protein and superfoods into a healthy post-workout smoothie. To keep blood sugar stable, I mainly use frozen mixed berries but I'll sometimes throw in a banana for a little added sweetness. And to help my body absorb more vitamins and minerals, I also include a source of healthy fat like an avocado and hemp seeds. Overall it's the perfect way to start the day and keep your energy up all day long.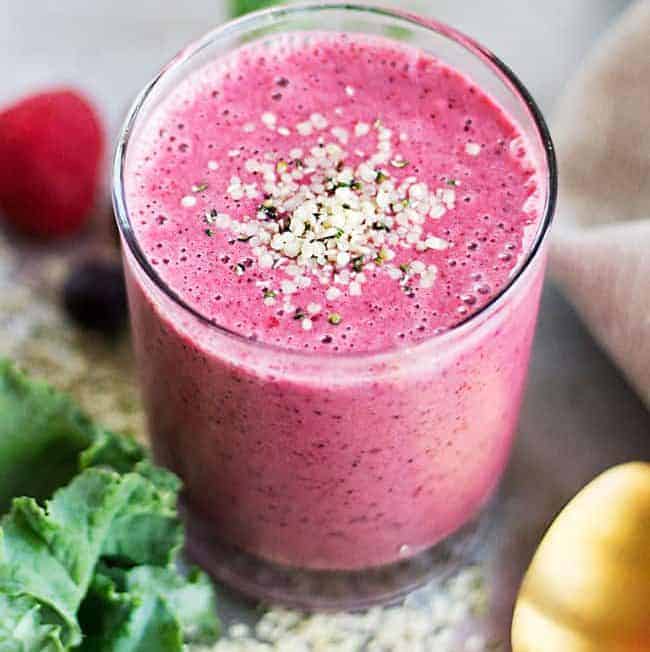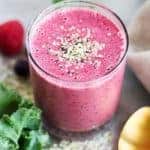 Print Recipe
Mixed Berry Protein Smoothie
Healthy fats, fiber, and lots of protein—this smoothie is a satisfying meal in sippable form.
Ingredients
1

banana

1

cup

frozen mixed berries

1

tablespoon

hemp seeds

1/2

avocado

3

large kale leaves

1

cup

almond milk
Instructions
Place all of the ingredients into the blender and puree until smooth. Split between two glasses and drink immediately or save half for later.
Hello Glow partnered with Orgain to create this post, but all opinions are our own.
71