By now, we're over the fact that activated charcoal is… charcoal black. We're far more interested in its benefits for health and skin! And there's plenty of those – no wonder it's been used in Ayurvedic and Chinese medicine for thousands of years.
When it comes to skincare, activated charcoal is great for drawing out impurities, hence its use in soaps, face masks, and deodorants. It is also naturally and gently exfoliating, it absorbs bacteria, minimizes pores and levels pH. Basically a miracle skincare ingredient!
Try it for yourself with some of our favorite activated charcoal beauty products: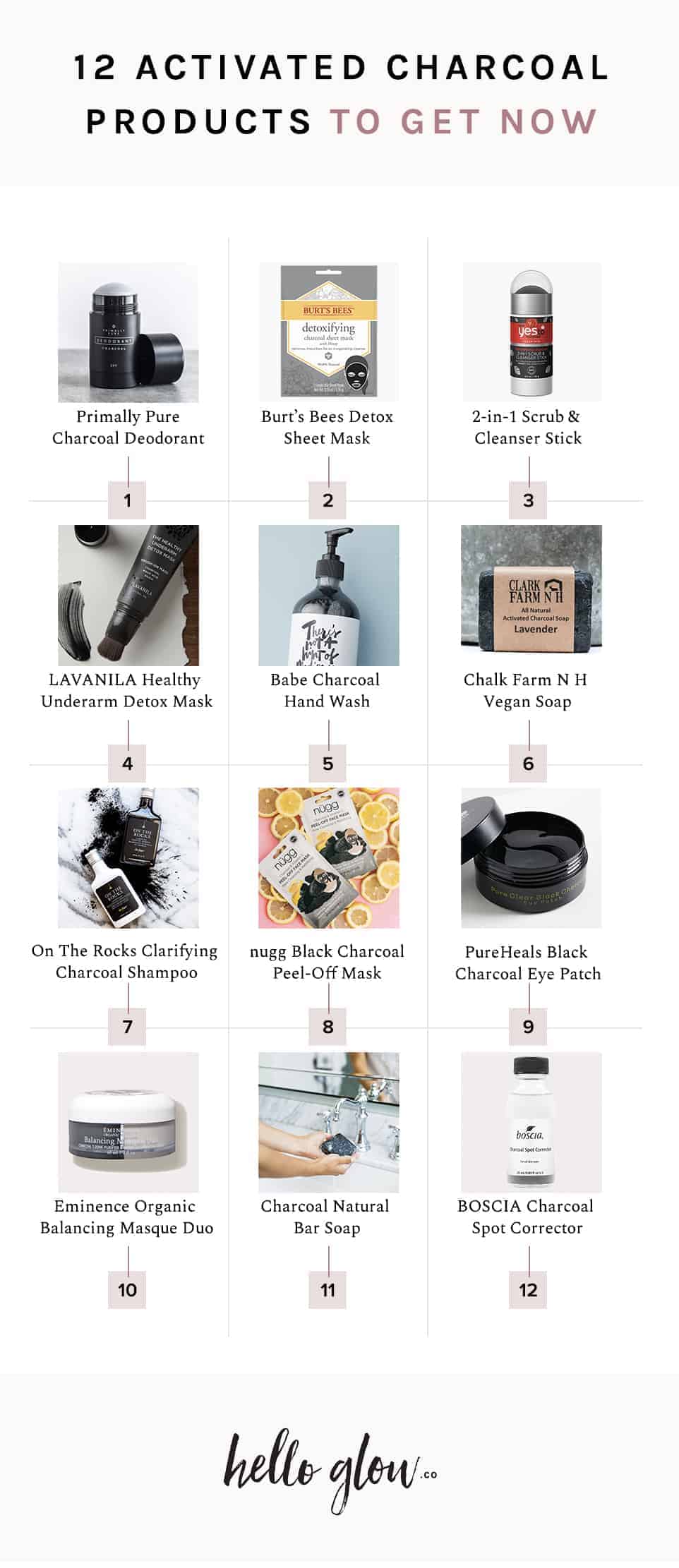 1. Primally Pure Charcoal Deodorant // If you're still looking for the natural deodorant that works for you, give this one a try! Activated coconut charcoal contains added detoxifying benefits while also deodorizing and disinfecting.
2. Burt's Bees Detoxifying Sheet Mask // This affordable sheet mask is enriched with activated charcoal, which removes impurities and grime, leaving the skin invigorated and healthy.
3. Yes To Tomatoes Detoxifying Charcoal 2-in-1 Scrub & Cleanser Stick // Exfoliate and cleanse in one step with this 2-in-1 stick that's naturally formulated with tomatoes and charcoal.
4. LAVANILA The Healthy Underarm Detox Mask // This all-natural mask gets rid of underarm buildup and impurities, while speeding and easing the switch to natural deodorant.
5. Babe Charcoal Hand Wash // This non-drying hand wash is formulated with detoxifying activated charcoal, along with oils, aloe vera and citric acid.
6. Chalk Farm N H Vegan Soap // Made in small batches with recognizable ingredients, this natural soap is hydrating and good on the skin.
7. On The Rocks Clarifying Charcoal Shampoo // No matter what type of hair you have, this clarifying shampoo will remove impurities and product buildup without drying.
8. nugg Black Charcoal Peel-Off Mask // Oily, combination and acne-prone skin will benefit from this purifying, deep-cleansing peel-off mask with charcoal and Vitamin C.
9. PureHeals Black Charcoal Eye Patch // Brighten tired skin around the eyes with these charcoal infused patches, which also protect the sensitive area against environmental pollutants.
10. Eminence Organic Skin Care Balancing Masque Duo // Purify your T-zone with charcoal and hydrate your cheeks with pomelo – this multitasking 2-in-1 mask makes it so much easier!
11. Edens Garden Charcoal Natural Bar Soap // Gently draw out impurities with a clarifying, detoxifying soap bar. Enriched with coconut oil and lavender oil, it smells lovely and it restores skin's natural luster.
12. BOSCIA Charcoal Spot Corrector // This activated charcoal-based spot treatment keeps unwanted blemishes, acne and redness at bay while effectively removing impurities.
6