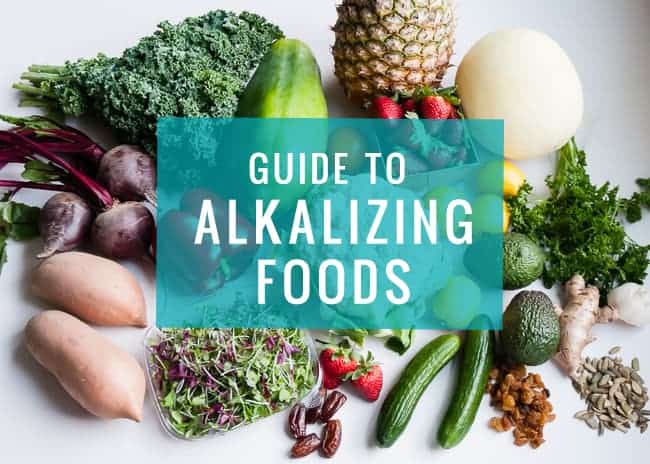 There's a hot debate regarding acid and alkaline-forming foods. Numerous studies and articles support both sides of the argument. One side claims alkaline-forming foods are essential to curing diseases and improving overall health, while the other says the studies are inconclusive. While research continues, conventional wisdom is growing in favor of incorporating alkaline-forming foods into your diet.
What does "alkaline-forming" even mean? Read on!
The human body is constantly at work to maintain the ideal internal pH of 7.365. But many foods are highly acidic, which forces the body to work overtime to neutralize acids and keep blood pH levels steady. If our blood becomes too acidic, it means there's a problem or illness.
Ideally, a healthy diet should consist of 80% alkaline-forming and 20% acid-forming foods. A diet with large amounts of alkalizing foods reduces the body's burden in neutralizing acids and may make absorbing food nutrients easier.
But when it comes to knowing which foods are acid- or alkaline-forming, things can get confusing. Foods that we think of as acidic aren't necessarily acid-forming once metabolized by the body. Two examples are apple cider vinegar and lemon juice. They are acidic to the tongue but alkaline in the body.
What are Acid-forming foods?
Acid-forming foods can be more difficult for our body to digest and also make the kidneys work harder.
meat and poultry
eggs
dairy (especially butter and cheese)
grains
refined carbs (sugar, white rice and flour)
You don't need to eliminate these foods completely from your diet – just aim to make them about 20% of the foods you consume.
What are Alkaline-forming foods?
Alkaline-forming fruits and veggies should make up the bulk of your diet. The idea behind this is that it's easier on your kidneys and body when you eat less acid-forming foods. There is also a theory that because alkaline-forming foods are easier to digest, the vitamins, minerals and nutrients are more easily absorbed by the body.
It probably won't surprise you, but alkaline foods are some of the very healthiest foods. Each list seems to differ slightly, but this is a great chart for reference. Most of these foods are easy to add into your day. Eating them raw seems to be particularly beneficial.
5 Easy Foods to Add Into Your Day
1. Greens
Cucumbers and celery are extremely alkaline because of their high water content. Leafy greens (kale, collards, spinach, chard), wheat grasses, sprouts and micro-greens are also quite good because they help increase the amount of oxygen that your blood can absorb.
Recipe to try: Juicing 101 – 3 Recipes to Get You Started or Raw Baby Kale Salad with Oranges, Blueberries + Pomegranate Seeds
2. Citrus
Citrus fruits (lemon, lime, grapefruit, tangerines) are the most alkaline fruits we eat today. Citric acid metabolizes into water and other alkanizing agents, so add a bit of lemon to your water bottle.
Recipe to try: Citrus Avocado Salad from Hello Veggie
3. Cruciferous vegetables
Some of the best alkaline-forming veggies are cruciferous vegetables such as broccoli, cauliflower, cabbage and Brussels spouts. Cruciferous veggies contain isothiocyanate, a molecule that helps fight against the growth of cancer cells in the human body. S0 eat your broccoli to increase your body's alkalinity AND fight off cancer. Yes, please!
Recipe to try: Roasted Broccoli 3-Ways or Broccoli Microgreen-Quinoa Salad from Cafe Johnsonia
4. Berries
Don't forget your berries! Low-sugar berries as well as melons, papaya and pineapple are high on the list of alkalizing forming foods.
Recipe to try: Wrinkle-Fighting Berry + Kale Smoothie
5. Raisins, Nuts + Seeds
Raisins and dates make the cut, so grab a handful of trail mix with raw nuts and seeds as you're running out the door. Raisins help the body retain nitrogen, which helps alkaline blood regenerate muscle mass. And almonds are high in calcium and magnesium, both of which help in the alkaline forming process.
Recipe to try: No Bake Almond Blueberry Granola Bars

Other good choices:
Avocado
Root veggies (beets, carrots, sweet potatoes)
Artichokes
Cucumber
Asparagus
Bell peppers
Herbs and spices (parsley, ginger, paprika, turmeric)
Bottom line
It's all about balance! Aim to eat alkaline-forming foods to balance out the acid-forming foods. For example, have a side of veggies with your egg in the morning. Have a big salad full of leafy greens and top it with a little grated cheese in the afternoon or evening. A few tweaks can do your body a world of good and lead to more energy and fewer illnesses.
3