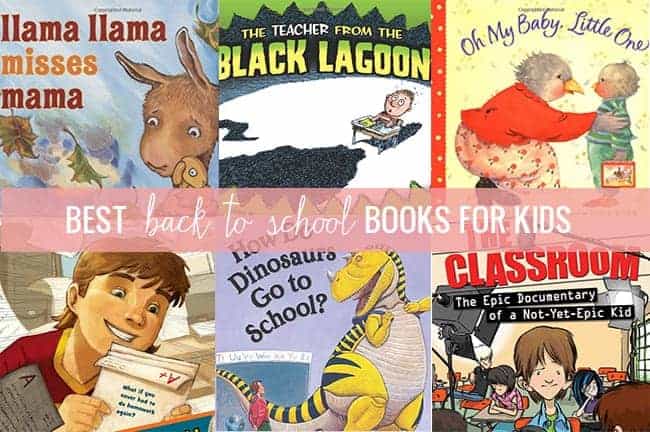 By book contributor Sada Stipe
Back to school is definitely one of the most stressful and exciting times of the year for kids and parents alike. What to wear, who's my teacher, are my friends in my class–are just a few of the thoughts buzzing around in your little one's head like a pesky mosquito. And then there are the less vocalized emotions–separation anxiety, performance fear, social awkwardness. Reading a book on the subject can help calm the jitters and get everyone focused on making it through that tumultuous first week. Fortunately, there are countless back-to-school books to choose from for every age group! Below are a few of my all-time favorites.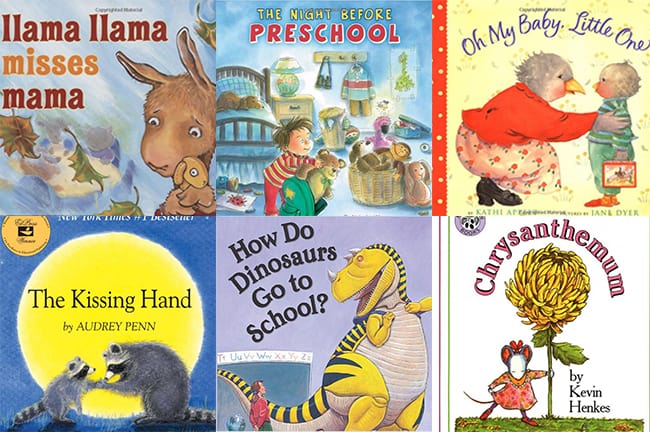 Ages 3-5
Llama Llama Misses Mama by Anna Dewdney
Ok, so I don't have a school-age kid yet BUT my two year old just started a new "preschool" program and this has been our go-to book every night before school (and sometimes the morning of). The sweet rhymes and adorable illustrations capture all the emotions of starting school for the first time. Llama llama doesn't understand why his mama leaves him in this scary new place. He doesn't feel like joining in any of the fun the other kids are having and he gets so upset he almost loses it. The teacher and the kids let him know, "it's ok to miss your mama" and before he knows it, Mama Llama comes back! "Go to school like Llama Llama" is the current morning mantra in our house.
The Night Before Preschool by Natasha Wing
Set to the rhythm of The Night Before Christmas, this book lets kids know exactly what to expect at school and how they will get ready for it. From setting out their clothes the night before to making new friends the next day, each activity has a complementar illustration to quell all those fears about the first day. And "The Night Before" series goes all the way up to First Grade and even covers the holidays.
Oh My Baby, Little One by Kathi Appelt
It doesn't get much cuter or sweeter than the story of this mama bird dropping off her baby bird at school for the first time. The soothing lyrical text tells kids that it's just as hard for mom to say good-bye as it is for them. Not to worry though, their love will keep them close all day even when they are apart. Right before baby bird goes into school, she says:
So blow a kiss and wave good-bye,
my baby, don't you cry.
This love is always with you,
like the sun is with the sky.
Grades K-1
The Kissing Hand by Audrey Penn
A back-to-school classic that brought tears to my eyes the first time I read it, The Kissing Hand tells the story of a nervous little raccoon just about to start school. His mother kisses his hand and tells him to wrap his paw around the kiss tight so as not to lose it. Whenever he misses her during the day, he can press his palm to his cheek and feel her love run through him all over again. Just as he is about to run to school with his new classmates, Chester grabs his mother's hand and gives her a kiss to have in case she misses him. This is exactly what my son will do the night before he starts kindergarten, right?
How Do Dinosaurs Go to School? By Jane Yolen and Mark Teague
Does a dinosaur drag his long tail? Is he late for the bus? Does he stomp all four feet? Does he make a big fuss? NO! Of course he doesn't because dinosaurs are awesome! At least, that is what I've learned from this amazing book series. Dinosaurs always do everything right, without complaining. And at school, they are model students. This book (and series) is a must for the dinosaur lover in your family.
Chrysanthemum by Kevin Henkes
Here is another book after my own heart about a little mouse with a long, hard to pronounce name. Chrysanthemum loves her name and actually thinks it's perfect, that is, until school starts. As soon as the teacher reads her name, the class erupts with laughter and she soon gets all kinds of unwelcome questions and nicknames. With the help of an understanding teacher, Chrysanthemum soon learns to love her name again. This is a sweet story to help teach kids about being on both sides of teasing.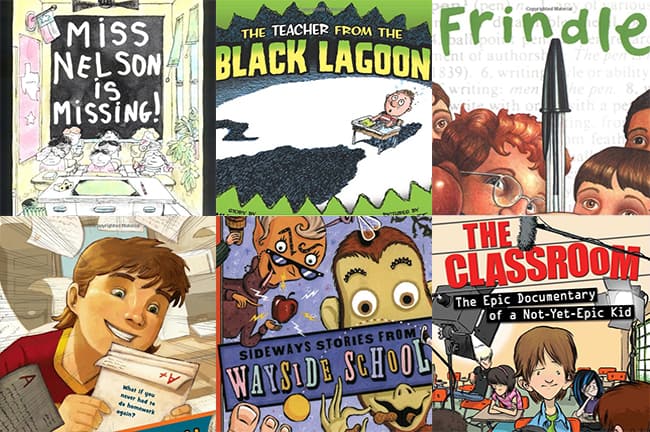 Grades 2-3
Miss Nelson is Missing! by Harry G. Allard Jr.
Teachers have feelings too! This book is perfect for kids who are stuck with their lastchoice teacher and/or who have trouble following directions. In this hilarious take on the application of the golden rule–the worst-behaved class in history suddenly gets a dose of their own medicine when sweet Miss Nelson is replaced by the hideous, sinister Viola Swamp. Their days of throwing spitballs, talking out of turn, and giggling uncontrollably are over. Needless to say, their behavior improves rapidly.
The Teacher from the Black Lagoon by Mike Thaler
Another classic book addressing anxieties about a new teacher, this story shows how ugly rumors can turn a teacher into a monster. This book is also great for kids who are dreading their new class because of bad things they've heard about their teacher. In The Teacher from the Black Lagoon, the kid has heard everything from teachers carrying whips to his being an actual green monster. He is wound tighter than a ball of rubberbands on the first day with fear of these creatures. Once he meets the teachers himself, of course, he realizes his was scared for nothing.
Grades 3 and up
Frindle by Andrew Clements
It wouldn't be a back-to-school book list without mentioning Andrew Clements. Nearly all of his novels hit the mark with middle grade graders and Frindle is arguably his piece de resistance. Clever class clown, Nick, uses his class assignment to get back at his teacher by coining a brand-new word. Instead of a "pen," the writing utensil is now a "frindle" and Nick doesn't back down from using his new word…ever, no matter how bad the consequences. Use this thought-provoking book to get your kids excited about learning and generating their own "buzz" in the classroom.
The Homework Machine by Dan Gutman
Yes, by third or fourth grade, this is every child's dream–to create a machine that will do your homework for you. And that's exactly what the group of kids in this book do. Everything is great until the teacher starts growing suspicious of their flawless class assignments and some of the kids start feeling guilty about their invention. Is it cheating? Do they still need to pay attention in class? This book is for any kid who starts griping about homework before school even starts.
Sideways Stories from Wayside School by Louis Sachar
Wayside School was supposed to be a one-story school with 30 classrooms, side by side. Due to egregious human error, however, it ended up a 30-story building with one classroom on top of another. You can imagine how things might be out of sorts at a school like this. Kids will crack up at the bizarre antics of these teachers and students. And each story follows a different student at Wayside, thereby breaking the book into short, manageable chunks for restless fourth and fifth graders.
The Classroom (The Epic Documentary of a Not-Yet-Epic Kid) by Robin Mellom
One of my favorite newer school stories for middle grade, The Classroom is perfect for the reality television junkie in your household. A camera crew is on scene at Westside Middle School following around new student, Trevor as he tries to survive his first day. His best friend from elementary school basically ditches him and he manages to draw the attention of some dreaded eighth graders. Told through the documentary "footage" and first person "interviews," readers get different perspectives on each character's experience of the same events. It does a remarkable job of capturing humorous tween awkwardness and can help kids prepare for the natural ups and downs of friendship that so often occur during this time.
0