We have no shortage of ideas for making your own bath bombs and soaks, but sometimes it's nice to just buy something in a bottle, pour it in the tub, and relax a little bit. (Or a lot.) Whether you're looking for something fun and fizzy or soothing and bubbly, we're pretty sure you'll find the perfect soak for you below.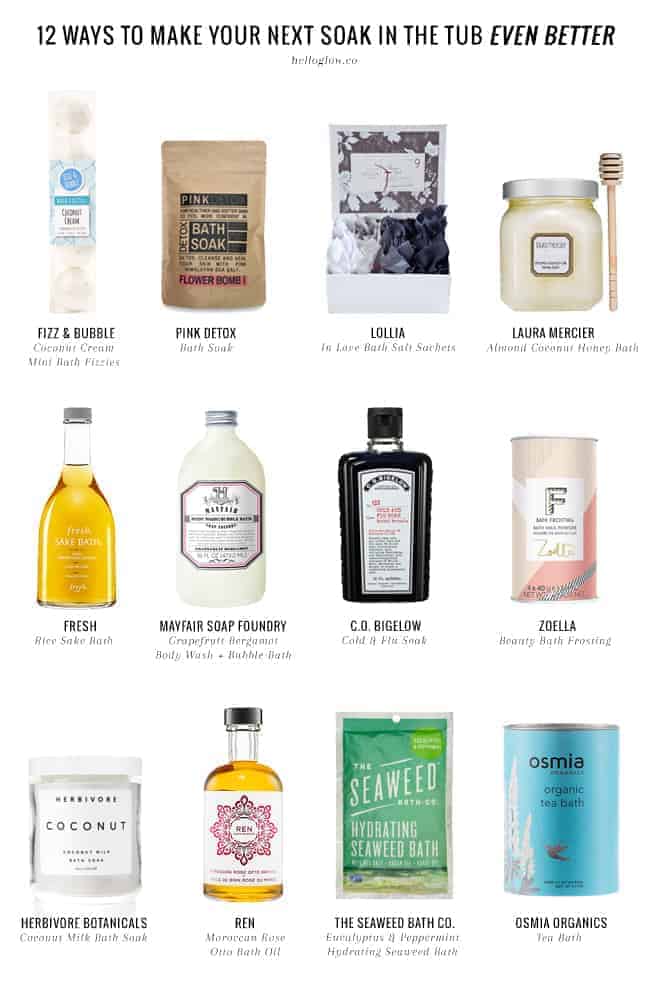 Fizz & Bubble Coconut Cream Mini Bath Fizzies // These mini fizzies are the perfect size for a quick bath—and this Coconut Cream scent smells like a tropical vacation.
Pink Detox Bath Soak // Relax and detox at the same time with this Pink Himalayan soak. Bonus: we're giving away a Pink Detox bath on the blog right now!
Lollia In Love Bath Salt Sachets // These beautifully wrapped sachets contain bath salts scented with a delicate, floral fragrance.
Laura Mercier Almond Coconut Honey Bath // This moisturizing honey bath smells good enough to eat!
Fresh Rice Sake Bath // Yes, this soak contains real sake! It detoxifies, softens skin, and helps even skin tone.
Mayfair Soap Foundry Grapefruit Bergamot Body Wash + Bubble Bath // Mayfair Soap Foundry is one of our new favorite finds at Target—and you can never go wrong with a citrusy scent like this.
C.O. Bigelow Cold & Flu Soak // Feeling under the weather? A blend of essential oils and immunity-supporting extracts make this soak the perfect remedy.
Zoella Beauty Bath Frosting // Elderflower and pomegranate extracts soften, brighten, and tone skin while you soak.
Herbivore Botanicals Coconut Milk Bath Soak // This coconut-and-vanilla-scented anti-inflammatory bath is a great way to soothe irritated skin.
REN Moroccan Rose Otto Bath Oil // Unlike other bath oils, this one doesn't leave a film on your tub or your skin—but it does leave you smelling like roses.
The Seaweed Bath Co. Eucalyptus & Peppermint Hydrating Seaweed Bath // Stock up on this one for winter when your skin is feeling dry and in need of intense soothing.
Osmia Organics Tea Bath // Tea bags for your bath tub! And the fact that all the botanicals, oats, and salts are in a muslin bag means they won't be stuck to your tub after you drain the water.
0