As someone with oily skin, I spent all of my 20s avoiding products containing oil. My skin is oily! Why would I add more oil?! But then oil cleansing became a thing and the reasoning behind it made sense—the cleansing oils bind to the sebum on your face, removing it as you rinse your skin.
Plus, when you're an adult with oily skin, sometimes your problem is really that your skin is out of balance—you use harsh cleansers that strip away oil, your skin produces more oil to compensate, and you work even harder to get rid of the excess oil. It becomes a vicious circle.
But maybe your problem isn't oily skin—maybe it's dry skin. Or maybe you have sensitivity and redness. Or you might just have perfect skin and want to find a cleanser that does a better job removing your makeup (because: YES! cleansing oils are great for that).
No matter what your skin's needs are, there's a cleansing oil for you. And once you've tried them, you'll never go back to regular cleansers again. Yes, your skin will feel clean, but more importantly, it will feel smooth, soft and amazing. Here are some of our favorite cleansing oils for every skin type:
Best Cleansing Oils For Oily + Acne-Prone Skin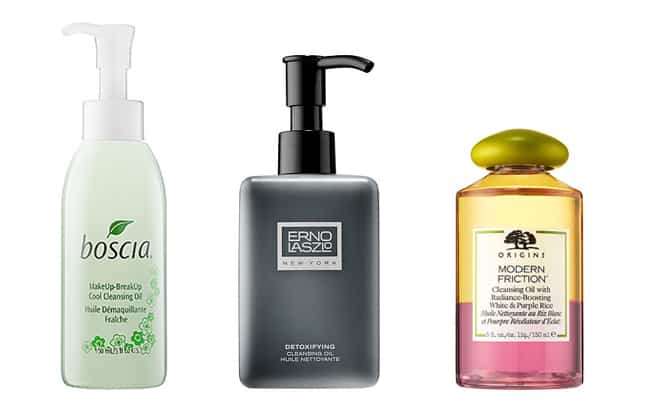 boscia MakeUp-BreakUp Cool Cleansing Oil // If you're battling signs of aging and acne (lucky you!), this is the cleanser for you.
Erno Laszlo Detoxifying Cleansing Oil // The addition of charcoal makes this cleanser ideal for drawing out impurities and fighting acne and breakouts.
Origins Modern Friction Cleansing Oil // White and purple rice gently exfoliate your skin while you cleanse to help unclog pores.
Best Cleansing Oils for Normal/Combination Skin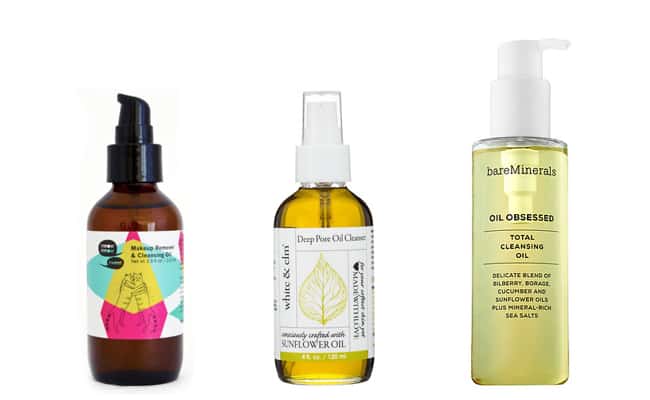 Meow Meow Tweet Makeup Remover & Cleansing Oil // This gentle cleansing oil, made with jojoba, coconut, and hazelnut oil, is great for removing every bit of makeup, no matter what your skin type is.
White & Elm Sunflower Deep Pore Cleansing Oil // Target carries some awesome natural skincare options—we love this sunflower-based cleansing oil from White & Elm, which is EWG Verified.
bareMinerals Oil Obsessed Total Cleansing Oil // This mineral-rich cleanser is light, lavender-scented, and completely delightful.
Best Cleaning Oils for Sensitive Skin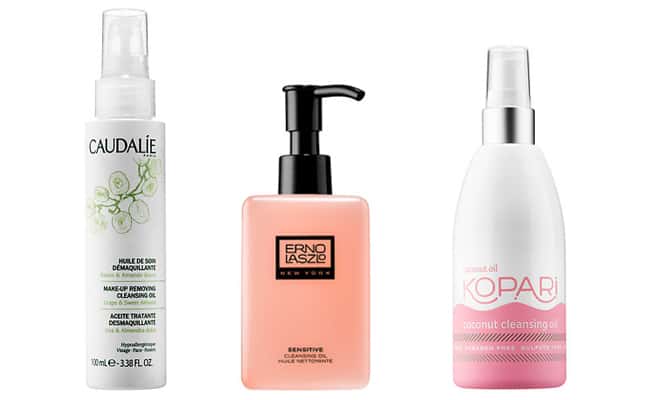 Caudalie Make-Up Removing Cleansing Oil // While this award-winning cleansing oil is great for every skin type, the addition of sweet almond oil is awesome for calming itchy, irritated skin.
Erno Laszlo Sensitive Cleansing Oil // Anti-inflammatory plant extracts soothe irritation and redness, while andiroba oil promotes skin renewal.
Kopari Coconut Cleansing Oil // This coconut-based cleanser contains green tea oil, which fights inflammation and aging at the same time.
Best Cleansing Oils for Dry + Aging Skin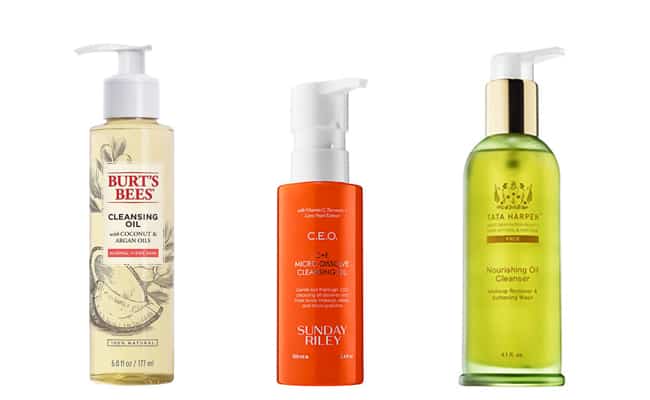 Burt's Bees Facial Cleansing Oil // Moisturizing coconut and argan oil make this relatively inexpensive cleansing oil super nourishing for dry skin.
Sunday Riley CEO C+E Micro-Dissolve Cleansing Oil // With BHA, AHA, and vitamin C, this soothing cleanser is an anti-aging superstar.
Tata Harper Nourishing Oil Cleanser // The secret ingredient in this cleanser is sachi inchi oil, which is rich in antioxidants.
87