If you love essential oils, a good diffuser is a must-have investment. Essential oils do more than just smell nice; they can play a key role in holistic wellness. (It's important to remind yourself of that when you impulse buy random oils.) And a good diffuser is the fastest way to reap these benefits for your home and your health.
5 Reasons You Need an Essential Oil Diffuser
Improved air quality: When you diffuse essential oils into a room, you have a great way to combat airborne pathogens. And you can't beat essential oils for a natural air freshener. Essential oils actually alter the odor molecule structure, rather than just covering them up.
Breathe easier: Stuffy nose? Try diffusing eucalyptus or peppermint. Their menthol constituents help us open up and breathe easy.
Boost immune system: Essential oils are not only killing off viruses in the air, but they also give your immune system a boost. Essential oils are also great for detoxing, helping cleanse and clear the body of toxic build-up.
Better sleep: Lots of essential oils have relaxing, even sedative, properties that can help you fall asleep easier and improve sleep quality. Here are four of our favorite sleep-inducing diffuser blends.
Change Your Mood: Breathing in essential oils affects the limbic system, the part of the brain that controls emotions. Different scents trigger different emotional responses, which can result in emotional stability, calmness, or relaxation. Try these essential oils when you're anxious or stressed.
But what kind of diffuser works best? Good question. Two types that work best with essential oils are ultrasonic and nebulizing diffusers.
Ultrasonic Diffusers
This is probably the type of essential oil diffuser you're used to seeing. You know, the kind you fill with a base of water and add a few drops of essential oil. But ultrasonic diffusers use vibrations, not heat, to disperse a cool mist of essential oils and water into the air. You don't want to use a hot water diffuser with essential oils because the heat can destroy their therapeutic properties.
Pros of ultrasonic diffusers
Ultrasonic diffusers are popular because they're easy to use and relatively inexpensive. And the cool mist adds a humidifying benefit to dry winter air.

Cons of ultrasonic diffusers
Because ultrasonic diffusers send up a mix of oil and water into the air, the aroma can be weak. It's usually less intense than the average scented candle. Second, they run for relatively short period of time. Mine runs a maximum of four hours, which can be annoying when trying to use it overnight. But you can find ones that run longer, like this one that goes 6-7 hours.
Nebulizer Diffusers
I discovered nebulizing diffusers in an aromatherapy class and was smitten. The glass 'globes' look a bit mad scientist, which fits with my aromatherapy experiments. These nebulizer diffusers are a bit more of an investment, but you'll get a much stronger scent.
These diffusers put out a cool mist, but don't require water or heat. You put a few drops of essential oil in the globe and the diffuser blows compressed air through the drops. That atomizes the oil into tiny molecules and turns it into a mist that's sent out into the air.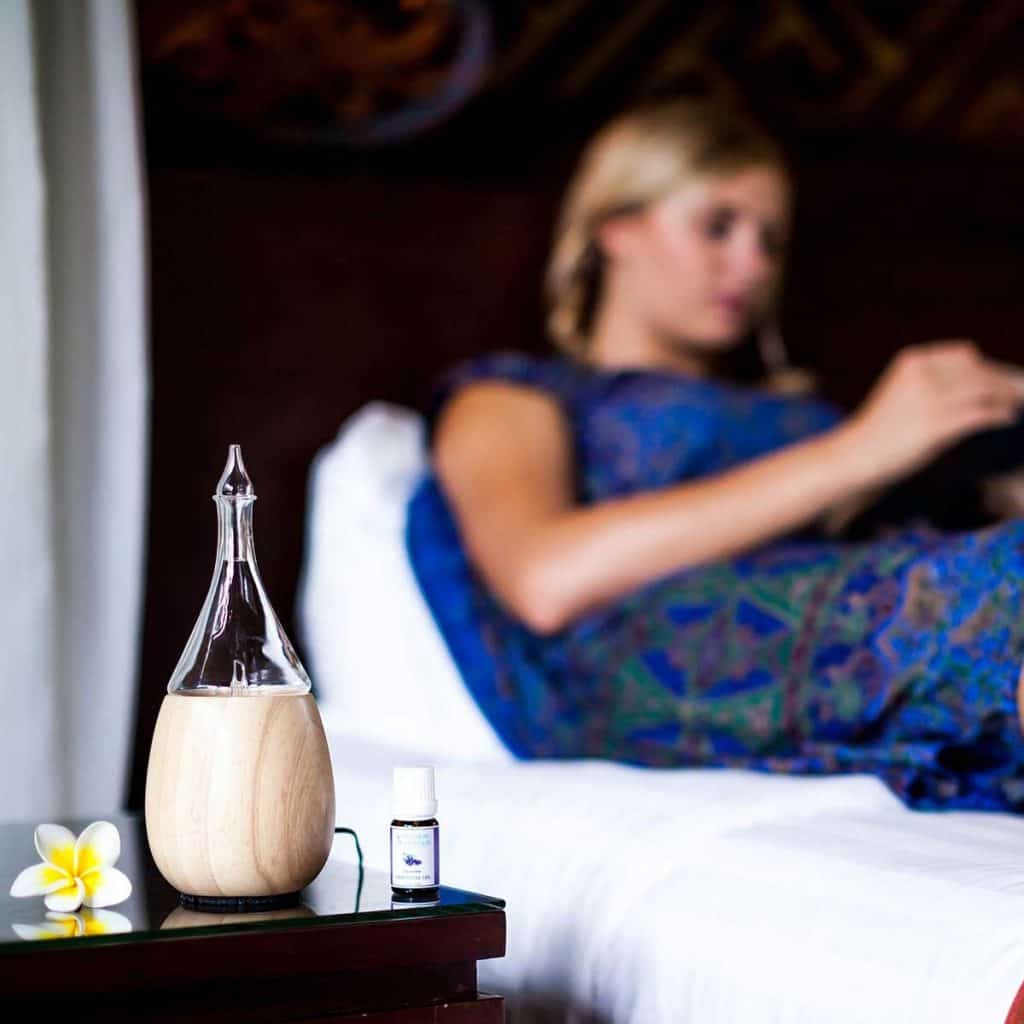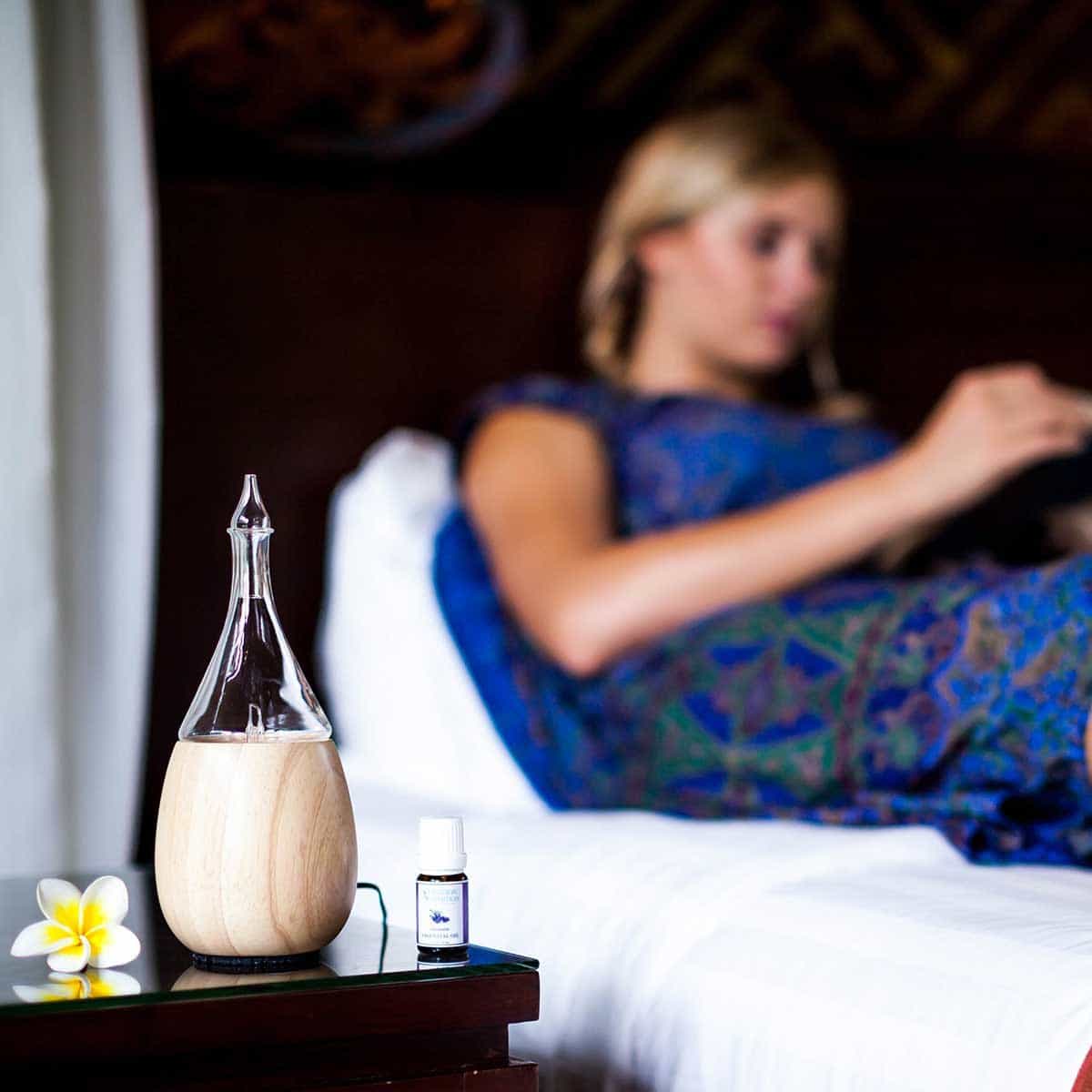 Pros of nebulizer diffusers
Rather than an oil and water combination, you're filling the air with microscopic particles of pure essential oil. That makes the scent more intense and helps it last longer in the air. Plus we're able to breathe in the small molecules, allowing the body to absorb them quickly.
Because you're getting more air saturation, nebulizing diffusers can scent a bigger room and they usually come with built in timers. So, for example, they run 10 minutes and then turn off for 10 minutes. This helps limit how much essential oil you breathe in – and conserve on oils.
Cons of nebulizer diffusers
The major downside, aside from the price tag, is that they can be loud. But if you run them at lower power settings it's usually not that noticeable. And you do have to be more diligent about cleaning them – and not breaking them.
Ready to shop? Here are 9 of our favorite essential oil diffuser picks. You can note which are nebulizing by their price tags!
12