Essential oil diffusers are a must-have for anyone who's looking to delve into using essential oils. While it's true that you can use essential oils without a diffuser, you'll get so much more out of your oils and definitely stretch your dollar if you diffuse.
Regardless of the type of diffuser you choose, you'll only need to use a few drops of oil at a time, ensuring that your oils last longer and you get more bang for your buck. Additionally, diffusers help disperse the oils into the surrounding air, so depending on the type of diffuser you use, your essential oils can help freshen up the air in your environment quite efficiently.
5 Reasons You Need an Essential Oil Diffuser
Improved air quality: Diffusing essential oils into a room is a great way to combat airborne pathogens. And you can't beat essential oils for a natural air freshener. They actually alter the odor molecule structure rather than just covering them up.
Breathe easier: Stuffy nose? Try diffusing eucalyptus or peppermint. Their menthol constituents help us open up and breathe more easily.
Boost immune system: Essential oils are not only killing off viruses in the air, but they also give your immune system a boost. They are also great for detoxing, helping cleanse and clear the body of toxic build-up.
Better sleep: Lots of essential oils have relaxing and sedating properties that can help you fall asleep easier and improve sleep quality. Here are four of our favorite sleep-inducing diffuser blends.
Change your mood: Breathing in essential oils affects the limbic system, the part of the brain that controls emotions. Scents can trigger emotional responses, which result in emotional stability, calmness, or relaxation. Try these essential oils when you're anxious or stressed.
Let's take a look at some of the most common types of diffusers, as well as some of my top picks for each one.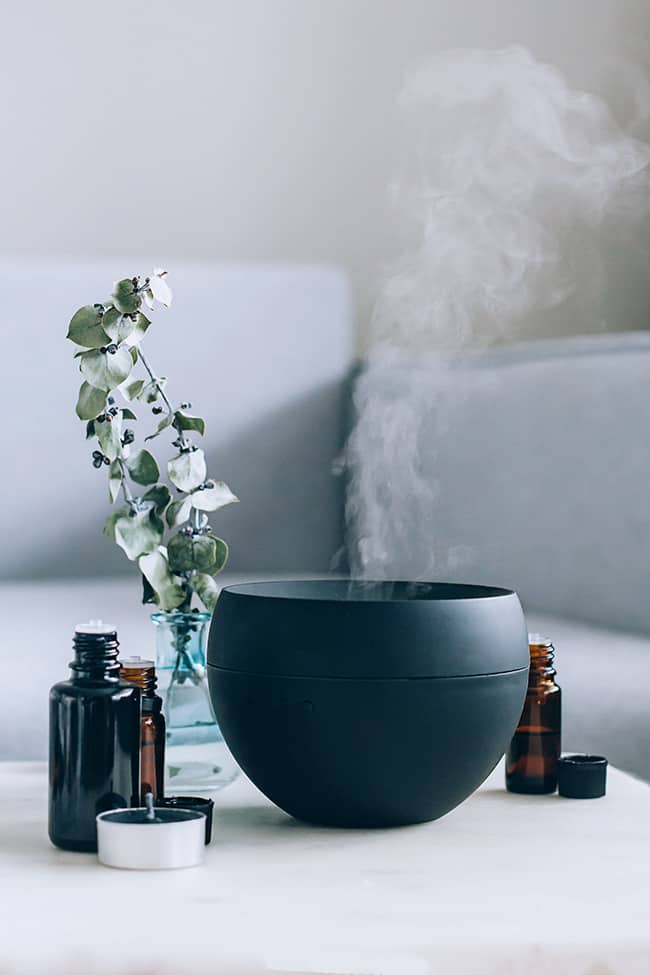 Ultrasonic/Water Diffuser
This is probably the most commonly used diffuser among essential oil users. I personally have a few ultrasonic diffusers in my house and run them frequently throughout the different rooms.
Ultrasonic diffusers require water, electricity, and essential oils. Water is placed in the basin, and then essential oils are placed in the water. Ultrasonic vibrations cause the essential oils and water to be dispersed throughout the air, creating a mist similar to a humidifier, but on a much smaller scale.
Ultrasonic diffusers can disperse oils throughout a larger area, depending on the particular diffuser. There are several different options for these types of diffusers, with some that run continuously for an hour or more and others that run intermittently for up to several hours. Mine runs a maximum of four hours, which can be annoying when trying to use it overnight. But you can find ones that run longer, like this one that goes for 6 to 7 hours.
My favorite ultrasonic diffusers:
This is the diffuser that I have owned the longest—almost a decade—and it's still going strong. What I love so much about this diffuser is its detailed timer settings that allow me to diffuse continuously for about an hour or intermittently for up to 9 hours.
I own three spa vapors that I've had for about seven years. The original spa vapor only has two buttons on it—one for colored lights and the on/off switch. The spa vapor is an incredibly simple diffuser to use since it doesn't have any settings—it just runs continuously for about 3 to 4 hours. Plus, it's very affordable. However, there is also a Spa Vapor 2.0 version that has more options, including timer settings.
Nebulizer Diffusers
Unlike many of the other types of diffusers, nebulizer diffusers don't use heat or water. Instead, air is drawn through the tube where the essential oils are placed, and the oils are dispersed in tiny droplets throughout the air.
With nebulizers, the oils are not diluted with water or altered by heat, so the essential oils are inhaled in their whole form, resulting in a more concentrated diffusion. For this reason, nebulizer diffusers are especially beneficial if you're diffusing because of sickness.
Nebulizers often have different settings on them, such as "high" and "low," as well as timers. This helps limit how much essential oil you breathe in and conserves your oils.
It's important to note that many nebulizer diffusers have a glass tube on a wooden base, so they will break if they get knocked over. They also tend to be more pricey, ranging from around $70 to $150.
My top picks for nebulizer diffusers:
Mountain Rose Herbs' Waterless Diffuser is more affordable than many I've seen (yay!) and has two speeds, as well as color-changing options. Their website states that this diffuser works well in a room of up to 400 ft.
Although this nebulizing diffuser is definitely more pricey, the convenience of diffusing straight out of the essential oil bottle is so intriguing! It comes with 2 empty oil vials, a timer, and flow controls. Also, there's no glass cone on this one, making it a safer option if you're concerned about the potential for breaking a glass diffuser.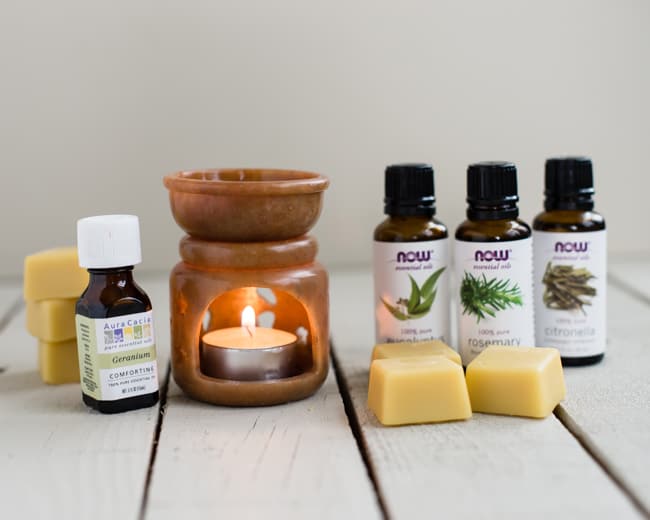 Heat Diffusers
Heat diffusers are one of the more basic diffuser designs. A heat source is required so that the essential oils are warmed to the point of evaporation. These are a great option to consider for thicker oils or resins.
In general, there are two commonly used types of heat diffusers: tea lights and electric. Tea light diffusers use a tea light candle placed underneath the basin where the essential oils are placed, and the candle provides the heat for evaporation. Electric heat diffusers use electricity to heat up the oils.
My top two picks for heat diffusers:
Although there are many different designs for tea light diffusers, I like that the candle is semi-enclosed with this one, making it a safer diffuser. I also love the idea of a candle spoon, so you don't have to worry about handling a hot tea light!
This diffuser is not only affordable, but it's also a great alternative to a candle diffuser. The filtered plates are electrically heated, which causes the essential oils placed on a small pad to evaporate into the air. Refill pads are also available to purchase.
Evaporative Diffusers
Evaporative diffusers do not use heat but instead use air to circulate the essential oils throughout an area. Typically, the oils are placed on a pad of some sort, and a fan pushes the airflow through the pad, causing them to evaporate. The upside to this type of diffuser is that no heat or water is used. However, they do still require electricity.
My top choices for evaporative diffusers:
At less than thirty dollars, this diffuser is quite affordable. I like the simple design of the machine and the fact that it's rechargeable by USB, so it can even be used in the car. Additionally, the manufacturer states that it's ultra quiet, which is a plus!
I love, love, love the idea of this little diffuser! This would be a fantastic choice if you're wanting to diffuse in a super confined area. It uses mini fan technology and can be plugged straight into your laptop to diffuse while you're working on your computer.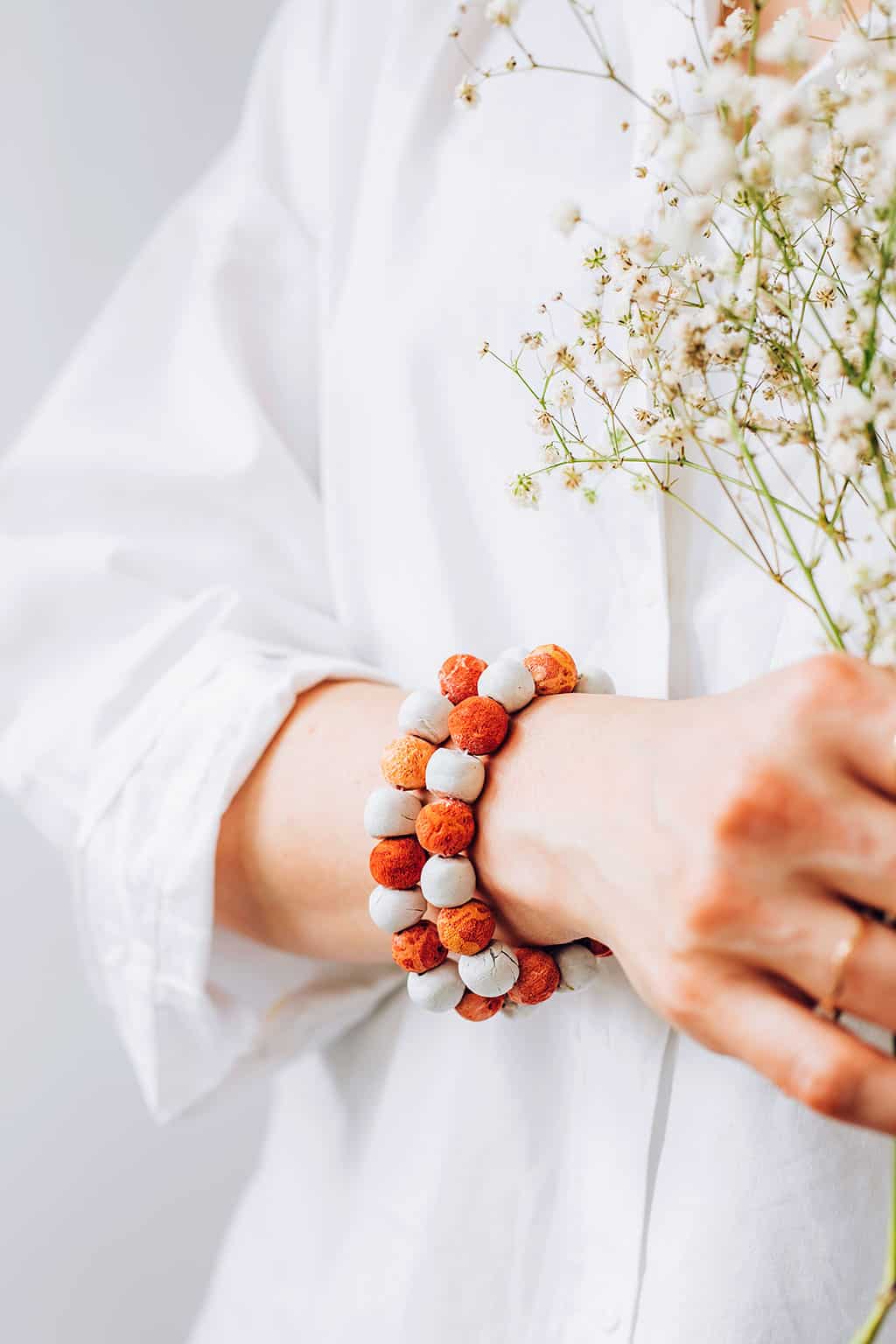 Passive Diffusers
Passive diffusers are the most basic of all. There is no heat, no water, and no electricity used, so the aroma tends to be a little more subtle. Essential oils are placed on stone, clay, wood, cotton pads, or some other solid substance and left to evaporate naturally. These diffusers can be placed around the home or office or even worn as jewelry!
My favorite types of passive diffusers:
Who says your diffuser can't be chic? I love the sunflower design of this diffuser and its wood base. This would be a great choice to use in your work space or even in a bedroom or bathroom.
Essential oil necklaces are my favorite essential oil jewelry to wear. Whenever I move around, I can smell the aroma of my essential oils. And there are so many cute designs to choose from! I particularly like this one because it uses lava beads.
This article was medically reviewed by Dr. Gina Jansheski, a licensed, board-certified physician who has been practicing for more than 20 years. Learn more about Hello Glow's medical reviewers here. As always, this is not personal medical advice and we recommend that you talk with your doctor.

44