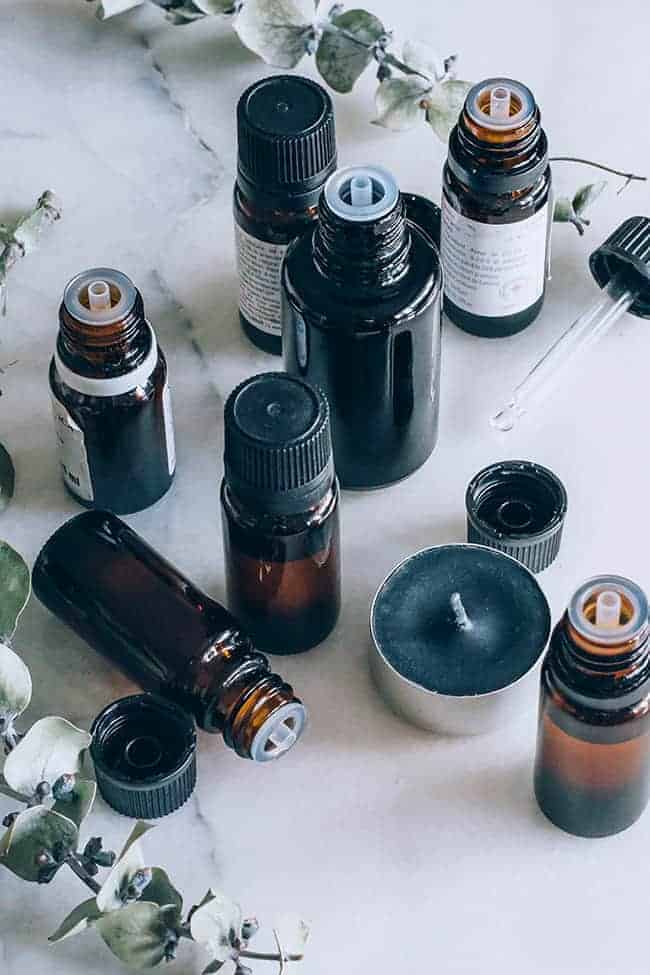 Ugh, stress. More than 70% of people say they regularly experience physical or psychological symptoms caused by stress. Stress can sometimes be a good thing when it spurs momentum and motivation. Other times, not so much.
August was a stressful month in our house – the kids started a new school, we kicked off a major kitchen renovation, and a family member passed away. I'm writing this on August 31, the final day of this crazy month that ended the best way possible – with a trip to the dentist. Sitting in the chair for a simple filling, the emotions and stress overwhelmed me, and I suddenly felt like I might pass out. (I didn't.) But it was a revealing moment of what can happen when you're operating on fumes.
Moms aren't usually so great at self-care so you have to think outside the box if pampering facials and massages aren't possible. Simple, inexpensive, at-home techniques are must-haves for managing and coping with the irritability, tiredness, upset tummies, headaches and loss of sleep that often come with stress.
That's where aromatherapy comes in. The scent of many essential oils can help reduce stress. And research is starting to support this theory.
Much of aromatherapy research has centered on lavender. Studies have concluded that inhaling lavender reduces stress in intensive care unit patients, postpartum women, high school students and even dental patients (yay!). Other studies have found that lavender is an excellent natural remedy to treat insomnia and improve sleep quality.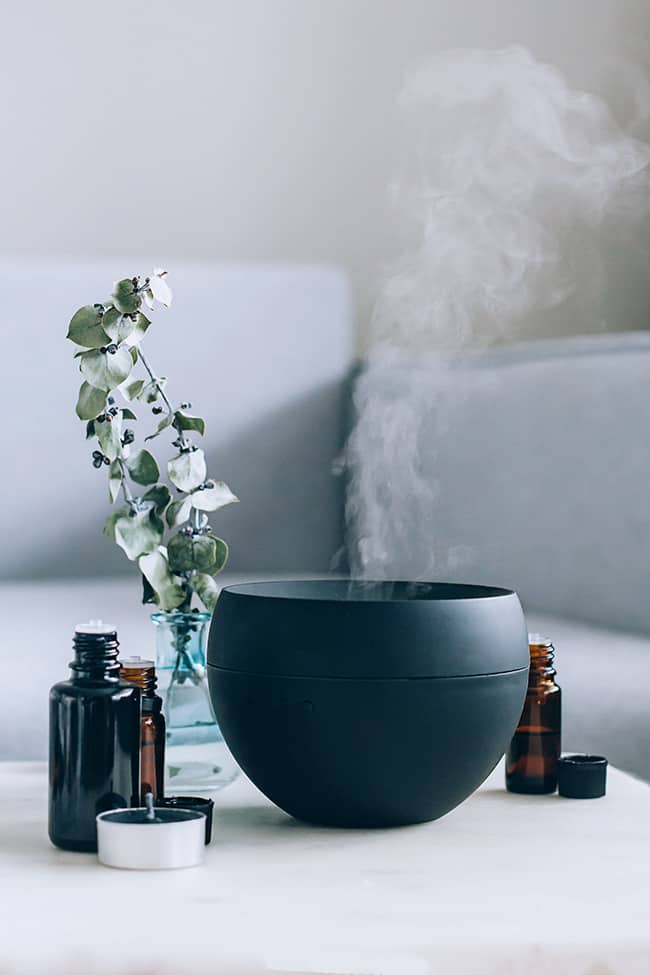 But you don't have limit to yourself to just lavender. Many essential oils have the same stress-relieving chemical compounds that have been studied in lavender. Here's how those chemical compounds work.
Essential oils work by affecting the limbic system, the part of the brain that controls emotions. We breathe in the soothing scents and the oil's teeny tiny chemical compounds reach our olfactory nerves, which then send messages to the brain to release serotonin or endorphins. Those hormones impact your mood and emotions. That's how inhaling essential oils for stress can result in emotional stability, calmness, or relaxation.
Ready to practice some deep breathing? We've rounded up 7 oils with stress-relieving properties along with a simple recipe for using each one.
The Best Essential Oils for Stress
1. Sandalwood
The rich, woodsy scent of sandalwood is so pleasant you'll want to slow down and take a few deep breaths. That musky aroma has been used for centuries in ayurvedic medicine, yoga and meditation to promote feelings of connection and grounding. Use sandalwood when you need to calm nervousness before a big work event or test. The rich scent helps fortify inner strength and peace.
Mindfulness Perfume
Add oils to a 10 ml roll-on bottle. Fill the bottle with a carrier oil like grapeseed or sweet almond and roll-on to pulse points.
2. Rosemary
Rosemary relieves both your mind and body when you're stressed out. Sometimes stress comes out physically – a tension headache, tight neck and shoulders, or a stomach ache. Use rosemary in a massage oil or roller ball blend to soothe muscle aches and pains. It's analgesic and antispasmodic effect helps your body relax and let go of stress. The fresh scent of rosemary is perfect when you're fighting fatigue. It clears out foggy thoughts and stimulates focus, clarity and memory.
Muscle Massage Oil
Add oils to a 2 ounce bottle then fill with grapeseed oil. Apply a small amount to sore muscles and massage into the skin.
3. Marjoram
I shared a list of less common essential oils recently, which included one of my new favorites, sweet marjoram. I'm adding it here because its scent is similar to lavender, and no list of oils for stress and anxiety would be complete without lavender. But I think we know that already, right?
The spicy, herbal scent of marjoram has emotional aromatherapy benefits similar to lavender. Known as the herb of happiness, marjoram promotes relaxation and support a restful night's sleep. It pairs well with Roman chamomile to make a sleep-inducing bath blend.
Bedtime Bath Salts
Add oils to 1 cup of epsom salt. Stir well to mix the oils and add to a bath (after the water is full) and relax your mind and body.
4. Geranium
One of my biggest sources of stress is anticipatory stress – all of the thinking and worrying about something before it happens. It can be as simple as feeling anxious about going back to work on Monday! That's when the floral aroma of geranium is perfect. It helps create feelings of calm, strength and security. The sweet rose-like scent creates a comforting environment so diffuse it when stressful thoughts keep you up at night.
Serious Calm Inhaler
Add essential oil drops to a personal inhaler and breathe deep as needed.
5. Grapefruit
Take a moment to inhale the sweet yet tart scent of grapefruit when you're procrastinating and feeling stuck. The zesty oil is a diuretic for the skin, and it also cleanses defeating thoughts and inspires creativity. The mood-boosting oil provides an emotional pick-me-up to help you let go of negative self-talk and find energy and motivation. Diffuse with other mentally clarifying oils like juniper, cypress or pine.
Citrus oils like bergamot, mandarin and neroli are also serious stress soothers. If you're feeling tired or burned out, you can't go wrong with a citrus scent.
Clear the Air Diffusion
Add the oil drops to your diffuser. Scale the number of drops up or down depending on your diffuser instructions. If you have an essential oil nebulizer, diffuse grapefruit for 30 minutes.
6. Frankincense
Frankincense is commonly used in meditation and prayer because it helps to calm and still the mind. The sweet, woodsy scent breaks through the running loop of thoughts that can lead to nervousness, stress, and, eventually, exhaustion. Diffuse frankincense with myrrh and mandarin for a grounding scent that helps your mind clear out the clutter of anxious thoughts.
Meditation Mist
Add essential oil to a 2-ounce glass bottle. Add 1 teaspoon jojoba oil. Then fill the bottle with water or hydrosol. Replace cap and shake to combine. Spritz on your face and body before meditation, yoga or anytime you like.
7. Clary Sage
With its sweet, herbal scent, clary sage is wonderful at relaxing the nervous system. Clary sage has been found very effective in controlling the stress hormone cortisol along with balancing emotions and lifting the spirit. Diffuse clary sage with lemon and ginger to calm anxiety, irritability and anger.
Be Calm Room Spray
Add oils to a 4-ounce mist sprayer and fill with water. Shake well before every use. Spray in the air over your head and breathe the scent in deeply.
This post was medically reviewed by Dr. Susanna Quasem, M.D., a child, adolescent, and adult psychiatrist in Nashville, Tennessee. Learn more about Hello Glow's medical review board here. As always, this is not personal medical advice and we recommend that you talk with your doctor.
8