We put our hair through a lot—even those of us who don't color-treat or use excessive heat styling. Many factors that lead to hair damage and breakage are often unavoidable, such as the environment, our diet and our overall health. Luckily, there's no shortage of products on the market today that are formulated specifically to smooth the hair cuticle and reinforce the strength of hair shaft to yield stronger, more nutrient-rich strands.
Experts agree that pretty much any one, and any hair type, can benefit from using hair masks, but especially those with severely damaged, over-processed, coarse and/or dehydrated hair. The only hair type that might not require the intense restoration provided by hair masks is fine hair. If you fall into this category, Nelson Chan, celebrity hairstylist and owner of Nelson J Salon in Beverly Hills, California, suggests sticking to lightweight formulas that target the ends and avoiding the roots so as not to weigh the hair down.
9 Best Hair Masks That Stylists Love
Since there's an overwhelming amount of hair masks on the market today, each promising to enrich your hair in every way imaginable, we took to the experts—the hair stylists who treat celebrities—to uncover which hair masks they say work the very best.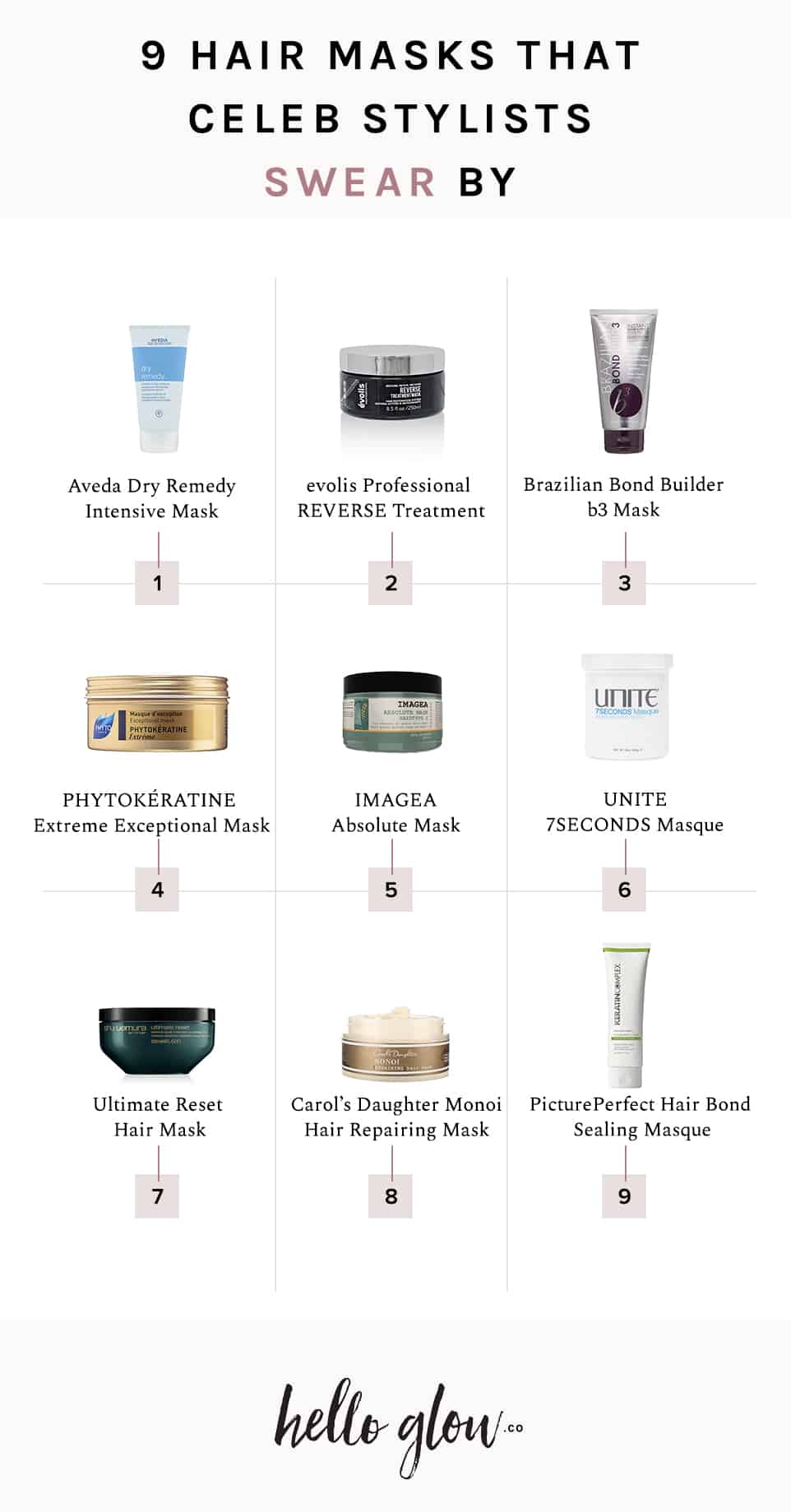 "This mask penetrates deep into the hair shaft and lightly smoothes out frizzy, unruly hair caused by heat, chemical treatments. The results last up to 6 shampoos and hair actually gets easier to handle over time! One of its key ingredients is buriti oil, which is rich in essential fatty acids and carotenoids and works wonders on dry hair.
Last, I love the aroma of this mask—with certified organic lavender, bergamot, ginger lily and other pure flower and plant essences. After shampooing, apply hair mask from mid shaft to the ends for five minutes and then shampoo again. For coarse hair, prior to shampooing, apply hair mask from mid shaft to the ends on wet hair, rinse and then apply the mask again, leaving it on for five minutes. For deeper penetration, leave it on overnight while sleeping (wrap head with a cap)."
—Nelson Chan
"This mask is formulated with high-quality ingredients like green tea, lavender and ylang ylang that yield immediate results. I also like that it includes keratin, a protein that helps not only improve hair elasticity and strength, but also prevent future damage.
This treatment mask deeply conditions, totally transforms texture and is packed with antioxidants and vitamins that improve the overall health of your hair. It's best applied to damp hair, combing all the way through with a wide-tooth comb and letting it work its magic while sitting under a steamer. If you have around 20 minutes, apply to dry hair and then shampoo out.
If you're running short on time, shampoo as normal and apply to the ends of your hair while in the shower, leaving on for 3 to 5 minutes before rinsing. You can also apply to hair before you go to sleep and cover with a shower cap. Just rinse out in the morning and you'll have hair that's smoother than silk!"
—Kendall Dorsey, celebrity hairstylist
"I'm obsessed with this mask! It lasts so long—up to 12 weeks—and I have literally seen it transform the weakest of hair and give life back! It addresses the hair strand in the cortex and cuticle, which means you get instant results, but it also repairs the hair for long-term as well!
I recommend that my clients use it every three months so their hair looks amazing in-between color phases, as well as keeping the integrity to get to lighter colors in a healthy way!"
—Teresa Cliff, celebrity hairstylist in Dallas, Texas
"This silicone-free mask contains amino acids that mimic the natural keratin found in hair as well as omega 6 fatty acids that leave hair feeling soft, shiny and supple. I would first use a botanical-based pre-shampoo oil, like Phyto Huile D'Ales, for 20-30 minutes before shampooing.
After shampoo, just squeeze the water out of the hair (no towel drying). For fine hair, apply the mask from mid shaft to ends, and thicker hair an inch away from scalp to ends (obviously less is needed for fine hair and more of the mask for thicker hair). Finger comb the hair with the mask on, let it sit for 5-10 minutes and rinse.
I would recommend using this mask at least once a month or every week if hair is more damaged."
—Marina Perkovic, hairstylist at Eliut Salon in New York, New York
"IMAGEA is a true 'ethical' cosmetic line that provides excellent performance and quality results. It's vegan friendly, with plant-based ingredients, free of silicones, parabens, synthetic dyes, and so much more. The packaging is 100 percent recyclable and the jar is made of sugar cane, an easily renewable raw material.
It contains pomegranate extract, which provides strong antioxidant and anti-fading action and helps the hair become more manageable and shiny. I use the it on my clients with dry, coarse, damaged or colored hair to add a healthy, soft and shiny appearance.
Apply on damp hair, massage, wrap hair in a turban, leave it for 10 minutes then rinse. It's also great as an after-color treatment. The low pH closes the cuticle for longer lasting results."
—Egle Miciene, celebrity hairstylist at Cristophe Salon in Beverly Hills
"This is the most nourishing mask that I have ever used; it leaves the hair feeling hydrated and healthy. If I'm doing hair in the salon, or with my clients on the road, I'm always looking to get the most mileage out of every color, cut or style. When I found the 7SECONDS Masque in early 2017, I was hooked.
From then on, it stays in my kit at all times. I've found the best way to apply this product is at the bowl after the shampoo and comb through with a wide tooth comb to distribute evenly. Keep on the hair for a minimum 10 minutes and repeat twice a week."
— Graham Nation, celebrity stylist at Ken Paves Salon in Los Angeles, California
"This is one of Shu Uemura's newest masks and I'm loving it for my thick hair that's been processed several times. It helps manage the frizz, even in humid weather. I introduced the products to clients with finer hair and it works just as well without weighing down the hair.
I recommend using it after shampooing and then applying the mask whenever your hair becomes extremely dry hair. If you have greasy hair or your hair tends to become flat quickly, apply mid length to ends and comb through. Try to leave the mask in for at least 5 minutes or as long as possible for maximum results."
—Rita Zito, celebrity stylist as Eddie Arthur Salon in New York, New York
"I found this mask about five years ago during a Good Morning America segment and used it on Lara Spencer the next day. Instantly, I could feel the difference—before I even rinsed her hair! It contains monoi oil, which is touted as the secret ingredient to stop breakage in its tracks.
This is an ongoing problem with a television journalists, as their hair is put through an enormous amount of styling compared to the norm. It instantly became my favorite, because it stopped the breakage almost completely in just one use. The most amazing thing about it is that, once rinsed, there's no trace of heaviness or weight as with other masks that leave hair flat, limp and lifeless.
That fact alone made this a winner. It's best applied after shampoo, but I like to dry the hair ever so slightly to prep it for the treatment."
—Gregg Giannillo, celebrity stylist and owner of Giannillo Salon in New York City
"This mask because is made out of all botanical ingredients and moisturizing butters to protecting and sealing the bonds hair from environmental elements. It leaves hair stronger, healthier and shinier than any other mask I have ever tried on my clients! It's amazing for after a color service or even as a weekly at-home refresher to keep hair silky smooth. It's sure to turn heads and, best of all, it smells amazing!"
—Jesse German, celebrity stylist
22