By book editor Sada Stipe
It's hard not to get excited during this time of year. The crisp air and beautiful colors combined with the divine, warm smells of the season have the most excellent ability to perk everyone up after the dog days of summer are finally over. If you have a child who is a reluctant reader but loves Halloween, try introducing some new books now. Kids love to be scared and letting your imagination soar while reading a scary story is so much more thrilling than watching a movie. And if a child finds one book he loves to read then he's much more likely to pick up another one! Here are some tried and true Halloween classics for all ages.
9 Halloween books for kids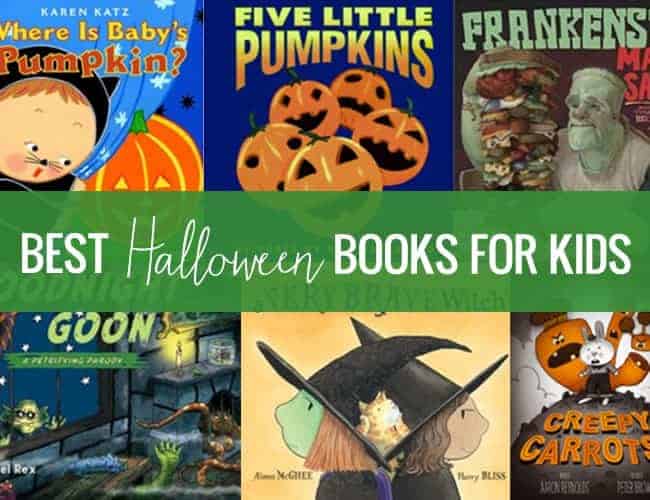 Ages 0-3
Where is Baby's Pumpkin? By Karen Katz
An adorable, brightly colored introduction to the holiday, Where is Baby's Pumpkin? is perfect for a child's first Halloween. Readers follow baby as she looks for her pumpkin all over the house. The lift-the-flaps elements reveal the cutest ghosts, bats and other Halloween staples. There is also lots of shiny metallic foil to really capture their attentions.
Five Little Pumpkins by Dan Yaccarino
"Five little pumpkins sitting on a gate. The first one says, 'Oh my, it's getting late,'" begins this rhyming Halloween counting book. This is a wonderful book for toddlers who are just learning words and numbers. They will love to shout along and learn about pumpkins and ghosts in the process.
Ages 2-5
Goodnight Goon: A Petrifying Parody by Michael Rex
Our two-year-old has memorized all the words to the bedtime classic, Goodnight Moon. He really has no idea what Halloween is yet so we've been using Goodnight Goon to introduce him to the ickiest, creepiest and most fun creatures of the season. My son now loves to say, "Goodnight Goo. And Goodnight to the old werewolf hollering 'Boo.'" He also points to the Frankenstein and the Dracula and says, "Daddy, Mommy." We're not sure what that means…
The Very Brave Witch by Alison McGhee, illustrated by Harry Bliss
Another lovely introduction to Halloween, this time told from a little witch's perspective, The Very Brave Witch shows readers that humans celebrate the holiday much the same as witches. And when the scared little witch faces her fears and takes a closer look at humans on Halloween, she realizes that humans can be brave too! She gives one lucky little girl the broom ride of her life. Accompanied by sweet, lively illustrations, this book is great for little ones who might be a little scared of Halloween by showing that it's all good fun.
Picture Books Ages 3 and Up
Frankenstein Makes a Sandwich by Adam Rex
The subtitle of this book is, And Other Stories You're Sure to Like, Because They're All About Monsters, and Some of Them Are Also About Food. I was hooked before I even opened it up. Forty pages full of hilarious rhyming stories and songs you won't be able to get out of your head make this book a great go-to for a quick Halloween fix. In the title story, a friendly Frankenstein tries to ask his neighbors nicely for some sandwich fixins' only to be run off with pitchforks. Fortunately, he finds he can use all the rotten food they throw at him to make one delightfully disgusting, towering monstrosity of a sandwich. Neither kids nor adults will be able to resist other stories like The Phantom of the Opera is Considering Giving Up Music and Doing His Haunting Somewhere Else and Dessert: Monster Truck Sundae! Sundae!
Creepy Carrots by Aaron Reynolds, illustrated by Peter Brown
Jasper Rabbit finds a carrot cornucopia when he stumbles across Crackenhopper Field and now he can eat all the crispy, juicy treats he wants. Until he starts hearing the "soft…sinister…tunktunktunk of carrots creeping." They pop up all over the place–the bathroom, the bedroom closet, until Jasper is convinced that creepy carrots are creeping everywhere he goes! Illustrated in only black, white and orange, this is the most adorably creepy book for young readers. It's just scary enough to thrill them but won't give them bad dreams. Spoiler alert: the carrots are just trying to scare Jasper out of their field for good. Their plan works.
The Legend of Spookley the Square Pumpkin by Joe Troiano
Spookley the pumpkin hates being square. He wants to roll around having fun in the patch like all of the round pumpkins. And it doesn't help that he is teased relentlessly for being different. That is until his right angles save the day for his round friends. The Legend of Spookley the Square Pumpkin is not only perfect for the season but it provides a nice opportunity to teach kids about bullying and encourages them to celebrate their own differences.
Older readers
Goosebumps Series by R.L. Stine
It almost goes without saying that the Goosebumps series are quintessential reading for Halloween (for kids who can read on their own). R. L. Stine is (pretty much unarguably) the master of "terror" for middle grade readers. He certainly kept me up reading in the dark with a flashlight many nights and I can't wait to pass on my worn out copies. With titles like, Night of the Living Dummy and One Day at Horrorland, young thrill seekers cannot resist these books. Start with the Classic Goosebumps and work your way through the modern spin-off series–Most Wanted, Horrorland and Hall of Horrors. There are enough books to satisfy that scary story craving every day of the year!
Scary Stories to Tell in the Dark by Alvin Schwartz
If anyone can rival R.L. Stine in nightmare-inducing reads for youngsters, it's Alvin Schwartz and his Scary Stories series. Just look at those covers! More for graduates of the Goosebumps series, these story collections are slightly gorier and more macabre. Not for the faint of heart–titles include, The Girl Who Stood on a Grave, The Ghost with Bloody Fingers and The Dead Man's Brains. Read all three books in the series…if you dare!
Forget the books! Start a storytelling circle
Yes, after telling you all about these perfectly good, already written Halloween books, I'm going to tell you to forget about them. Well, only after they've been read, of course. Seriously though, there is nothing better (really, nothing) than turning off all the lights or sitting around a campfire on a cool, fall night and telling your own ghost stories. Your kids will love hearing mom and dad build the suspense and use creepy voices they've never heard.
And this way you can control the fright level depending on the ages of your kids. Once you've told a story, let them get involved by making a story circle. One person begins a new tale, speaking for a few sentences or a minute then the next person in the circle continues the story and so on with the rest of the group. It's a great way to get kids interested in the art of storytelling and writing.
0