We spend a lot of time choosing the right moisturizer for our face and shampoo for our hair, but hand soaps tend to be an afterthought. Well, it's time to change that.
A good hand soap can be the difference between dry, cracked hands and smooth, soft skin. And a pretty bottle on the sink can add that perfect little touch to class up your bathroom.
Here are our picks for the best hand soaps for every sink in your home.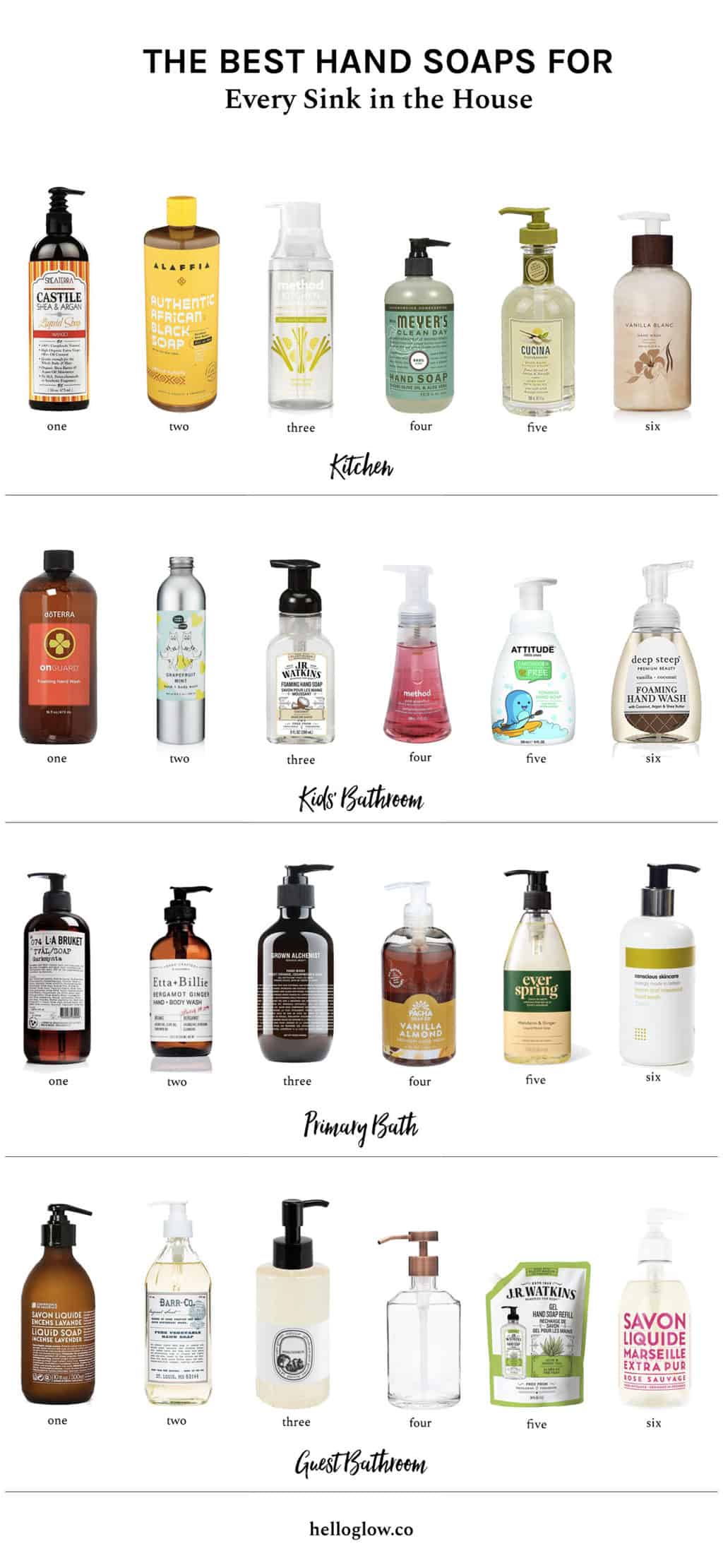 Hand Soaps for the Kitchen
Your kitchen soap needs to be both gentle—because we wash our hands a lot when we cook—and strong. You want to get the smell of onion off your hands, but you don't want your skin to dry out either!
And I like to keep a big bottle of soap at the kitchen sink because I use it so often, so bonus points for hand soaps that will last me a while.
1. Shea Terra Organics Mango Castile Shea & Argan Liquid Soap // You can never go wrong with castile soap—and this big bottle is the perfect size for the kitchen.
2. Alaffia African Black Soap // This Fair Trade African black soap helps kill germs and soothes the skin and senses.
3. Method Lemongrass Kitchen Hand Wash // No more garlicky hands! This soap is designed to eliminate odors naturally.
4. Mrs. Meyer's Hand Soap // I love an herbal hand soap in the kitchen—and you can match this one with your dish soap and counter cleaner too!
5. Cucina Purifying Sea Salt and Amalfi Lemon Hand Wash // Cucina hand soaps are made with extra virgin olive oil, so they clean your hands while moisturizing them at the same time.
6. Thymes Hand Wash Vanilla Blanc // Madagascar vanilla absolute, exquisite coconut orchid, bergamot, and cozy amberwood are a treat for your hands.
Hand Soaps for the Kids' Bathroom
When you finally (finally!) get your kiddos to wash their hands, you need something that's going to kill germs, but without triclosan and other ingredients that breed antibiotic resistant bacteria. Essential oils are perfect for this. Also: fun bottles, scents, and foam totally help too.
1. doTERRA On Guard Foaming Hand Wash // This hand soap uses a blend of essential oils to combat germs and leave hands smelling fresh.
2. Meow Meow Tweet Grapefruit Mint Hand + Body Wash // Available for a limited time (so, you know, buy it now!), this hand soap from one of our fave natural beauty brands is both fun and effective.
3. J.R. Watkins Coconut Foaming Hand Soap // Your kids will love that this soap smells like coconut and it's foaming. You'll love that it's all natural and gently washes away dirt and grime.
4. Method Pink Grapefruit Foaming Hand Soap // If your kids are anything like mine, they'll love anything pink!
5. ATTITUDE Pear Nectar Foaming Hand Soap // My toddler is all about anything with a cute character on the packaging, so this eco-friendly carcinogen-free hand soap is already a winner in my book.
6. Deep Steep Vanilla Coconut Foaming Hand Wash // Deep Steep hand soaps come in a variety of fun scents, but this tasty vanilla coconut combo is what we call irresistible.
Hand Soaps for the Primary Bath
The primary bath is your sanctuary so treat yourself to a scented soap you love—even if it's a little pricey. Bonus points if it doubles as a body wash!
1. L:A Bruket Cucumber/Mint Liquid Soap // Whether you use this on your hands or body (or both!), the cooling cucumber-mint scent will have you feeling like you're at the spa.
2. Etta + Billie Bergamot Ginger Hand + Body Wash // Essential oils and plant extracts make this hand soap smell divine, while a combination of nourishing oils moisturize while cleaning.
3. Grown Alchemist Hand Wash Sweet Orange Cedarwood // The uplifting sweet of sweet orange, cedarwood and sage brings calmness and inner peace.
4. Pacha Soap Co. Premium Vanilla Almond // You know vanilla hands are the stuff of dreams, so using a charcoal soap is a no-brainer.
5. Mandarin & Ginger Liquid Hand Soap // With plant-derived ingredients and made without parabens and formaldehyde-donating preservatives, this refreshing formula is non-toxic and cruelty-free.
6. Lemon and Rosewood Hand Soap // This refreshing organic hand soap cleanses thoroughly without drying your hands out.
Hand Soaps for the Guest Bathroom
Save the prettiest bottles for the powder room—or pour your favorite soap into a refillable bottle that coordinates with your decor. I like pairing the soap with a hand lotion in the same scent.
1. La Compagnie de Provence Incense Lavender Liquid Hand Soap // This biodegradable soap is made with olive oil to soothe and moisturize.
2. Barr Co. Marine Hand & Body Duo // This soap and lotion set comes with a nickel plated caddy that's perfect for setting on the sink.
3. Diptyque Philosykos Cleansing Hand & Body Gel // Inside this gorgeous bottle is a fresh, woodsy, and softening hand soap that your guests will love.
4. Rail19 Marina Soap and Lotion Dispenser // A refillable glass soap bottle is a nice touch in a guest bathroom and the copper pump on this one is gorgeous.
5. J.R. Watkins Aloe + Green Tea Hand Soap Refill // These hand soap refill pouches produce much less waste than plastic bottles. We love that!
6. Companie de Provence Extra Pur Liquid Soap // The nostalgic scent of fresh-cut roses is perfect for your guests!
83