Unless you've been living under a rock for the last few years or evading every beauty store and aisle, you've probably heard of the ingredient hyaluronic acid, which has been hailed as the optimal moisturizing agent by dermatologists all over the country.
It's true that hyaluronic acid is pretty amazing, most notably for its ability to hold up to 1,000 times its weight in water. But what is hyaluronic acid—and what does it really do for the skin?
How hyaluronic acid works
According to Hadley King, MD, a dermatologist and clinical instructor of dermatology at the Weill Medical College of Cornell University, hyaluronic acid is a glycosaminoglycan, a carbohydrate or sugar molecule that's distributed widely throughout connective, epithelial (or cellular) and neural tissue.
"It is found naturally in our skin, where it holds water and helps keep the skin hydrated, dewy and plump, and is a powerful humectant," she tells Hello Glow. "Hyaluronic acid binds to the collagen in our skin and links to water molecules, giving skin its plumpness."
Benefits of hyaluronic acid
In addition to hydrating the skin, and enhancing the protective skin barrier, topical hyaluronic acid is helpful for the treatment of acne scars.
"The addition of hyaluronic acid topically to resurfacing laser treatments has been shown in small studies to enhance overall results and provides faster recovery when compared to resurfacing laser treatments alone," says Rina Allawh, M.D., a dermatologist at Schweiger Dermatology Group.
It works great as a topical hydrator, as long as either the environment is humid or you combine it with an emollient to lock in the hydration so it doesn't pull water out of the skin, notes Dr. King. She recommends it be used as a serum because it is both lightweight and hydrating. If you do use it as a serum, follow with a moisturizer to help lock in hydration.

Ready to start reaping the benefits of this impressive skin care ingredient? Here are the best brands on the market, according to dermatologists who use and recommend them.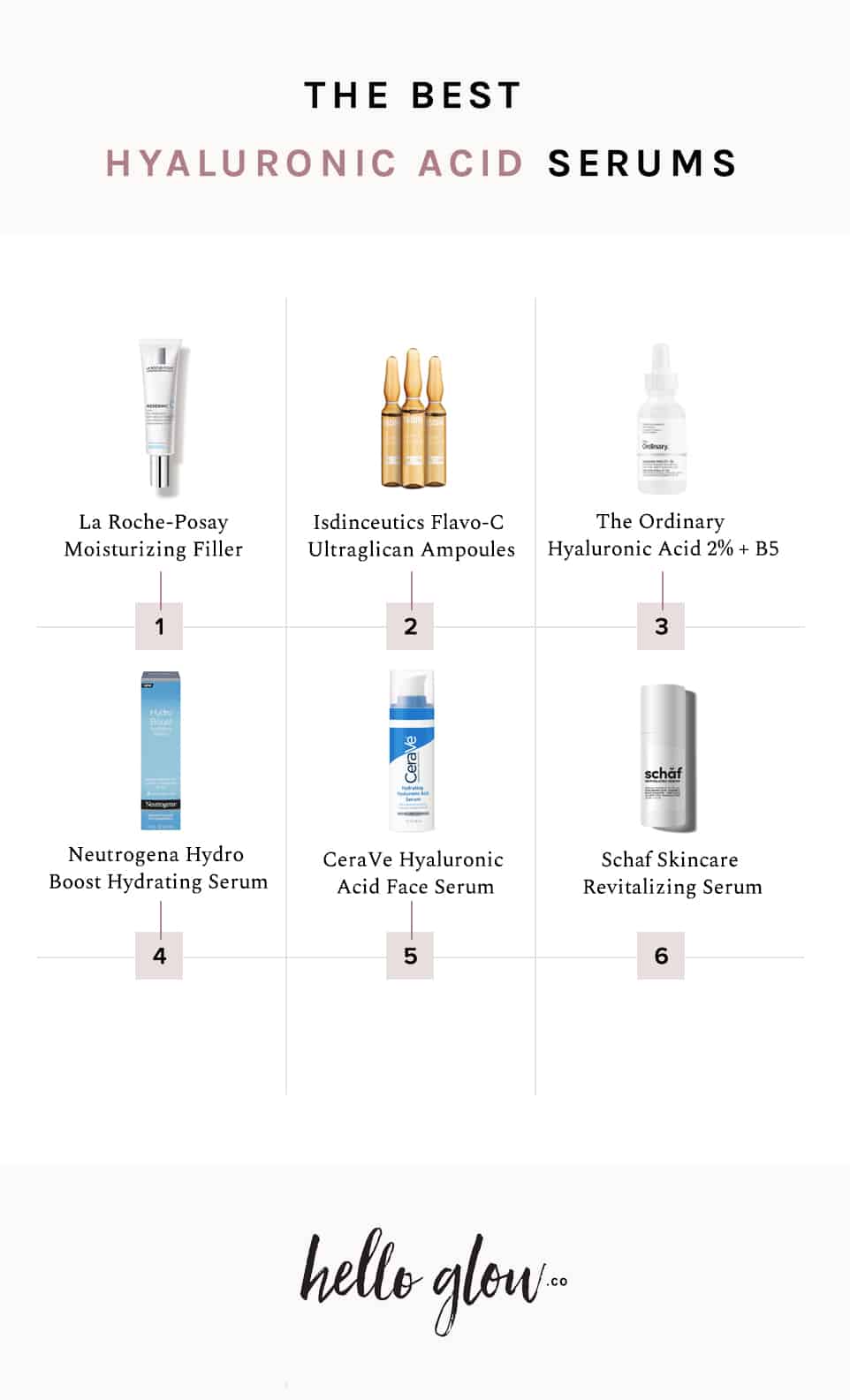 Hyaluronic Acid Serums That Dermatologists Love
This hydrating serum contains both hyaluronic acid, to lock in moisture, and vitamin C to help brighten the skin, increase collagen production and prevent sun damage.
Dr. Allawh has personally found it to be effective, as well as contain safe ingredients that are gentle on all sorts of skin types, including sensitive, dry and acne-prone.
Although primarily a vitamin C product, the hyaluronic acid in this serum adds to its appeal, according to Dr. King.
"The sealed tinted glass ampules protect the vitamin C from exposure to air and light and the addition of hyaluronic acid and proteoglycans makes the formulation very hydrating," she says. "The texture is light and the subtle fragrance is clean and refreshing."
She recommends applying it each morning after cleansing the skin, before a moisturizer and sunscreen.
This is another hydrating formula that is gentle for those with dry, sensitive skin, according to Dr. Allawh.
"It contains vegan hyaluronic acid, which means it's cruelty free, and contains an extra boost of vitamin B5 for enhanced hydration," she says. "It's also formulated without oil, alcohol, nuts, silicone and gluten."
You don't have to search high and low to find this high-quality serum—it's sold right at your local drugstore.
It's super effective at retaining moisture levels in the skin, according to Joshua Zeichner, MD, director of Cosmetic and Clinical Research in Dermatology at Mount Sinai Hospital in New York City. "This oil free serum can't be used by itself or layered underneath your moisturizer or make up."
In addition to containing hyaluronic acid to hydrate and maintain moisture levels in the skin, this topical serum also contains ceramides. "These lipids found in the skin barrier have been increasingly important in the ever-changing skin care industry," eplains Dr. Allawh.
"Formulated to be an all-in-one multi-action serum, this serum brightens, hydrates, plumps and diminishes fine lines," says Dr. King. "Vitamin C boosts brightness through its antioxidant properties, hyaluronic acid hydrates the skin, and peptides help stimulate collagen production to diminish fine lines."
For optimal use, she suggests applying it once or twice daily after cleansing the skin before a moisturizer.
This post was medically reviewed by Dr. Jennifer Haley, a board-certified dermatologist with extensive experience in medical, cosmetic and surgical dermatology. Learn more about Hello Glow's medical review board here. As always, this is not personal medical advice and we recommend that you talk with your doctor.
69