You know that distinct hunger that comes with working out on an empty stomach? The type that can cause you to cut your workout short because you just can't even fathom taking one more step without getting something to eat? Or to immediately rifle through your car or cabinets like a bear at a campsite looking for something—anything—to eat? (I've definitely torn my car apart in a fit of post-workout hanger, looking for an orange that rolled under my car seat who knows how many weeks ago.)
It's not a fun feeling, but it's easy to avoid. Stock up on these protein-rich pre- and post-workout snacks, and you'll have an easier time powering through and recovering afterwards.
Best pre-workout snacks
Before you work out, you'll want to focus on simple and complex carbs, and protein. The simple carbs (from fruits and sweeteners like honey and maple syrup) will give you a quick burst of energy, while the protein and complex carbs (from ingredients like whole grains, nuts, seeds, soymilk and yogurt) help sustain it while you exercise. Obviously it's not a good idea to work out on a full stomach, so don't overdo it, but a small snack before you head to the gym or hop on the elliptical can help keep you going—and avoid crashing and overeating afterwards.
1. Whole wheat toast
Top with almond butter and banana slices. (Get more toast recipes here.)
2. Greek yogurt
Top with blueberries and sunflower seeds, drizzle with a tiny bit of maple syrup if desired.
3. Oatmeal
Oatmeal keeps you full (but not too full) for hours. Top with unsweetened dried fruit and pumpkin seeds or almonds
4. Apple slices
A perfect quick energy-booster. Top with peanut butter and sprinkle of cinnamon.
5. Homemade granola bars
Stick to homemade to avoid unnecessary sugars, like these Gluten-Free No-Bake Almond-Blueberry Bars.
6. Smoothies
This Mango Dream Smoothie is not just creamy and slightly spicy, it's the perfect blend of simple carbs (from mango and the optional honey), plus protein from Silk soymilk and complex carbs, protein, minerals and antioxidants from wheat germ. Note: If you're gluten free, omit the wheat germ and swap in a handful of leafy greens to get similar benefits.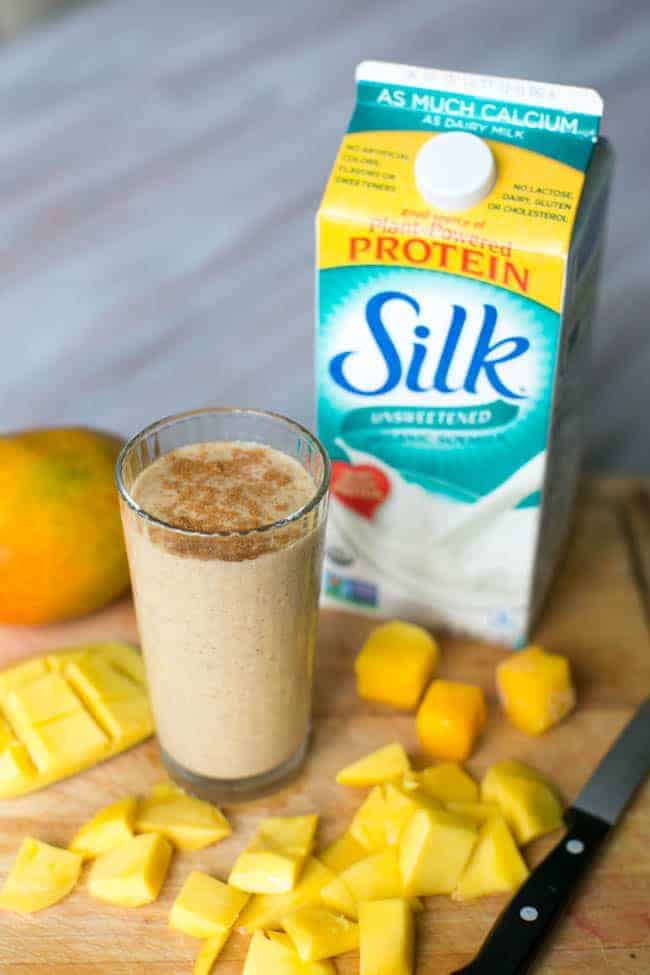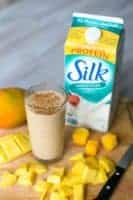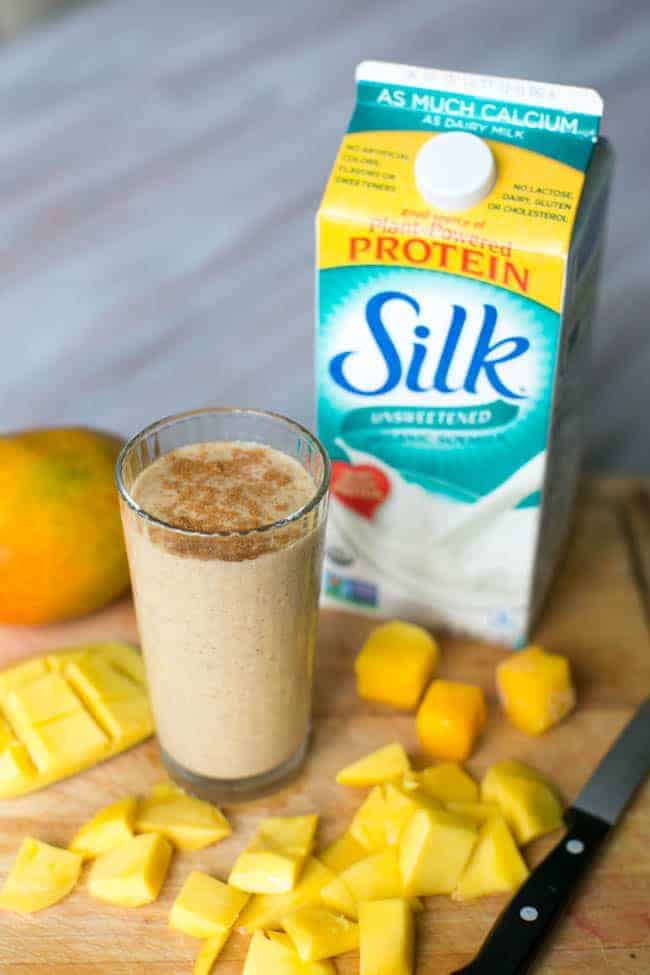 Print
Mango Dream Smoothie
Yield 1 -2 servings
Power through your workout with the help of this protein-packed smoothie.
Ingredients
3/4 cup frozen or fresh mango (frozen will result in a thicker smoothie)
2 tbsp. wheat germ
1 cup plain or vanilla soymilk like Silk
1 tsp (or more) cinnamon
1/2 tsp nutmeg
1/2 tsp raw organic honey (optional)
Instructions
Blend ingredients together, with liquid at the bottom of the blender pitcher. Add more liquid if needed.
Courses Smoothie
Best post-workout snacks
After your workout, focus on getting lean protein (from meats, fish, beans, greens, dairy, eggs or soymilk) complemented with electrolytes and other minerals and nutrients—this will help ensure your body recovers and rehydrates after all its hard work.
1. Celery with protein
Try Ants on a Log, a favorite with the kindergarten crowd: just add peanut butter and raisins to a few pieces of celery.
2. Eggs or cottage cheese
Top with avocado and salsa—avocado adds protein while the tomatoes in salsa restore your electrolyte levels.
3. Baked sweet potato topped with black beans and kale
Black beans are full of protein, and sweet potatoes and kale have lots of minerals your body will be craving after working out.
4. Veggie chips with hummus
Protein-rich hummus is a perfect salty snack after a long workout. Skip the pita and go for veggie chips (like radish chips) instead, in order to get more minerals.
5. Tuna or salmon
Mix with a little extra virgin olive oil, a few olives and salt and pepper. Eat on a bed of greens, on rice crackers or hydrating cucumber slices.
6. Chocolate soymilk
Chocolate milk is a go-to recovery drink among athletes for its ability to provide both protein and electrolytes like calcium and magnesium. Chocolate soymilk means even more protein. Drink it on its own or with a lower-sugar cereal like bran flakes or Wheaties; add banana slices for extra potassium.
What pre- and post-workout snacks will you try? Visit Silk's website to get a 75-cent coupon off your next purchase!
This conversation is sponsored by Silk. The opinions and text are all mine.
7