You know that distinct hunger that comes with working out on an empty stomach? The type that can cause you to cut your workout short because you're feeling dizzy and light-headed and just can't even fathom taking one more step without getting something to eat? Yep, it's never a good idea to skip pre-workout snacks.
It's not a fun feeling, but it's easy enough to avoid with some advanced planning. The trick with pre-workout snacks is that you want something to keep yourself fueled without weighing you down or upsetting your stomach; you definitely don't want to feel anything sloshing around in your stomach when you're hitting it hard on the treadmill. 
And of course, the kind of pre-workout snacks you'll want to grab depends on the time of day and what kind of workout you'll be doing; a spin class and a weights session require different kinds of fuel.  
We've come up with a list of simple, healthy, and delicious pre-workout snacks to get you through your workout and keep you going. From homemade options to quick and easy snacks to grab on your way to the gym, we've got you covered.
Stock up on these simple snacks, and you'll have an easier time powering through, and a quicker recovery afterwards.
A Nutritionist's Picks for Best Pre-Workout Snacks
If you're doing a cardio-focused workout such as running or a high-intensity interval session, you'll want to eat a snack about 60 minutes before you exercise. Aim for something that's high in carbohydrates with a decent amount of protein, but low in fat and sugar.
If it's a strength training session for you, a small snack of carbs and protein an hour or two before you hit the gym is best.
Obviously it's not a good idea to work out on a full stomach, so don't overdo it, but a small snack before you head to the gym or hop on the treadmill can help keep you going—and avoid crashing and overeating afterwards.
Here are some of our favorite pre-workout snacks.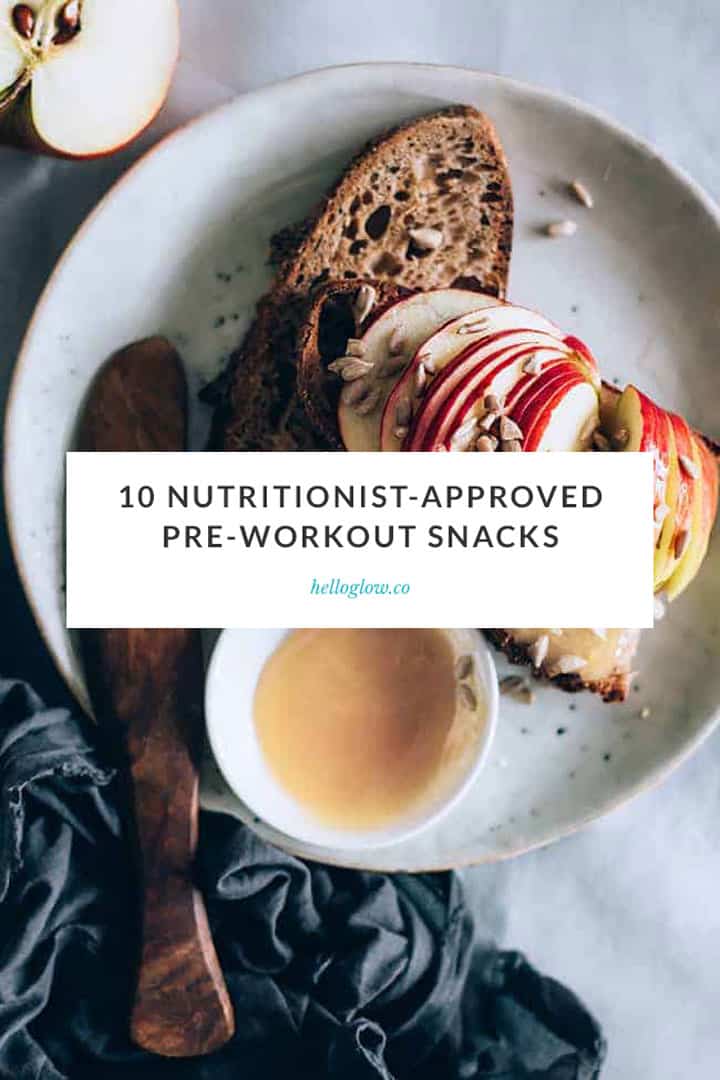 1. Whole wheat toast
A slice of whole wheat toast is great for getting your complex carbs in. Top with almond butter for some protein, and banana slices for potassium and carbs. (Get more toast recipes here.)
2. Greek yogurt
Half a cup of protein-packed Greek yogurt is a great pre-workout snack. Top with blueberries and sunflower seeds. If you need a little extra kick of sweetness, drizzle with a tiny bit of maple syrup or honey if desired.
3. Oatmeal
Oatmeal keeps you full (but not too full) for hours. To add a bit of protein try making your oatmeal with a couple tablespoons of almond flour or flax seeds stirred in. Alternately, you can top with pumpkin seeds, hemp seeds or almonds.
4. Apple slices
Apple slices are a perfect quick energy-booster, and they're not too heavy. Top with peanut butter for protein, and sprinkle of cinnamon because it's delicious!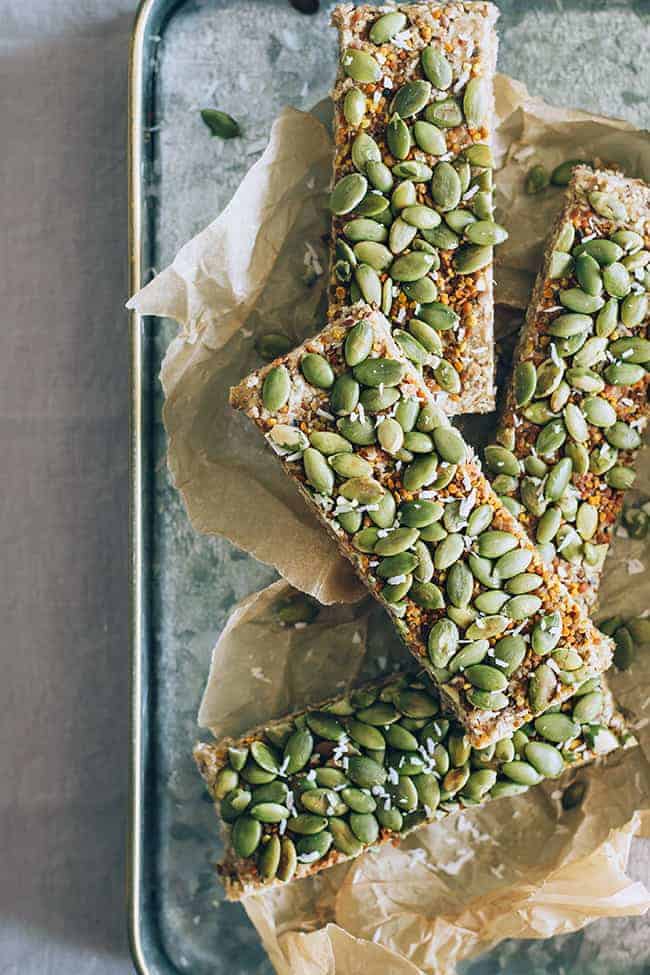 5. Homemade granola bars
Stick to homemade to avoid unnecessary sugars, like these Gluten-Free No-Bake Almond-Blueberry Bars.
6. A handful of nuts
If you want something that gives you a good boost of protein, a bit of fiber, and some healthy fats, a handful of nuts is a great option. We love raw or toasted unsalted nuts (tip: save the salted nuts for your post workout snack) like almonds, cashews, or walnuts.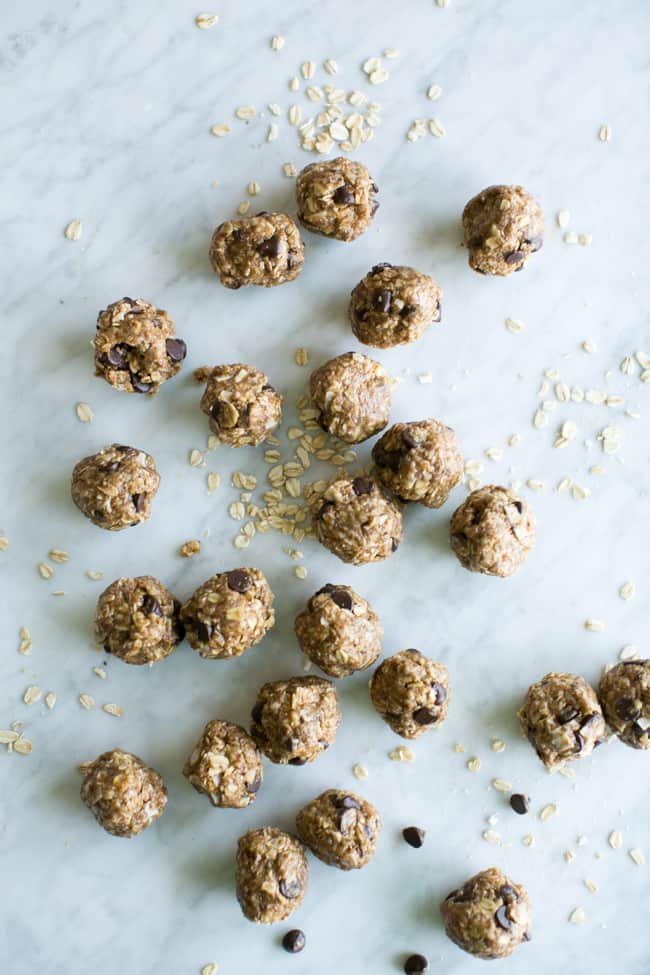 7. A protein bar or bites
It's kind of a jungle out there when it comes to protein bars, but there are some really good options on the market. Avoid those that contain excess sugar or fillers, and aim for high-quality protein like egg, whey, or pea protein.
8. A MCT oil latte
A little kick of caffeine before a workout can be a good thing to get your engines started. Not junky sugar-filled energy drinks, but a matcha latte or a shot of espresso. Blend your tea or coffee with a bit of MCT oil, which your body burns preferentially as fuel.
9. Energy bites
Homemade energy bites like these Tahini Power Balls are a great pre-workout snack. They've got a little sugar, some healthy fats and protein, and are the perfect little bite to get you going.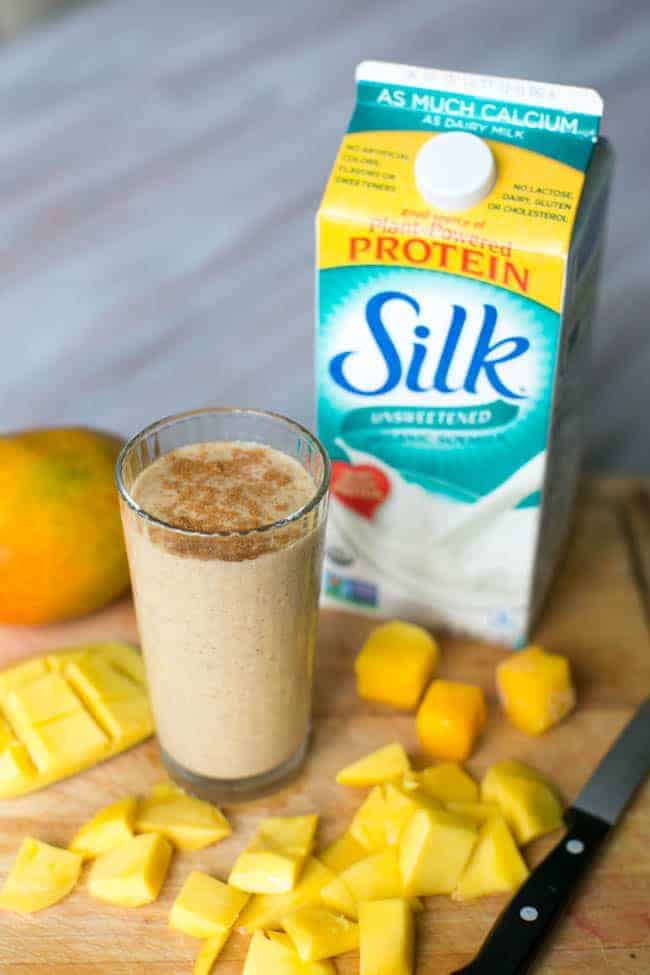 10. Smoothies
This Mango Dream Smoothie is not just creamy and slightly spicy, it's the perfect blend protein from soymilk, and complex carbs, protein, minerals and antioxidants from wheat germ. Note: If you're gluten free, omit the wheat germ and swap in a handful of leafy greens to get similar benefits.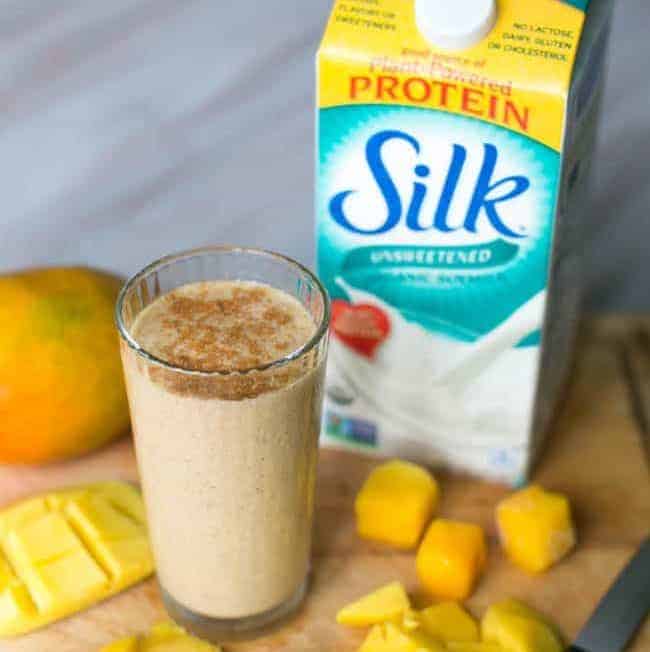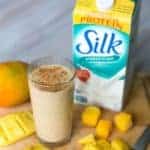 Print Recipe
Mango Dream Smoothie
Power through your workout with the help of this protein-packed smoothie.
Ingredients
3/4

cup

frozen or fresh mango

frozen will result in a thicker smoothie

2

tbsp.

wheat germ

1

cup

plain or vanilla soymilk

1

tsp

or more cinnamon

1/2

tsp

nutmeg

1/2

tsp

raw organic honey

optional
Instructions
Blend ingredients together, with liquid at the bottom of the blender pitcher. Add more liquid if needed.
0