We're all about DIYing it here on Hello Glow, but I have to confess, I'm a little intimidated to try brewing my own probiotic drinks. Will the jars explode? Will it taste bad? Also: botulism! So I tend to stick with varieties I can pick up at the grocery store.
Whether you're like me and opting for store-bought or adventurous enough to make your own, these are the best probiotic drinks for boosting gut health and supporting your immune system.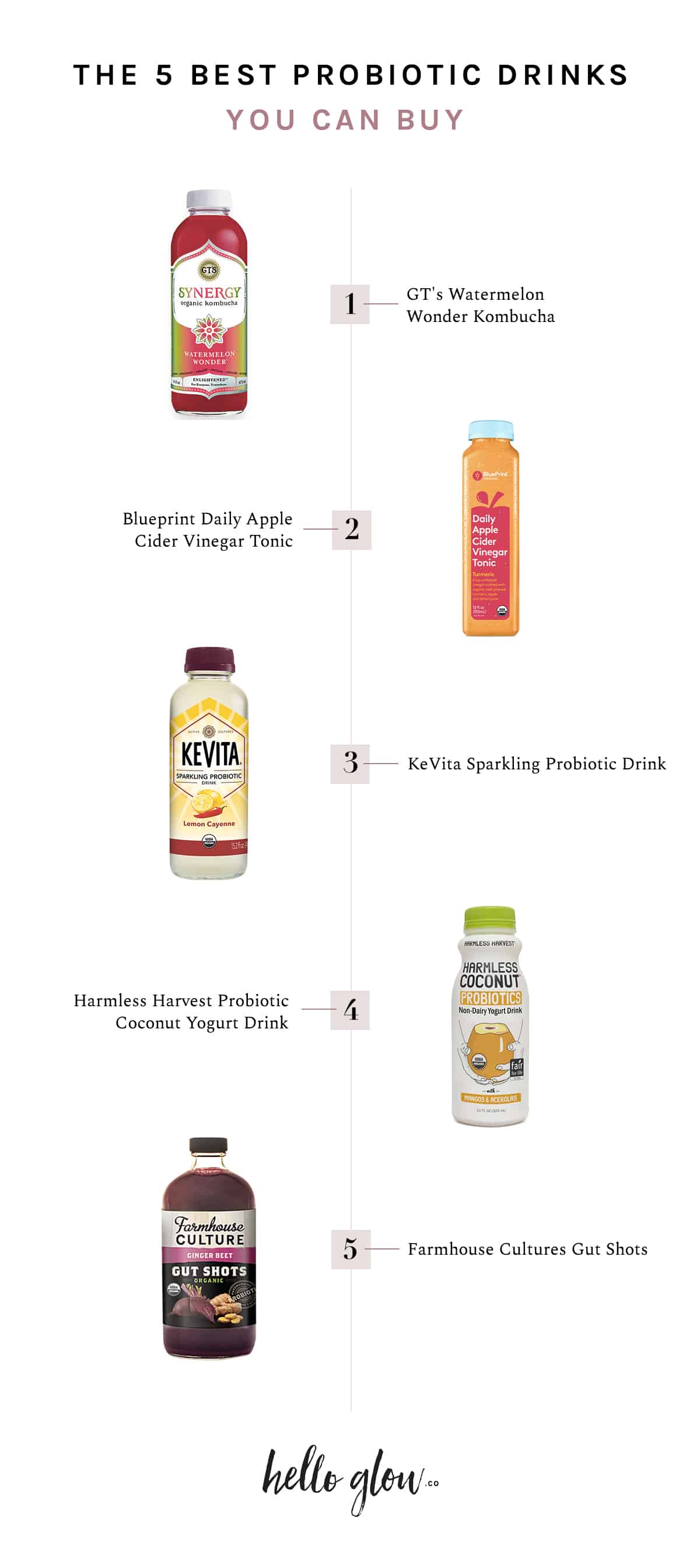 The 5 Best Probiotic Drinks You Can Buy or DIY
GT's Watermelon Wonder Kombucha // GT's Living Foods is pretty much the OG when it comes to kombucha–they've been around for 23 years, before kombucha was the trendiest of probiotic drinks. This watermelon flavor is refreshing and perfect for sipping on a hot summer day.
Or make it yourself: Order a SCOBY (or, if you're lucky, get one from a friend!) and use this recipe for continuous brew kombucha.
Blueprint Daily Apple Cider Vinegar Tonic // Getting your daily dose of ACV just got a lot tastier! Yes, these tonics actually taste good, with a slight tang from the vinegar. We especially love the Turmeric variety with its anti-inflammatory properties.
Or make it yourself: This immunity elixir is made with apple cider vinegar that's been infused with spices.
KeVita Sparkling Probiotic Drink // KeVita is made with water kefir culture, giving it billions of live probiotics to nourish your gut biome. If you like starting your day with lemon water, try swapping it for this fermented Lemon Cayenne version instead.
Or make it yourself: For a sparkling lemon drink you can brew at home, try our facto-fermented lemonade. If you have water kefir grains, this tutorial will show you how to use them.
Harmless Harvest Probiotic Coconut Yogurt Drink // We are completely obsessed with Harmless Harvest coconut water (if you think you don't like coconut water, this one will change your mind!) and their coconut yogurt drink doesn't disappoint. Try the Mangos & Acerolas flavor for a tropical treat.
Or make it yourself: For a creamy DIY non-dairy probiotic drink, whip up this coconut milk kefir recipe from KetoDiet.
Farmhouse Cultures Gut Shots // Organic, vegan, and non-GMO, these probiotic shots pack 110 billion CFUs of good bacteria per serving to boost your gut health. We love the warming Ginger Beet flavor, which is made with cabbage too.
Or make it yourself: We've got two recipes for immunity-boosting kvass–one made with beets and another made with ginger and carrots.
97