Cravings are complex. One root cause of cravings is emotional. Emotional eating is initiated by reasons other than physical hunger. In the case of stress-induced cravings, you may be heading to the pantry in search of comfort, peace of mind or distraction from whatever is causing you stress. While there is nothing inherently wrong with stress eating (it's normal human behavior! you're not bad for having a craving!), it's important to investigate whether satisfying the stress-induced craving is going to serve you, or if it's just a means of stuffing down your emotions with food.
Studies have found that women who felt stressed had a greater drive to eat–they were more likely to binge eat and less able to control their eating–and were therefore more likely to gain weight. Obviously, gaining weight is something most of us want to avoid, so if you know you're a stress-eater, mitigating binges and out-of-control eating behavior is key.
10 Snacks for Stress Eaters
I recommend that before rooting through the pantry for something to munch on when your stress levels start bubbling over, stop and ask yourself the question: "what do I really need in this moment?" You may find that what your body truly needs is some form of self-care.
This doesn't mean you have to drop everything you're doing and go get a massage (although that would be lovely!). Instead, how about popping outside for a 5-10 minute walk in the fresh air? Or rolling out your yoga mat and doing a sun salutation? Maybe you're overtired and need a 30-minute power nap. Or perhaps you're craving a hot shower, hug or chat with your bestie. These are all ways to reduce stress that don't involve putting something in your mouth.
Now, if you decide you don't need any of those things and are instead consciously choosing to satisfy your craving with food, try to bring a level of calmness and relaxation to the experience of eating, as opposed to stuffing your face in a frantic, "out of control" and guilt-ridden manner. Mindful eating is crucial here because the brain plays a large role in metabolic function and appetite regulation.
By sitting and slowing down, you're engaging the brain in the process of eating, making it easier to enjoy and actually benefit from the nourishment. Allowing yourself to eat whatever it is that you want with awareness and presence often leads to decreased consumption and decreased stress. Which was the goal in the first place! So with that said, when you're indulging in any of the below snacks, make sure you're eating them on a plate or in a bowl, sitting down, undistracted and mindfully.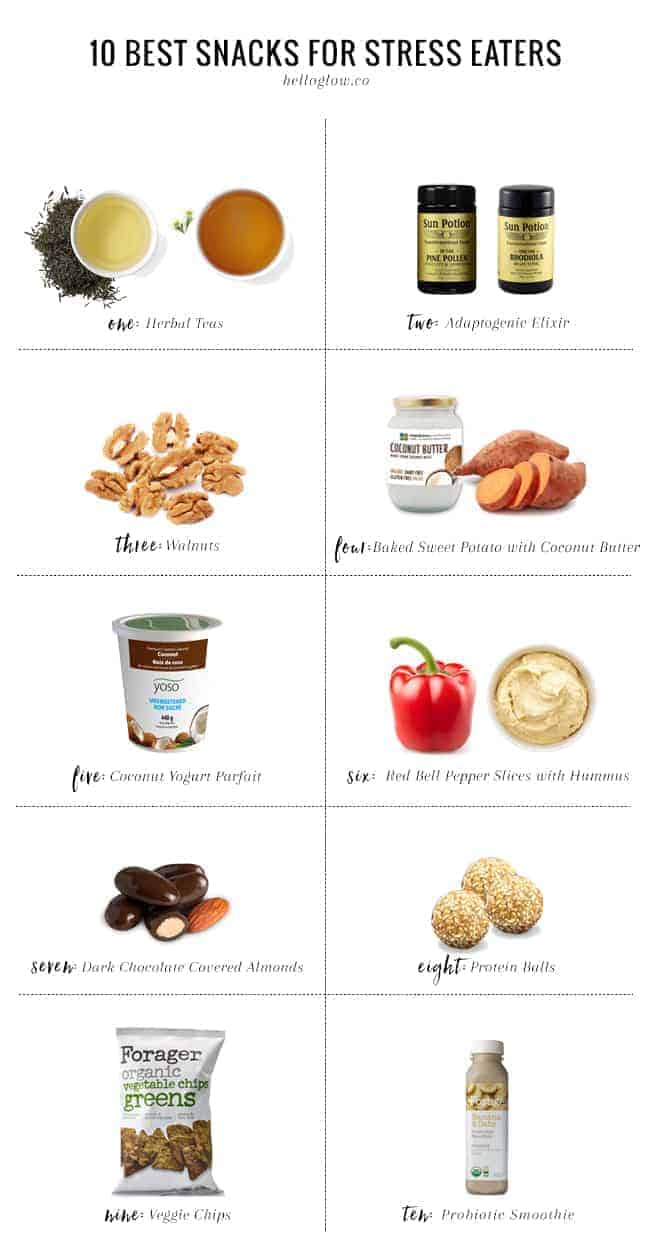 Tea
Many teas are helpful for combatting cravings, but these are two of my favorites:
Green Tea – Maybe after you ask yourself what you really need, you discover that you're not actually hungry and just need a break from your desk and a little energy boost. Head to the kitchen and make a cup of green tea–either regular (like Tazo Zen Tea) or matcha. Green tea is full of anxiety-lowering l-theanine, an amino acid which offers steady energy without the crash.
Chamomile Tea – If you're feeling stressed or anxious in the late afternoon or evening, chamomile tea should be your go-to! Naturally caffeine-free, chamomile has wonderful calming and anti-inflammatory properties. It has a mild sedative action so it's great for easing anxiety and inducing restful sleep.
Adaptogenic Elixir
If you're into adaptogens, you could concoct a delicious and comforting adaptogenic elixir to help your body cope with stress. I like using a base of rooibos chai tea and mixing it with ashwagandha, reishi, cinnamon, hot water and a splash coconut milk. If you want to include some protein, I suggest adding a scoop of collagen peptides and blending the mixture in a high-speed blender to make it nice and frothy.
Walnuts
Walnuts provide a blend of fiber, protein and the anti-inflammatory omega-3 fatty acid alpha-linolenic acid (ALA). They're a wonderful snack for getting that stress-relieving crunch you're after while stabilizing your blood sugar and boosting your memory. To keep your serving size in check, grab a handful (about 15 walnut halves) and put them in a bowl instead of mindlessly munching out of the bag.
Baked Sweet Potato with Coconut Butter
Sweet potatoes are my favorite slow, complex carb for satisfying a sweets craving. Bake a few sweet potatoes at the start of the week and keep them in the fridge for snacks or adding to meals. Root vegetables such as sweet potatoes, carrots and parsnips are excellent foods to eat when you need to focus and relax. Warm up a half or whole sweet potato and smear 1-2 tablespoons of coconut butter on it, plus a dash of cinnamon and sea salt, for a filling and grounding snack.
Coconut Yogurt Parfait
Combine a serving of coconut yogurt (my favorite is plain CoYo) with ¼ cup fresh blueberries and a sprinkle of chopped cashews and sesame seeds. This parfait is sweet, creamy and crunchy all in one! Plus cashews and sesame seeds are rich in zinc which is an important mineral for controlling anxiety. One of zinc's roles is to convert vitamin B6 to its active form which helps synthesize serotonin, our feel-good hormone.
Red Bell Pepper Slices with Hummus
Red bell peppers are one of the best food sources of vitamin C, which the body burns through when under stress. If there is not enough vitamin C available, this can actually extend the stress response and lead to higher cortisol levels in the body over a longer period of time. So we want to be sure to keep topping up our stores of vitamin C! A refreshing and satisfying snack is ½ red bell pepper, cut into strips, and dipped into about 3 tablespoons of hummus. Again, I recommend putting this in a bowl instead of standing at the fridge and eating straight out of the hummus container!
Dark Chocolate Covered Almonds
My favorite! I get the dark chocolate and sea salt covered almonds at Whole Foods–they're amazing. Both dark chocolate and almonds are rich sources of the mineral magnesium which our bodies use large amounts of when we're stressed. Dark chocolate also contains an interesting fatty-acid neurotransmitter called anandamide. Anandamide has mood-lifting effects in the body and can help reduce levels of cortisol in the blood. So don't feel guilty about reaching for some dark chocolate when you're stressed! Just make it high-quality dark chocolate, ideally 70% or greater.
Protein Balls
These delicious chocolate chia protein balls taste like an indulgence, but they're sugar free! Loaded with healthy fats, fiber and protein, having one or two balls will satisfy a sweets craving and keep your blood sugar stable. Make a batch and store them in the freezer for snacking emergencies!
Veggie chips
Craving salty crunch? The act of crunching down on something can help reduce tension and stress. Forager veggie chips are my go-to–I love the greens one! They're made from pressed veggies so they're a more nutritious and less-starchy alternative to corn or potato chips. Plus, for many of us, it's not all about the crunch–you might be after something salty too. High-quality salt, such as Himalayan pink salt or Celtic sea salt, can actually help you reduce stress, as it replenishes the sodium levels that support our adrenal glands.
Probiotic Smoothie
In a blender, combine ¼ cup of berries (blueberries, raspberries and/or blackberries) with 1 cup plain, organic kefir + 1 tablespoon ground flax seeds and ½ tsp cinnamon. This is a sweet and creamy snack that is easy to digest and full of nutrients. Kefir offers a good dose of the probiotic lactobacillus, which produces calming neurotransmitters like GABA (gamma-amino butyric acid).
13