Sometimes we love a product so much, we can't keep it to ourselves. You know that feeling, right? Here are a few things that are so essential, we just need to share: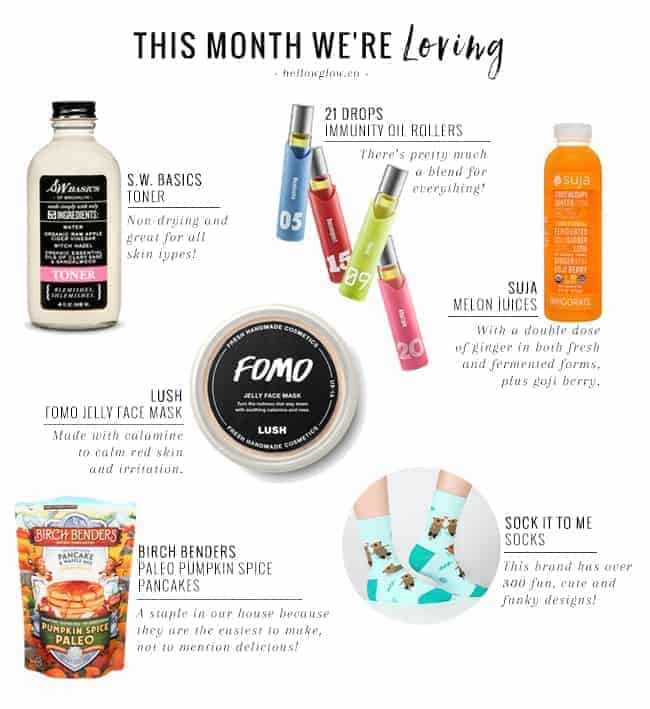 S.W. Basics Toner // Gross but true: I bought this for my armpits after a really unfortunate incident with a new natural deodorant that left my pits red, peeling and painful. (Totally learned my lesson—I'll always stick with tried-and-true deo from now on.) It worked for that situation, and then I decided I might as well try it on my face too. The next morning when I was washing my face, I noticed that it felt so smooth and it took me a second to realize why: the toner! It's a toner that actually does something! And since it works for every skin type, it's perfect for my dry-on-the-forehead, oily-on-the-cheeks-and-nose face.
Suja Melon Juices // Everyone's all "yay, fall!" but I'm here lamenting the fact that I didn't eat nearly enough fresh corn and melon from the farmers market. So Imma pretend it's still summer a little bit longer with Suja's new cold-pressed melon juices—Invigorate (cantaloupe!), Gleaming (honeydew!), and Radiate (watermelon!). Gleaming is my personal fave because it helps me get my daily dose of turmeric.
Sock It To Me // My toddler is completely obsessed with these socks. And okay, I might be a little bit obsessed too. And we might even have matching mother-daughter pairs. Guess what? We're giving away 5 pairs to one lucky reader right now. Go enter!
Birch Benders Paleo Pumpkin Spice Pancakes // I'm not strictly paleo (the whole vegetarian thing kind of gets in the way), but I try to eat grain-free as much as possible because grains seem to cause inflammation for me. Birch Benders paleo pancakes are a staple in our house—they are seriously so easy to make, you can even pull them off as a weekday breakfast. I'm totally loving the new pumpkin spice variety. (Okay, maybe I am ready for fall.)
21 Drops // Annnnd speaking of fall: germs. They're everywhere. So I'm arming myself with my 21 Drops immunity oil roller. Another fall essential? Their Decongest roller bottle, with a warming blend of oils that helps clear out all that congestion. They pretty much have a blend for everything and they're the perfect size to take with you everywhere.
Lush FOMO Jelly Face Mask // If it's jelly, it's for me. Because, at heart, I am still 10-years-old and I love anything that feels squishy in my hands. So when I saw a display of new jelly face masks at Lush, I was like a moth to a flame. The FOMO mask is made with calamine to calm red skin and I was really expecting it to be more fun than effective, but it actually worked. And okay, it was fun too.
20