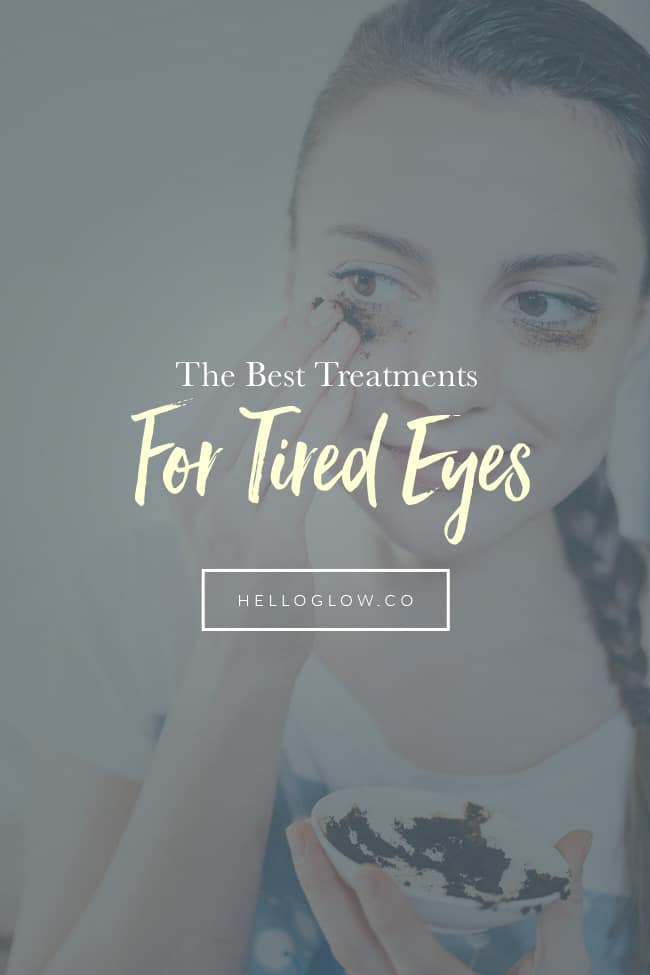 Those three dreaded words: you look tired. No one wants to hear it! But if you have dark under eye circles and puffiness, you probably hear it a lot. Maybe you are tired, but maybe it's genetic or your allergies acting up. Whatever the cause, under eye circles are tough to get rid of, but there are treatments for them and if you use them consistently, those embarrassing dark spots will fade away, leaving you looking refreshed (even if you don't feel that way!).
Like any other skin issue, prevention is more effective than treatment. Even if your dark circles are the result of genetics, making sure you're well-rested and hydrated will help reduce their appearance—after all, you don't inherit the actual dark circles, what you inherit is thin, fair skin under the eyes that makes it more apparent when you're lacking sleep or dehydrated.
Best Treatments for Tired Eyes
If you've found your dark under eye circles have gotten worse with age, a collagen-boosting cream can help, while antihistamines can work wonders for circles aggravated by allergies. And don't forget the sunscreen every morning!
Keeping your under-eye area moisturized is important too—make sure you use an eye cream in the morning and at night. When choosing eye creams for tired eyes, look for a few key ingredients: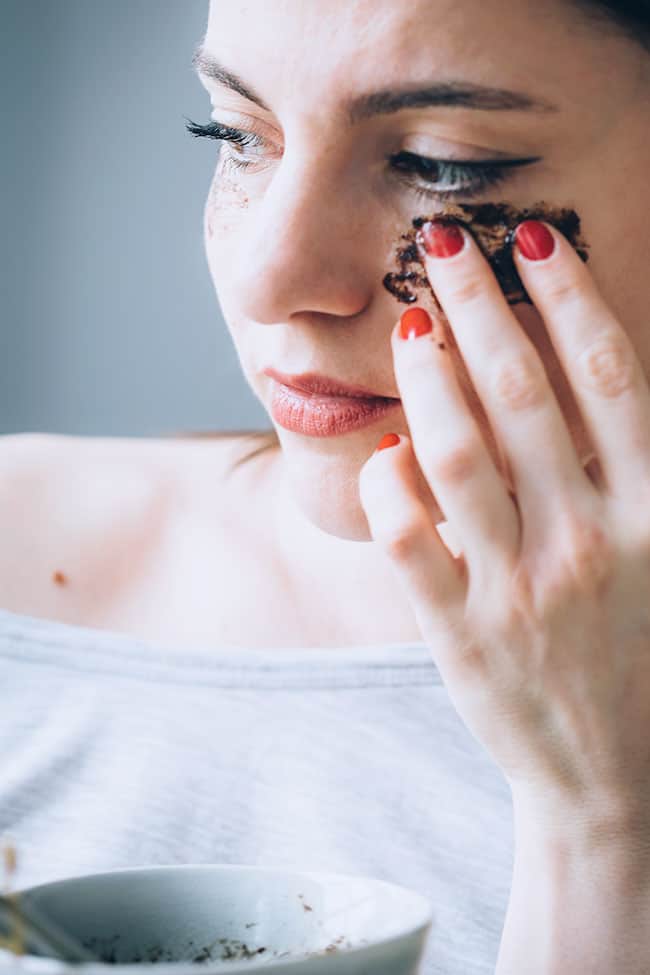 Caffeine – Because dark circles are caused by blood pooling under the eyes, caffeine is recommended to help constrict blood vessels.
Vitamin C + Retinol – Both ingredients will help boost collagen production, which is great for thin skin, but be sure you're using them in a cream formulated for under eye use, as ones made for the rest of the face can be too harsh for the delicate eye area.
Hyaluronic Acid – Hyaluronic acid plumps skin, which is especially helpful when your tired eyes are the result of aging.
Cucumber Extract – Ever put cucumber slices on your eyes? Cucumber extract is even better, with concentrated antioxidants and vitamin C to stimulate collagen production.
Arnica – Arnica isn't just for bruises! Its anti-inflammatory properties make it ideal for reducing the appearance of dark circles.
Green Tea Extract – Green tea is an excellent source of antioxidants and the caffeine and tannins both work to constrict blood vessels. (You can even use green tea bags on your eyes for the same effect!)
In addition to eye creams, an intensive eye mask or patches used once or twice a week will help reduce puffiness and under-eye circles too.
Because so many of the ingredients used to treat tired eyes are ones commonly found in your kitchen or medicine cabinet, it's easy to make your own masks and eye creams. Here are some of our favorite recipes:
Wake Me Up Coffee Mask for Puffy Eyes
11 Best Ways to Naturally Treat Under Eye Circles and Puffiness
Coffee-Infused Eye Cream
DIY Eye Masks
Parsley Eye Mask
If DIY isn't your thing, we've rounded up the best treatments for tired eyes you can buy.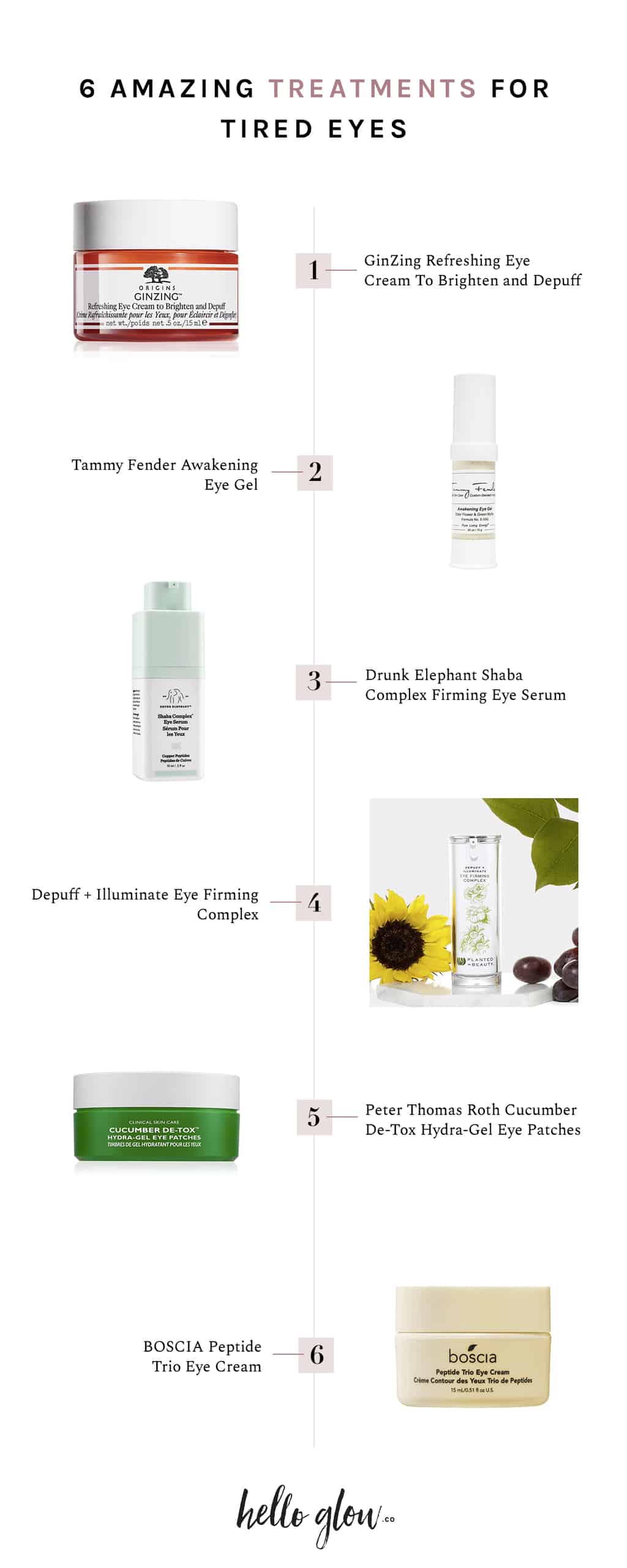 1. GinZing Refreshing Eye Cream To Brighten and Depuff
2. Tammy Fender Awakening Eye Gel
3. Drunk Elephant Shaba Complex Firming Eye Serum
4. Depuff + Illuminate Eye Firming Complex
5. Peter Thomas Roth Cucumber De-Tox Hydra-Gel Eye Patches
6. BOSCIA Peptide Trio Eye Cream
62