I don't know about you, but as the holidays get closer, stress levels tend to increase a little more every week—which is totally counterintuitive to what the holidays should be about! What's supposed to be a relaxing time with friends and family has a way of snowballing into a dreaded few weeks we can't wait to be over. It's enough to make even the most zen of us feel like Frank Constanza from Seinfeld ("Serenity NOW!").
Instead of letting the pressure get to you, try these tricks for instant de-stressing that only require a few minutes of your precious time.
9 Best Ways to Destress
1. Wash the Dishes
I know what you're thinking: "Um, excuse me, chores?" Dr. Weil recently cited a study that suggests mindfully doing chores like washing dishes can help people reduce stress. Participants in the study were encouraged to pay attention to details like the feel of the dishes and the scent of the soap. In that case, make sure you whip up some homemade lavender dish soap for your next de-stressing session.
2. Essential Oils
Speaking of lavender, taking a whiff of that versatile essential oil is one of the quickest, easiest ways to calm down and re-center. Lemon, Roman chamomile, geranium and ylang ylang are also great for promoting instant relaxation. Applying oils topically means you can reap the benefits all day (or night)—read up on how to do so in our guide.
3. Surround Yourself with Blue
My grandma has a lot of anxiety issues, and she takes the theory of blue being a calming color literally in sort of a hilarious way—as in, the entire first floor of her home is covered in sky-blue shag carpeting. Which she refuses to replace even as they put their house on the market. (Hey, whatever works!) Maybe you don't need to go as far as painting or replacing your flooring, but including some blue in your space can help evoke those calming feelings. Think linens, wall artwork or textiles.
4. Massage Candles
No time to book a massage at the spa? Make a DIY massage candle to keep around the house, then light it up when you need instant stress relief. The lit candle, plus the mindful activity of rubbing the wax into your fingertips, and the aromatherapy properties of the essential oils, will calm you down in no time.
5. Meditation
For those of us who fall on the anxious side of the spectrum, it's easy to dismiss meditation. Sitting still? Clearing your mind? Puh-lease. But, give it a try and chances are you'll change your mind. Even just 5 minutes of sitting in a quiet place and zoning out can preserve your sanity and rejuvinate your tired brain. Doing it while in a restorative yoga pose like savasana (corpse pose) or legs up on the wall can help calm you down even more.
6. Get Outside
Even just a walk around the block with the dog or a quick session of weeding the garden will get your heart pumping, jump-starting your circulation and lowering your cortisol (stress hormone) level. Even just being around green spaces can help minimize cortisol, so hit up the park or the backyard next time you're feeling overwhelmed.
7. Do a Quick Beauty Treatment
You might not have time for an all-out relaxing beauty regimen or a luxurious bath, but even just 5 minutes for some "me" time in the bathroom can calm you down and make you feel more prepared to deal with your day. Make a batch of stress-busting Magnesium Body Butter to have on hand for stressful days. If you have time for a quick shower, some anti-stress aromatherapy shower tablets will come in handy.
8. Spritz Your Pillow
A few spritzes of this easy, relaxing pillow spray will make your room smell amazing and calm you down. It's not just for pillows, either—use it whenever (and wherever) you need a break.
9. Harness the Power of Flowers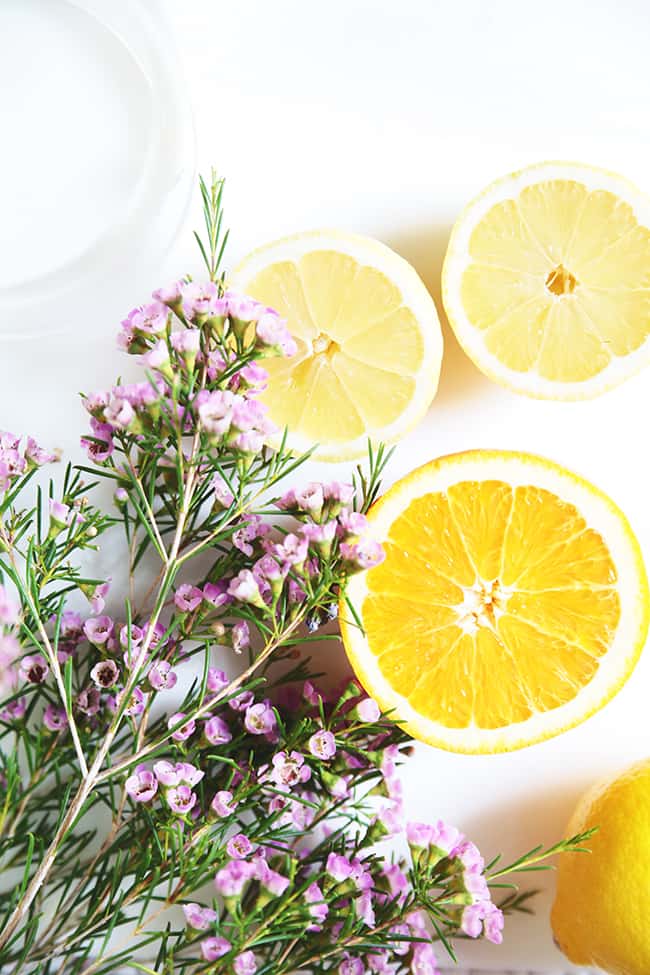 Studies have shown that keeping flowers around can reduce anxiety and boost mood and creativity. Pick yourself up a bunch (or just grab some from the garden) to display—and read up on 9 more ways to use them every day.
1