Porridge never was among my favorite breakfasts until I discovered that I could change its texture just by adding it to the blender. Now I make it almost every day! Oats are a great ingredient to start the day because they contain high amounts of soluble dietary fiber, which helps your body get a good cleanse first thing in the morning.
3 Reasons You Need More Fiber
Both soluble and insoluble fiber are a must for a healthy diet, for three main reasons:
1. They reduce the amount of time the food stays in the gastrointestinal tract, by stimulating a healthy bowel movement. This reduces the risk of bowel-related issues, like constipation, hemorrhoids, and inflammatory bowel disease.
2. They help your body detox naturally, because the gel-like mush created by soluble fibers absorbs the excess cholesterol, estrogen and toxins, preventing them to leak back into the blood stream.
3. They prevent you from gaining weight, by keeping you full without adding tons of calories to your meals.
Oats, chia seeds, beans, apples and blueberries are among the richest foods in soluble fiber, while brown rice and fruit skin are a great source of insoluble fiber, so make sure you always eat your fruits without peeling them!
This whipped porridge is not only airy and creamy, but also rich in both soluble and insoluble fiber, along with antioxidants, enzymes and healthy monounsaturated fats. I call it "the magic bowl," because it's ready in a few minutes, keeps me away from snacking and it tastes delicious. Plus I love its colors!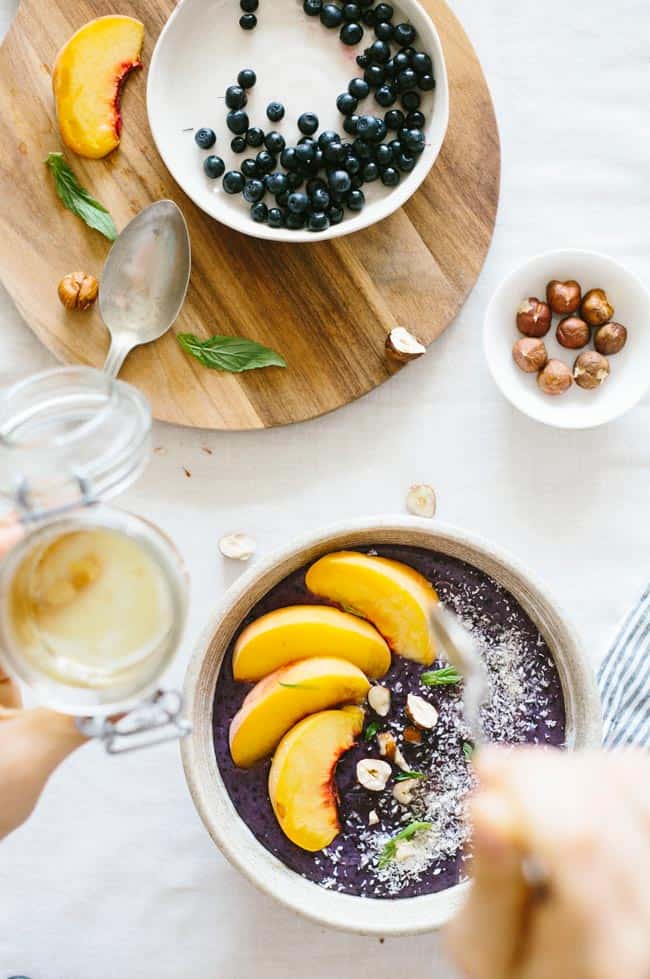 Whipped Berry Detox Porridge
This fiber-rich whipped porridge turns your breakfast into a burst of energy and vibrant color, helping your body cleanse first thing in the morning!
Ingredients
1

cup

rolled oats

1

cup

almond milk

1

teaspoon

coconut oil

1

cup

berries of choice

fresh or frozen ( I used blueberries)

3

teaspoons

organic raw honey

replace with agave nectar for the vegan version

Mixed seeds and nuts

chia, sesame seeds, sunflower seeds, hazelnuts, fresh mint leaves and 1 peach, thinly sliced, to garnish
Instructions
Add the oats and milk into a small sauce pan and bring to boil over medium heat.

Simmer for five minutes, stirring frequently.

Transfer into a blender, add coconut oil, berries and honey, and process to obtain a smooth mixture.

Distribute into the serving bowls, top with mixed seeds, peach slices and extra honey if you prefer it sweeter, and serve warm.
Notes
If you'd like to skip a step, don't blend your porridge. Simple divide the oatmeal among a couple bowls and top with fruit. Then mix everything together.
Store leftovers in the refrigerator for 1-2 days.
Nutrition
Calories:
541
kcal
|
Carbohydrates:
54
g
|
Protein:
9.3
g
|
Fat:
25
g
|
Saturated Fat:
17
g
|
Sodium:
22
mg
|
Potassium:
544
mg
|
Fiber:
9
g
|
Sugar:
21
g
|
Calcium:
44
mg
|
Iron:
5
mg
77