For me, there's not much that beats a good bath after a long day (preferably paired with a nice glass of red wine and my favorite Pandora station playing). It's a great time to escape from the stress from the day and put your mind at ease. You don't have to think about anything but relaxing and living in the moment. How many other times are we able to do that?
It's important to know that baths actually benefit both the mind and body — alone time, warmth, and they're even good for your skin. And while most people think they are just amazing recipes and ideas for pre-bedtime, there are so many recipes for anything you desire, from energy to skin nourishment. You can customize your bath experience to meet whatever your needs are by adding different herbs, oils, or accessories. Baths don't have to be just hot water.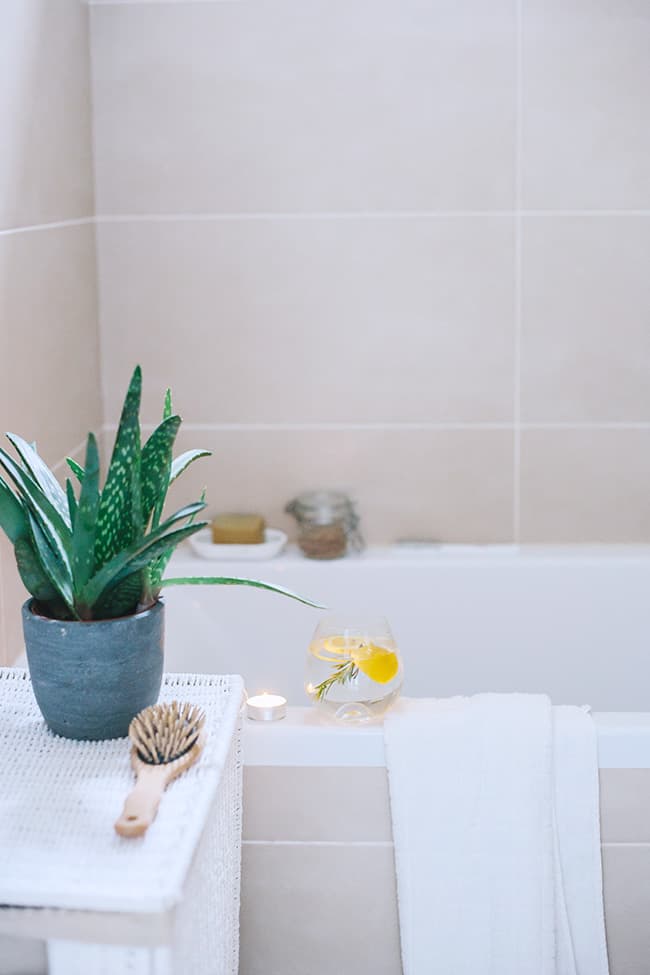 There are so many ways to make your bathes even more enjoyable. From oils to meditation to bath pillows, you can easily upgrade your bathing experience. Just be careful not to get too comfortable. I've totally come close to dozing off from zoning out in a hot bath. But on the other hand, that's when you know you have one heck of a great bath.
1. Sleep: lavender + chamomile 
We know that lavender is the go-to herb for insomnia and relaxation, so it obviously makes for an awesome addition to your bath. Same goes for chamomile. And when combined, you have an excellent concoction for preparing for a good night's sleep. Try adding some dried lavender and a few chamomile tea bags into your bath, let steep, and remove the bags before getting in. It's a great bath to take directly before bed for a full night's rest.
2. Energy: peppermint oil + lemon
Baths aren't just for getting ready for bed. The aroma from peppermint oil can actually stimulate your alertness, while lemon can possibly lead to positive chemical reactions in the brain. If you don't like the idea of drawing a bath before work during the week, this one's a great idea to try on a Saturday morning before taking on the day's activities. Simply squeeze the juice of a few lemons and combine with a few drops of peppermint oil for the ultimate experience.
3. Moisturize: powdered milk + cocoa powder
This may sound crazy, but bathing in "chocolate milk" is great for moisturizing your skin. Milk contains lactic acid that exfoliates and softens the skin. And even better, Cleopatra was said to actually bathe in milk to keep her skin soft and smooth. Cocoa powder is also high in antioxidants, which are excellent skin repairing agents. Try out our recipe and indulge yourself in the luxury of chocolate!
4. Colds: eucalyptus + tea tree oil
Feeling a cold coming on? This may be the right bath for you, if so. Eucalyptus and tea tree oil are thought to break down mucus, acting as natural decongestants. Instead of doing the old towel over the steaming water trick, you can relax in a nice bath with natural medicines to clear out your sinuses. To max the benefits, add 5-10 drops of each to your bath and breath deep while in the tub.
5. Sore muscles: lavender + Epsom salt
Baths feel great after a long workout (after you cool down, of course). Epsom salt is fabulous for soothing sore muscles, and combined with lavender, you have a total setup for relaxation. The magnesium in Epsom salt actually helps muscle pain, according to many experts. Even better, lavender can also help reduce inflammation in your stiff muscles. Next time your muscles are sore, just drop in a 1/2 cup of dried lavender leaves and 1 cup of Epsom salt, and soak.
6. Stress relief: vanilla + honey 
We all know that baths are a great way to relieve stress, but adding some soothing ingredients like honey and vanilla are sure to go the extra mile. What's really unique about our recipe is that it includes an egg white! Egg whites actually help the bubbles stay afloat longer, helping you to relax a bit more and enjoy the idea of a true bubble bath. The recipe also includes almond oil, which is a great moisturizer for your skin.
7. Detox: pink sea salt
Need a little detox in your life? Detox baths are a great way to step up your bath game. Pink salt can clean our internal body, improve sinus health, and prevent muscle cramps. The 84 minerals found in pink salt are also known to regulate blood pressure and balance the pH of our cells. Check out our super easy recipe for an amazing detox bath recipe using just Epsom salt, pink sea salt, and essential oils.
8. Mood: candles
Candles are an awesome way to upgrade your bath, and it's so easy to do. A good rule for bathing is no overhead lighting. Dim lighting or candlelight is truly the best way to take a bath, whether you buy candles at the department store or make your own. If you're feeling crafty and want to try to make some candles for your bathroom, try our easy french vanilla candles, which would pair perfectly with a bath before bed.
9. Comfort: bath pillows
When we lay in bed, it's essential that we have a comfy pillow, right? So, why not throw one in the bath? Obviously a regular cotton or feather pillow won't work, but there are plenty of great options for pillows specifically designed for the water. It really does help your back relax and lets your whole body feel more comfortable, instead of leaning up on hard porcelain. There are several options for material and texture, meaning there's certainly something for everyone.
10. Post-bath cleanup: mesh ball
If the idea of cleaning up a bunch of dried lavender leaves after a relaxing bath causes you more stress, try using a bath mesh ball! This way, you can put all of your ingredients in one spot so you'll get all the benefits without the hassle of cleaning up each bit and piece. If you can't find a bath mesh ball, just use a couple tea mesh balls and they'll do the job just fine as well.
8