I'm on a mission to remove cereal from our breakfast line up. But it's a challenge with 3 kids who can be picky eaters and who all want different things. My oldest loves green smoothies (yay!) while my middle child is obsessed with oatmeal and frozen waffles (plain, preferably still frozen). My youngest wants to eat everything. Literally. So he ends up with 3 small bowls of whatever everyone else is eating.
So how to keep the chaos manageable in the morning and not turn into a short order cook?
Batch cooking is the answer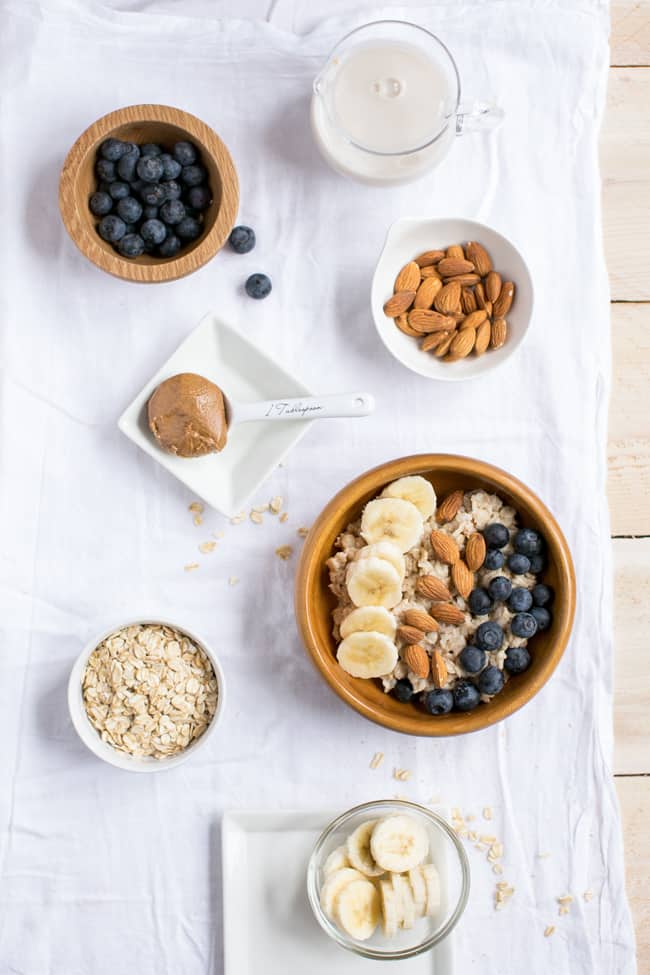 Sundays are now prep days. At least for breakfast meals (dinner is work in progress). Here's what's on my to-do list:
Hard boil a dozen eggs
Blend 2 big batches of a green smoothie (current favorite is this Glowing Green Smoothie). Divide into canning jars. Keep a couple in the fridge and freeze the rest.
Make a big batch of oatmeal.
If my daughter wants to cook, I have her make mini muffins. We haven't found a super recipe yet that everyone loves. When they eat them, I slather them in almond butter.
Wash and cut up fruit.
Now in the morning, I grab things from the fridge and set them on the table for them to choose. We have a plate of halved eggs (sprinkled with a bit of salt), fruit, oatmeal and grass-fed, full-fat yogurt.
We're working on them serving themselves. I want them to be independent but they often take too much, and we end up with a lot of waste (which drives me crazy).
Big Batch Almond Butter Oatmeal
Oatmeal is one of my favorite breakfasts, and I used to always cook it in the microwave. I love it so much more when it's cooked on the stove! I've taken to adding cashew milk to up the creaminess and hiding almond butter in the recipe for some good fat.
My kids are weirdos who eat oatmeal with no toppings (who does that?) but it's so good with blueberries, bananas and a few almonds.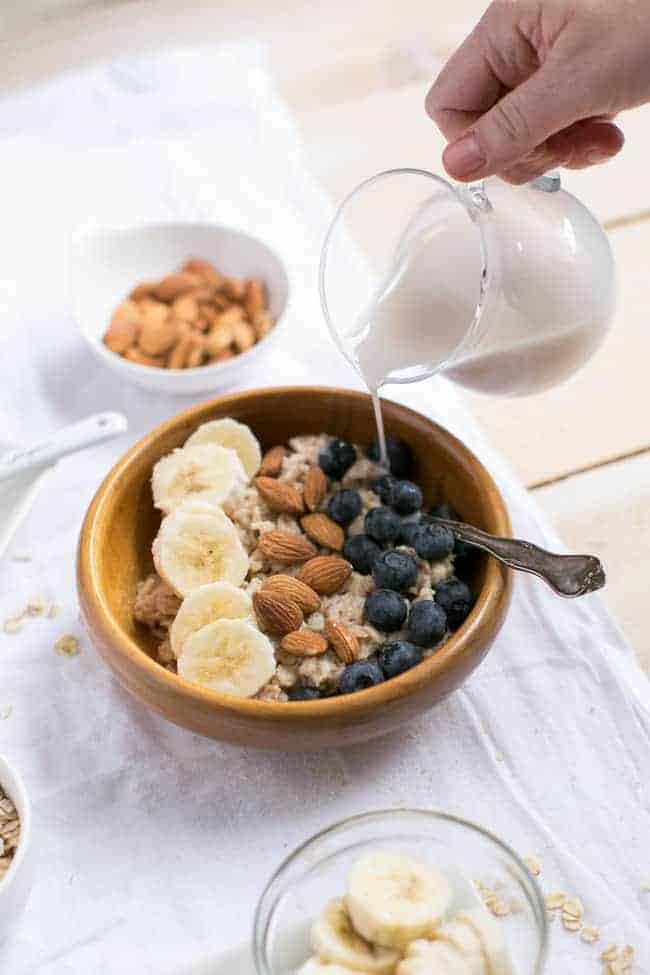 For this big batch oatmeal recipe, first bring 4 cups of water and a pinch of water to a boil. Add 2 cup of old fashioned oats and reduce to a simmer. Cook for 10-15 minutes or until most of the water has been absorbed. Remove from heat and stir in 1/2 cup or more of cashew milk (depending what consistency you prefer) and 2 heaping spoonfuls of almond butter. Cover pot and let stand for a few minutes.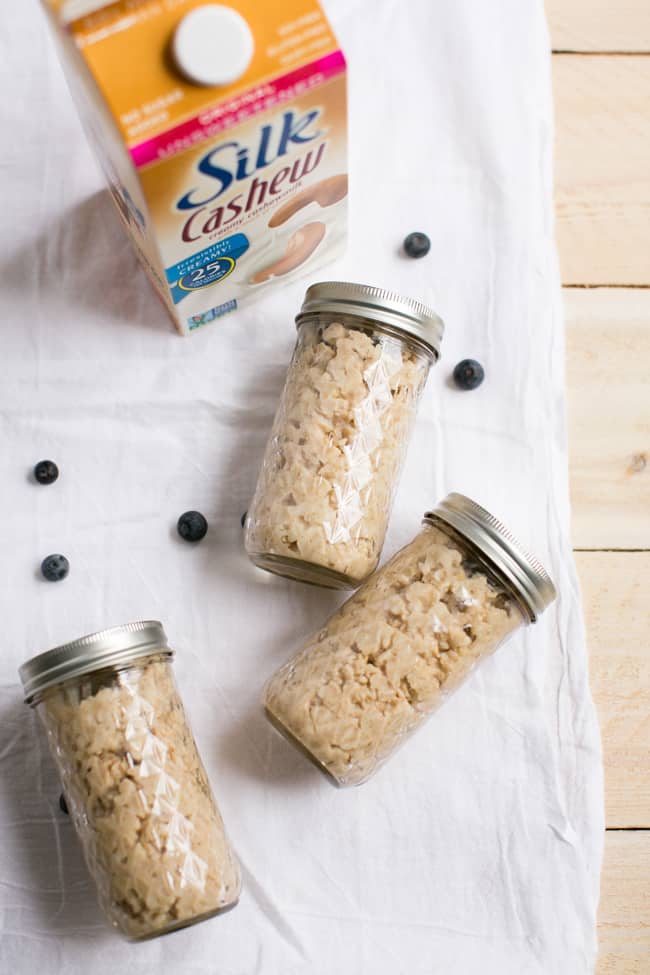 If prepping for the week, allow to cool and transfer to containers. This makes about 4 adult servings or more like 6 kid servings. I put them in the same canning jars as the smoothies. Then just pull it out of the fridge, add toppings and enjoy.
Try cashew milk at a store near you and sign up for the Silk newsletter for more recipe ideas.
This is a sponsored conversation written by me on behalf of Silk. The opinions and text are all mine.
2