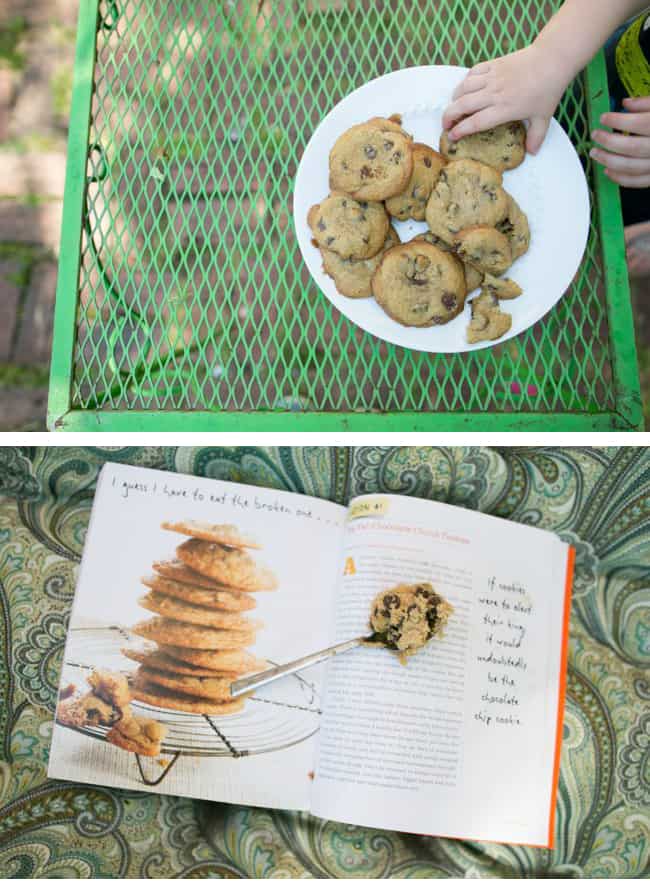 Have you noticed Henry's little hand appearing more and more on the blog? I have my very own photo bomber! It's amazing how fast he shows up when the camera comes out. Well, and the food. This time he was my little helper in making cookies for his teachers. Because summer officially starts in the Gerber house today (Mom is a little nervous). Ok, back to the cookies!
How many times have you made chocolate chip cookies? Dozens? Hundreds? So I'm sure you're thinking, there's nothing new about chocolate chip cookies. The Toll House cookie recipe is the gold standard in my family so why mess with a good thing?
BUT. The original Toll House recipe recommended you make the dough at least one day before you bake the cookies. That piece of info isn't printed on the Toll House chocolate chip package!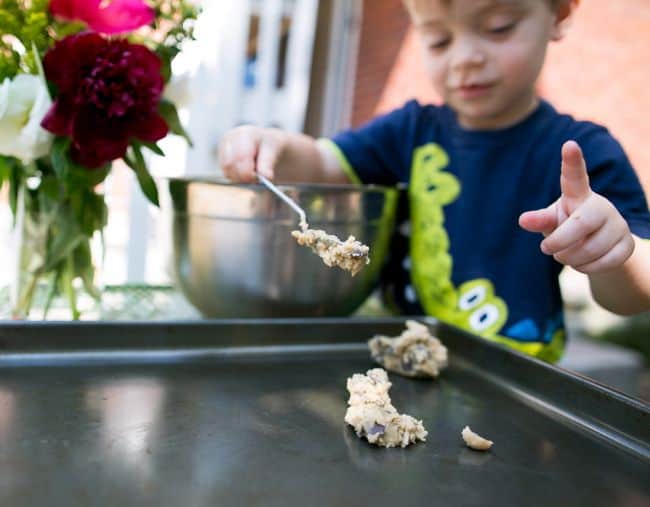 I learned this tidbit from the The Mom 100 Cookbook because, of course, the first recipe I tried was for Big Fat Chocolate Chunk Cookies. (Baby weight? What baby weight?)
And after letting my dough sit overnight in the fridge, I'm convinced that this is the secret to awesome chocolate chip cookies.
Sure, the cookies will probably be amazing however you make them, but this trick gives the cookies a richer, more caramel-like flavor. Seriously. I ate about 8 of them just to make sure.
Why? The dough is drier after sitting in the fridge (you can make it up to four days ahead) which produces a better flavor and consistency. I also think it makes the cookies bake faster so check them a few minutes early.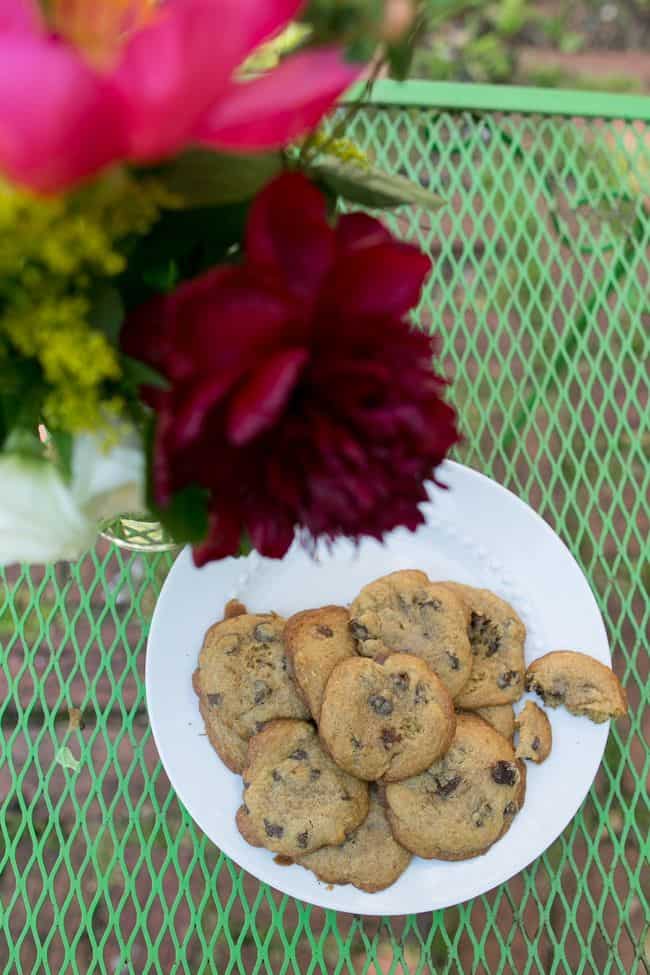 Big Fat Chocolate Chunk Cookies
From The Mom 100 Cookbook
2 cups all purpose flour
1 teaspoon kosher or coarse salt.
1 teaspoon baking soda
1 cup (2 sticks) unsalted butter at room temperature
3/4 cup firmly packed dark brown sugar
3/4 cup granulated sugar
2 large eggs
2 teaspoons vanilla extract
2 cups semisweet chocolate chunks or hand-chopped chocolate bars. You can stick with chocolate chips too and be just fine.
1. Preheat the oven to 375F if you are planning to bake right away.
2. Whisk together the flour, salt, and backing soda in a large bowl.
3. In another large bowl, put the butter, brown sugar, granulated sugar. Beat on medium until creamy and well blended, about 3 minutes. Scrape down the side of the bowl and add the eggs one at a time, beating until each is incorporated. Blend in the vanilla.
4. Gradually add the flour mixture, mixing in each addition until incorporated. Stir in chocolate chunks or chips. If you're not planning to bake immediately, press plastic wrap directly onto the dough in the bowl and refrigerate for up to 4 days.
5. Roll pieces of dough into small 1 1/2-inch balls and place on ungreased baking sheets. Bake for 14-16 minutes. Maybe it was my oven, but mine got brown much faster than normal so check them a few minutes early.
1