How can you not love a good breakfast cookie recipe? They're pretty much the ultimate convenience breakfast: portable, easy to make in advance, and healthy.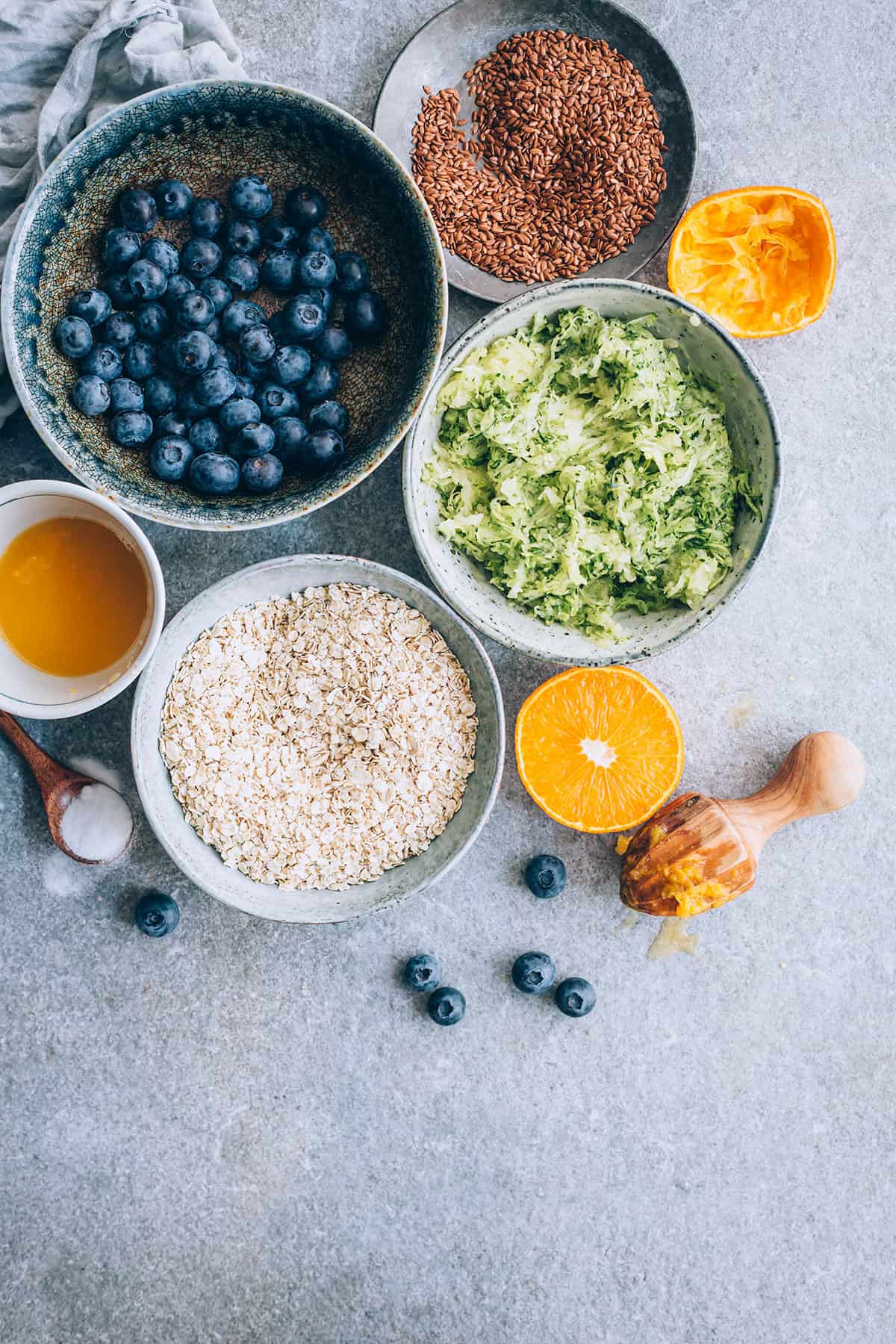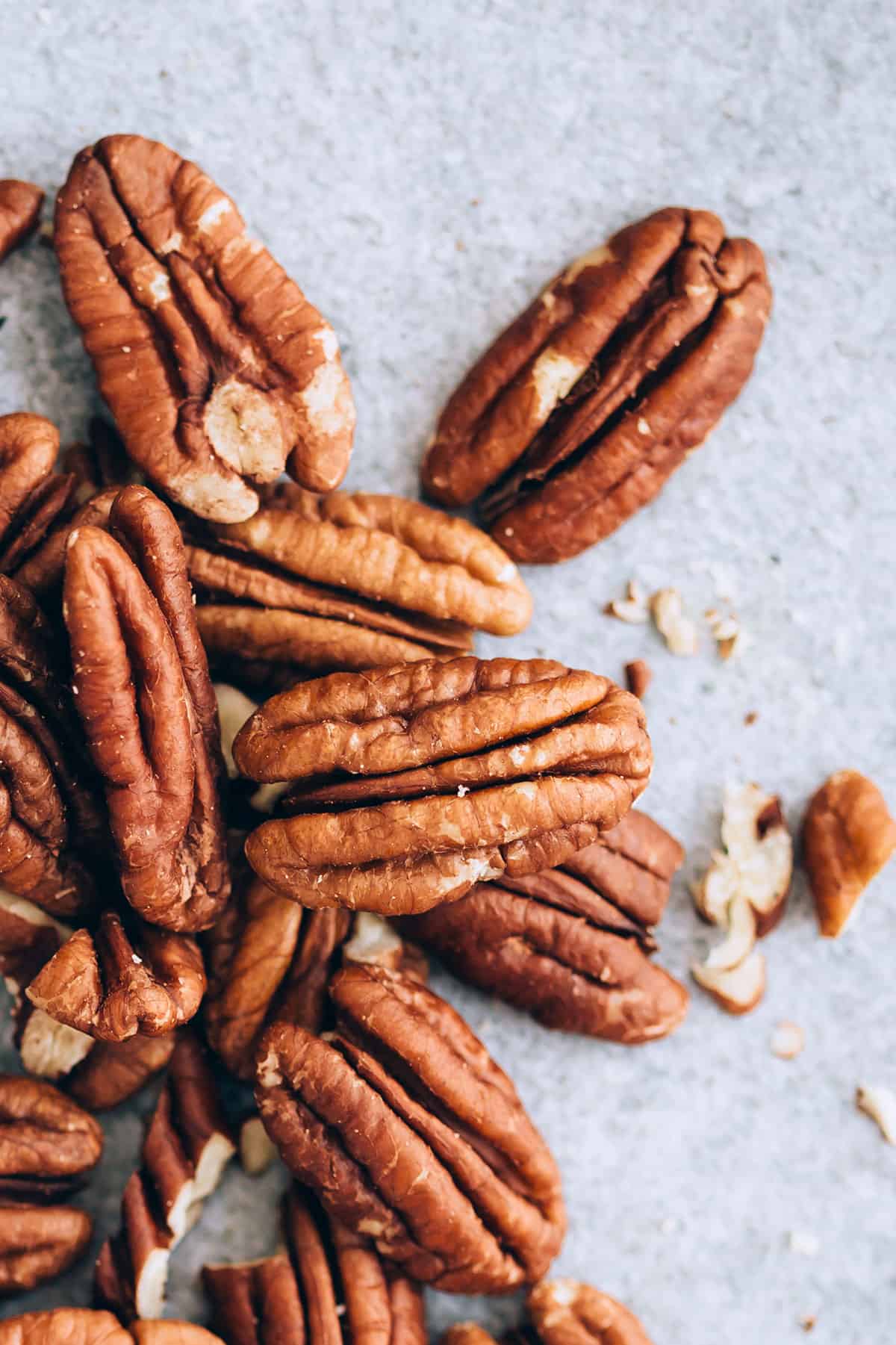 Well, usually healthy, at least. Because there are some breakfast cookies out there that are more cookie than breakfast if you know what I mean.
That's why this recipe from Jackie Sobon's Vegan Yack Attack On the Go is so perfect–not only do you get a well-rounded breakfast with protein, healthy fat, and fiber, you even get a veggie fix in the form of shredded zucchini. Yes! (PS – If you've got a bumper crop of zucchini this summer and you're burnt out on zucchini bread, make these cookies!)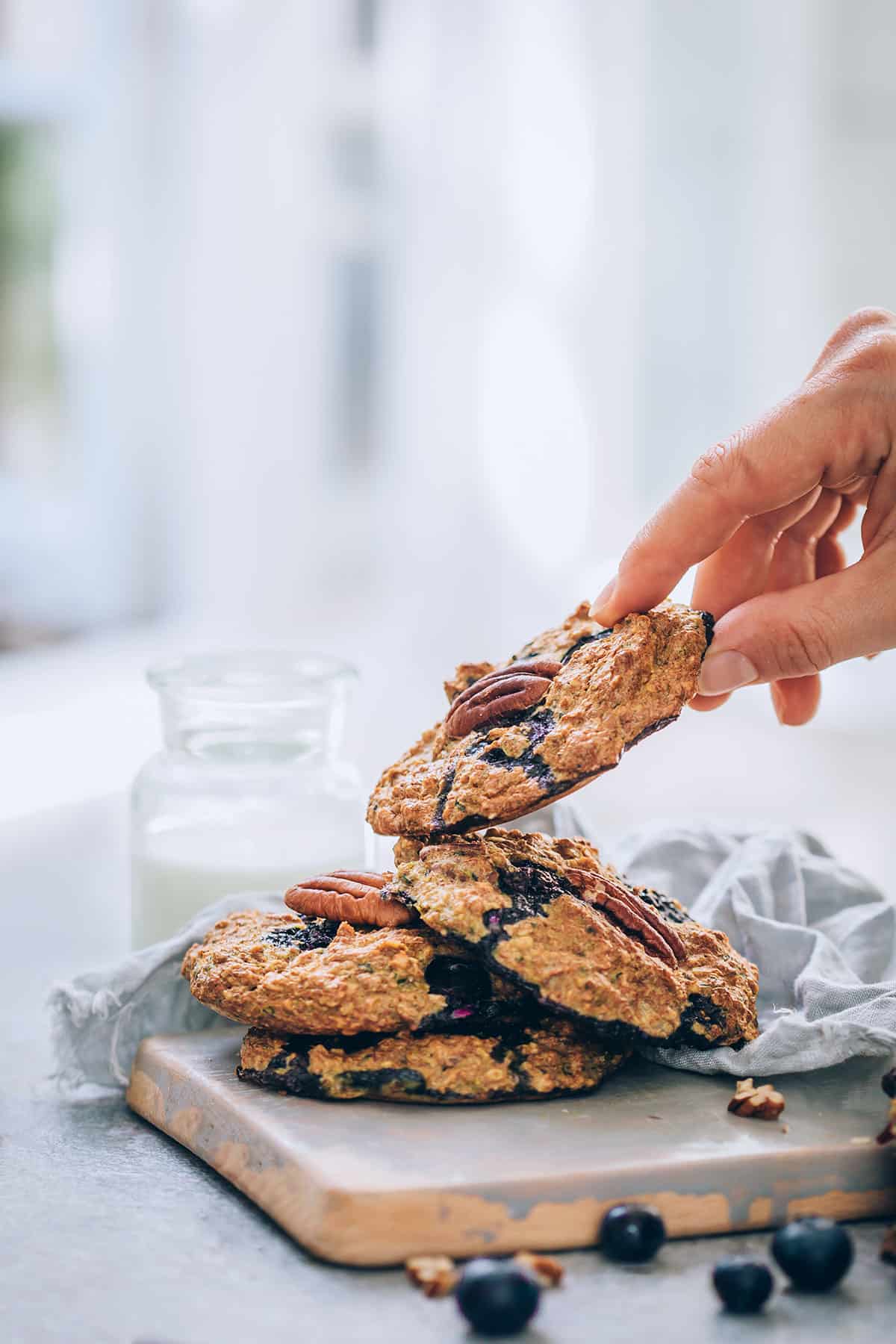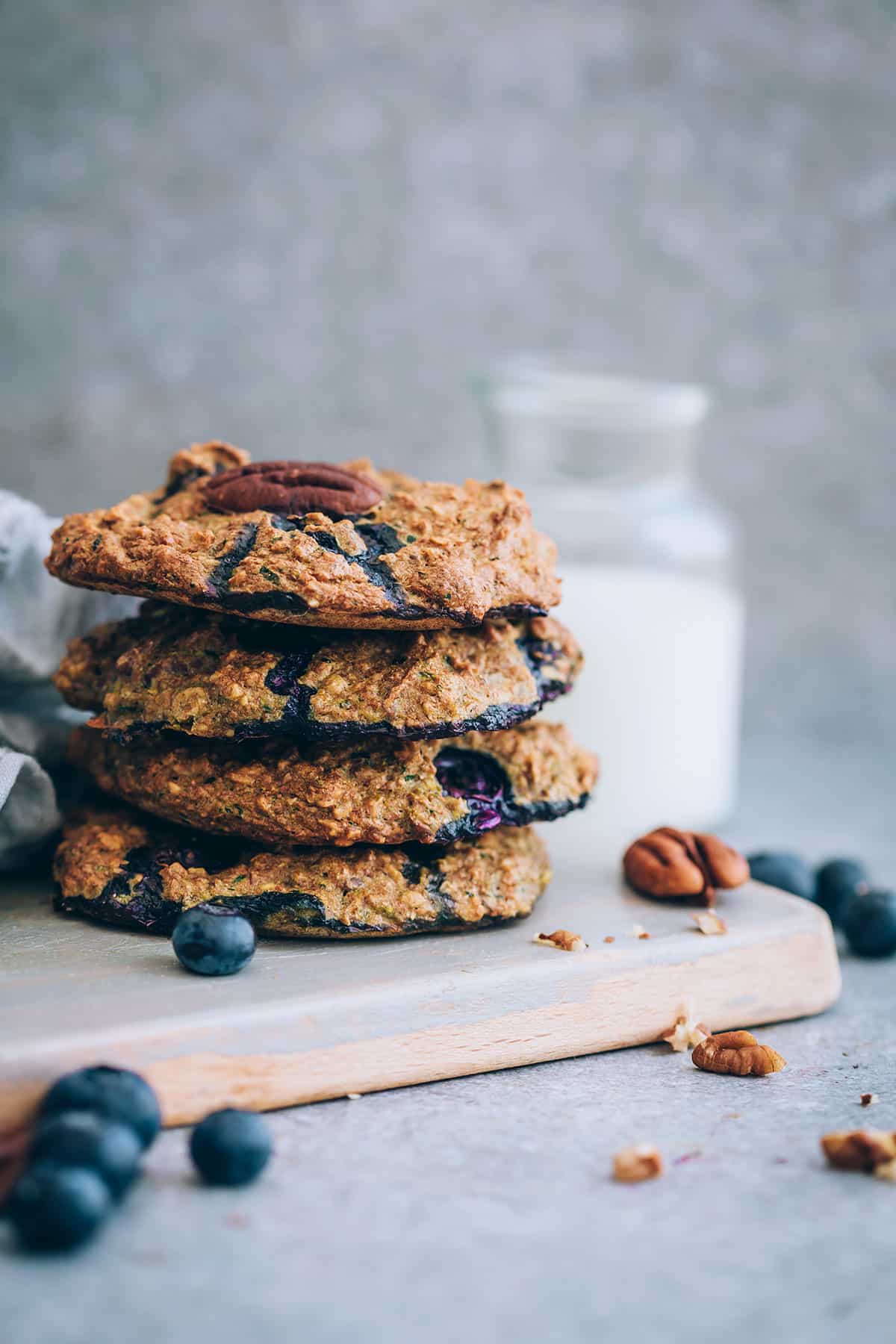 As someone who spends a lot of time cooking for later, I'm totally loving Vegan Yack Attach on the Go because it's full of recipes that can be made in advance–or that take little time to make. It's cooking for busy people! People like us! People who don't have an entire afternoon to spend prepping dinner!
The chapter on breakfasts and snacks has been getting heavy use in my household. There's these Blueberry Zucchini Breakfast Cookies, of course, but also the Crustless Quiche Bites, which my 3-year-old loves in her school lunches, and the Lemon Lavender Mini Cheesecakes(!). I'm eager to try the Baked Balsamic Tofu and Tempeh Adobo Tostadas next. And don't miss the Cauliflower Curry Grill Packets, which we're sharing on Hello Veggie today!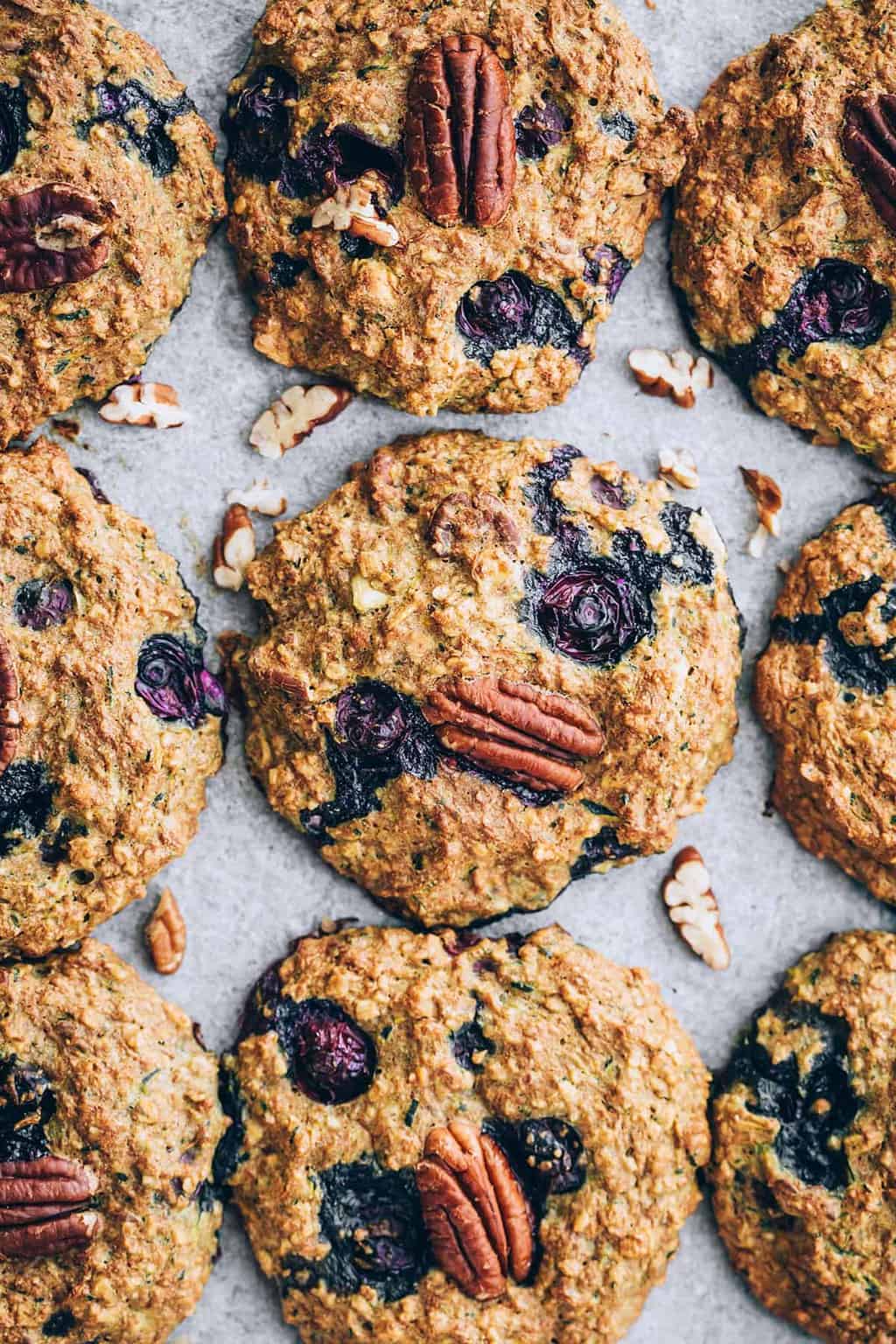 Photos by Ana Stanciu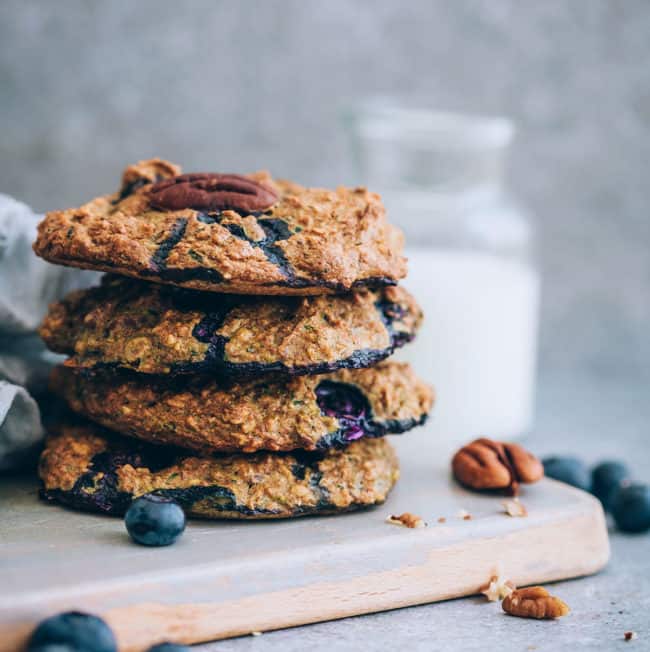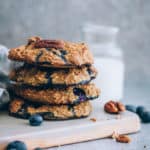 Print Recipe
Blueberry Zucchini Breakfast Cookies
A balanced plant-based breakfast in portable cookie form, these Blueberry Zucchini Breakfast Cookies come from Jackie Sobon's Vegan Yack Attack On-the-Go.
Ingredients
1½

cups

120 g rolled oats

1

cup

130 g unbleached all-purpose flour, or gluten-free flour with ½ teaspoon xanthan gum

½

teaspoon

baking powder

½

teaspoon

baking soda

¼

teaspoon

salt

½

cup

115 ml orange juice

½

cup

72 g coconut sugar

½

cup

60 g shredded zucchini

¼

cup

60 ml melted coconut oil

1

tablespoon

5 g ground flaxseed

2

teaspoons

10 ml vanilla extract

2

teaspoons

4 g orange zest

1

teaspoon

molasses

½

cup

75 g blueberries

½

cup

100 g chopped pecans
Instructions
Preheat the oven to 350ºF (180ºC, or gas mark 4), and line two large baking sheets with parchment paper.

In a large mixing bowl, whisk together the oats, all-purpose flour, baking powder, baking soda, and salt.

In a medium mixing bowl, whisk together the orange juice, coconut sugar, zucchini, coconut oil, flaxseed, vanilla, orange zest, and molasses until combined.

Create a well in the dry ingredients, then pour the wet ingredients into it. Fold the dough together until there are no dry spots in the mixture. Add the blueberries and pecans to the dough, and fold together until incorporated evenly.

Place ¼-cup-sized (roughly 90 g) scoops, 2 inches (5 cm) apart on the baking sheets. Press down gently to flatten the cookies slightly.

Bake for 20 to 24 minutes, switching the baking sheet positions halfway through. When the cookies are done baking they will be soft—leave the sheets on cooling racks for 15 to 20 minutes before serving them.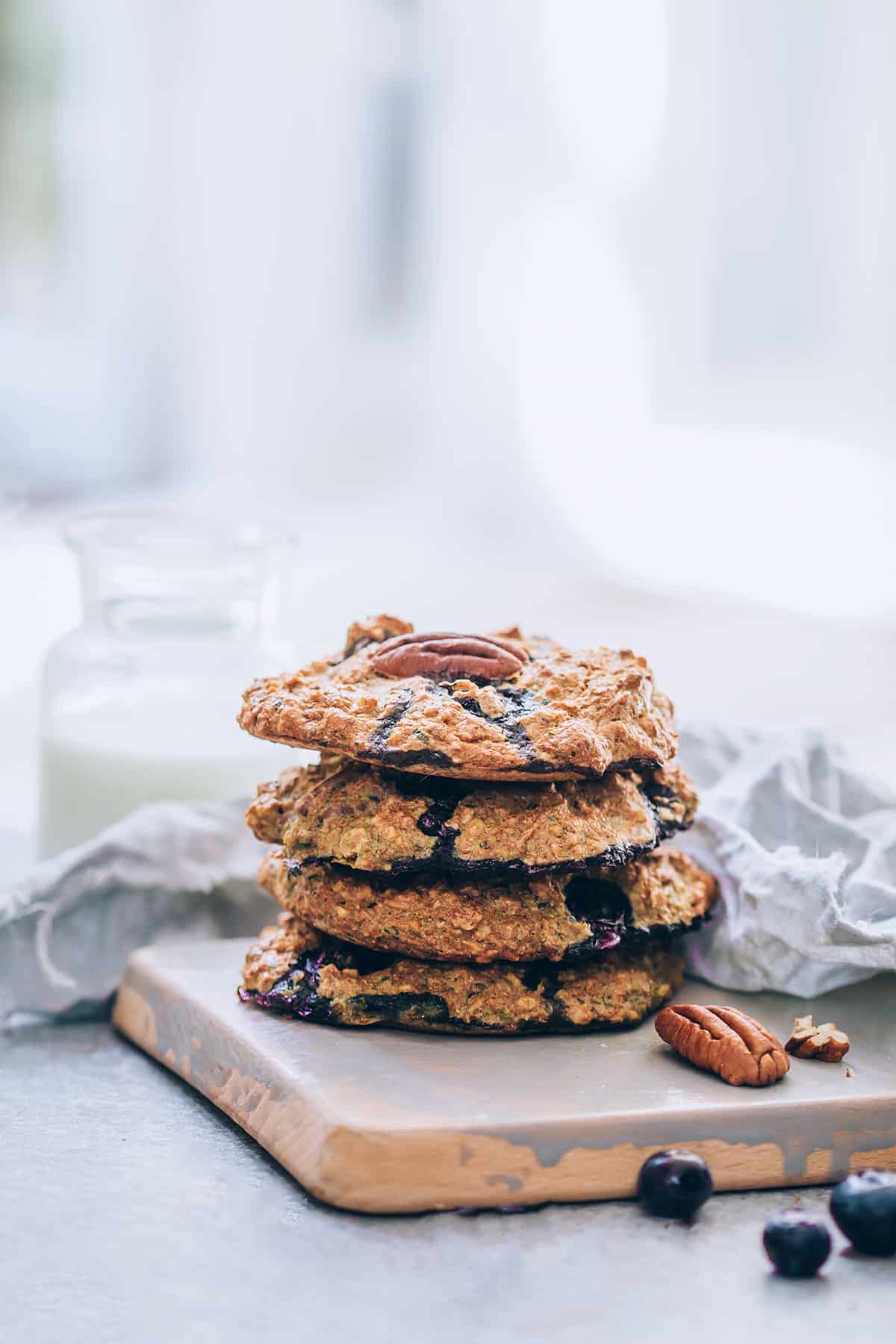 23