This post is sponsored by Mrs. Meyer's. All opinions are my own.
When was the last time you actually felt your body? Not just when something goes wrong but as a form of self-care, really slowing down and savoring what it feels like to be in your body? Getting in touch with our bodies can be hard because a lot of us have spent years being out of touch with them. We often overlook aches and pains, eat our feelings, and criticize what we see in the mirror. But with summer right around the corner, a little love can go a long way toward helping us appreciate and feel more confident in the bodies we live in every day. Here are 6 ways to get in touch with—and learn to love—your body.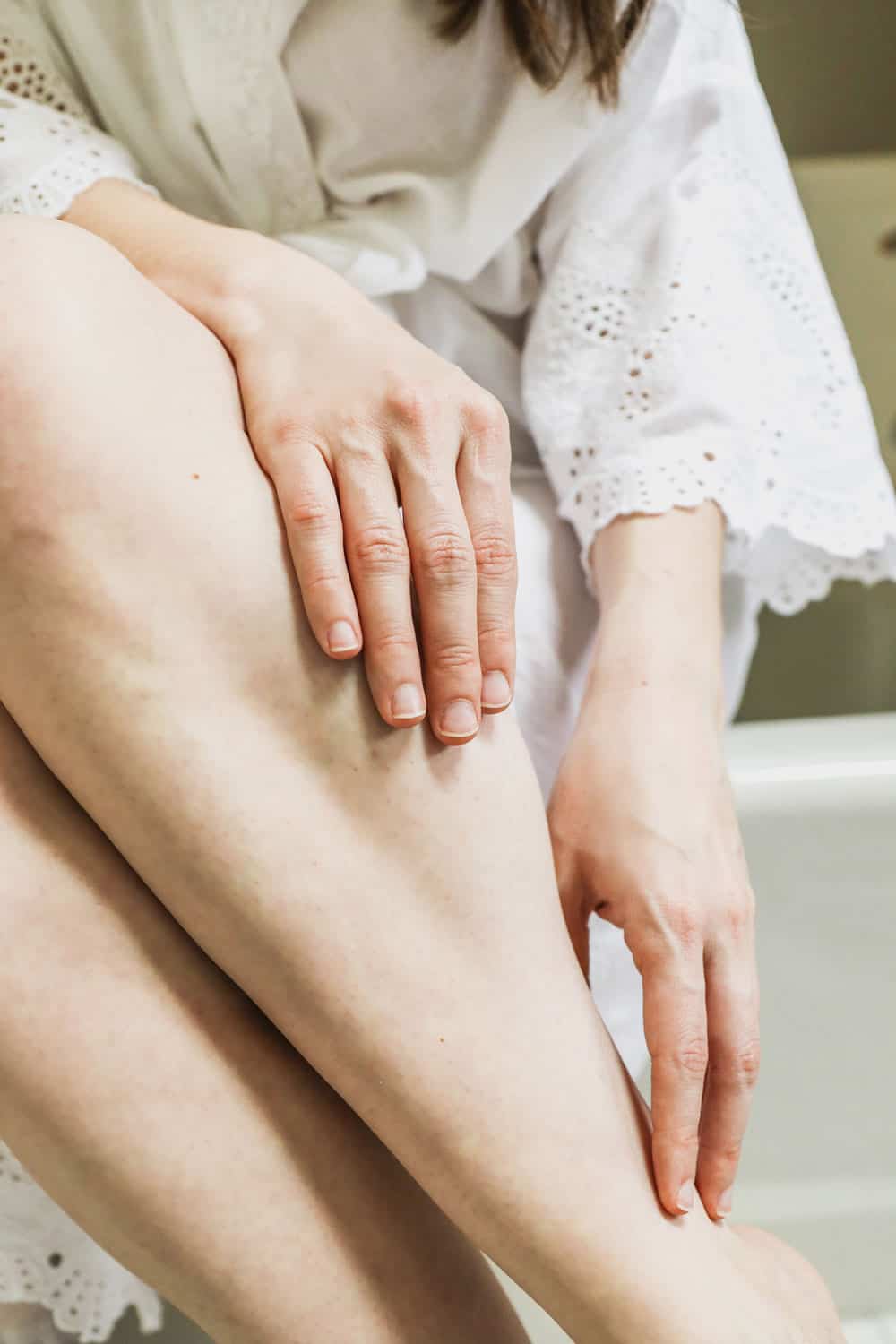 6 Ways to Love Your Body
1. Start the day by checking in
First thing in the morning, ask yourself how your body feels that day. Do you notice any discomfort? Are you holding on to any tension? Is there something you need to know? How can you support your body today? Sit and listen, even if nothing comes up at first. Over time, you will get better at hearing your body and knowing what it needs.
2. Engage your senses
Have you ever heard of that mindfulness exercise where you taste your food? Not just put food in your mouth and toss it around a bit. But really explore the food with as many of your senses as possible. Now, how many times have you done that with your body?
Personally? Not a lot, but I'm trying to change that. Armed with some Mrs. Meyer's Clean Day Body Wash from Walmart and a shower (or bathtub), you can put a new spin on the old mindfulness exercise.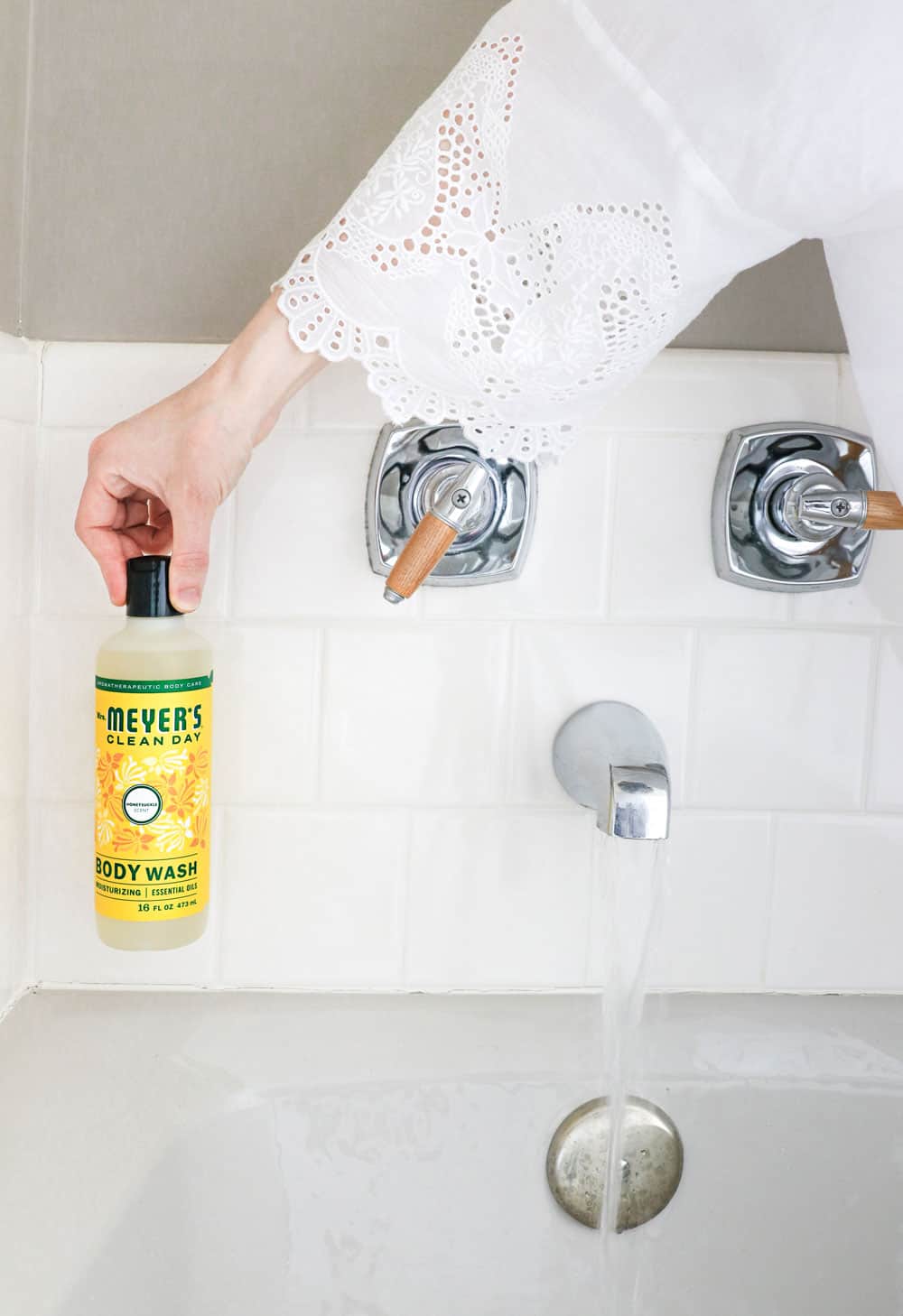 Squeeze a little body wash into a natural sponge or loofah, and use your hands to get it nice and sudsy. Then, close your eyes and become curious. What do the bubbles feel like on my skin? What does it feel like when I scrub the bottom of my feet, my elbows, my shoulders? Notice the fragrance, what does it make you think of? Really take the time to experience it with all of your senses and pay special attention to those parts of your body that you often ignore, like your hands, neck and knees.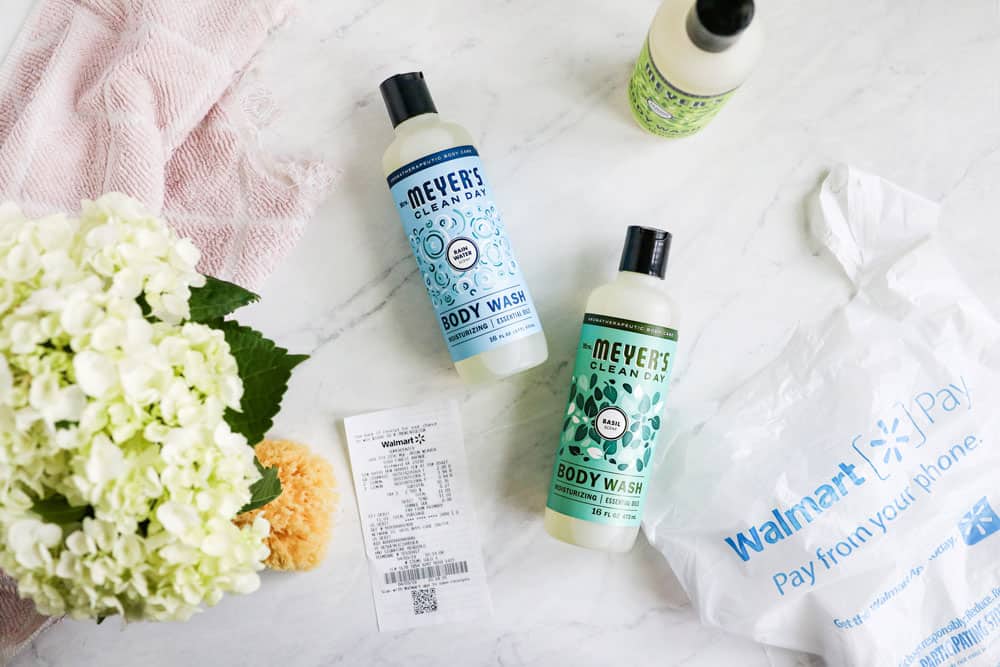 Because Mrs. Meyer's Body Wash is ​cruelty-free​ and ​made without parabens, phthalates, MEA, DEA, artificial colors or animal-derived ingredients, you can really savor the experience. I personally love it because it smells amazing and creates lots of suds to really amp up the mindfulness experience. You can find all 5 scents in the body wash aisle of the personal care section at your local Walmart: Basil, Lemon Verbena, Rain Water, Honeysuckle, and Lavender!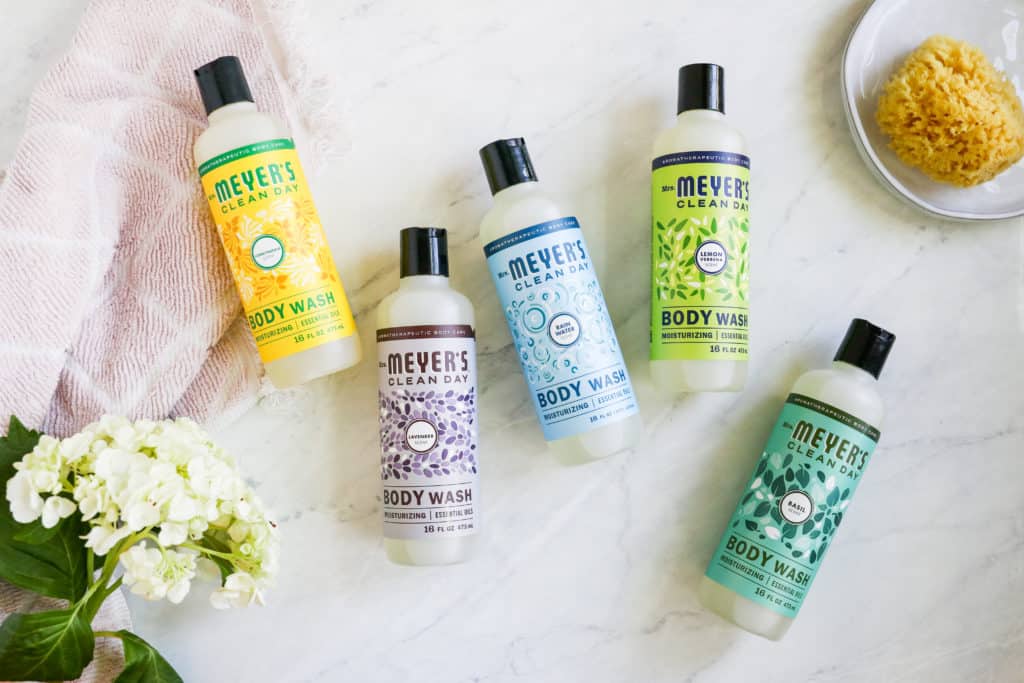 Personally, I love the Basil scent because it reminds me of the Mrs. Meyer's cleaning products my mom used while I was growing up. It smells fresh and subtly clean. The Lemon Verbena scent is perfect if you're looking for an uplifting, energizing fragrance. And the Rain Water scent smells soothing and comforting, while the Honeysuckle and Lavender scents are fresh.
As an added bonus, Mrs. Meyer's Body Wash is made with aloe vera gel, essential oil, flaxseed oil, and other thoughtfully chosen ingredients, so it's super gentle on sensitive skin, like mine.
Just head on over to your local Walmart and pick up the scent that speaks to you.
3. Sleep in the buff
This one can feel somewhat uncomfortable at first, but sleeping au natural is a huge step toward self-expression. If needed, wash the sheets, spritz your pillowcase with an aromatherapy spray, and crank up the thermostat before climbing under the covers. Make it an all-sensory experience.
4. Dry brush
I love dry-brushing. It's a wonderful way to remove dry skin, increase blood flow, unclog pores and detoxify the body. Plus, it just feels good. I find that dry brushing first thing in the morning can actually wake me up and make me feel productive, so I'm more likely to stick with my other healthy habits.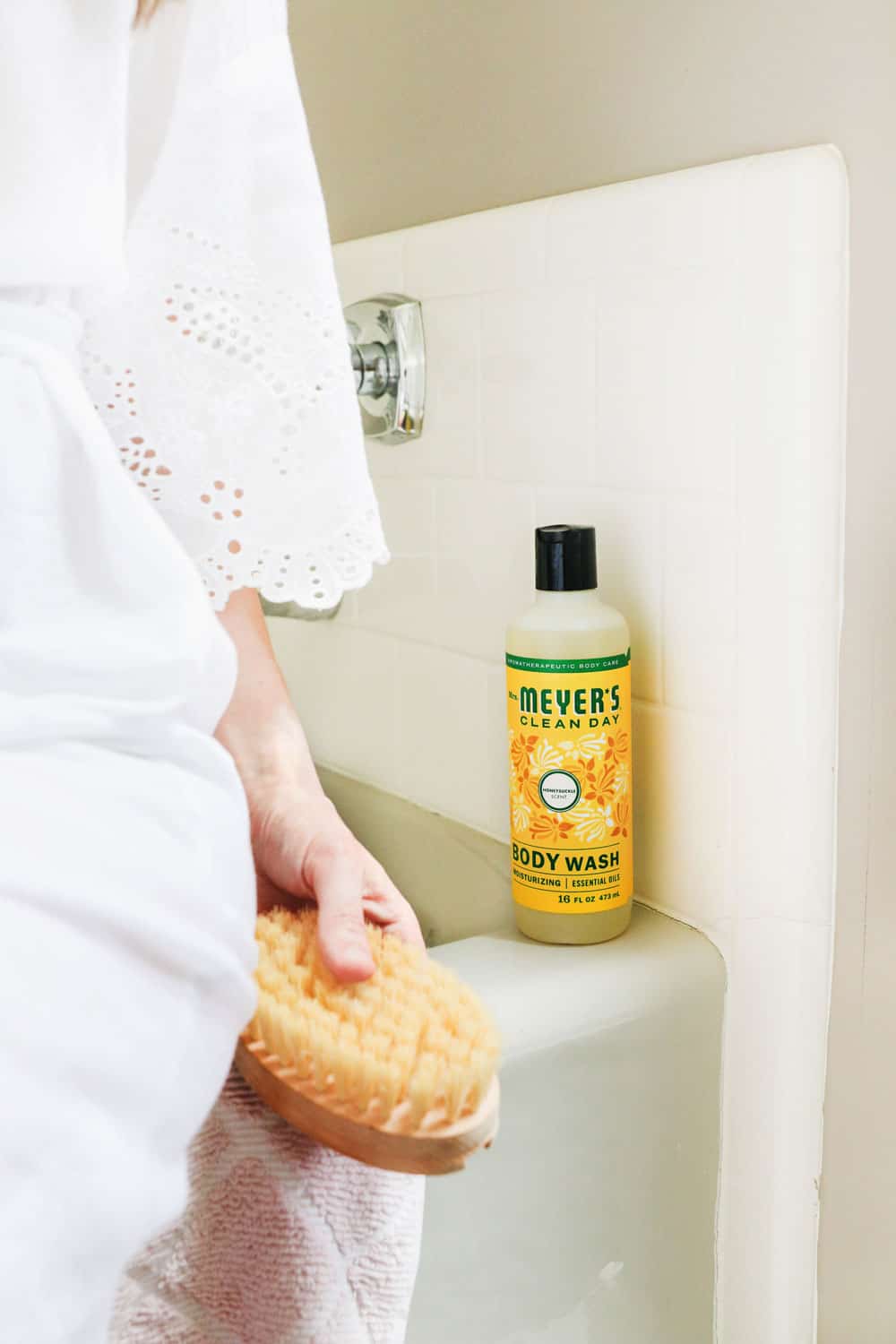 While picking up my Mrs. Meyer's Body Wash, I noticed that Walmart has a pretty nice selection of dry brushes. So, save yourself some time and toss one in your cart before checking out.
5. Give yourself a massage
Massage has a ton of health benefits: increased circulation, decreased stress and improved sleep to name a few. But, you don't have to pay a visit to a local spa to reap those benefits. A self-massage works just as well. In Ayurveda, self-massage (or Abhyanga) is seen as a way to respect your mind, body, and spirit, and treat them with the care they deserve.
Start by gently warming an oil of your choice (I recommend almond or coconut) in a bowl of hot water. Once warm, apply a dime-size amount to the top of your head and massage into the scalp. Then, starting with your feet, apply oil to your body using broad upward strokes. Over the course of about 10-20 minutes, massage your skin from toe to head. The most important tip is to enjoy this and not treat it like a chore! Afterwards, put on an old bathrobe and relax—letting the oils sink in before rinsing off in the shower.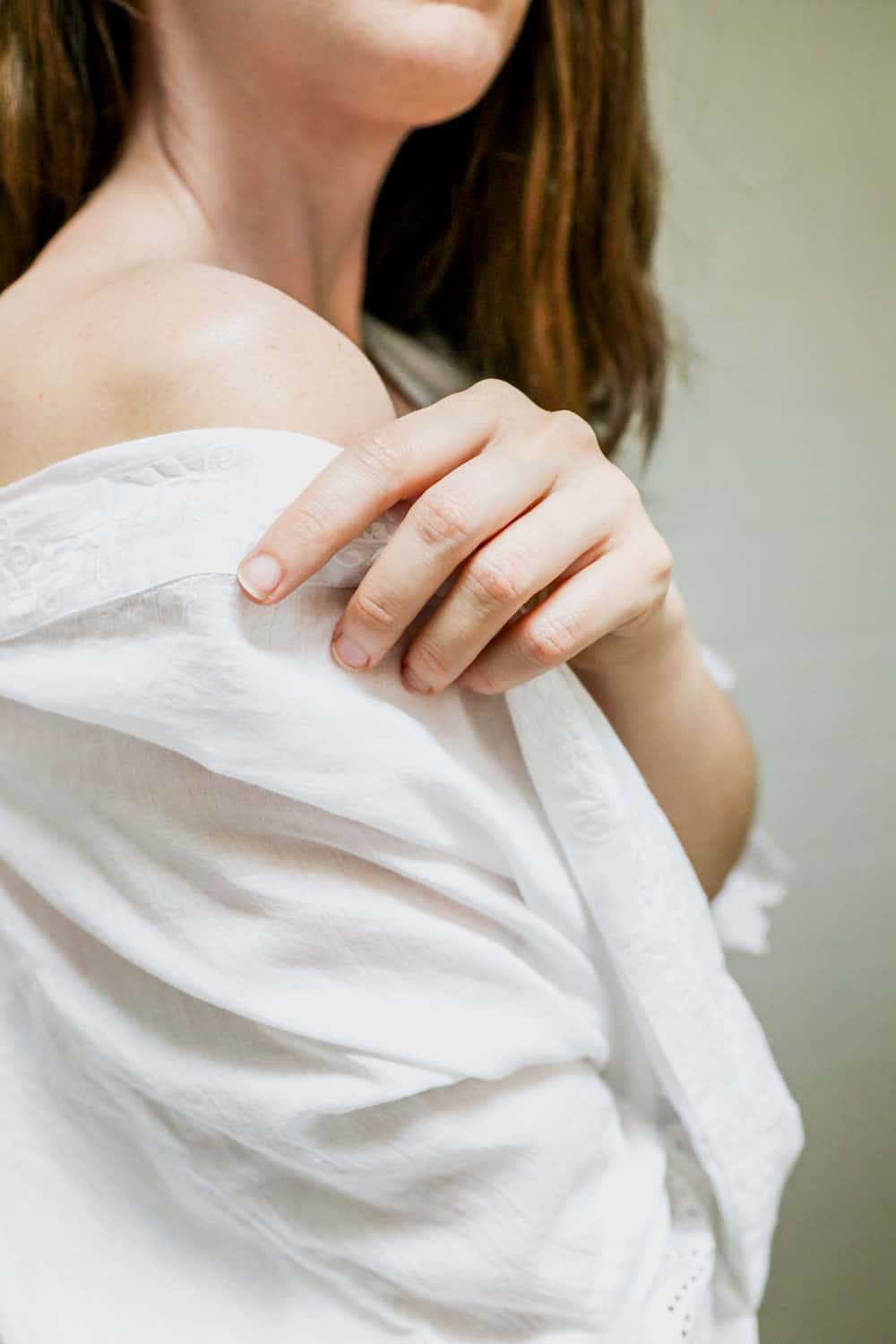 6. Stretch
When done in a slow and thoughtful manner, stretching can be an excellent way to relax and reduce stress. It's also a way to improve your mind-body connection by breathing through the discomfort and getting in touch with how different movements feel within your body. You don't need to follow a fancy routine. Just warm up a bit with a quick walk around the house, then slowly stretch different parts of your body: your calves, arms, back.
48