The term "self-care" gets thrown around so much lately that it's almost become a parody. But you don't need elaborate retreats or trips to the yoga studio to take care of yourself. Sometimes little moments throughout the day are all you need to recharge and refocus. For me, that usually means brewing a cup of hot tea or coffee, taking some deep breaths, and meditating on the feeling of the warm mug in my hands as a way to clear my thoughts. Totally corny, right? But it works for me.
These bone broth latte recipes from our friends at Bonafide Provisions are the perfect little respite from the day's stresses. Each has a unique combination of ingredients to nourish your body and mind—and skipping the added sugar makes these savory lattes far better for you than the ones you buy at the coffee shop. Restorative organic bone broth delivers the benefits of collagen (hello healthy skin and nails!), amino acids, vitamins, and minerals to help support the immune system and gut health.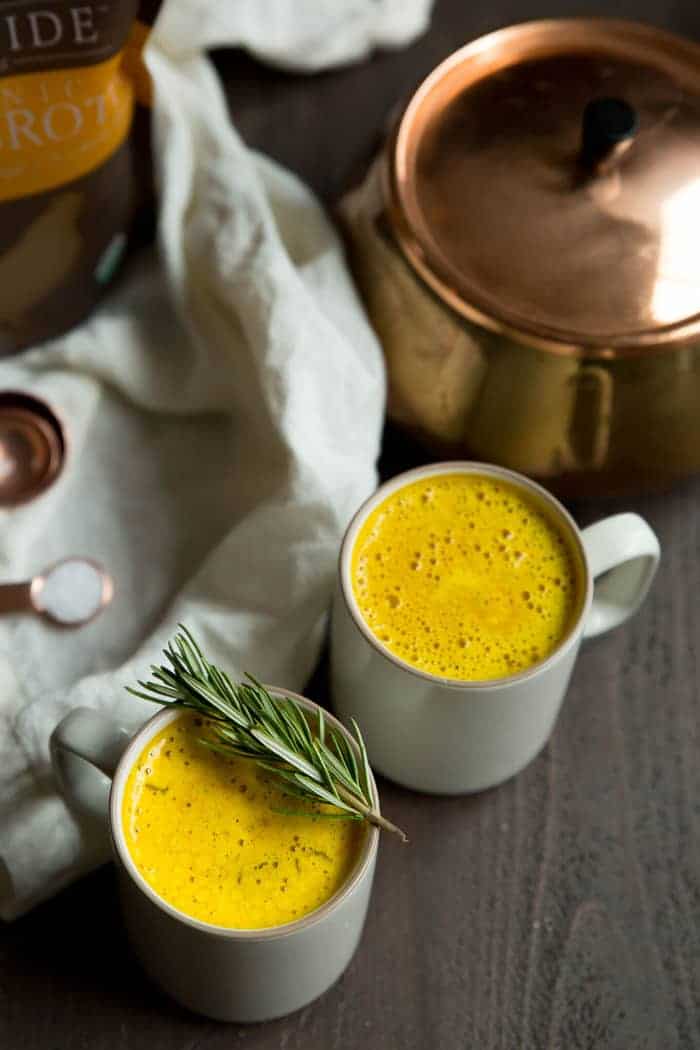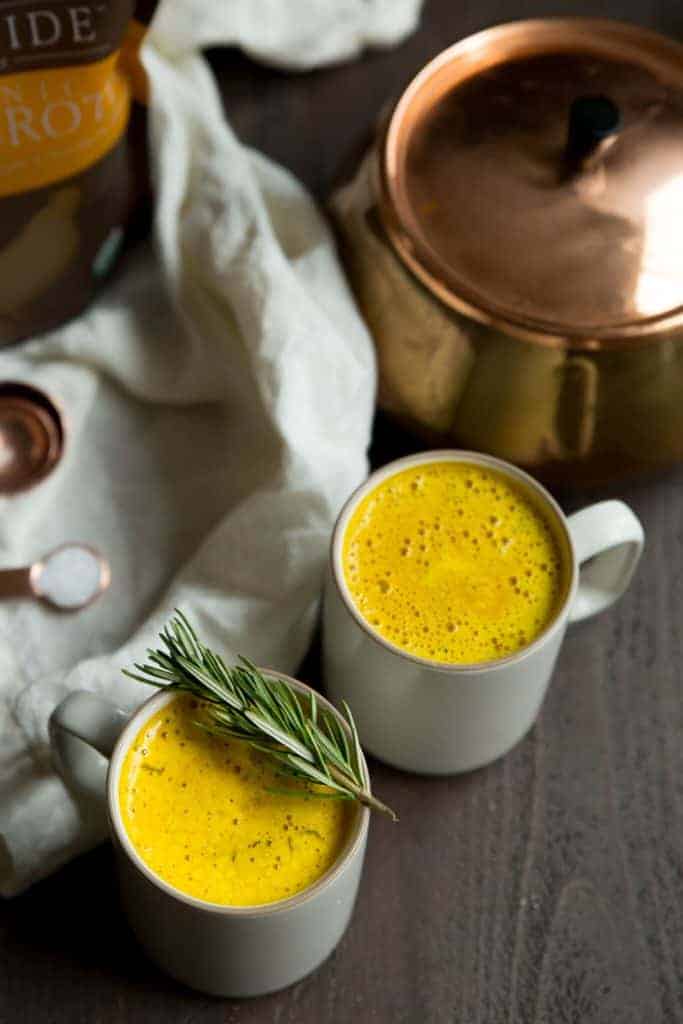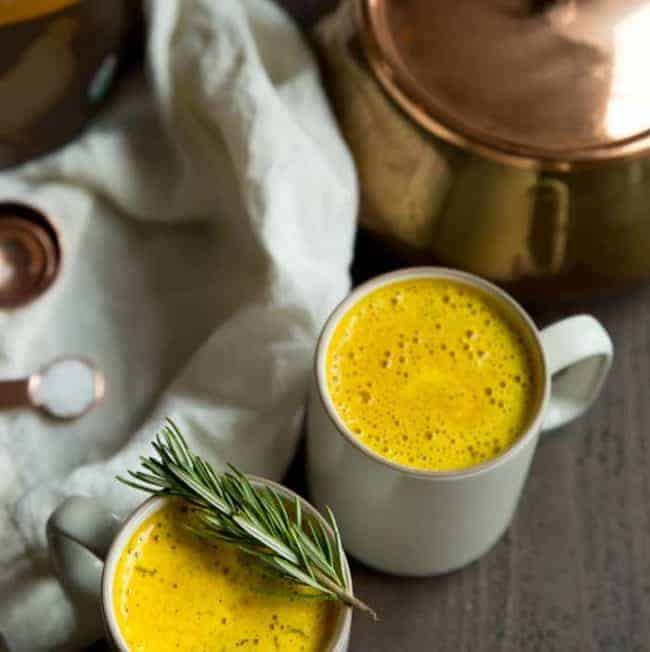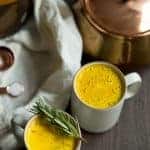 Print Recipe
Inflammation Fighting Bone Broth Latte
Up your latte game with this inflammation-fighting bone broth latte.
Ingredients
16

ounces

chicken bone broth

1/4

teaspoon

ground turmeric

1/2

teaspoon

rosemary

Celtic Sea Salt and Black Pepper

to taste

1 1/2

tablespoons

ghee

for those who can't tolerate lactose or casein or grassfed butter

1

lemon wedge
Instructions
In a medium saucepan, heat up the broth on medium heat until it begins to simmer. Add spices and turn the temperature down to low. Let simmer for 2-3 minutes.

Remove from heat and transfer to a high-speed blender pitcher. Add ghee + squeeze of lemon wedge and blend on medium-high for 30 seconds until frothy and well combined. Serve right away.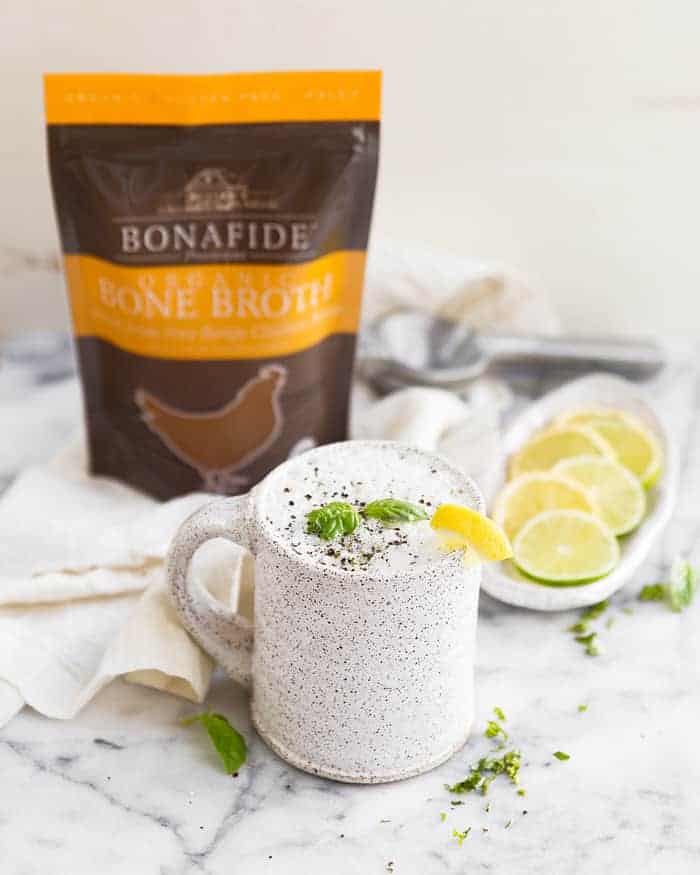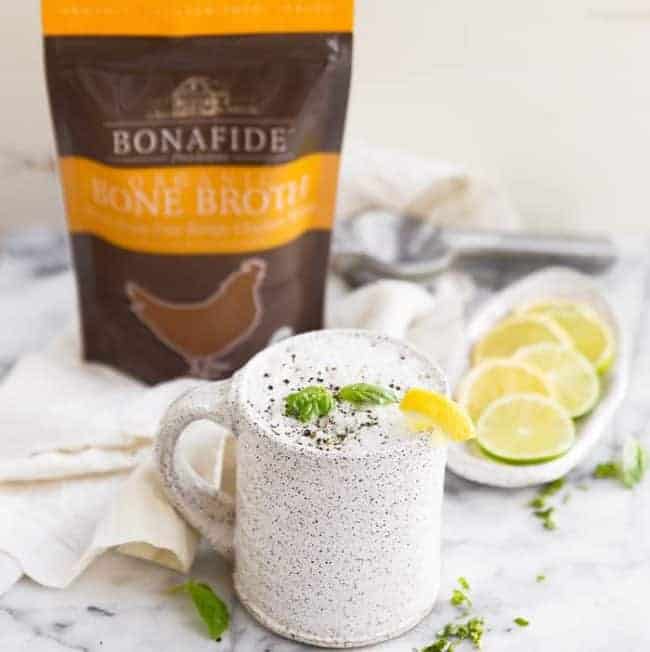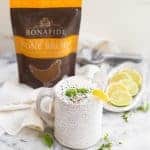 Print Recipe
Basil Citrus Bone Broth Latte
Up your latte game with this bone broth latte made with no added sugar and with ingredients that nourish the body.
Ingredients
1 to 1 1/2

cups

chicken bone broth

heated up

1/4

cup

canned coconut milk

heated up

1/4

cup

fresh basil

chopped

1

teaspoon

lemon juice

1

teaspoon

lime juice

sea salt and black pepper

to taste
Instructions
Combine all of the ingredients in a high speed blender. Blend on medium-high until basil has broken down and everything looks well combined and creamy.
4