This is a sponsored post written by me on behalf of Pine Brothers. All opinions are 100% mine.
I don't know about you, but colds sneak up on me every year. You would think by now I would come to expect them along with the changing seasons. But I much prefer to stay blissfully unaware of my impending doom and chalk up the sniffles and sneezing to "seasonal allergies." If I don't see it, it's not there, right? That is, until I'm laid up in bed with a box of tissues and a killer sore throat. But on those rare occasions when I do take action early enough, I can keep the sickness at bay—or at least rebound a little more quickly.
Cold symptoms are your body's way of reminding you to slow down, take some time off and rest. And if you simply listen and give your body the TLC it needs, you'll be back up and running in no time. Here are 5 things you can do at the first sign of a cold to soothe symptoms and bounce back quickly.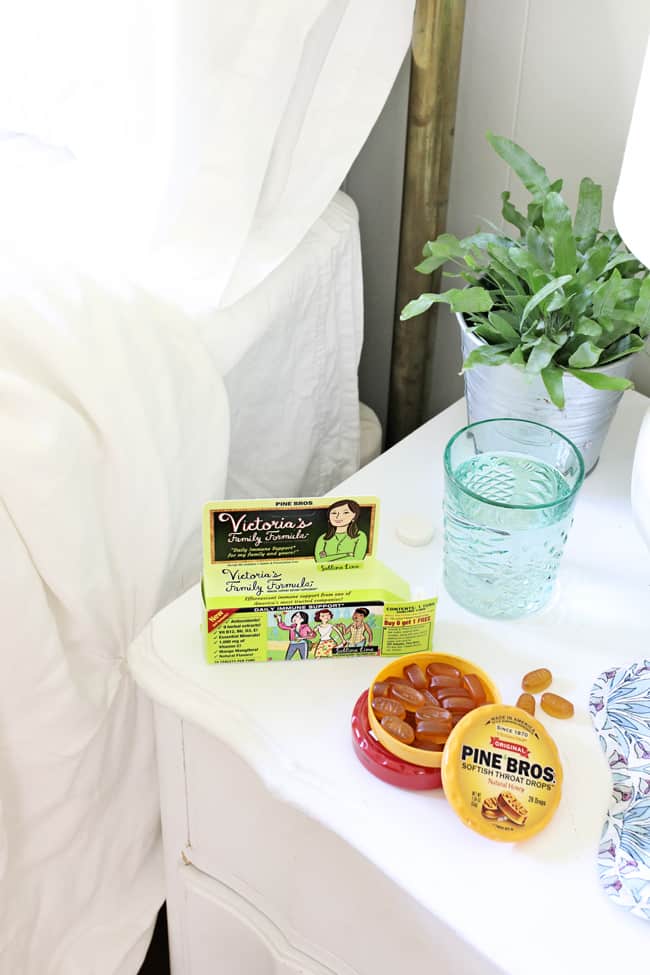 1. Hydrate, hydrate, hydrate
Your body needs extra hydration when you're trying to get well. Stock up on healthy fluids like water, decaf tea, bone broth or warm lemon water with honey to help loosen congestion and prevents dehydration. And be sure to avoid drinks that do more harm than good like coffee, soda, sports drinks and alcohol.
2. Soothe pain naturally
A sore throat is always the first the sign that my "seasonal allergies" are actually something more sinister. The coughing, the scratchy throat and the fiery pain are hard to bear, and I will do practically anything to make it go away. While I used to turn to over the counter cold medicine to ease my symptoms, I didn't love the zombie feeling that came with them. So now I turn to botanicals to coat my throat and make my symptoms more manageable.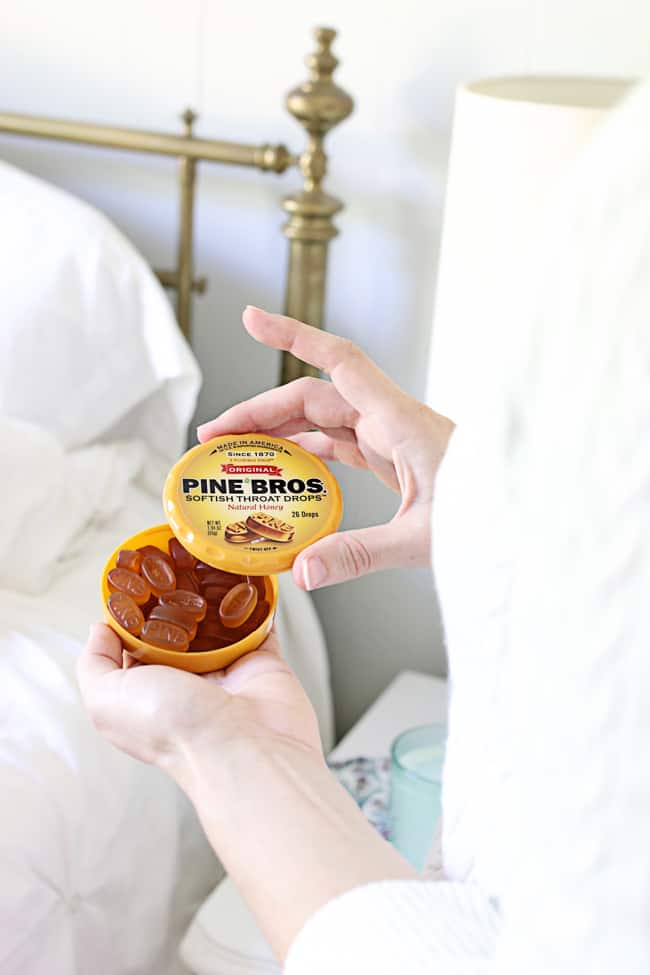 Pine Brothers Softish Throat Relief drops are made primarily of glycerin as opposed to corn syrup, so they naturally coat your throat and reduce pain. And thanks to the addition of gum acacia, a soothing sap from the acacia tree, they can knock out even the fiercest of sore throats. For me, throat pain is usually worst at night when I'm trying to sleep, so I like to prop myself up on a few pillows and suck on a Throat Relief drop until my symptoms have subsided.
While I find most flavored cough drops taste artificial, these have a milder, more natural flavor which I love. Plus they come in a variety of different fruity flavors like lemon lime, cherry, orange and even black licorice, so they taste like candy without being too sweet or sugary.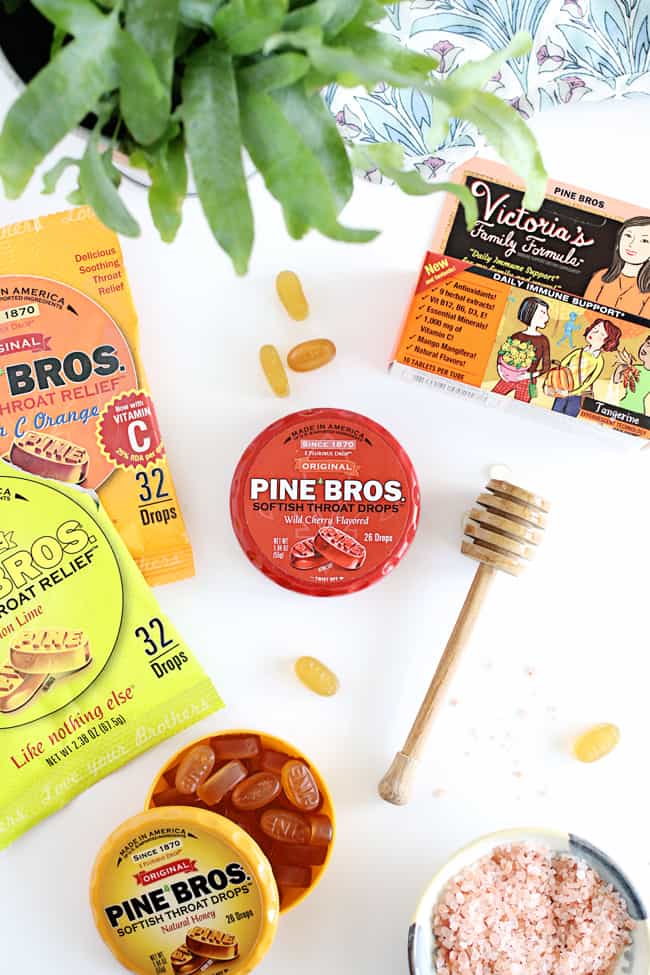 While these are technically "soft drops", they're like a tough gummy bear consistency that you can't really chew. Instead it's easier to suck on them and let them dissolve slowly. Not only do they coat your throat, but they have a somewhat calming effect that will help you relax so you can focus on feeling better–and not your mile-long to-do list.
3. Combat stuffiness with steam
In addition to a sore throat, stuffiness and sneezing can make life miserable. The easiest way to clear your sinuses and find relief is with steam. Bring 1-2 cups of water to boil in a large pot. Remove from heat, then add a few sprigs of soothing herbs like thyme, rosemary and oregano. Put your face directly over the pot and cover your head with a towel to trap the steam. Breathe in and out deeply for about for 15 minutes to help loosen congestion and cleanse the sinuses.
4. Support your immune system
A blend of the right vitamins, minerals and amino acids can do wonders for your immune system. When used at the first sign of symptoms, Victoria's Family Formula daily immune support can provide you with all the botanical ingredients you need to give your immune system a boost.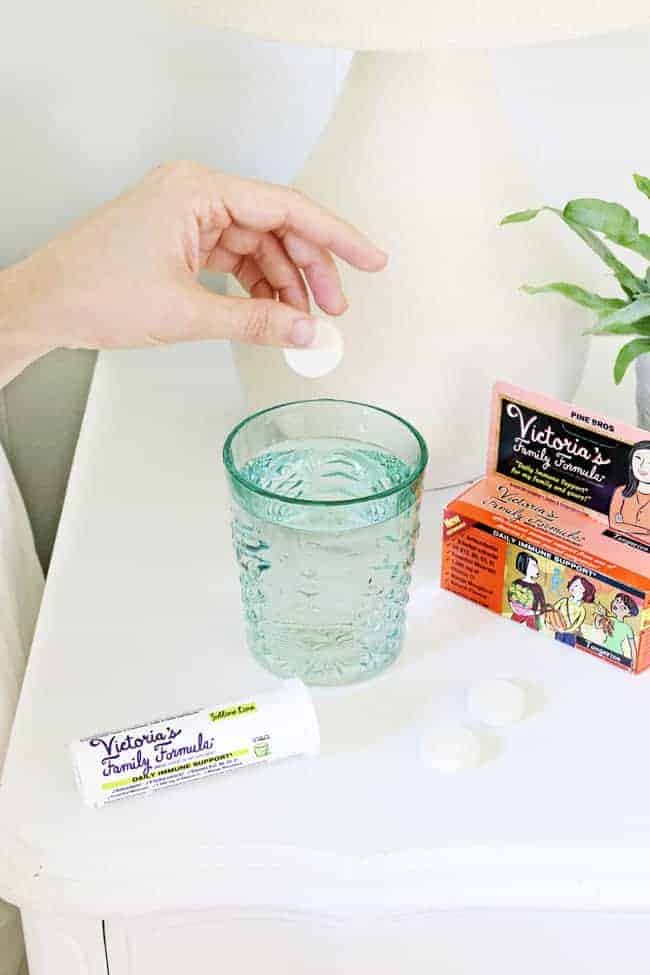 It contains all-natural ingredients like Vitamin C, B-12, and zinc, plus herbs like astragulus, black elderberry, Echinacea, oregano, thyme and mango mangifero. They come in three flavors—tangerine, lime and pomegranate—and they're conveniently packaged so you can carry them in your purse or stash them in the car.
At the first sign of a sore throat, I reach for the pomegranate pack (they're seriously delicious) for an extra dose of Vitamin C and zinc. Simply pop one in a glass of water and drink in a pinch for an immune boost.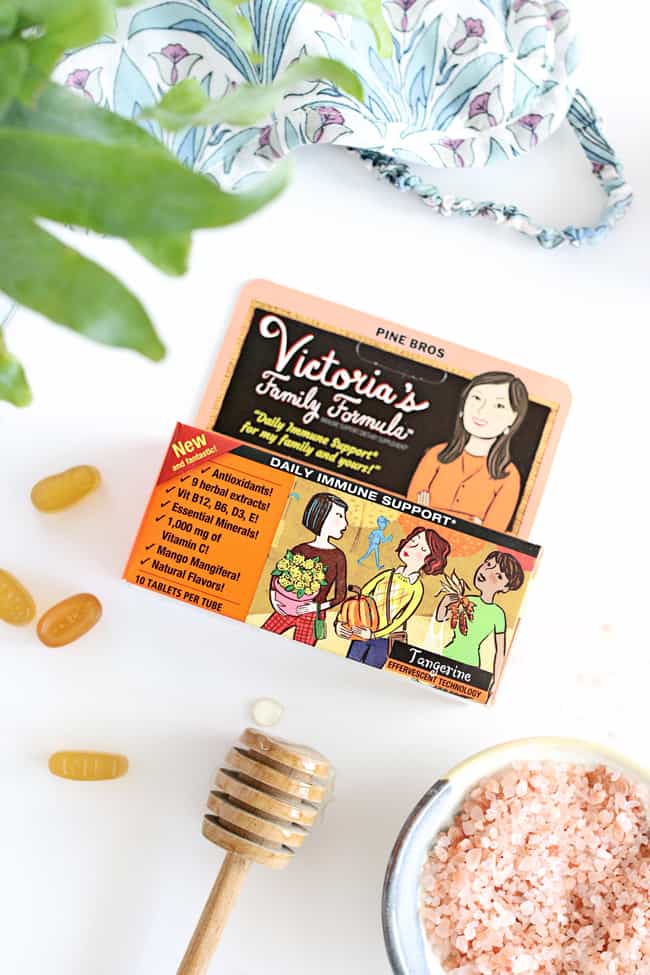 5. Bundle up
Warming yourself up when you're feeling under the weather may actually help you get better faster. It turns out that a warmer body temperature allows your body to direct its energy toward boosting the immune system and killing invaders. Give your body a little help by layering up, taking hot baths and drinking warm beverages like tea and broth.
9