Sometimes we love a product so much, we can't keep it to ourselves. You know that feeling, right? Here are a few things that are so essential, we just need to share: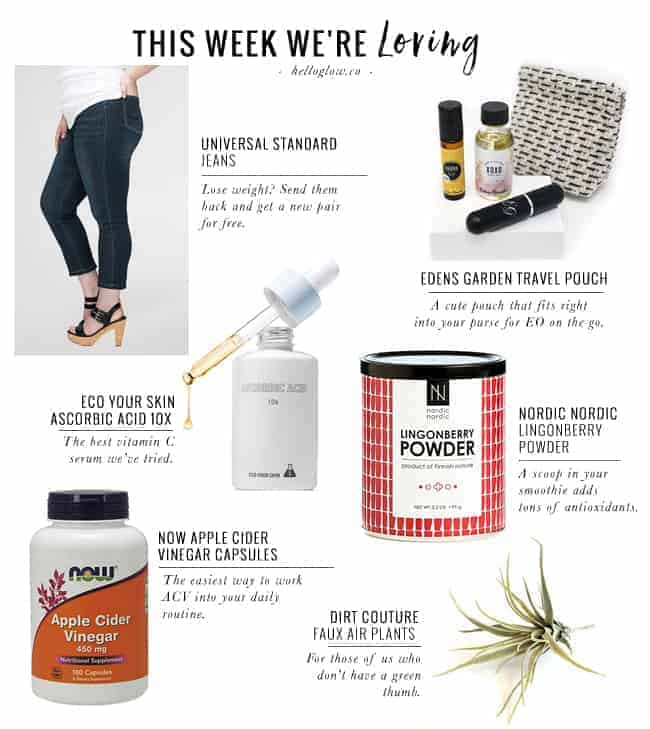 Universal Standard Seine Jeans // I'm short, curvy, and losing weight (thanks keto!), which makes buying jeans a huge pain. I finally shelled out $90 for a pair of Universal Standard jeans (which is a lot for someone who normally buys from Old Navy!) and OMG, it was so worth it. They actually fit. Best part? If you lose (or gain) weight within a year of purchasing, you can send your used jeans back and Universal Standard will send you a pair in your new size—for free. How awesome is that?
Edens Garden Essential Oil Pouch Set // I love essential oils, but I don't love the idea of them rolling around in my purse, so I adore this little pouch to store them in. It even comes with a few oils to get you started—the Bliss roll-on totally smells like sunshine and happiness.
Eco Your Skin Ascorbic Acid 10x // We just shared why vitamin C should be in everyone's skincare routine; if you've got a lot of sun damage and age spots, this concentrated vitamin C serum is so so good. Bonus: it's anti-inflammatory too.
Nordic Nordic Lingonberry Powder // Worried about your smoothie being a sugar bomb? Lingonberries to the rescue! You'll get heaps of antioxidants, fiber, and vitamin E in each serving, without all the sugar other fruit brings along with it.
NOW Apple Cider Vinegar Capsules // ACV haters take note! You can get all the benefits of apple cider vinegar without actually having to taste it with these capsules. I've been taking one at bedtime with a full glass of water, as there's some research indicating that it can help regulate blood glucose.
Dirt Couture Faux Air Plants // People are all about air plants lately, but I can't keep them alive for some reason even though they're supposed to be easy. Boo. So I've filled all my lonely, empty air plant containers with these faux ones from Dirt Couture on Etsy because they look so much better than the cheapo ones they sell at craft stores.
Disclosure: Some of these products were sent to Hello Glow to review, others are things we've bought ourselves, but everything here is something we totally love.
0