Breakfast is definitely my favorite meal of the day, and since my naturopath gave me the go-ahead to make it my biggest meal of the day, I've admittedly gone a little overboard. (Is it weird to get really excited about breakfast when you're falling asleep at night?) Cookies, chia pudding, smoothies, avocado toast, breakfast burritos…I'll take it all, please!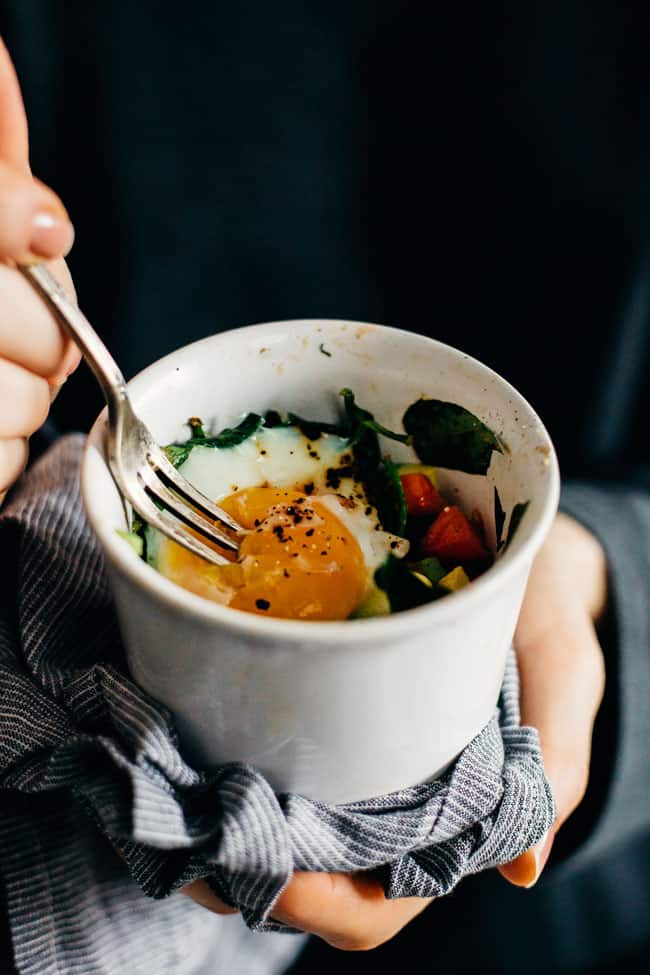 Photos by Ana Stanciu
Eggs are one of my favorite breakfasts because they're versatile, easy and healthy (in moderation, of course). But scrambles and fried eggs can get a little old, and I don't always have time to stand around at the stove and babysit them. That's where these breakfast egg cups come in. They're brilliant for many reasons: They literally take 5 minutes or less to put together, you can pop them in the oven while you're getting ready in the morning, you can make as few or as many as you want, and they're totally customizable. I like to think of them as personal-size breakfast casseroles.
The key is to layer everything correctly: You need something solid on the bottom to hold the egg up—this could be anything, really: hardy raw greens, or cooked rice, quinoa, veggies, tempeh, hash browns or breakfast sausage (veggie or meat).
Baked Breakfast Egg Cups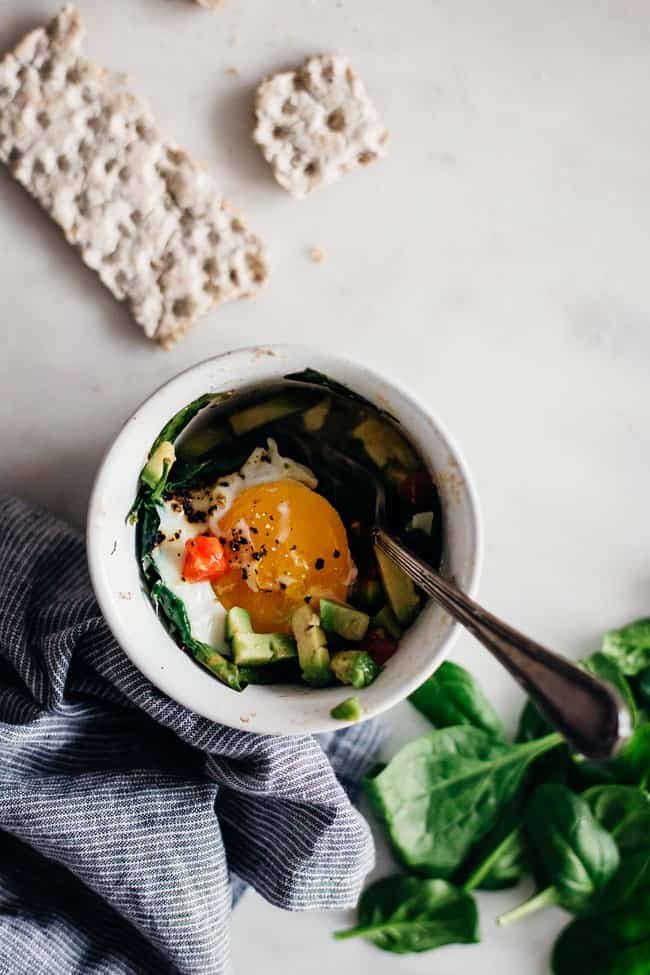 I make this Healthy Sweet Potato Gratin all winter long, and sometimes use my leftovers from that recipe as a base. (Another twist I've seen is to use prosciutto on the bottom. It gets nice and crispy and makes a sort of "nest" for the egg.) In this recipe I used spinach, which is sturdy enough to hold up to the heat, and gets nicely steamed underneath the egg. You could use more delicate greens, but they may wilt away in the oven.
Next is the eggs, which you literally just plop on top of the base. Throw it in the oven, then top with tomatoes, avocado and cooked bacon. You can definitely omit the bacon, but I like the umami flavor it gives. To get a similar flavor, you could use coconut bacon, sautéed mushrooms, your favorite cheese or cashew cheese, or even a dollop of kimchi.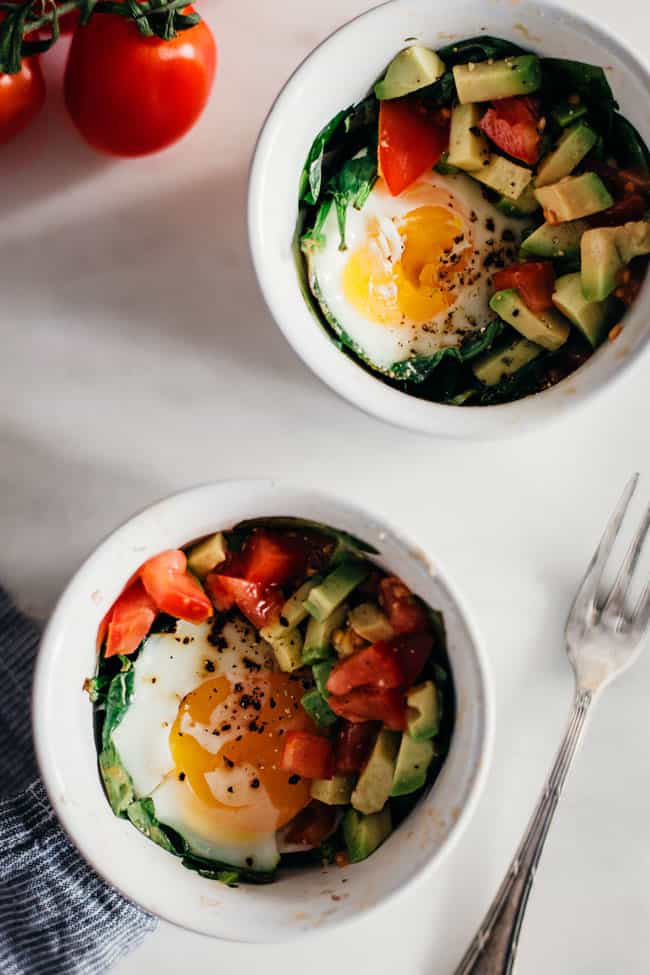 If you're making egg cups for a brunch bunch, use a large muffin tin instead of ramekins (hollowed-out tomatoes, bell peppers or avocados would also work). The eggs cook evenly in the oven—good news for people who always burn theirs on the stove! You'll know they're ready when the white is completely white, not clear in any spots. The yolk will also be firm to the touch. Just add some toast, coffee and fruit, and your perfect little savory breakfast or brunch is served.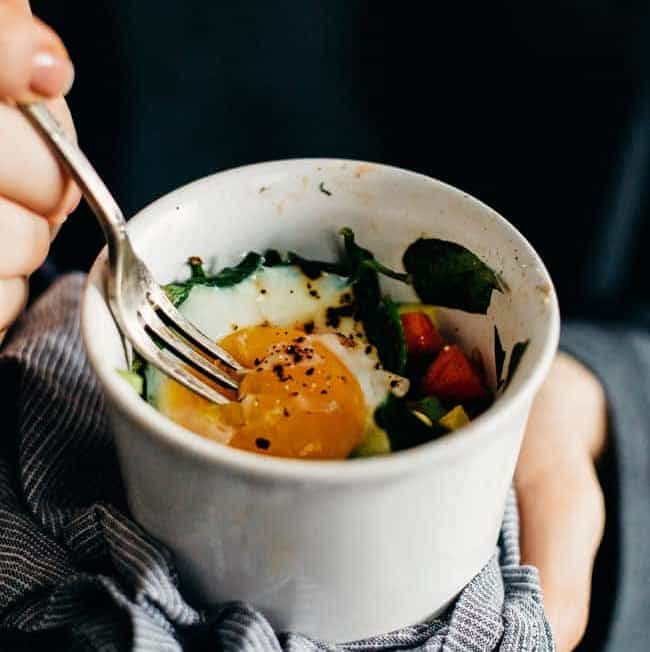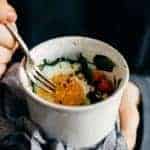 Print Recipe
Baked BLT Egg Cups
These egg cups are hearty and perfect for a weekday breakfast or a big weekend brunch. You can easily make them vegetarian, too!
Ingredients
Cooking spray

2

large handfuls of spinach

4

eggs

1/4

cup

finely diced tomato

divided

1/2

avocado

finely diced and divided

1

strip of bacon

cooked, crumbled and divided (optional)

Salt and pepper to taste
Instructions
Preheat oven to 375°F.

Lightly spray two oven-safe ramekins (or two cups of a large muffin tin) with cooking spray.

Place a large handful of spinach in each ramekin, pressing down gently to make as even as possible.

Crack two eggs in each ramekin over the spinach, and place in the oven. Bake 14-18 minutes, or until eggs are cooked to desired doneness. (I like my eggs firmer and usually leave them in 18-20 minutes.)

Remove ramekins from the oven and set on the counter. Top with the tomato, avocado and bacon, if using. Salt and pepper to taste and serve!
Notes
Make these egg cups veg-friendly by omitting the bacon, or using veggie bacon or sautéed mushrooms (or another sautéed veggie).
399