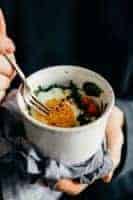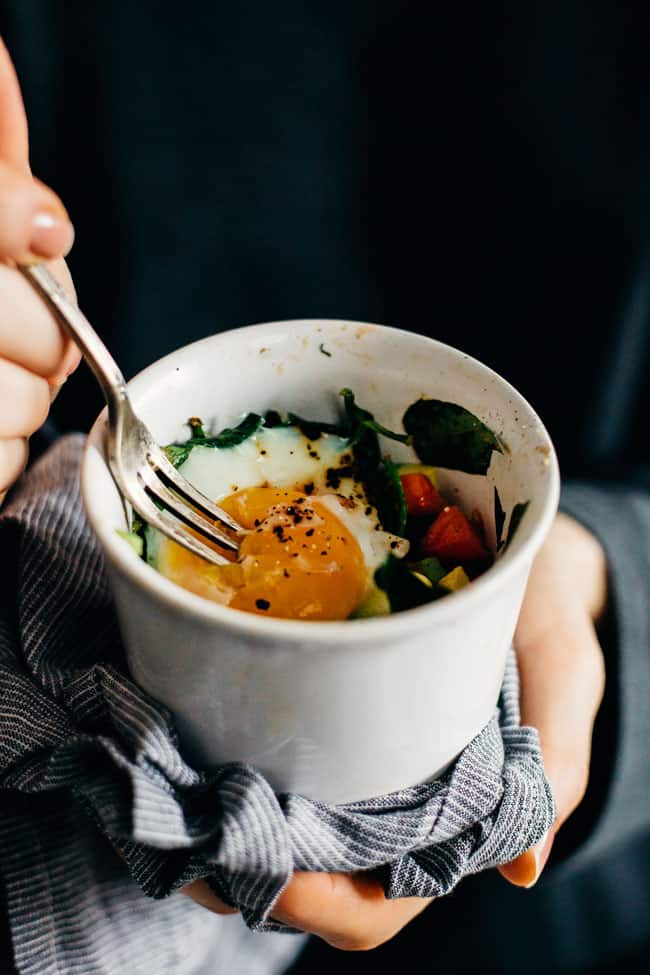 Baked BLT Egg Cups
Yield 2
These egg cups are hearty and perfect for a weekday breakfast or a big weekend brunch. You can easily make them vegetarian, too!
Ingredients
Cooking spray
2 large handfuls of spinach
4 eggs
1/4 cup finely diced tomato, divided
1/2 avocado, finely diced and divided
1 strip of bacon, cooked, crumbled and divided (optional)
Salt and pepper to taste
Instructions
Preheat oven to 375°F.
Lightly spray two oven-safe ramekins (or two cups of a large muffin tin) with cooking spray.
Place a large handful of spinach in each ramekin, pressing down gently to make as even as possible.
Crack two eggs in each ramekin over the spinach, and place in the oven. Bake 14-18 minutes, or until eggs are cooked to desired doneness. (I like my eggs firmer and usually leave them in 18-20 minutes.)
Remove ramekins from the oven and set on the counter. Top with the tomato, avocado and bacon, if using. Salt and pepper to taste and serve!
Notes
Make these egg cups veg-friendly by omitting the bacon, or using veggie bacon or sautéed mushrooms (or another sautéed veggie).
Courses Breakfast
Recipe by Hello Glow at https://helloglow.co/breakfast-egg-cups-recipes/