It's easy to take the respiratory system for granted. You forget you're inhaling and exhaling 12–18 times per minute, but that adds up to an average of 21,500 times a day! And when your nose is stuffy, or you have a cough, some of those breaths can even be painful.
Essential oils are especially helpful in treating respiratory ailments. Here are a few of the essential oils that have properties to help you breathe easier:
Roman chamomile, sweet fennel, ginger, and lavender are antispasmodics, which can aid in the relief of muscle spasms.
Cypress, eucalyptus, and peppermint are known to have antitussive properties, which help to relieve coughs.
Eucalyptus globulus, peppermint, and rosemary are said to help reduce and relieve nasal congestion.
Eucalyptus, peppermint, rosemary, and tea tree have traditionally worked as expectorants to help remove phlegm.
Rosemary, eucalyptus, and helichrysum have been used to help dissolve mucus.
Cool, clearing eucalyptus has a long history of use with the respiratory system [source]. It contains a constituent called 1.8 cineole [source], which produces the same scent you'll find in over-the-counter Vicks VapoRub.
I grew up having Vicks rubbed on my chest, and this salve feels just as good. The essential oil can help relieve coughing and congestion, and you'll get the same warming feeling on your skin.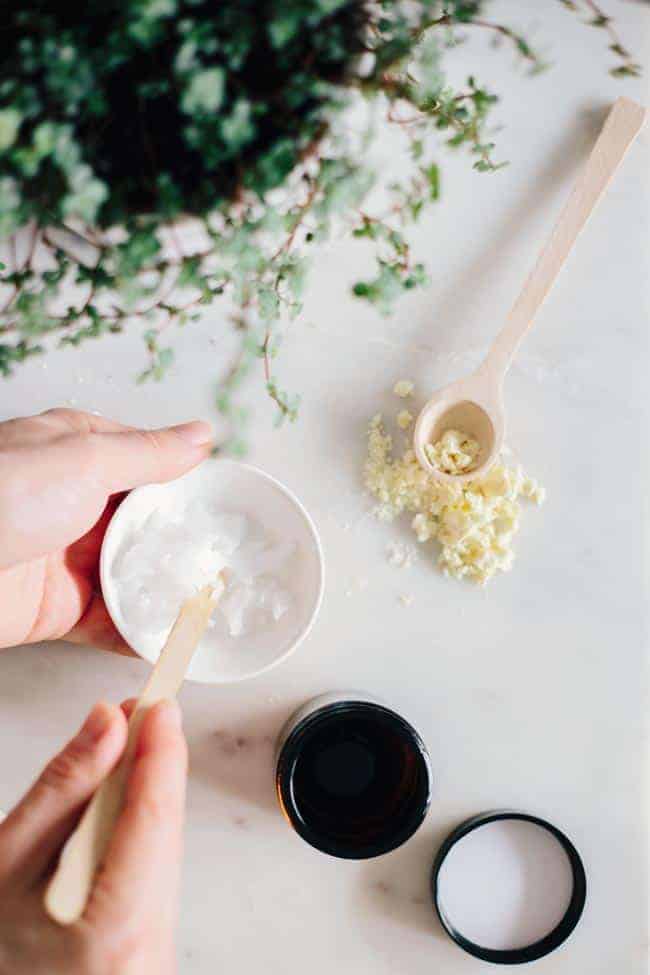 This salve has a 3% dilution because it's meant to be used on a short-term basis. That's roughly 36 drops of essential oil for 2 ounces of oil and wax.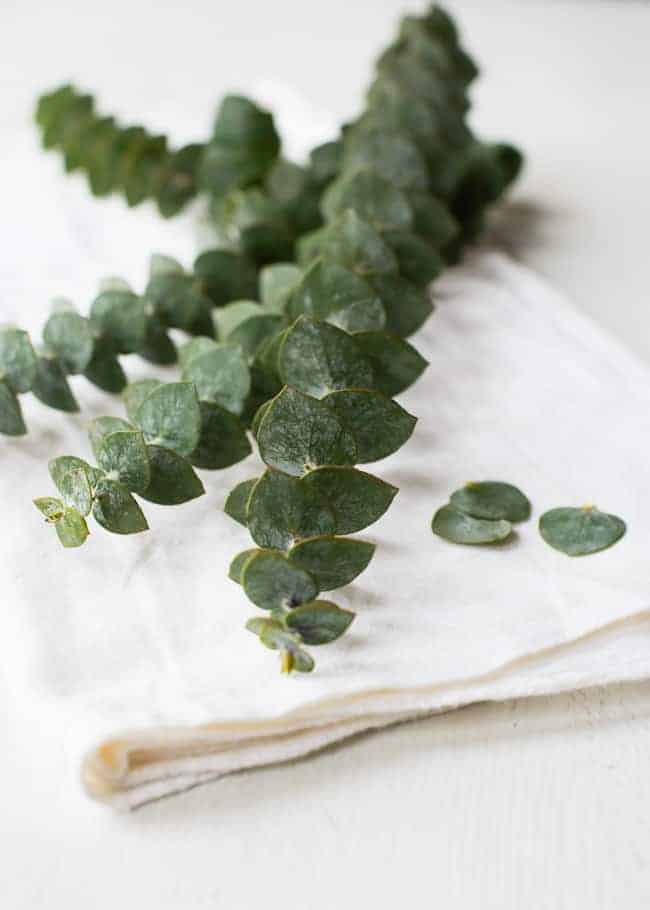 How to Make a Breathe Easy Balm with Essential Oils
Make sure you do not apply undiluted essential oils on the skin because local skin reactions are very common with a concentrated oil [source].
There are many different opinions about whether it's safe to use eucalyptus and peppermint with children. It has been noted that the 1,8-cineole in eucalyptus and the menthol in peppermint can be toxic for children, so they should either be well-diluted or avoided altogether [source].
There are grave dangers if this oil is ingested, so you don't want to put any on the skin of a little one that might want to taste it [source], and of course, keep all out of the reach of children. Make sure you buy a high-quality oil [source]. And always follow the guidelines for diluting essential oils for each intended use [source].
Robert Tisserand, author and founder of the Tisserand Institute for research and education on essential oils, often considered the authority on essential oil safety, gives these guidelines for using eucalyptus and peppermint with children.
For children 3 months to 2 years, eucalyptus radiata (not globulus) can be diffused (1–2 drops) and applied topically at a concentration of 0.25% to 0.5% (1.5–3 drops of essential oil in 1 ounce of carrier oil) [source]. Peppermint is not recommended for diffusing or topical application for children under age 3 years.
For children aged 3–6 years, both oils can be diffused (1–2 drops) and used topically at up to 0.5% (peppermint) and up to 1.0% (eucalyptus - both globulus and radiata can be used) dilutions. A dilution of 1% is 6 drops in 1 ounce of carrier oil.
For children and teenagers aged 6–15 years: oils can be diffused and used topically at 1.5%–3% dilutions.
For the definitive dos and don'ts of using essential oils with children, we recommend you read this recent article from the Johns Hopkins newsroom with information from interviews with Harpreet Gujral, DNP, FNP-BC, director of Integrative Medicine and Rachel Dawkins, MD, Medical Director of their pediatric and adolescent clinic.
Here are two recipes for essential oil blends. The first one is for adults, and the second is safe for kids. It is diluted at 1% (12 drops for 2 ounces of carrier oil) that's safe for use with children age 3 and older.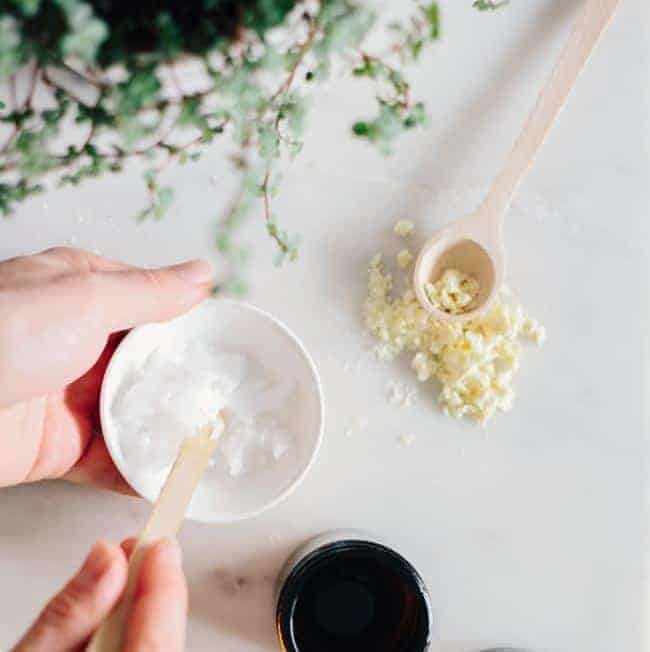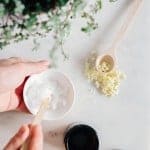 Print
Breathe Easy Respiratory Salve + Kid-Safe Version
Relieve congestion with this DIY Breathe Easy Balm made with essential oils. The second recipe includes a Kid-Safe Respiratory Balm made with essential oils that can be used in these dilutions with children ages 3 and above.
Materials
Breathe Easy Respiratory Essential Oil Blend (adult only)
Kid-Safe Respiratory Essential Oil Blend (ages 3 and above)
Instructions
Instructions are the same for both essential oil blends.
Put a couple of inches of water in a saucepan or the bottom of a double boiler. Combine the carrier oil and beeswax in a glass bowl (placed over the saucepan) or in the top portion of a double boiler.

Heat over medium until the beeswax is melted. Stir to combine the oil and wax. Remove from the heat and place to the side.

Add the essential oils to a clean, sterilized 2-ounce glass jar.

Very carefully pour in the melted oil and wax mixture. Do not touch the hot oil.

Place the lid loosely over the mouth of the jar, and let it sit for 20–30 minutes. When the oil has cooled somewhat and is just starting to solidify, tighten and seal the lid. Then shake gently to mix everything together.

Let the salve sit (with the cap on) until completely cooled and hardened before using.
Notes
This salve can be stored in airtight container for up to 12 months.
This article was medically reviewed by Dr. Gina Jansheski, a licensed, board-certified pediatrician who has more than 20 years of experience. Learn more about Hello Glow's medical review board here. As always, this is not personal medical advice, and we recommend that you talk with your doctor.
69