Part of the reason I cleaned out my closet this weekend was to edit my clothing options. The older I get the clearer I am on what I like and dislike. And for everyday pieces, if I haven't worn something in the past month, chances of it ever getting worn are slim. So it's time to scale back to just the essentials. But what are those?! The summer heat was a good push to get out of the daily jeans rut and think about other casual, lightweight options. Here's my list of summer must-haves (most you probably already have!) that look smart and can be worn a ton of different ways.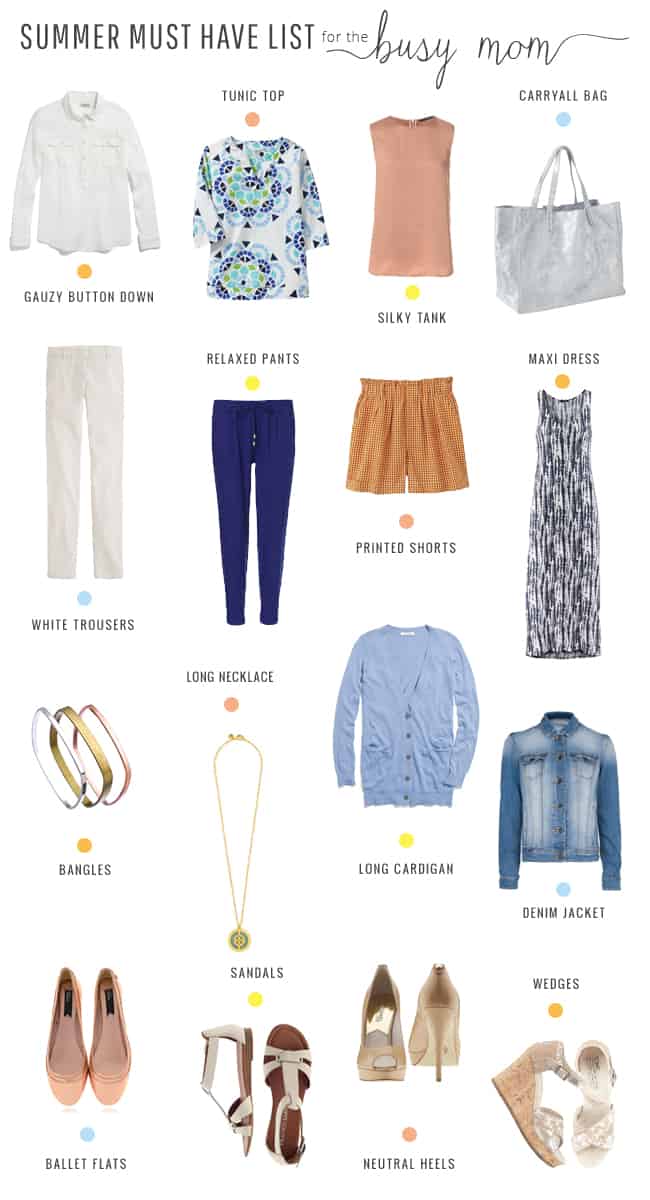 Tops
Tunic top // Don't get me started on how much I love tunic tops. Is there anything more flattering (and forgiving)? You need one in your closet!
Silky tank // I love that this skims the middle section, rather than hugging every lump and bump like a fitted tank top.
Gauzy button down // A perfect summer shirt that dresses things up more than a tee.
Maxi dress // If you don't already have one, a maxi dress in a great all over print that keeps the eye moving is a must-have. I especially like ones with wider tank tops straps that are not too low cut.
Bottoms
White trousers and Relaxed pants // Getting away from jeans every day in the summer is so much more comfortable – and looks more pulled together. Pairing crisp white pants with a tunic is my go-to outfit.
Printed shorts // Regardless of your shape, you can wear shorts! Just go for a looser style that skims the hips and thighs.
Outerwear
Long cardigan // Yes, I bundle up to go the movies in the summer. So get something soft & cozy for layering over dresses and tanks in those overly air-conditioned places.
Jacket // A cute jacket will jazz up a maxi dress and look great with the relaxed pants.
shoes
Ballet flats // You already have these, right? Metallic colors are great for summer because they go with everything.
Sandals // These don't need to be expensive. Target has lots of great options.
Neutral heels // Have you noticed how celebs are always in neutral pumps with a bit of platform? Huh. These might be a more mom-friendly height.
Wedges // Wedges are a mom's best friend. Go for the highest ones you can walk in – even if it's just an inch or two.
accessories
Bangles // Start wearing a stack of them – preferably indestructible ones that can double as kid toys in a pinch.
Long necklace // If you already have a basic gold necklace then splurge on something with color.
Carryall bag // Go ahead, spruce up your bag for summer!
What are your must have summer essentials? Coming up I'll show you how to put these together into lots of easy outfits!
1