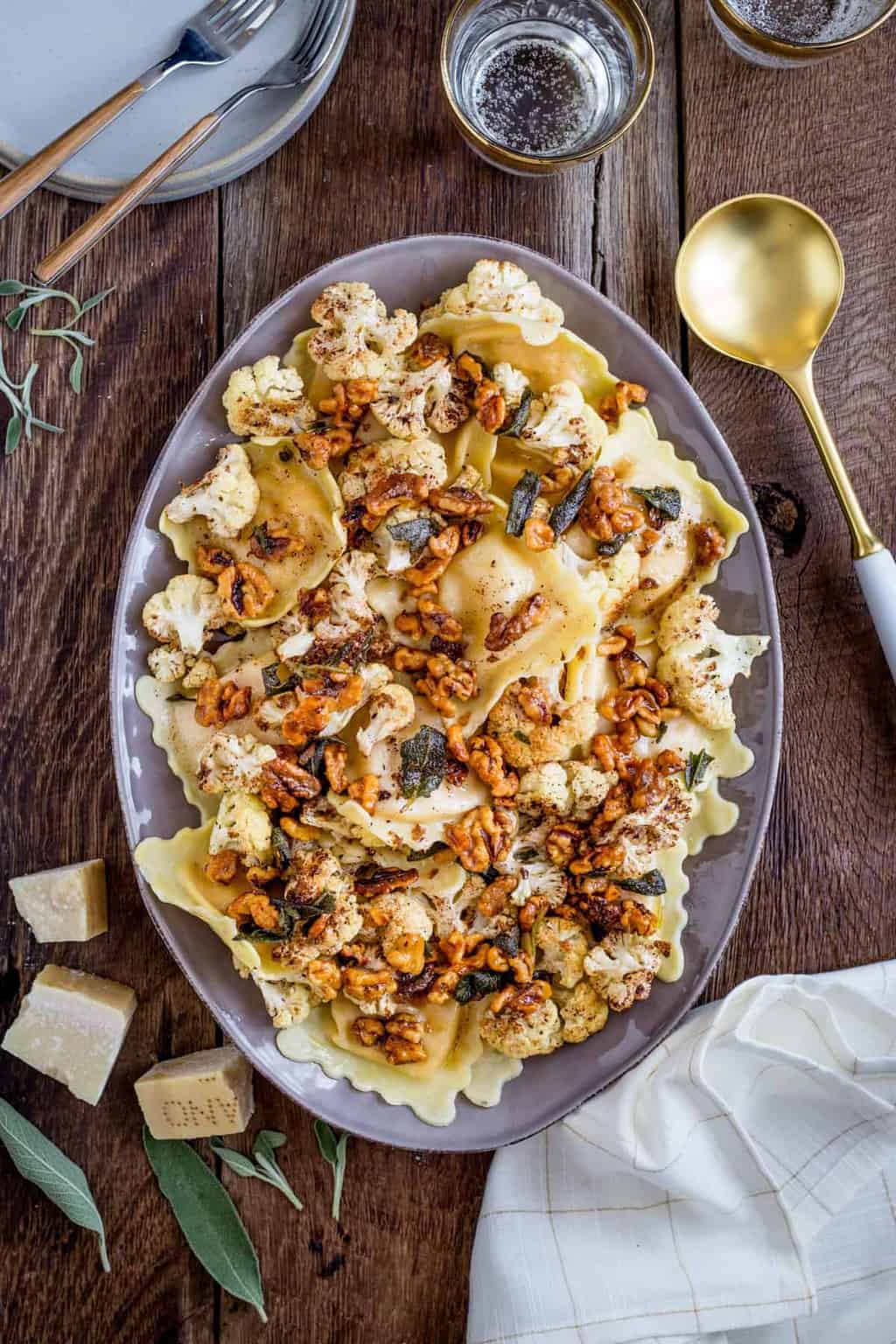 We've partnered with Three Bridges to create this post. Thank you for supporting our sponsors.
When it comes to my family's favorite meals, pasta definitely tops the list. While my family loves spaghetti, penne, and rigatoni, what they really get excited about is tortellini or ravioli. Three Bridges pasta has become a staple in our kitchen. My newest favorite is their Butternut Squash Ravioli.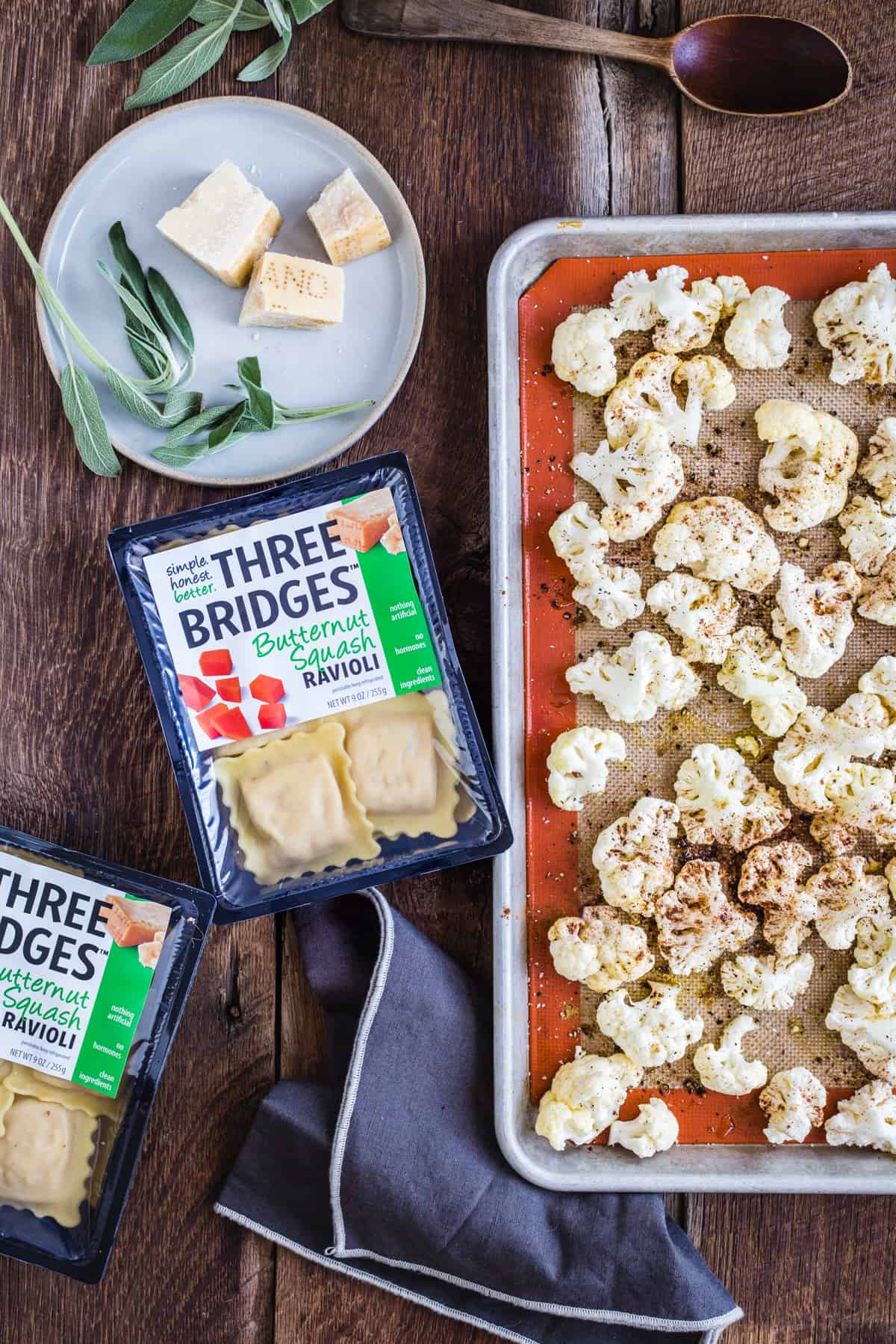 The warm autumnal flavors of butternut squash and spices are wrapped in tender fresh pasta, making these a definite crowd-pleaser (and kid-pleaser too!). We've been enjoying these ravioli during the school week as a quick, easy dinner, but I got to thinking: why not use them as the starting point to an amazing holiday meal?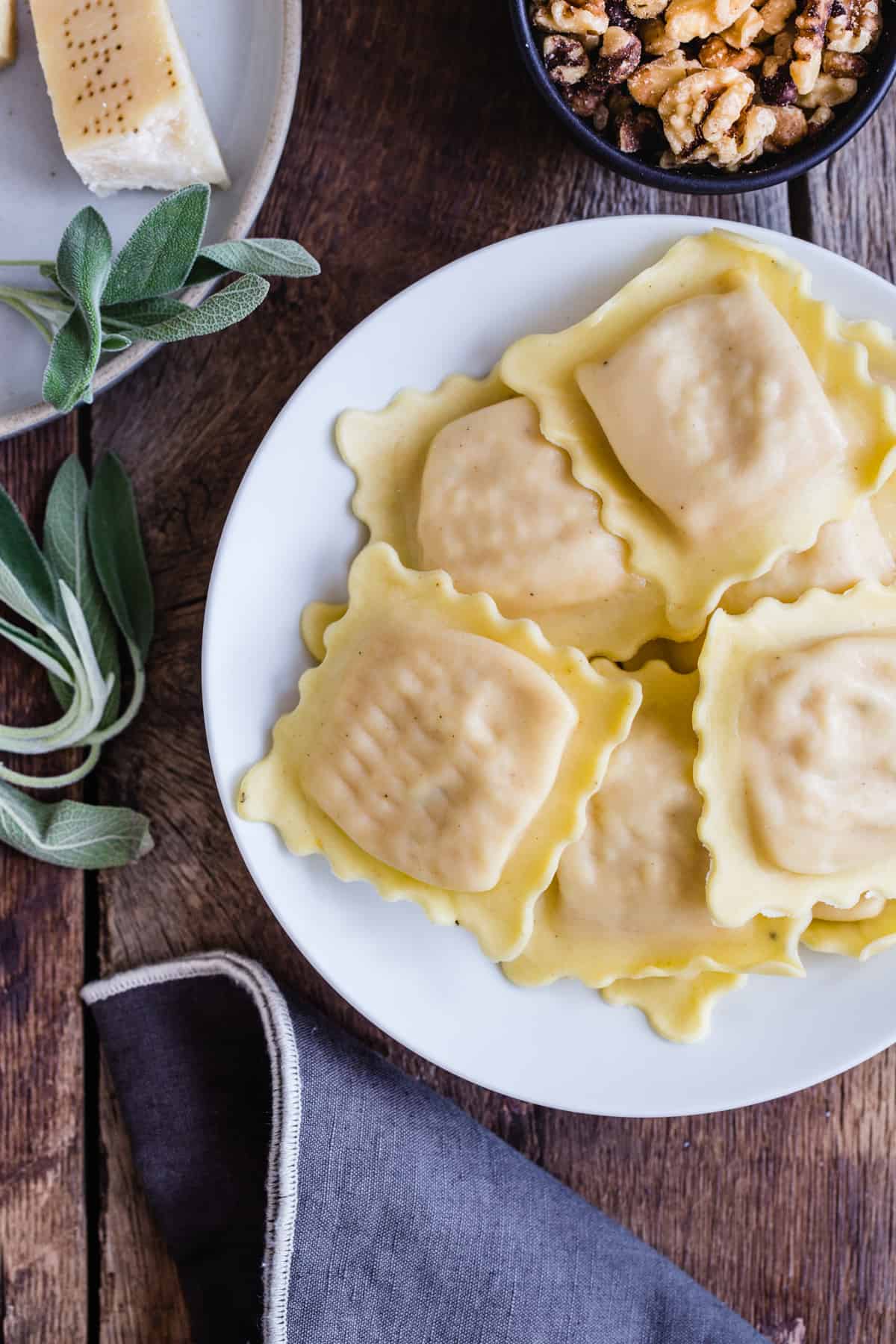 This time of year is full of dinners and get togethers with family and friends and I am always looking for new menu ideas. Three Bridges Butternut Squash Ravioli makes a great base for this platter of roasted cauliflower and brown butter sauce with walnuts and crispy sage leaves.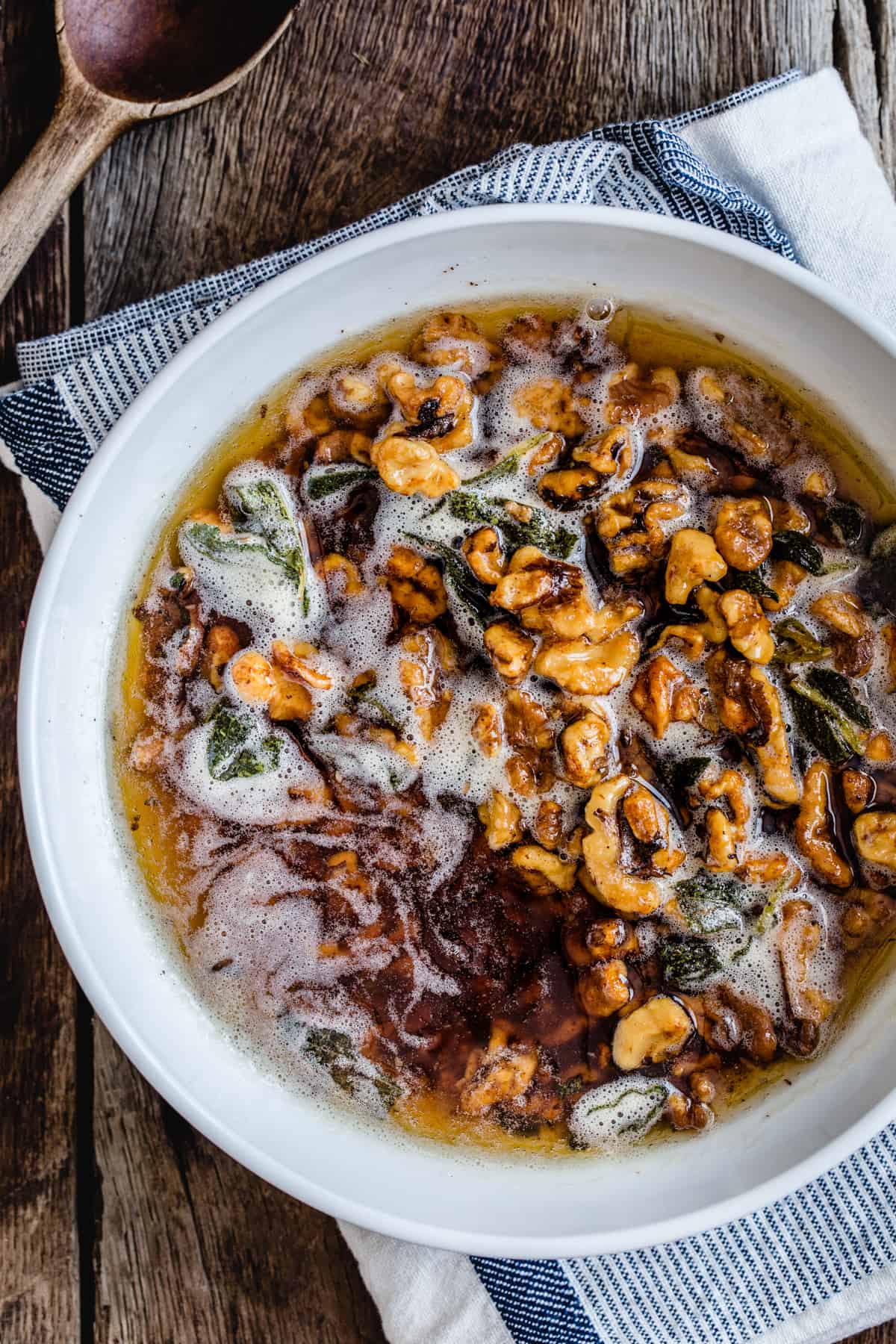 The simple but rich brown butter sauce sings without overwhelming the flavor of the butternut squash in the ravioli. The walnuts bring a nutty crunch and the cauliflower makes this a complete meal all on one gorgeous platter that will be the centerpiece of any holiday table.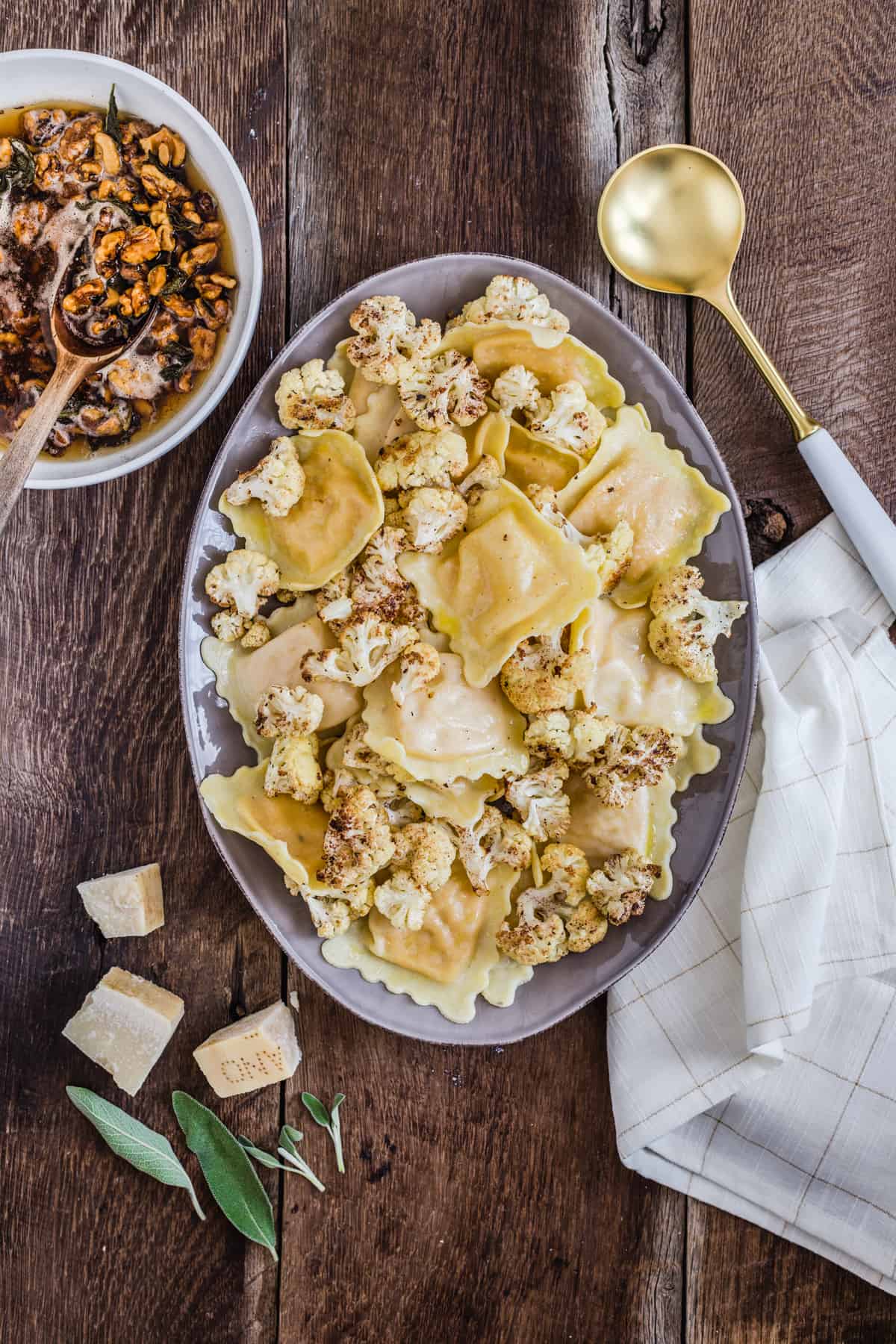 Your family and friends will love the seasonal spices and flavors of this dish–and you'll love how simple it is to make. Although it's right at home on a holiday table, it's also easy enough that you can whip it up for a weeknight dinner. Isn't that the best kind of recipe?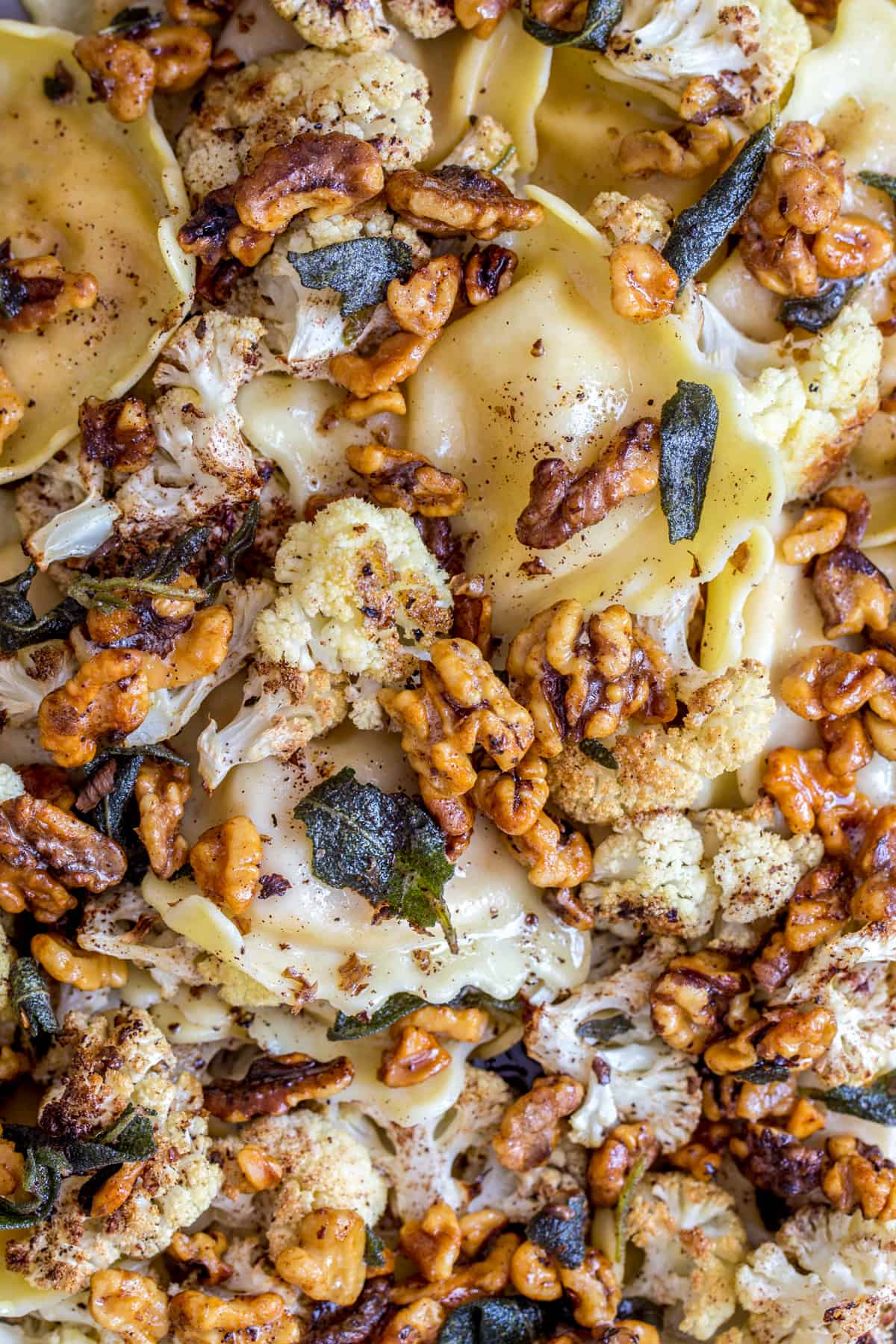 Three Bridges is dedicated to creating pastas full of real, honest and better-for-you ingredients with nothing artificial. These are pastas that I feel good about serving to my family any night of the week. Find them in the refrigerated aisle at a grocer near you by using their store locator.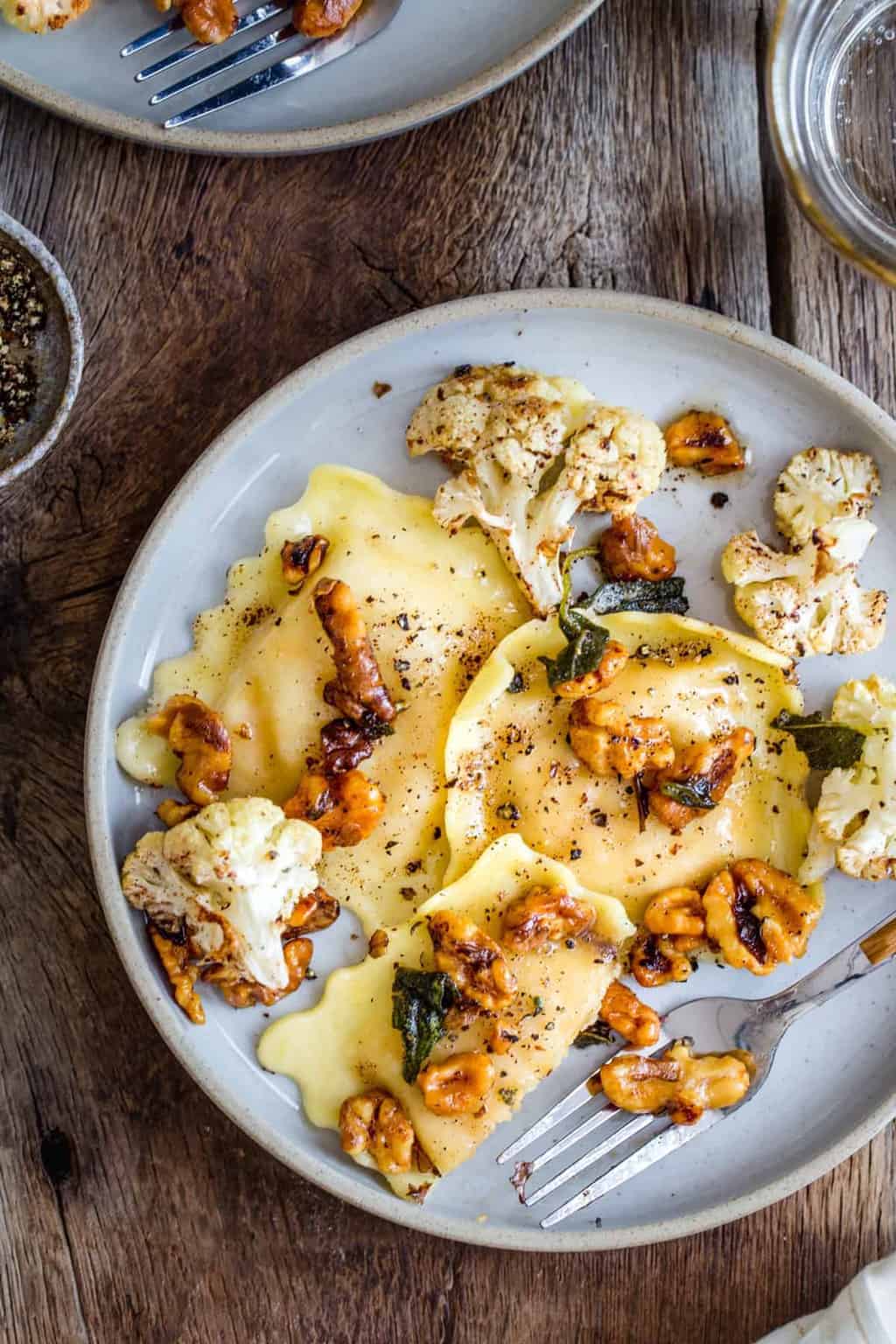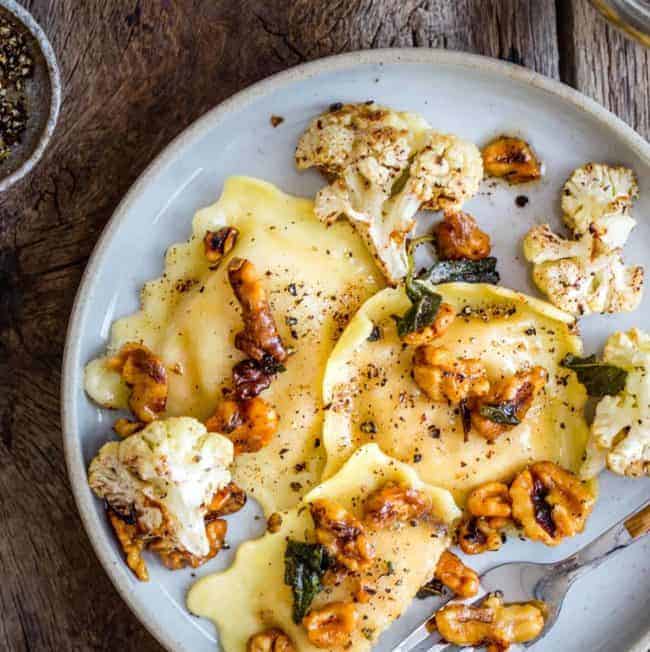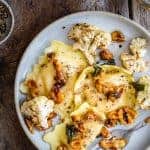 Print Recipe
Butternut Squash Ravioli with Roasted Cauliflower and Brown Butter
Ingredients
1

large head cauliflower

cut into florets

2

tablespoons

olive oil

1/2

teaspoon

ground cinnamon

1/2

teaspoon

ground cumin

Kosher salt and black pepper to taste

2

sticks

1 cup butter, unsalted

1

cup

walnuts

roughly chopped

20

sage leaves

2

9-ounce packages Three Bridges Butternut Squash Ravioli

Grated parmesan cheese

for serving
Instructions
Preheat oven to 425°F. Line a baking sheet with parchment paper or silicone baking mat for easy clean up. Spread the cauliflower florets onto the prepared baking sheet and drizzle with olive oil. Sprinkle the cauliflower with cinnamon, cumin, kosher salt, and black pepper. Toss gently to distribute oil and spices.

Roast the cauliflower for 25-30 minutes or until it's tender and beginning to crisp.

While the cauliflower is roasting, make the brown butter sauce. In a large saucepan melt the butter over medium heat. Add the walnuts and sage leaves. Cook the butter sauce, swirling or stirring frequently until the butter becomes a dark caramel color but is not burnt and the sage leaves are crispy and fragrant. Skim off any excess foam as the sauce cooks, if needed.Season with salt and pepper. Carefully transfer the butter sauce to a heat proof bowl to cool slightly.

While the butter sauce is cooking, bring a large pot of water to a bowl. Cook the Three Bridges Butternut Squash Ravioli according to the package directions. Drain and transfer the cooked ravioli to a large platter and add the roasted cauliflower. Spoon the brown butter sauce with sage leaves and walnuts over the ravioli and cauliflower before serving. Garnish with parmesan cheese.
24